We use affiliate links. If you buy something through the links on this page, we may earn a commission at no cost to you. Learn more.
12/26/06: Update at bottom of review in Red
Hard plastic cases have become very popular accessories for MP3 players, cell phones and other types of handheld electronics. They provide protection as well as personalization for the gadgets that we love and abuse daily.
Recently, I bought my mother a clover green Lexan case to protect her new Razr phone. A few days later she called me to tell me that not only she has gotten many compliments on her unusually colored case, it also protected her phone when it was (inevitably) dropped.
Wouldn't it be nice if we could envelope everything in plastic? Okay, maybe not, but how about bigger electronics like laptops? For those of us, myself included, who have driven ourselves crazy trying to prevent scratches on our beloved notebooks such protection would be a welcome respite. When I read that Speck Products released such a case for the 15″ Macbook Pro, I was excited to test it out.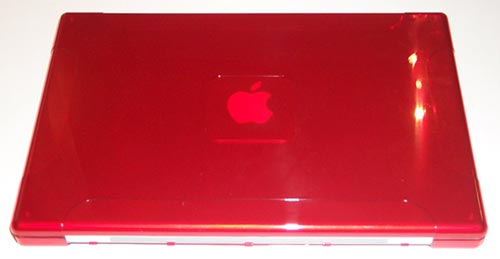 Features
Made of rigid polycarbonate to resist scratches
4 rubber feet for air circulation and traction
Available in 2 colors: clear and red
First Impressions:
The See-Thru comes in 2 colors. I initially tested the clear version, but switched to the red tinted case because the clear version was so transparent that it was difficult to photograph.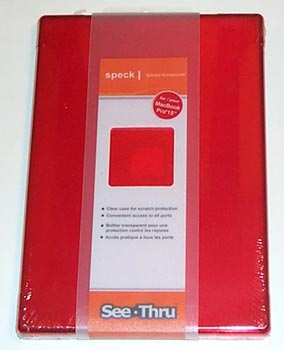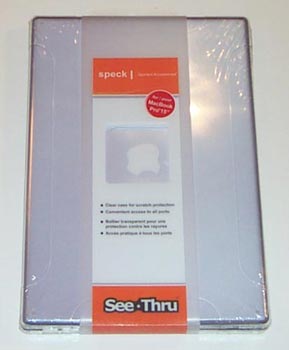 The See-Thru is wrapped in minimal packaging. The 2 piece case is filled with a supportive foam core and shrink-wrapped. This visually appealing package not only evokes the user's imagination on it's use, but it is also easy to remove (I have a long term deep hatred for clamshell casing) and leaves behind a negligible about of waste.
On the bottom of the foam filling is a set of instructions on how to attach each piece to your laptop.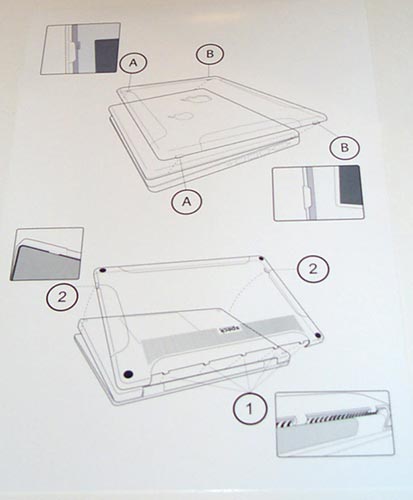 Both parts of the See-Thru are very easy to install. However, when attaching the bottom portion it is important to make sure that the rear hooks are firmly in place.

Once assembled, the See-Thru covers most of the external surfaces of the MBP. The exterior finish on the polycarbonate case is glossy, yet fingerprint resistant.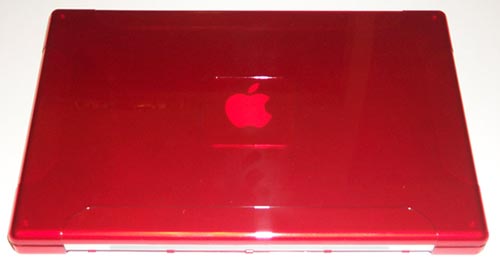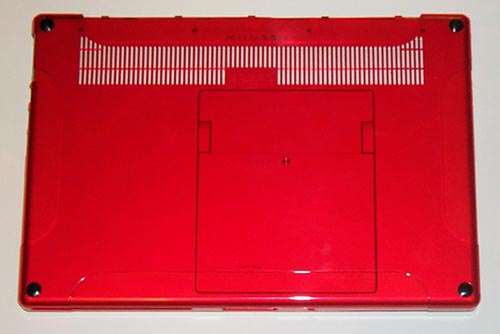 Three sides of the See-Thru have cut-outs for access to ports and indicator lights.


Additionally, there are special ventilation slits placed along the bottom to help prevent overheating.

Usage:
As soon as I assembled the See-Thru, I opened my MBP lid and noticed that the range of motion on the hinge was slightly limited due to the top and bottom pieces of the case rubbing together. Concerned that the installation was not as self-evident as it seemed, I took the top case off and consulted the instructions. Yes, the top case was indeed on correctly. A small angle reduction is not a huge drawback.
Unfortunately, while using the See-Thru, more problems with the case became apparent.
Several of cut-outs were slightly out of alignment, including the security slot (which I use frequently) and the sleep light.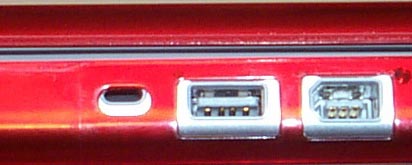 The See-Thru also creaked when picked up or moved. I decided to remove the case and consulted the very simple instructions yet again, and it was on correctly. I consulted other people and they too read the directions and attached the case to my laptop in the same fashion, and there were still problems with the See-Thru's alignment and fit. After such rigorous testing I believe my See-Thru suffers from product design-errors, not user-error.
On a positive note, each time I removed the case to reassemble it, I had a bit of difficulty removing the bottom case since it was so securely latched to the MBP. During all this removing and reassembling of the See-Thru, I became worried that I may have scratched my laptop; as it turned out, case removal did not scratch the finish.
Overall, I was disappointed with the execution of the See-Thru. Speck's new case is an innovative concept that doesn't quite have all the details worked out yet. Here's hoping the next version will be an improvement. Maybe next time?

Update:

Shortly after the publication of this article, I spoke with Andrea Lim at Speck Products and discovered that the case I used for review was defective. She immediately send me a replacement (which is also modified to be compatible with the newer Core 2 Duo Macbook Pros) and and I'm delighted to say that the fit is excellent: There a good range of motion using the hinge, perfect fit with the cut outs for the ports, and no creaking whatsoever.

I love happy endings!
Also, in the comments from this review, there were concerns about heat while using this case. I mentioned that I did not notice any significant heat changes while using the See-Thru case. Using a handy software utility called SMC Fan Control, I tested the internal temperature of my MBP after 1 hour of use and 3 hours of use with and without the Speck case. The case did not raise the internal temperature with one hour of use; at three hours the temperature difference was less than four degrees.
Product Information
Price:
49.95
Manufacturer:
Speck Products
Retailer:
Speck Products
Requirements:

Macbook Pro 15"
Macbook 13"

Pros:

Red color option for easy laptop identification
Bottom ventilation to disburse heat

Cons:

Case does not fit well
Tricky to remove bottom case
Must remove bottom case to exchange batteries