We use affiliate links. If you buy something through the links on this page, we may earn a commission at no cost to you. Learn more.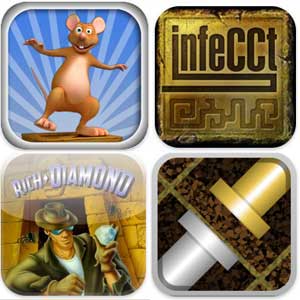 For me, winter weekends mean staying indoors and either reading a book, watching some TV, playing my ukulele, surfing for gadget news or playing iPhone games. Today I've been trying out four different puzzle games that have helped me waste a large chunk of my Sunday afternoon – but in a good way 😉

.
Rescue Razzle
$1.99
Rescue Razzle from Sunstorm Interactive is a 40 level game where the object is to rescue Razzle the rat who is trapped in a cage stacked on top of a bunch of crates. You need to lower Razzle safely to the ground by tapping the crates with your finger to make them explode. As they do, the cage will drop or slide one level (or more). Just don't let Razzle fall to ground or in the water.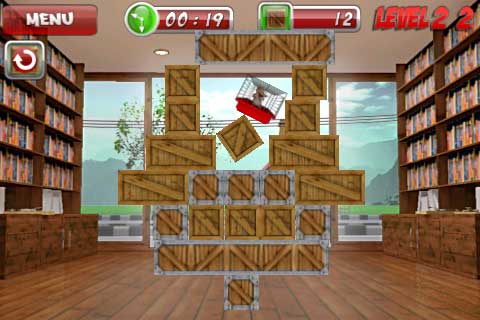 It's an easy game to learn to play but it's one that will keep you busy for awhile as it takes some strategy and physics to figure out which boxes to explode first.
The background music and sound effects are pleasant and the graphics and animations are fun. Control is easy since all you are doing is pressing your finger on a box.
For some reason the price on Sunstorm's website says $0.99, but the price on iTunes is $1.99. I wouldn't pay the higher price…
infeCCt
$1.99
infeCCt from  Handy Games is a 300+ level game that is kind of hard to describe…
Each level is a playing board with tiles. There can be stones, tunnels and intersections in addition to free tiles. The object of the game is to draw a path with your finger so that every tite is touched, without retracing your steps. It sounds easy, but can be a real challenge.
I like the background music (which can be turned off if desired) and the graphics are very good. Control is easy since all you do is trace your fingertip along the tiles. It does mean that your finger will obstruct the board as you're doing it though. But, it's not a big deal since this isn't an arcade game.
I highly recommend this one, it's easy to learn, addictive and fun. With 300+ levels, it should keep you busy for a long time.
Rich Diamond
$0.99
Rich Diamond from Core Concepts an 80 level game that is sort of a cross between Sokoban and Chip's Challenge.
Each level is a room where you must collect the treasures and open the door to the next level. Of course there will be obstacles in your way. Boxes that you can move, boulders that you can roll, etc.
I've always been a fan of Sokoban games and found this one to be pretty fun. The controls to move your character are pretty small, but since this isn't an arcade game, it's really not that bad. You are also able to undo your moves which is helpful.
I love the background music. It reminds me of Everquest 😉 The graphics are really simple, but it adds to the charm of the game. If you like Sokoban games, you'll enjoy this one. It's definitely worth 99 cents.
Connected
$0.99
Connected from Made-Up Software is a fun little pipe laying puzzle game with 40 levels.
Each level has several pipe pieces that you need to slide around and connect to the start and end points along the edge of the board. When all the pieces are used and all the points connected, you've solved that level. It sounds simple, but it gets difficult quickly. Moving the pieces is easily done sliding them around with your finger.
This game does not have any background music or sound effects. The graphics are nothing overly spectacular, but that's just fine for a game like this one.
Connected is a good brain twister and is one of those games that you can play anytime you have a few minutes to kill. It makes a good stress reliever when you need to get your mind on something else.