We use affiliate links. If you buy something through the links on this page, we may earn a commission at no cost to you. Learn more.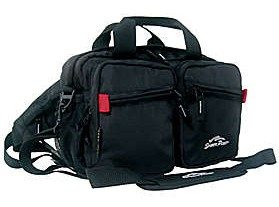 As you all know, I have been searching for the ultimate gear bag for years.  I posted a glowing review of the Duluth Traders Fire Hose Field Bag just a few weeks ago, and that was the best bag I had seen.  I bought an Asus eeePC 900HA (one of the last available 9" netbooks) a week ago, and to my dismay, it did not fit in the rear compartment.  Since this was to be the notebook computer I am bringing with me storm chasing this year, I need access to it from my seat in the van to do video and photo storage and light photo editing.  The Duluth bag, as amazing as it is, was not going to able to be the bag of choice for my trip.  It needed to be about half an inch wider to get the starring role there.  So, the search resumed.
I was doing my browsing on Ebags.com, and this little beauty hit my eye and I immediately wished I had seen this years ago.  Oh, the problems it would have solved.  I put in my order and a week later it showed up at my door.  I knew immediately that it would be the perfect bag for stowing all of my storm chasing gear in a compact but well-organized place.  It's called the Olympia Multi-Purpose Waist Pack.  It's made of black ballistic nylon with orange/yellow lining inside for maximum visibility.
The specifications are:
Size: 8″ x 12″ x 6″
Weight:1 lb , 8 oz
Capacity:600 cu. in.
Material: Rigid poly ballistic fabric
Warranty:10 Years
Linear inches:26″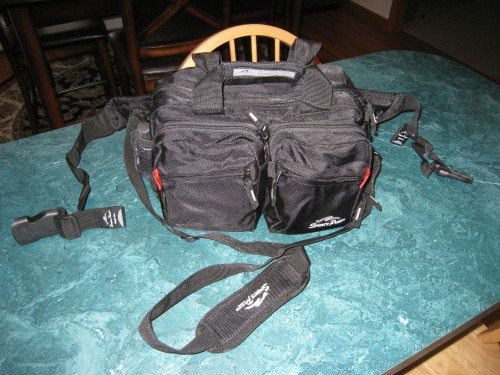 The back of the bag has a zippered compartment to stash the waist belt.  I will probably not be using this feature, and the belt tucks very nicely behind.  Each wing flap of the belt contains a small zippered compartment perfect for stowing keys or change or a small mp3 player.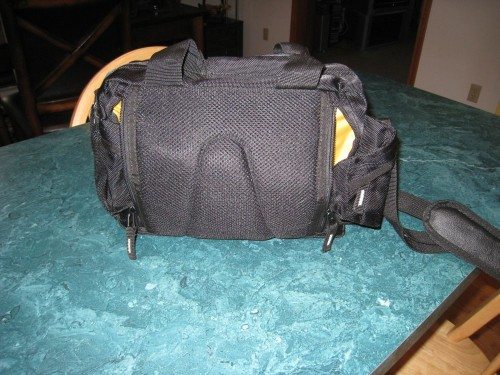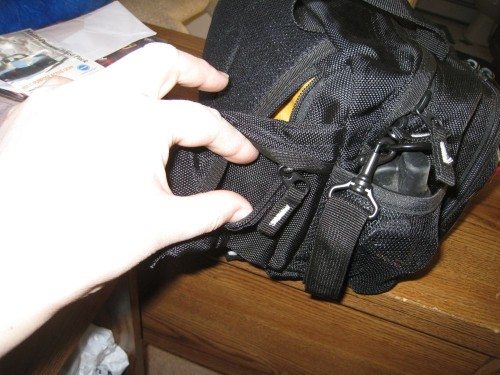 The main compartment is very open and contains a floating flat mesh pocket for travel documents.  My passport and travel papers fit perfectly in here.
The front of the main compartment has two flat fabric pockets.  They hold:
– Vixen pocket monocular
– Kestrel 4000 weather meter
– Emergency backup battery charger with cables for my phone, camcorder and iPod Touch.
The rest of the compartment is open.  There is no key-fob dangly thing in this bag.  The main compartment is spacious enough to hold:
– 9″ Asus eeePC 900HA netbook in its protective sleeve
– belt pouch with Droid phone, iPod Touch and earbuds
– belt pouch with Sony SX-41 camcorder and spare battery
– belt pouch with Canon S90 digital camera, spare battery and spare memory cards
The three belt pouches will be on my belt while on the chase, the space left in the bag will hold my fold-up jacket and any other sundries I get on any particular day.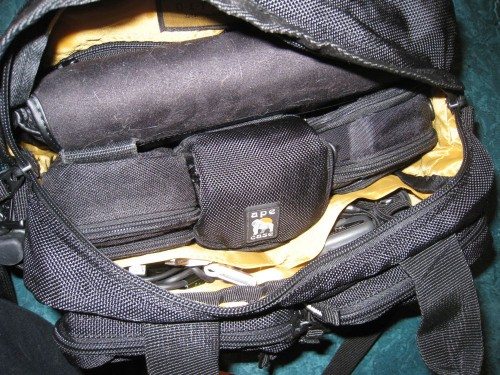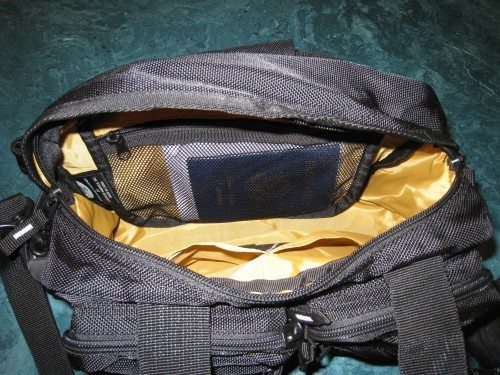 There are two large pockets on the front, with zipped pockets in front of each of them that hold:
– a small notebook with pens and pencils
– business cards and my Olympus pocket voice recorder
– More cables and a USB memory stick
– pill case, Dramamine, a lot of spare AA and AAA batteries and a USB memory stick
– Sony Reader Pocket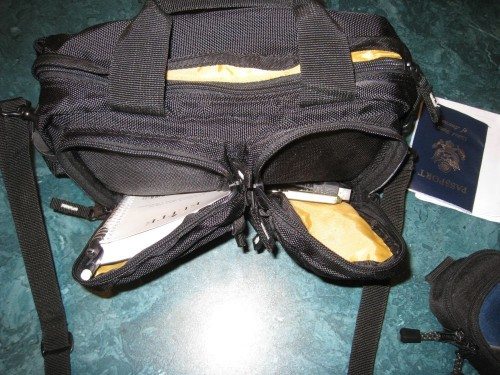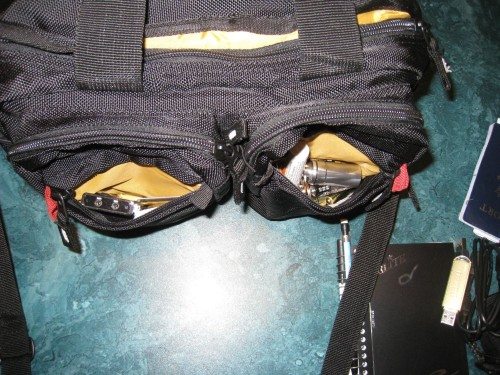 And two mesh pockets for water bottles on the side, into one goes my Garmin Colorado 400t GPSr!
Here is all the gear it can hold (the Garmin GPS is tucked into the left mesh pocket):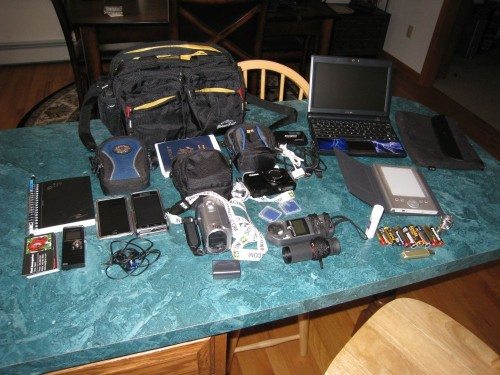 To see a video of all this gear being packed into the bag, see my video at
Conclusion:  A great gear bag at a great price!
Product Information
Price:
$39.99 (but frequently on sale for $27)
Manufacturer:
Olympia
Retailer:
eBags
Pros:

Durable ballistic nylon holds the shape of the bag very well
Double zippers on main compartment and large front compartments
Tons of storage space
Water bottle pockets that can actually hold a bottle of water
Waist belt with pockets
Shoulder strap and carry handle
8 compartments for excellent organization of gear
Interior brightly colored for easy visibility
VERY reasonably priced
Can hold a netbook (should be able to hold a smaller 10" netbook)

Cons:

Bottom could use reinforcement, but that's just a minor quibble