We use affiliate links. If you buy something through the links on this page, we may earn a commission at no cost to you. Learn more.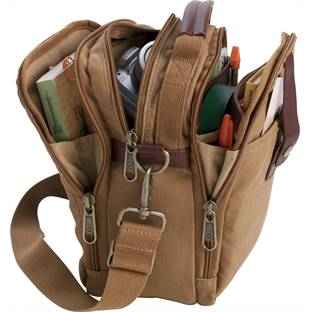 As many of you know from my reviews, I have been on the quest for the perfect gear bag for years now. I have used the Citywalker bag, the Victorinox Horizontal Tote, Ellington Europa Field Bag and even a prototype ballistic nylon bag from Infusion Threads (which I still own and will never sell). I have owned far more than I have ever reviewed, and while most bags had some great things to recommend them, there were always too many compromises to stop my search.
My search, at least for now, has ended.
I was doing my weekly search on the Internet for "field bag", because I love the form factor. What I have been looking for is a combination of materials, organization and size for a reasonable price. This time I came across a stub at Make Online that showed a photo of the bag I have been looking for my whole life. It was on their Steampunk Gift Guide for 2008, so I wasn't sure whether the bag would still be available. I clicked in the link, for a company called Duluth Trading Company, and was faced with what was surely the Holy Grail of compact gear bags.
Measuring 7″ wide, 5-1/2″ deep (more if stuffed) by 10-3/4" high, this bag was typical in size for a field bag save for one detail…depth. Most bags this size are 2-4 inches deep, which can hold a bunch of stuff, but that extra inch and a half intrigued me. What intrigued me more was the action shot one reviewer put of a Dell Mini 9 in the back pocket of this thing, as though it were made to fit. The reviews were all very positive, so I decided to take the plunge. I ordered the bag, and four days later it arrived at my doorstep, wrapped in a plastic bag sealed inside a plastic shipping bag with the Duluth Trading Co. logo on it.
As soon as I opened the bag, I knew I had a keeper. The whole bag exudes rugged class. It is made of treated cotton canvas, ostensibly the same material used for old-time fire hoses. This company carries a large assortment of items made of the same material. It comes in one color and one color only, an antler colored fabric with deep brown leather accents.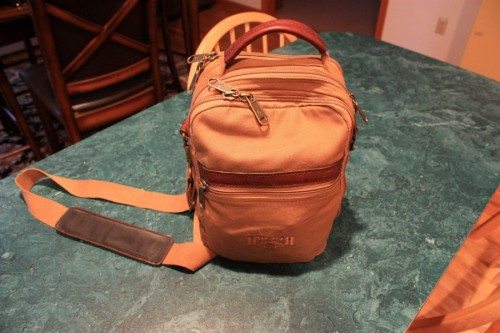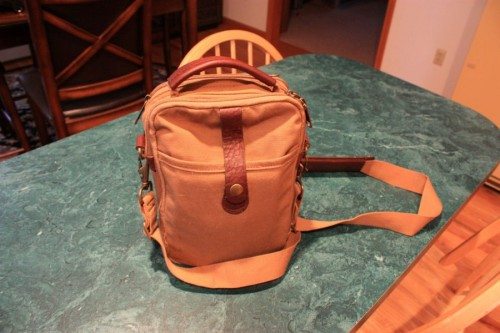 As you can see, this bag stands up on its own when filled with gear. This is a very nice feature, as many field bags flop over onto one side or the other.
The leather is placed to reinforce vital areas, like zipper stops. It would have been nice if the bottom had been made of leather, but it should hold up well enough. The strap is attached via a metal ring attached to the bag with a thick leather loop, the strap itself has an antique-style brass clasp attached to a 1 ½" wide strap made of the same "fire hose" material that the bag itself is made of. There is an adjustable shoulder pad made of rubberized fabric on the bottom to maximize shoulder grip, and that nice brown leather on top.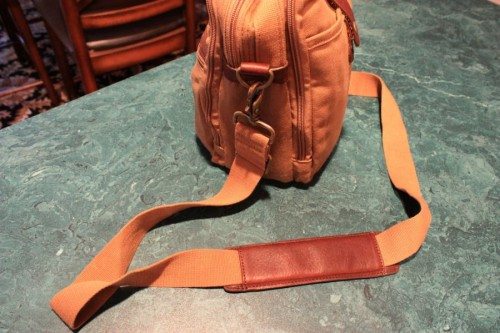 OK, enough about the outside of the bag. Let's examine its innards!
I'm not sure what the front of the bag is supposed to be, and it really doesn't matter. I'll assume the front side of the bag is the one with the Duluth Trading Co logo embroidered onto it. This side contains a zip pocket that is about 3/5 the height of the bag. This is a catchall pocket, useful for items like spare batteries, an LED flashlight, medication, earbuds, USB sticks, memory cards or other such sized items. It can hold far more than I have in there. The rear is made of a smooth nylon material, the front is unlined.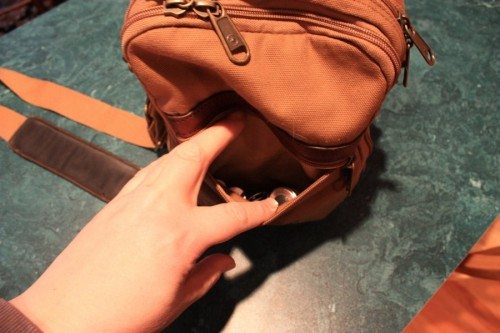 Behind this pocket is flat open pocket that is about an inch deep. I keep a small notebook in here. It should fit an 8.9" netbook with standard battery. There is no padding, but it is lined with nylon and has gusseted sides.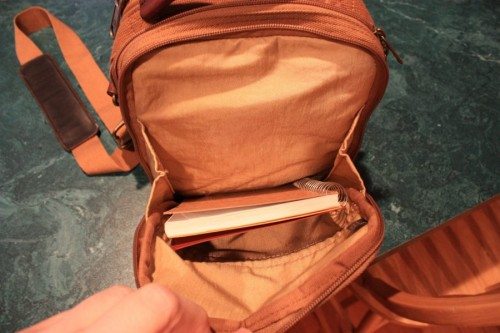 The center compartment is about 3" wide, with two hanging pockets. The left pocket is quite deep, the right pocket about half as deep. The left pocket is the perfect size for a pocket digital camera with room to spare. I keep a pocket monocular in the other pocket, it's a perfect fit. Since the pocket is not padded, I cut a 3" wide strip of thick mousepad and stuffed it into the bottom of this compartment, and in the open area I have my Kestrel weather meter, Garmin Colorado 400T GPSr and Sony SX-41 flash camcorder. There is room for more stuff in this pocket, I just don't have anything else to put here! The hanging pockets are attached to a flat pocket for documents.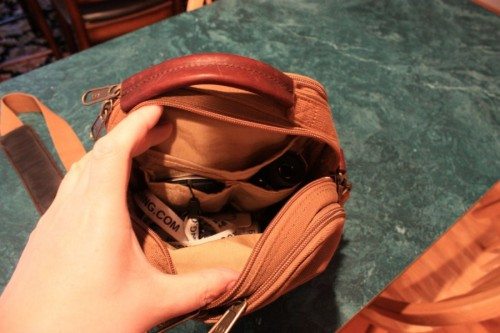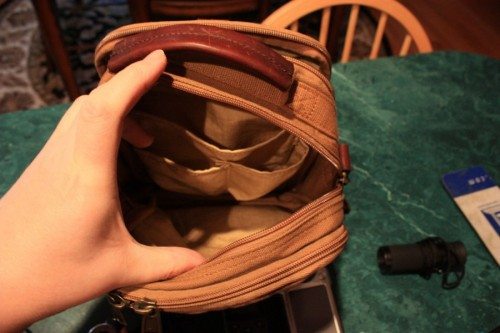 At the top of the bag is a handle wrapped in leather and attached very strongly to the bag. I don't see this handle falling apart with heavy use.
The organizer pocket has a bunch of compartments for putting items. The back wall has two flat pockets , one taller than the other for easier access. My travel documents go here. In front of this is a flat zipped pocket, perfect for a passport, but with plenty of width for additional items. Sewn to the front of this are two pen pockets, an open flat pocket (which my Motorola Droid slides into) and a wider pen pocket on the other side. On the other wall is a single flat pocket, where my Sony Reader Pocket resides, though it is large enough for the larger Sony reader to reside. I don't know if it will hold the Kindle, having never seen one in person, but it might. The Kindle would fit in the rear "book pocket", though. This organizer compartment also has gusseted sides.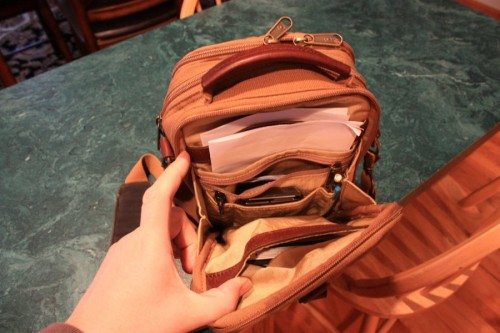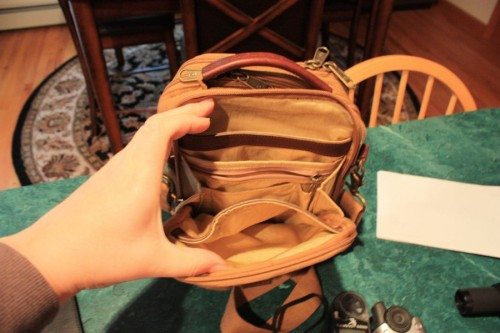 The rear of the bag has an open flat pocket with a leather strap that buttons to the top of it. I have my iPod Touch in here. This pocket is unlined.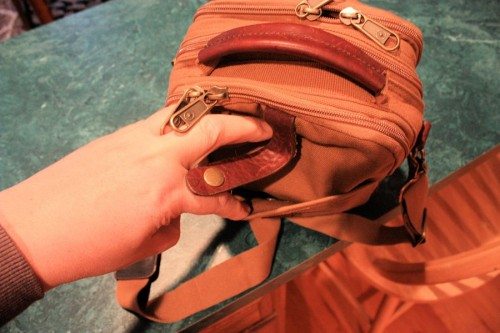 This bag can hold more than any other field bag I have ever used. I can stuff it to 6" deep, which is quite impressive. The bag wears well, riding comfortably on the shoulder. As you can see, it holds an impressive amount of gear, and even with all of that stuff, it still feels comfortable. As you would expect from a bag made from fire hose fabric, it is at least water resistant, allowing water to bead off of it…at least in my bathroom sink trial.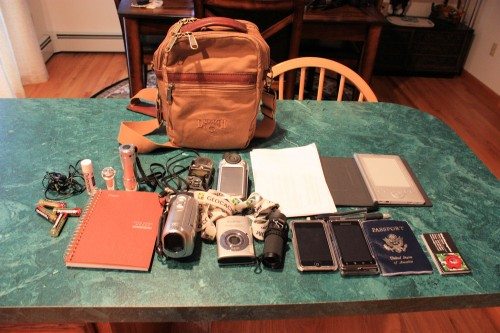 I can see hanging on to this bag for years to come. I am tempted to get a second one as a spare in case this one ever comes to a bad end, possibly due to a nuclear explosion. Who knows when a company will discontinue a product? At $64.50, it's neither horribly expensive nor very cheap, but it is solidly built, of great material, has a fantastic classic look to it and organizes a lot of gear handily. For now, my search for the perfect gear bag is over. It's going to be very tough to beat this beautiful bag. If you like gear bags, you cannot go wrong with this one. Get it!!!
Product Information
Price:
$64.50
Manufacturer:
Duluth Trading Company
Pros:

Solid construction
Gorgeous appearance
Excellent organization
Tremendous amounts of space for gear
Leather trim and handle
Metal double zippers
Antique finishing
Stands on its own with gear in it
Reasonably priced, considering what's on the market these days
Does not scream "It's a European shoulder bag (it was a gift)" if you're a man
Hanging pockets

Cons:

No padding anywhere (but old mouse pads can be strategically used)
Bottom could use leather sheathing