We use affiliate links. If you buy something through the links on this page, we may earn a commission at no cost to you. Learn more.
Women seem to be able to wear men's clothing without catching any flak about it, but men…just try on that blouse and see what happens. Ouch. This is true as well of bags…women can walk around with a briefcase, and kiss other women, and nothing could be seen as further from normal. Let a man walk around with a women's purse, though…and we won't even continue the parallel metaphor, and you could wind up being beaten up and left to die on the pavement.
Men have lots of stuff, especially nowadays. Though cargo pants have come a way in helping men organize their stuff, it just doesn't look quite right to have bulging pockets everywhere from the waist down. "Are those gadgets in your pockets, or are you just…loaded with tumors on your leg?" For some reason, men in the United States have been reluctant to follow the lead of men in Europe, and just carry a bag, for crying out loud. Nothing with bangles, frills or fancy designs, just a nice, solid bag for carrying your stuff.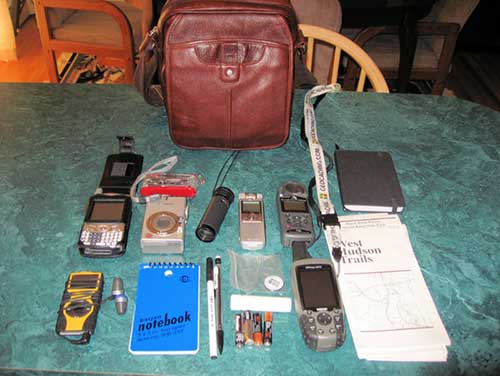 My gear
In the country where the term "girly-man" was invented (likely by men who were a little insecure, wouldn't you think?), some men have braved the social kibosh on carrying a bag. Messenger bags are more popular than ever, though men who will carry them in public are still rare. Walking through the mall a few days ago, I kept my eye out for men who were wearing a bag of some sort, and though there were a few, most went bagless. Men handed their girlfriends/wives their stuff to carry, and the woman had to bear the burden of lugging her honey's goods around so he could feel more secure in his masculinity. Ah, the delicate ego of the American Male.
But that does not need to be true! Men, you can carry your stuff around with you, and in style, with the Ellington Leather Goods' classic Europa Field Bag. Call it a gadget bag, man bag, European carry-all, satchel, male purse or murse…this bag is small (10 X 8.5 X 4.5 inches), understated and is perfect for carrying whatever James Bond stuff you want to bring with you. Chewbacca knew the value of carrying a bag, so men, give your fragile egos a rest and just do it!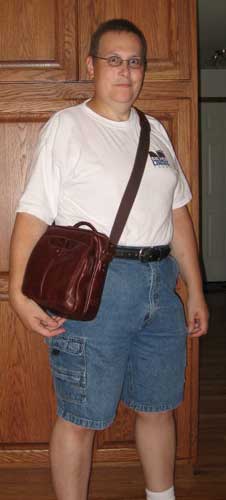 I had hemmed and hawed over the purchase of this bag for the last year. It looked like just the ticket, but I bought other, less expensive models instead. None of them really did the trick. I could have saved my money and just bought this outright. It's not cheap, at nearly $160 (though you can sometimes find it on sale at Ebags.com for less than $130), but it is durable, easy to access all pockets, and brother, it has pockets galore!
The Europa Field Bag is made from "vintage, full-grain, rugged pebbled cowhide", which comes in brown or black. It measures 10.5" from top to bottom, 8" across and 4.25" front to back. It weights a pound and a half, and sits very nicely on the shoulder. The adjustable shoulder strap is made from a thick fabric weave, and it is permanently attached to the body of the bag. It has a nice, lightly padded adjustable leather shoulder pad, the top of which is the same material as the bag itself. There is also a robust loop of leather at the top back of the bag, for carrying the bag without the strap. Carrying the bag by holding the loop causes the bag to tilt forwards at the top and backwards at the bottom. I don't use it very frequently, because OH, that shoulder strap is comfortable!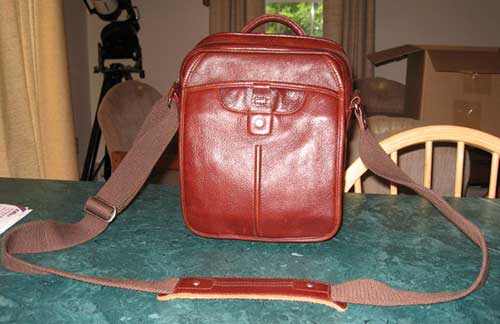 And now it's time to investigate the plethora of pockets and compartments this wonderful bag has to offer. You will be glad to know that there isn't a scrap of Velcro ANYWHERE on this bag. The compartments that do not close with a zipper use a magnetic closure to secure…and the magnets are quite up to the task.
First, let's look at the front of the bag. The very front has a lift-up front flap that does not cover the main compartment of the bag. There are two pockets in this flap. The one in front is a slip-pocket, secured by a pretty strong magnet at the top. It's here I keep my iPod nano and earbuds, though more could fit in there. Underneath is a small, flat zip-pocket, good for carrying ID or a passport. The zipper is oriented vertically, rather than horizontally. The underside is made of a double layer of very tough fabric. The front flap secures to the main body of the bag with a magnet. The effectiveness of this magnet is dependent on how much stuff you have packed into the front pockets.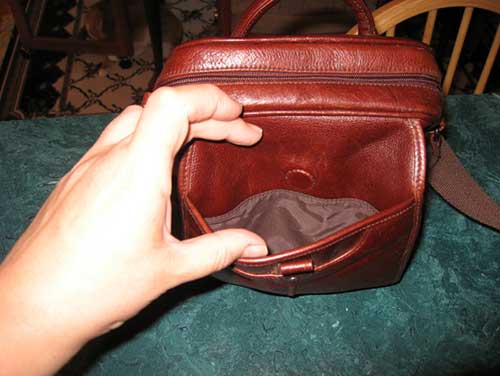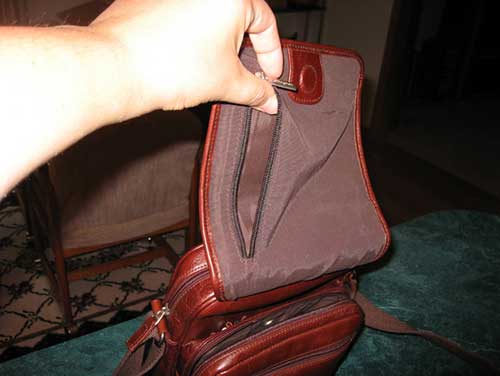 Lifting the flap reveals a square, padded compartment, with a flat pocket on top. This pocket is more spacious than one might realize. I keep spare batteries, memory cards and a vial with spare medication in there, with plenty of room to fit more.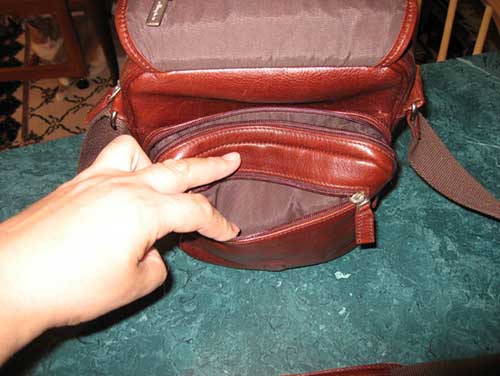 The padded electronics compartment has a metal grommet on the back of it for threading a set of headphones through. This compartment has two small pockets on the back (I keep my Treo in one and my digital camera in the other) and one long pocket on the front (I keep my Kestrel weather meter, pocket monocular and pocket voice recorder in this).
Behind the electronics compartment is an open pocket with two pen loops. I keep a pen, a mechanical pencil and a pad of paper in here.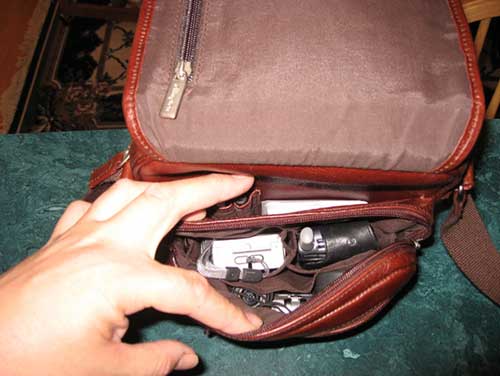 The main compartment is wide open, with a small zip pocket on the back side of the compartment that is perfect for keeping change. There is also a very high-quality metal key clip on the back of the compartment as well. I keep a journal in the main compartment, and I keep my Garmin GPSr and maps in here when I go geocaching. It's a good catchall pocket. I keep a tie in here if I suspect one might be needed sometime during the day, and any random papers I collect over the day get folded up and put in here. When I need to bring my Fujitsu P1510D laptop anywhere, I put a thick mouse pad in the back of the compartment (to prevent the key clip from scratching my precious laptop) and put the laptop in front of it. It is pretty much a perfect fit!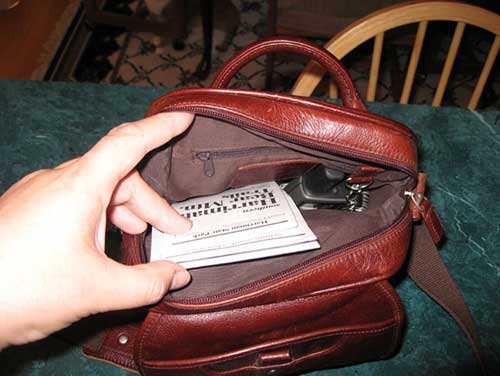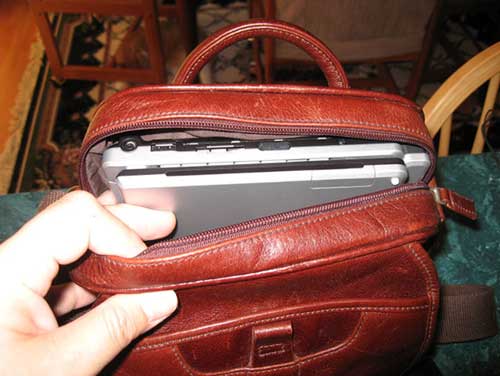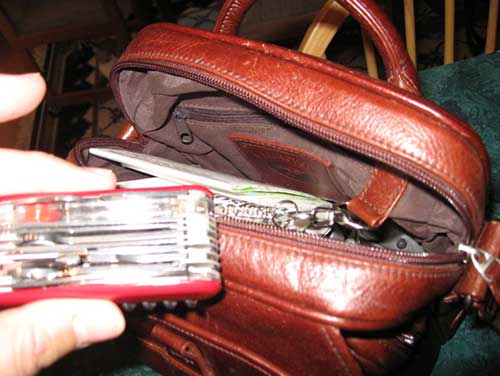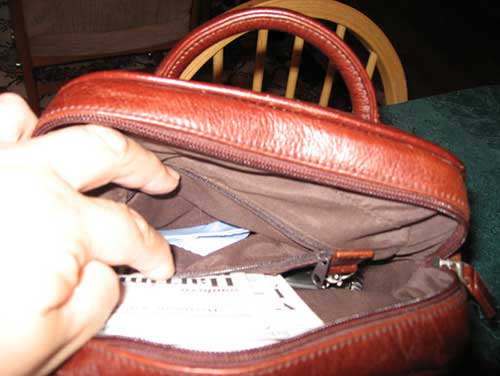 In back of the main compartment in an open slash pocket. This pocket is good for putting letters to be mailed and things of that size.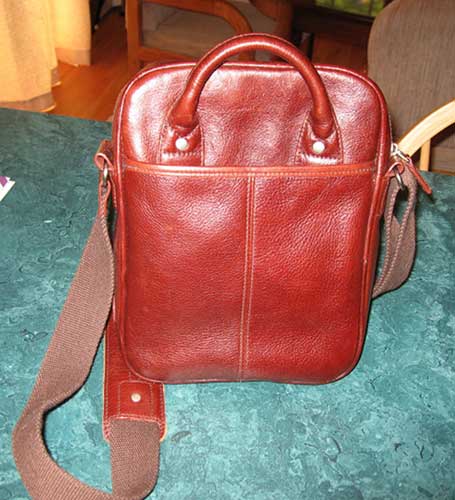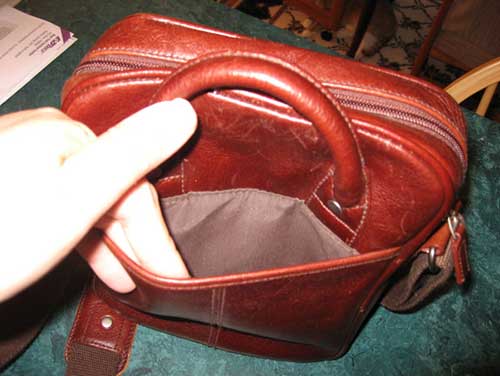 Overall, the Ellington Europa Field Bag is a nice choice for anyone with a few gadgets to haul around. It costs about the same as a piece of clothing from Scott E Vest, and it goes with anything. The bag is durable, compact, balances nicely on the shoulder, and it looks sufficiently butch that most insecure men won't question your manliness or beat you up for toting it around. Oh, yeah…and, like men's clothing, women can use it too.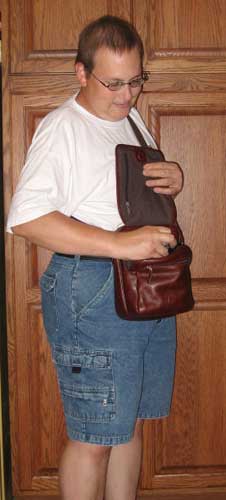 Product Information
Price:
160.0
Retailer:
eBags.com
Pros:

Sturdy, stylin'
Lots of pockets and compartments
No Velcro
Small, well-balanced, sturdy shoulder strap with good pad
Padded gadget compartment with metal headphone grommet
Stands up straight when placed on a surface

Cons:

Expensive
Shoulder strap not removable
Single zippers instead of double
Carry handle causes bag to tilt