We use affiliate links. If you buy something through the links on this page, we may earn a commission at no cost to you. Learn more.
Ah… bags. Yes, it's an addiction. Got a million of them in the attic, many gathering dust. I buy them, use them, find something better and then move on. My requirements for a gadget bag are simple: lots of pockets and/or compartments, have rough dimensions of 10-12 inches long, 7-8 inches tall and 4-6 inches deep. The CityWalker and Europa Field bags are both excellent examples of the kind of bag I love. I use the Europa to tote my Fujitsu P1510D laptop to work every day, but for my travels this year I decided on a new bag. A beautiful, black and compartmentalized bag from Victorinox called the Travel Companion Horizontal Tote.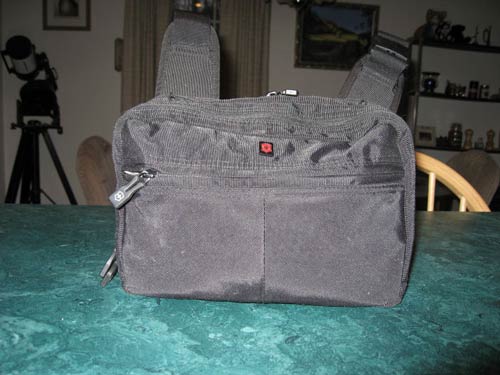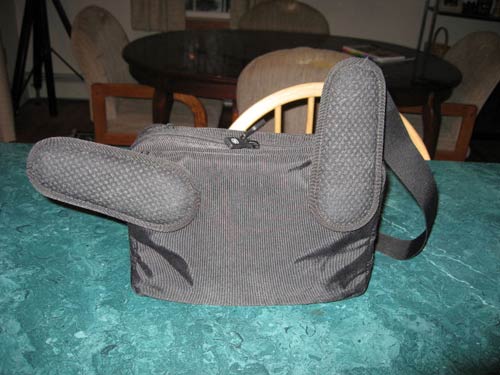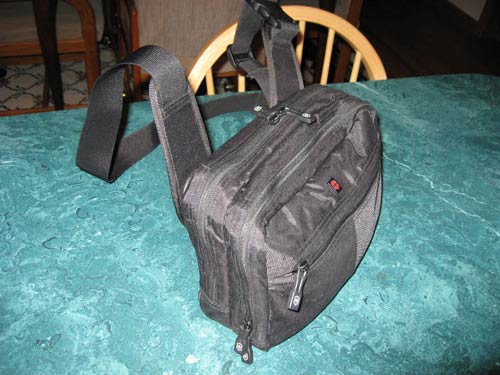 Measuring 10″ x 7″ x 4″ and made of 210 x 640D Nylon w/PU Backing (specs from eBags, where I got this beaut), it has the perfect dimensions for everyday gadget detail. There is a nylon strap that is permanently attached to the bag, via a rotary racheting system that can adjust for shoulder carry or for use as a waistpack. The six inches of the strap closest to the pack are padded very nicely for maximum comfort. I keep it in the shoulder-bag position, where it is extremely comfortable. The back of this padding is pretty attractive to cat hair, so beware of that! The strap itself can be detached from itself via a snap-click mechanism typical of lumbar-pack belts, the connection point being right at the start of the padded section on the left side of the strap. This strap is adjustable for use as a waist pack, but I have found it a little difficult to adjust the length of the strap to fit my waist and then try to readjust it for use as a shoulder pack. The strap does not have a shoulder pad to it, but I have not found that to be all that detrimental to the comfort of carrying the bag.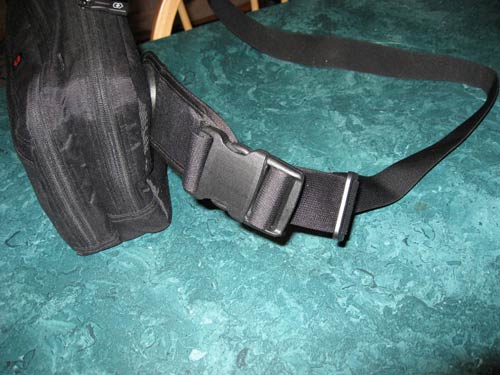 There are three main compartments in this bag. I will start with the front zippered pocket. The zipper crosses the front of the bag two-thirds of the way up the height of the bag, and opens a fairly large flat pocket. It does pouch out a little, so you can fit quite a bit in this pocket. I keep my two-day pill case, Dramamine, a retractable USB cable, retractable headphones and retractable Treo 650 USB cable in here, as well as a USB SD card adapter and my iPod (either the Nano or the Shuffle, depending on my needs).
The middle pocket is amazing. It is loaded with pockets of varying sizes to accommodate your gear. The front side of this compartment has a 6″ long by 3″ deep pocket that is lined with soft, loopy nylon and is meant for sunglasses. It is open at the top with a fabric tab that closes over it with a Velcro fastener. It is the only place on this bag where Velcro can be found. I keep my Sanyo C6 digital camcorder in this pocket for easy access. Next to this pocket is a 5″ deep, 2″ wide loose pouch that I keep my Kestrel 4000 weather meter in. Perfect fit!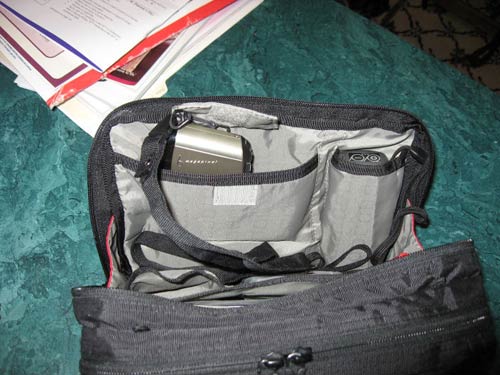 The rear side of this compartment has an organizer panel on the front and a slash pocket behind. The slash pocket goes the entire width of the bag and is perfect for keeping papers secure. I keep my passport in here, but it would be great for keeping tickets, maps and coupons secure. In front of the slash pocket a 3″ tall, 3 1/2″ wide loose pocket where I keep my Canon SD700IS digital camera. This pocket is loose enough to fit a camera a little larger than that. Next comes a panel of three stacked pockets, perfect in size for storing two SD cards, in protective cases, in each, side by side. I keep three SD cards in here, with spare batteries for the C6 camcorder and my Dell Axim x51V. Next to that are two pen silos, with a very nice keychain dangling between. The keychain is metal, with a metal spring clasp that is attached to the bag with a swivel mechanism. Just another nice touch in an extraordinary bag! Oh… and this compartment is gusseted, so you can open it wide to get your gear without worrying that your things will spill out!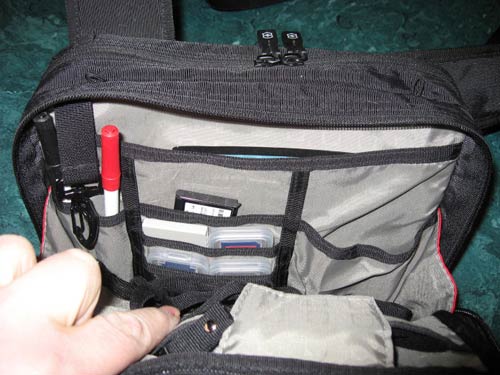 The last compartment is an open compartment the length and width of the bag, and an inch deep. The front of it is home to a large zippered mesh pocket, perfect for keeping papers secure. The main pocket holds my Treo 650 in a flip case, Garmin 60CS GPSr and Dell Axim x51v in a metal case. The Axim will be replaced in another month or two by an OQO Model 02 with an extended battery and metal Stronghold case. I have already made a mockup to check that it will fit, and it will be a perfect complement to this bag! This compartment is also gusseted… what a deal!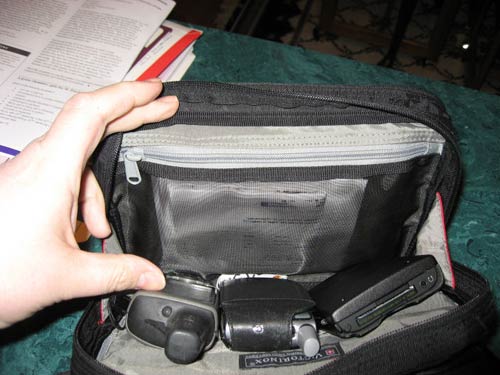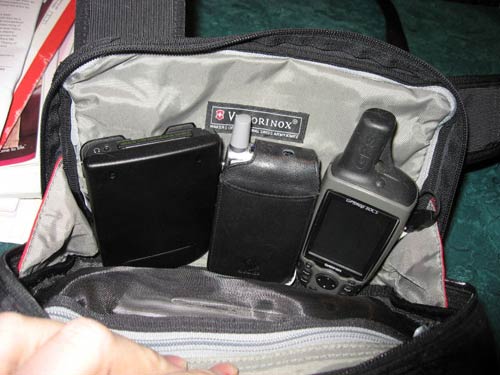 This is an outstanding bag that I see myself using for a long time to come. It is a little larger than the Citywalker bag I raved about two years ago, but not uncomfortably so. It is also a lot less restrictive in the way you can organize your gear. The zipper pulls are attached directly to the bag, instead of being on cords attached to the zippers, so they will be very durable. This will be my gear bag of choice until something else comes along. Boy, am I finicky!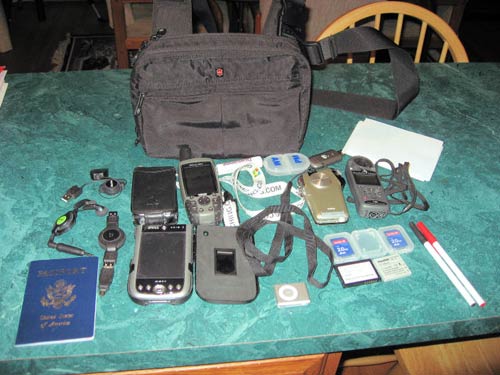 Update 12/10/14
Gave it to my mom for a trip she took to Hawaii years ago. She still has it and uses it when she goes on trips.
Product Information
Price:
$55.00
Manufacturer:
Swiss Army
Retailer:
eBags.com
Pros:

Very organized for keeping various gadgets safe
Not too large to take with you everywhere
Ratchet system allows for conversion from shoulder to waist pack
Nicely padded strap at the bag
Very durable nylon makes for a bag with staying power
Only one tiny piece of Velcro on the whole thing
Dual zippers on two main compartments
Zipper pull will not break off with extended use

Cons:

Waist/shoulder strap not the easiest to adjust
No shoulder strap padding