We use affiliate links. If you buy something through the links on this page, we may earn a commission at no cost to you. Learn more.
As a devoted gadget freak, I have as much interest in ways to carry my assorted gadgets as I have in the gadgets themselves.  As soon as a new gadget is in hand, I am off to look for a way to carry it around with me.  I often like to have multiple gadgets, so having a way to tote them all around is important.  The gadget bag should be small, sturdy, loaded with pockets and have room for all the gadgets I might want to bring with me on any particular excursion.
I have been perusing ebags.com for a couple of years now in the search for such a bag. I have raided every store I know and some I don't to find a bag that suited my needs.  The closest I had come was the Eagle Creek Padded Excursion Bag, which saw me through a storm-chasing trip last year.  The bag held everything I needed, but it wasn't as sturdy as I would have liked, and it had one fatal flaw…it is not even remotely waterproof.
So what gadgets do I like to keep on hand for my excursions? My Treo 650 and bluetooth headset are always at hand, though I often wear that in a Tamrac padded camera bag on my belt.  A pair of Koss foam earplugs and my Rio Carbon, Kestrel 4000 weather device and Canon S400 digital camera are all things I like to have with me when I go anywhere.  I also like having my Pentax 7X20 monocular with me, as well as pens, pencils and a small notepad.  As an avid geocacher, I also like to have my Garmin GPSMAP 60CS with me at all times.  It's also nice to be able to keep any travel bugs I am
currently holding with me so I can drop them in the next available geocache.  I also have a stack of personalized geocaching business cards that I keep with me to drop in when I find a cache.  Being able to carry my Treo IR keyboard is also a nice thing to do.  So where can I fit all of this gear and not be
loaded down?
I was getting ready for a geocaching/caving road trip a few weeks ago (from which I have recently returned) and I happened to be in New Jersey and stopped in at the local Container Store.  My friend Ross had mentioned this place and I wanted to check it out.  I got to the aisle with the bags and WHAM!  There is this little bag, for $35, that is exactly what I had been looking for.  I have not been able to find this bag anywhere else but here and on their web site.  It's available in black and powder blue. Being a man's man (overcompensating much?), I opted for the black version.  Don't worry, you don't have to go to New Jersey to get it.  The place maintains a web site, and the link to the item is at the bottom of the review.

It's called the Large CityWalker, and it is really not all that large.  It measures 7-1/4″ long,  4″ deep and 8″ high.  Not too big, right?  It is loaded with pockets and pouches and fits everything I mentioned above with aplomb.  It sports a waist belt (very comfy) and a shoulder strap.  The shoulder strap is OK, but I replaced it with my favorite strap ever…the one that comes with Roadwired's Photo/Video Convertible Bag and the Megamedia Bag.  It is robust and I can fit a belt clip on it to attach my GPS while I am out geocaching.  The bag is made of waterproof nylon, and the interior is orange for easy visibility of items.
The bag comes with two exterior front pouches.  The top one is padded, and is the perfect size for the GPS60CS or my Treo in a leather case.  The bottom one is not padded, and fits my Rio Carbon with its headphones and spare AA's for the GPS.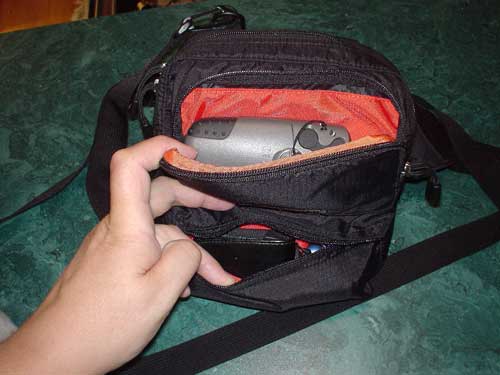 The main compartment has a fully open pocket in front, which is perfect for my notepad and travel bugs.  In this pocket is also a keychain clip.  Attached to the front pocket are two smaller pockets side by side.  One I use for my Canon digicam, the other for the pocket monocular.  Then there is an open space large enough to hold my Treo 650 and the geocaching cards, as well as a small spray bottle of DEET (which was emptied on the trip thanks to killer horseflies in Mammoth Cave National Park).  Then comes another pocket with an ID wallet thingy with a thin pocket alongside
perfect for putting receipts.  Behind that is more open space (not in use at the moment) and the back wall of the main compartment is a zippered mesh pocket.  I kept all my wallet contents in here on my recent visit to DC, and the Stowaway Treo Keyboard fits nicely here.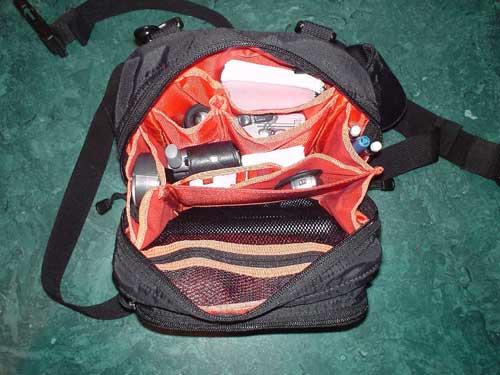 But wait!  The main compartment also has pockets on each side!  The left side has a pocket for pens and pencils, and the other side pocket holds my Kestrel weather device!  How's that for efficiency!  The Kestrel 4000 is a device worthy of its own review if you are a weather enthusiast!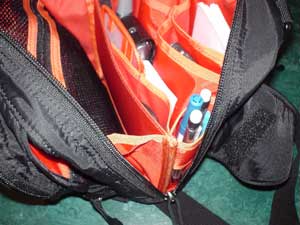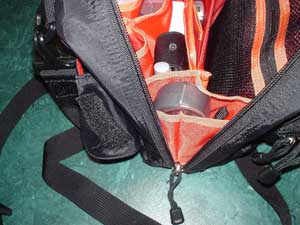 But wait again!!!  The top exterior pouch flips up! It is held in place with a Velcro strip, and when you flip the pouch up, it reveals two more pockets for papers!  The top pocket is fairly small.  I kept my DC Metro tickets here.  The bottom pocket was large enough to stuff all kinds of information papers, including a map of the DC Metro system, a map of how to get from my hotel to the Metro station, a map of the Smithsonian Institute on the Mall, a list of restaurants close to the hotel and other papers.  I had to fold the papers to get them in there, but they all fit!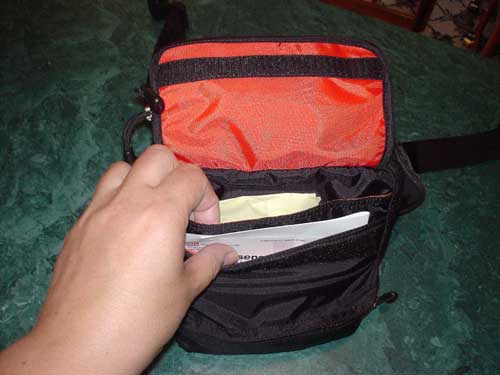 Is this the perfect bag?  Well…only the top exterior pouch is padded, but the compartments inside are so well divided, that isn't much of an issue.  The bag is small, so my little Sony camcorder won't fit in it.  Not to worry, I keep that in a Roadwired Pod bag.  I only use the camcorder on rare occasions
anyway, so that works out.  I can keep the CityWalker on my waist and the Pod on my shoulder.  As you can see, there is room in the bag to hold even more than I have in it…a small pill-case perhaps?  A microcassette recorder?  My Swiss Army knife (a big fat one) fits in here well, too.  It is the closest thing to the perfect bag that I have found.  It will go storm-chasing with me next year…unless I find something better.  Have I mentioned that I am a little fanatical about gear bags?  🙂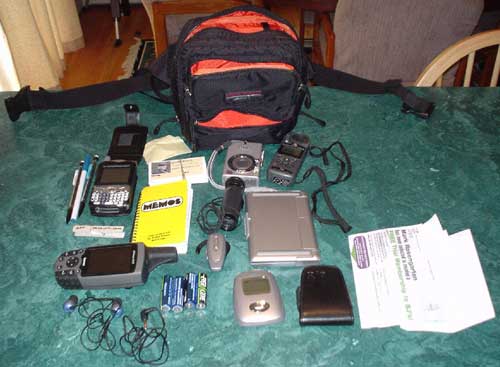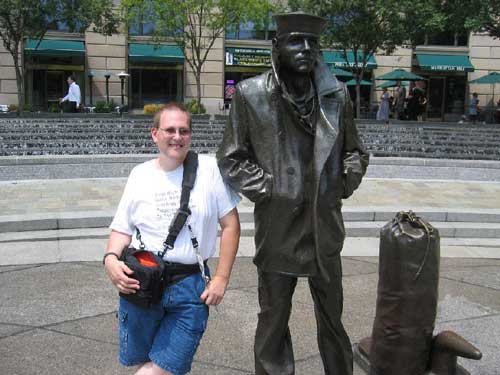 Update 12/10/14
This is my longest-used bag. I reviewed it more than nine years ago and it is still going strong despite nearly constant use. I abused the heck out of it on a hiking vacation in Utah in 2012 and it is still a great bag for my small gear!
Product Information
Price:
$34.99
Manufacturer:
The Container Store
Pros:

Waterproof
Orange interior for easy viewing of stored items
More pockets than you can shake a stick at
Two ways of carrying it
Compact and comfortable to wear
Not expensive for what you get
Extremely intelligent design
Durable (survived water and lots of pricker bushes on my trip)
Only one strip of velcro (yes, Julie, the stuff bugs the heck out of me, too!)
Double zippers on the main and top exterior compartments
Holds a lot of gear very comfortably

Cons:

Only top exterior pocket is padded
Shoulder strap could be more robust
No top handle for carrying around (but that might be a pro in your book)