We use affiliate links. If you buy something through the links on this page, we may earn a commission at no cost to you. Learn more.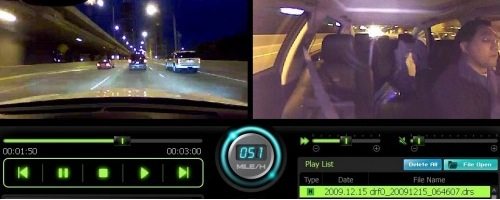 Ever been in a hit and run accident?  Well I have.  I made a left turn and I noticed a white Honda Civic with a giant whale tail spoiler closing in fast from my right.  "That car isn't gonna stop for the light" I thought to myself.  I slammed on the brakes but it was too late:  I stopped when my front bumper T-boned into the red light running Civic.  I pulled over but the offending vehicle had taken off.  No exchange of insurance information, no license plates!
How things might have been different if I had the Dash Cam Dually.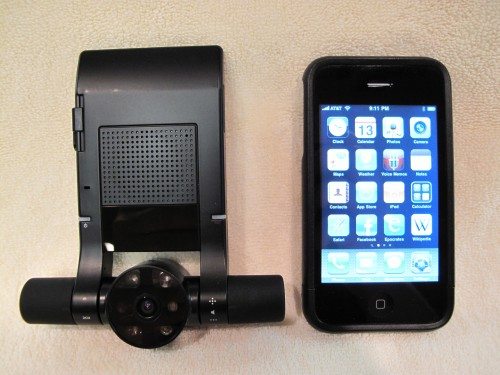 2 Cameras: One (1) front view and one (1) back-view inside the vehicle
Speed detection
Compass
Coordinates (Latitude & Longitude)
Integrated Google Map window
Dual Camera (1.3 Mega Pixels / 2CH Display)
Built-in GPS & G-Sensor
Emergency or Continuous Recording
SD Memory Card

4.25 L" x 1.0 W" x 4.9 H"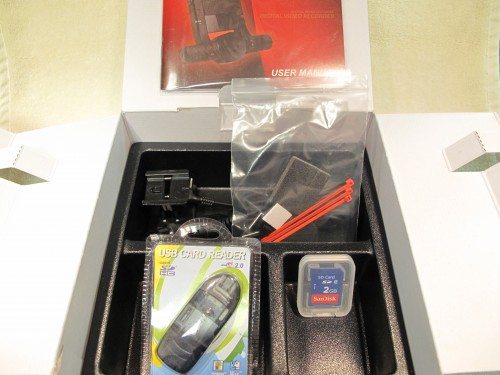 As the name implies, the Dash Cam Dually consists of two cameras.  One camera is pointed outside for a view of the road ahead, and the other camera points back into the car.  The interior camera is outfitted with infrared LEDs for low light illumination.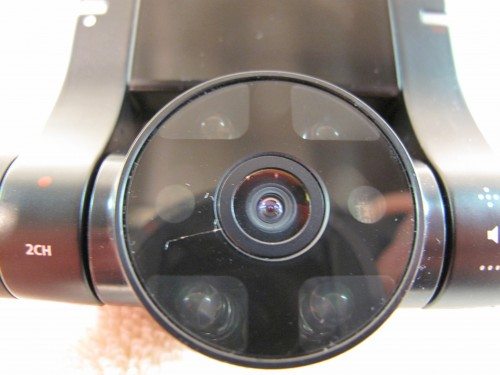 The included mount slides on and is adjustable in one axis.  You'll notice the peel-off adhesive back.  If you're indecisive like me, you'll want to experiment with placement options first before peeling off that adhesive!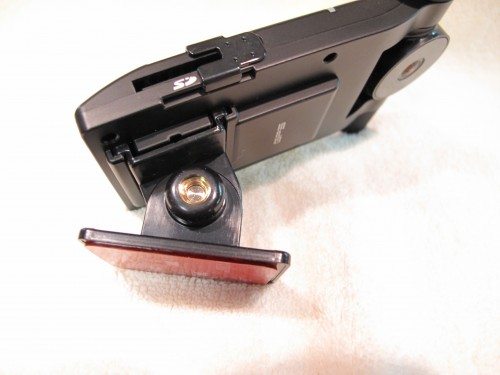 There are two knobs lateral to the camera lens.  One knob controls speaker volume.  The unit gives voice prompts for most actions, and there are 5 volume levels (the lowest is muted.)  The other knob lets you choose whether or not you turn the interior camera or not.
The SD card slot has a cover that cleverly slides over the power plug when opened.  This ensures you don't remove the SD card when the unit is powered up.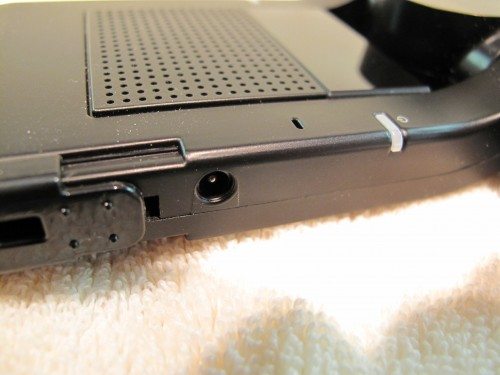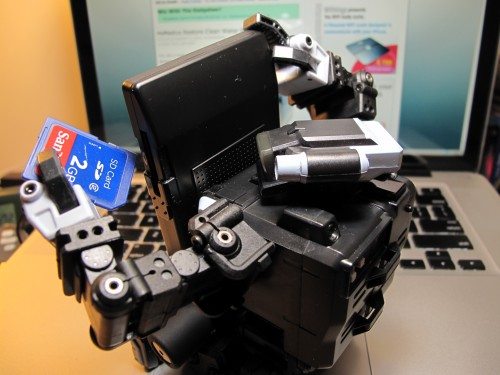 The camera goes high up on your windshield.  Depending on your car, you might have a tough time finding a suitable spot.  In my case, I've got all sorts of car gizmos tucked behind the mirror (rain sensors, a Homelink mirror, radar detector).  I used my own suction cup mount with Velcro for my testing purposes.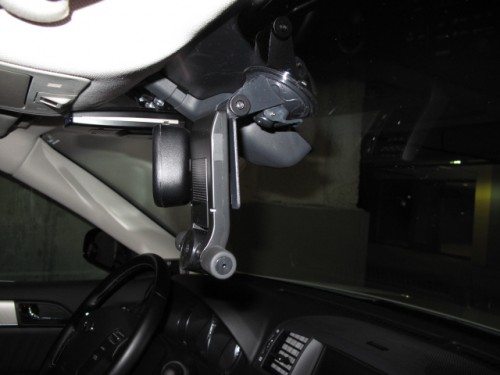 The big question is:  How does it perform?  I drove around in low light and daylight driving conditions.  You can see the results below.
The Windows interface shows the exterior-facing camera (left) and the interior camera (right).   There are playback controls, audio volume,  a speed readout, and even a G-force graph.  The g-force sensor tags recordings as an incident when the user-defined sensitivity is reached.  These video clips are then write protected so they do not get deleted.  Otherwise, when the SD memory card is full, the oldest files are overwritten.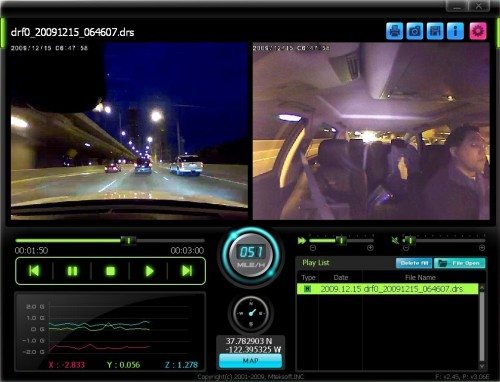 The camera also includes a GPS receiver.  Pressing the MAP button reveals a Google Maps overlay.  Satellite and Hybrid views are also available.  The map "moves" as video plays back.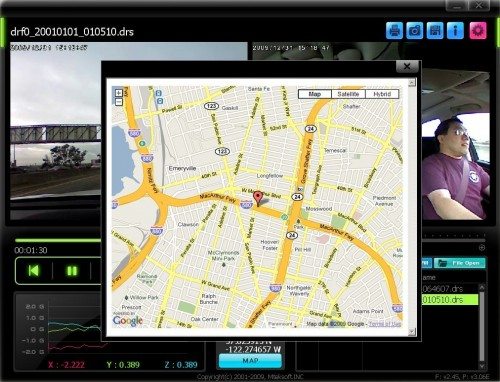 You can save screen shots by clicking the camera icon located in the upper right of the Windows interface.  It saves the interior and exterior shot frame grabs at 640 x 480 pixels.  Here are two examples.  You'll note the time and date stamp atop the screen grabs.  The GPS receiver sets the clock.  Very handy.  Of course, this only works properly if the GPS has a signal and updates the internal clock.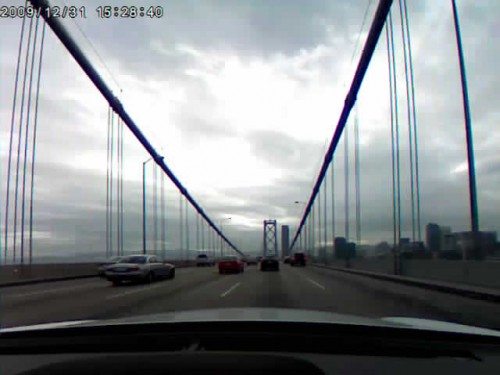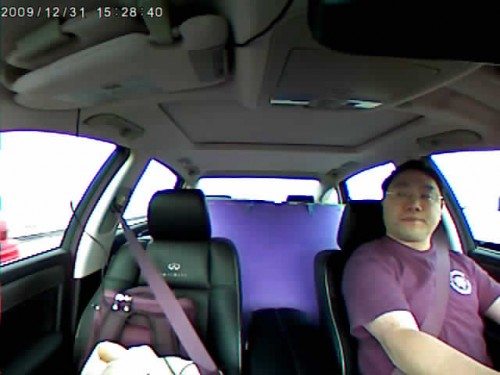 While it was easy to save still images, there was no practical way to save video clips to your computer and email them say, to your insurance company or law enforcement.  The still images are better than nothing, however.
Edit: I have been informed by reader Adam who notes:
Actually, if you look at the icons in the top right of the window, the middle one is a blue icon with the photo of a disk on it. If you click that, it will give you the option to save either camera view to your computer in a format that you can either email or view most video players, such as Windows Media Player or VLC. You can also upload the video to YouTube.
In all, the Dash Cam Dually works as advertised.  I would have preferred a more stealthful form factor, such as a more squat, box-like shape instead of the vertical "slab" design.  If you use your own window mount, you should be able to move this between vehicles with ease.
Product Information
Price:
$385
Manufacturer:
Dash Cam Dually
Pros:

Combines internal and external cameras, GPS and g-shock sensor
Automatically records as soon as power is applied

Cons:

Can't save video clips by simply removing recorded files directly from SD card in their native format.