We use affiliate links. If you buy something through the links on this page, we may earn a commission at no cost to you. Learn more.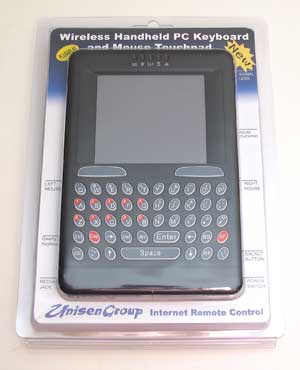 We've all seen and may have even used a wireless keyboard before. You've probably even seen a wireless keyboard with a built in trackpad like the Adesso Wireless SlimTouch Mini Keyboard recently reviewed here. But have you ever seen a wireless keyboard with a built in trackpad that is small enough to fit in your shirt pocket? The EFO Wireless Keyboard and Mouse Touchpad fits that description. Let's try it out.
Hardware Specifications
2.4GHz DSSS radio transceiver 10M/32ft range
Dimensions: 3.3 x 5.3 x 0.4 inches
Weight: 60g, 0.13lb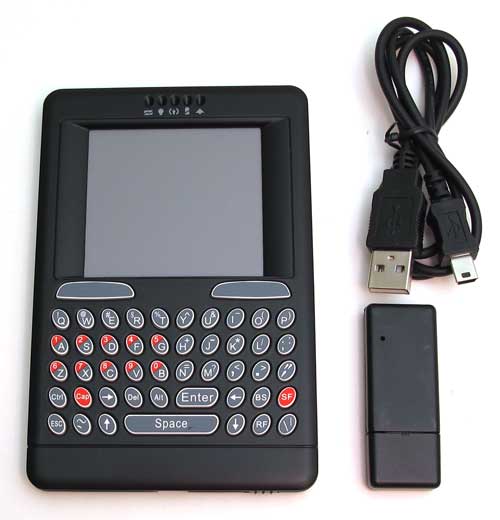 Package Contents
Handheld Keyboard and Mouse Touch Pad
USB cable (2.4 ft)
USB transceiver
User's Manual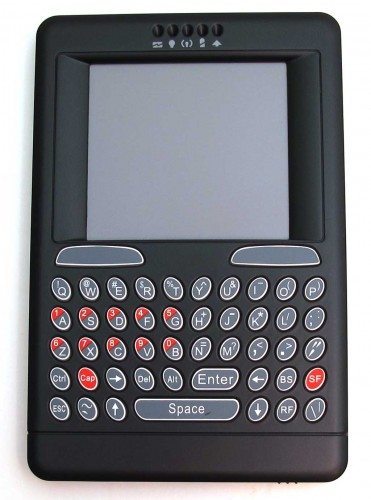 This keyboard is small and very light weight. The case is made of Black plastic, with small oval keys that have a slightly soft texture to them. The keyboard is QWERTY, but most keys have multiple characters assigned to them, that are activated by the SF or Cap key.
At first glance you might mistake this product for a PDA with a built in keyboard. But what looks like the screen is actually the touchpad. This touchpad works exactly like a trackpad on a laptop. There are even Left and Right 'mouse' buttons directly below it.

The keyboard has a built in lithium ion battery that has to be charged before you can use it. This is accomplished by using the included USB cable. One charge should last up to 2 weeks.
You'll also notice a power switch next to the USB connector. Luckily you don't have to remember to switch of the power when you're finished using the keyboard. It will automatically power off after no activity.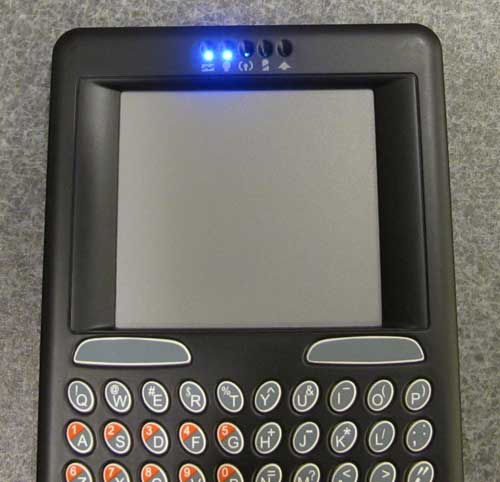 There are five Blue LED across the top of the keyboard that show the status for charging, power, caps lock and low battery.
According to EFO's website, the keyboard itself should be backlit. I can't seem to figure out how to turn on that feature though…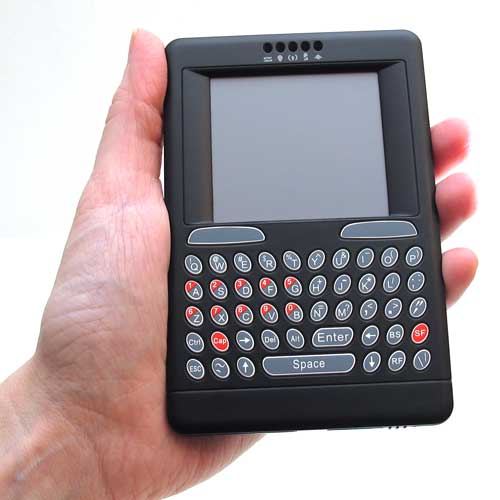 Typing with this keyboard isn't the most comfortable given the fact that the keys are so small, close together and with a slightly unusual layout. Of course, no one is going to use this device as their primary keyboard. It's best used as a remote keyboard / mouse for a Windows HTPC (Home Theater PC), Mac, PS3, Xbox 360 or Wii. It's perfect for that task. You can sit on the couch, up to 30 feet from your TV and connected computer and control it easily.
I tested this keyboard with my iMac and though I found no issues using it to move the mouse pointer and type text, I did have a problem getting my Mac to recognize it. Upon plugging in the included USB transceiver a popup came on the screen asking me to press the key to the right of the left Shift key. Doing so had no effect. The keyboard recognition finally failed and offered a choice of picking a US or Japanese keyboard. Picking US / Ansi did the trick.
I like using this small handheld keyboard to control a computer connected to my TV because I can easily place it on the table next to my Lazy Boy recliner. It doesn't take up as much space as a normal sized wireless keyboard. That said, if I needed to type in a lot of text, I'd use a regular sized keyboard. To move a cursor or type short phrases, the EFO keyboard is perfect. The price is very reasonable too. All in all, it seems to be a good way to control a computer or game system from across the room.
Product Information
Price:
$40.00
Retailer:
EFO
Pros:

Easy to use
Wireless
Rechargeable
Small

Cons: