The Gadgeteer is supported by readers like you! If you buy something through links on our site, we may earn an affiliate commission at no cost to you. Thank you! Learn more.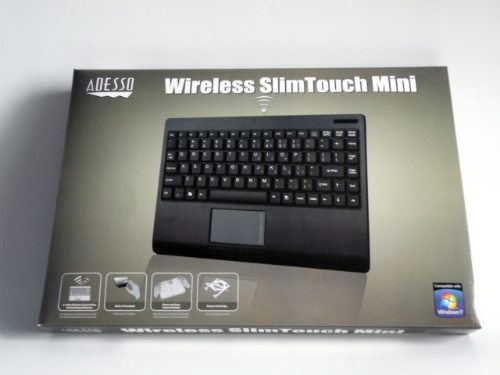 The Adesso Wireless SlimTouch Mini Keyboard is indeed "mini"; it took up very little space at my desk.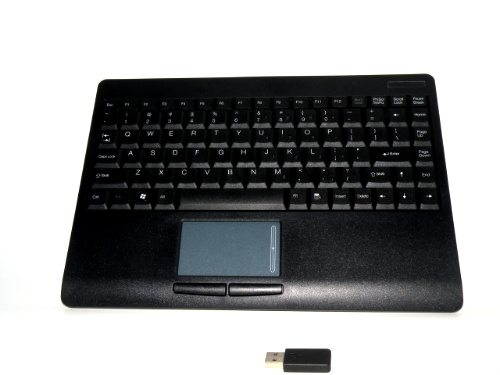 I think I would have sacrificed the length of the board to have accommodated my desire for the mouse/touch pad to have been alongside the keyboard rather than under it. It sort of feels like I'm on a laptop with the track-pad being below the keypad. It took me a few seconds to understand that because there are no number pads to the right, Adesso decided to add them on certain keys on the keyboard. So as I was typing this article, the numbers lock was on. But because there doesn't seem to be any warning lights on the board itself, I didn't know that so every time I tried to type "Adesso" I ended up with "Adess6". The instructions tell you that you will see the LED light flashing as you type, however because of the way my USB port is on my desktop, the side that flashes is facing away from me so I wouldn't be able to see any of the flashing. However, you could always just use the numbers at the top of the board without any fancy tricks or maneuvering. The indicator is also supposed to let me know if my battery is running low, but again I would have to get up and look on the other side to see anything. Now I elected to use a front facing USB port; the manual suggests (including a diagram) that you use the back of the computer. So I would really be amazed if you can see all that going on from back there.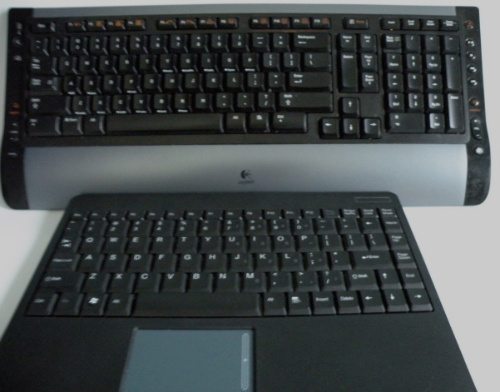 As you can see from the photo comparing the Adesso to my regular sized keyboard, the Adesso is shorter in length but taller in height than my Logitech. The keys have a nice touch to them. Not too loose and not too tight. You can get an accurate feel for what you are typing. Scrolling was smooth and "mouse-like". Sometimes the track-pad would act a little funky (especially with the single tap, which is supposed to be the equivalent of a left click.) On some websites, it was perfectly fine; on others it would act like I never touched it or jump around a little bit on the screen. Backspace/delete was also an iffy proposition on some pages, such as when I was writing this article. I also tried different methods of input. I tried using the keyboard's "mouse" one-handed using the scrolling and clicking with just my dominant hand. Then I tried it using two hands which became a little uncomfortable and made me miss my mouse- the track-pad is nice, but I should tell you that I really don't like to use the track-pad on my laptop either. I need a mouse, I'm just wired to look for a mouse; no matter how many times I stare at this keyboard my right hand wonders over to the right of the keyboard looking for it. Maybe my hand is lonely, or I am spastic but I want a mouse! I found that by using the track-pad I had a lot of accidental "clicking", and sometimes highlighting. Unfortunately, during the second week of use, I found I was having difficulty getting the track-pad to respond to my tap as a click. Then, a few hours later, everything would respond again. I'm not sure if that was an anomaly, or something that usually happens, but it is something to be aware of when deciding to trade in your full sized keyboard and mouse for a mini keyboard and track-pad setup.
It takes some time to get used to the position and settings of the keyboard, but if you are limited on space and you like using your laptop's keyboard and track-pad, you really can't beat it.
Product Information
Price:
$109.99
Manufacturer:
Adesso
Pros:

Takes up very little space
Comfortable to type on

Cons:

Track-pad wasn't consistent
Needs better indicator lights