We use affiliate links. If you buy something through the links on this page, we may earn a commission at no cost to you. Learn more.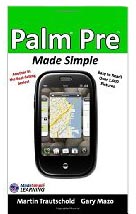 Do you need a little help with your Palm Pre Smartphone? Palm Pre Made Simple by Gary Mazo might be just the thing for you. This 348 page paperback book has hidden secrets and useful tricks for Windows and Mac owning Palm Pre users. More details after the jump.
ORMOND BEACH, FLORIDA –Friday, October 30, 2009
Made Simple Learning co-authors are proud to announce the release of the printed (soft-cover) version of their newest book: Palm® Pre™ Made Simple.
This book joins more than 10 other best-selling Smartphone books in the "Made Simple" series.  Like all our books, it is written in plain English, loaded with comprehensive explanations, hidden secrets, and useful tips.  With almost 350 pages and more than 1,000 carefully annotated screen shots, this book is a "must-have" for any Palm® Pre™ user.
The Printed Book is available now at http://www.amazon.com/gp/product/1439255245?ie=UTF8&tag=madesimplear-20&linkCode=as2&camp=1789&creative=390957&creativeASIN=1439255245 for just $18.99.
The Electronic Book version is available now for $12.95 at http://www.madesimplelearning.com/bbms_palm_pre_webos_training.shtml
Martin Trautschold and co-author Gary Mazo, once again have collaborated to produce the "definitive" guide for the Palm® Pre™ which includes the latest Software Features and update process.
This guide book helps both Windows™ and Apple Mac™ users with all aspects of the Palm® Pre™.
Comprehensive: This book has over 1,000 screen shots that are carefully annotated to show the reader step-by-step instructions.  Everything is written in plain English and includes steps on how to do just about anything with the Palm® Pre™.
Never miss one of our posts again. Sent MON, WED, and FRI with the latest gadget reviews and news!
Learn about Palm's Synergy™ syncing service
Save time by using tips and tricks such as Copy & Paste
Some of the highlights include:
Manage your busy life with your New Palm Pre(tm).
Merge all your contact information with Synergy(tm).
Sync to and Wirelessly Update Contacts and Calendar to Google, facebook, LinkedIn.
Multi-Task Effortlessly with Card View.
Unleash the Media possibilities of your Pre with YouTube(tm), Pandora(r), and More.
Save Time with Copy / Paste, Universal Search.
Both Windows(tm) and Mac(tm) Support.
Get the most from Music, Videos & Pictures.
Sync Music Playlists and Videos using iTunes(r) and doubleTwist™.
Email, Phone, Calendar and Browser Tips and Tricks.
Create Ringtones & Wallpapers.
Use Google Maps to Find Just About Anything!
Learn how to Download Apps via Palm's App Catalog and Learn about Homebrew Apps.
Bluetooth and Wi-Fi Network Setup & Security.
Learn about Homebrew Apps – Dieter Bohn, Editor-in-Chief, Smartphone Experts
About Made Simple Learning
We are a Smartphone Training Firm with a passion for making Smartphone learning that meets the needs of busy users.  We realize that most Smartphone owners are short on time, highly mobile and learn at their own pace.  This is why we created our training books to be easy to read in 'short chunks' and our video library to be short (3-5 minutes long), fully keyword searchable, and above all, engaging so our customers keep coming back for more.  Our Development Team has over 12,000 hours of experience working with Smartphones (BlackBerry, iPhone, Palm Pre and others).    Our clients range across industries and across the globe from Fortune 500 companies, Federal, State and Local Government organizations, Public and Private School Districts, Law Firms, Small and Large Non-Profits, and Small to Mid-Size Businesses of all types.
NOTE:  Made Simple Learning  is an independent source of training for the Apple(r) iPhone, Palm(r) Pre(tm), BlackBerry® Smartphones and is not affiliated with, nor endorsed by, Apple Computer, Research In Motion, Ltd. or Palm, Inc. who owns their respective brands, trademarks, and intellectual property.