We use affiliate links. If you buy something through the links on this page, we may earn a commission at no cost to you. Learn more.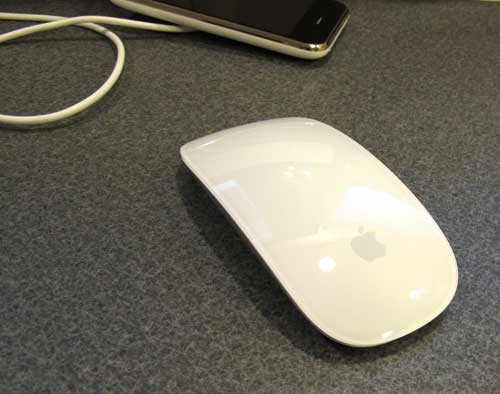 I'm extremely happy with my new 27″ iMac (quad-core i7) because is fast and quiet. I wasn't sure how well I would adjust to the wireless keyboard and the new magic mouse. I'm so accustomed to a full sized keyboard and Logitech MX Revolution mouse, that both felt really awkward to use at first. I vowed to use them both exclusively for at least a week before deciding to go back to the Logitech and full-sized Apple keyboard. Well, it's been a week – want to know what I decided?

It only took me a day or so to get used to the wireless keyboard. This is probably due to the fact that I also have a new 15″ Macbook Pro with a similar keyboard. I find that I can type just as fast with flat keys as I can on a regular full sized keyboard. I never use a number pad, so I don't miss not having one.
I didn't think I would appreciate the wireless aspect of the keyboard because I don't ever lean back in my chair with a keyboard in my lap or anything like that. I'm loving the fact that it has no cables because I can just pick it up and slide it easily out of the way when I need a little extra room on the desk.
Verdict – The wireless keyboard is a keeper.
The Magic Mouse is pretty cool and I wanted to love it.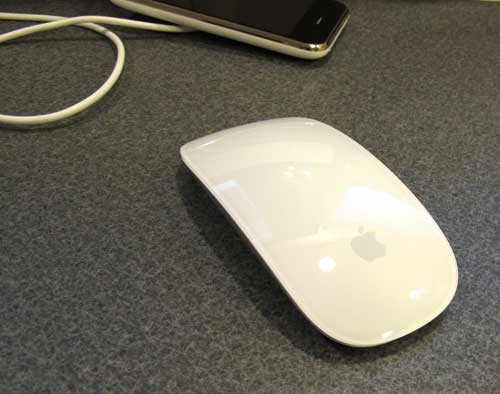 Style-wise, it's a winner. The top is a shiny clear acrylic plastic that reminds me of my 3yr old iMac.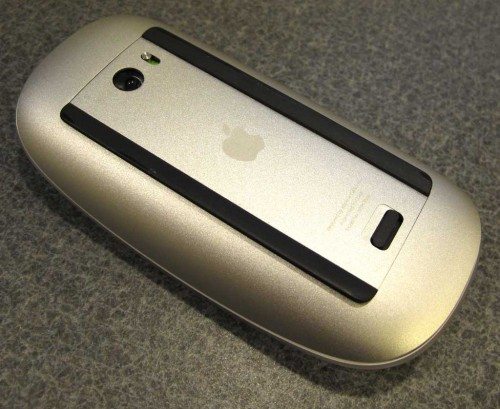 Never miss one of our posts again. Sent MON, WED, and FRI with the latest gadget reviews and news!
The bottom is a brushed aluminum with two hard Black plastic rails. Click the image to see a full sized version.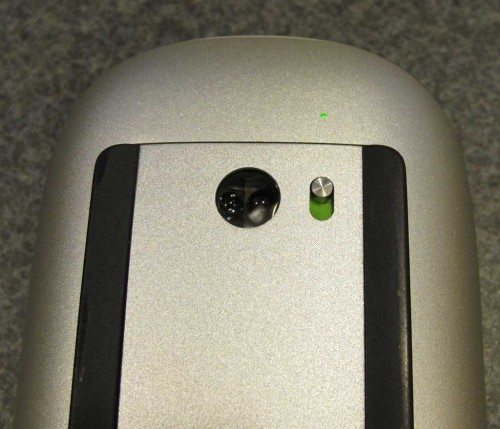 Next to the optical eye is a power switch. Above it is a very tiny LED. Click the image to see a full sized version.
I leave the keyboard and mouse powered on 24/7. I've been using them both for over a week and so far and only the mouse is showing less than 100%. According to Apple, the mouse is supposed to work for 4 months on a set of AA batteries. I seriously doubt that…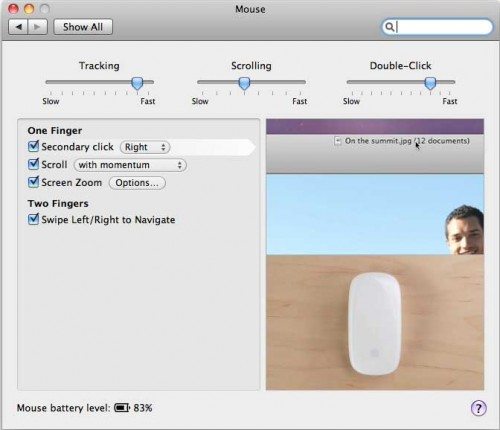 Battery levels for both the keyboard and mouse are easily checked via the System Preferences app, or the Bluetooth connected devices menu that is accessed from the top menu bar.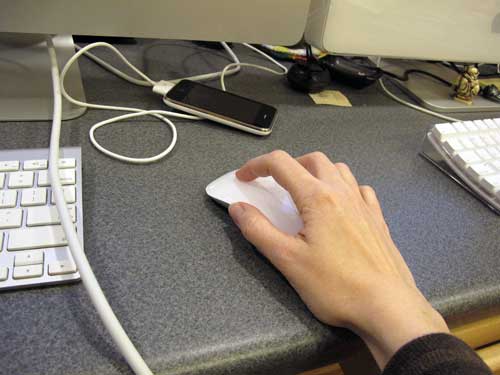 The Magic Mouse doesn't look like it has two buttons and a scroll wheel, but it does – because it's magic 🙂 There's a Left and Right button that can be clicked just like a regular mouse. There's a scroll feature in the center that works just like other scroll wheels, except that it's invisible. You just stroke your index finger along the top surface to scroll. You don't need to use any extra pressure. At first it felt completely unnatural to scroll that way, but I've gotten used to it.
In addition to scrolling up and down, you can scroll left to right and page through iPhoto images. This mouse is really cool, but I can't seem to love it. I find that sometimes when I'm scrolling with my index finger, it feels like hitting a speed bump with your car. My finger is either slightly damp or something, but it will 'stumble' while scrolling. After using the larger Logitech MX Revolution, the Magic Mouse almost feels a bit too small. Normally this would not be an issue, but I do a lot of photo editing and I feel like I don't have as much control as with the Logitech.
I also don't like the fact that I can't easily charge the batteries. When they finally become depleted, I'll need to remove them from the mouse and replace them.
Verdict – The Magic Mouse is going to become a travel mouse for my Macbook Pro and I'm going back to the Logitech MX Revolution as a desktop mouse for my iMac.