We use affiliate links. If you buy something through the links on this page, we may earn a commission at no cost to you. Learn more.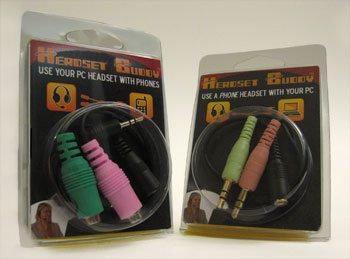 The purpose of the Headset Buddy ($9.95 to $14.95 available from Webko)  ) is a little hard to conceptualize or appreciate at first glance.  In fact it is rather a niche type of product.  For those of us who a) do not enjoy clutter; b) do not particularly care about Blue Tooth (gasp); and c) appreciate gadgets that make ones life easier even though they are not glamorous (the gadgets that is), this is indeed a nice buddy to have.
The main idea behind the products is to allow you to either a) use your telephone headset with your PC [which is what I'm doing right now with my "Phone Headset-to-PC Buddy"] or use your fancy gaming or Skype PC headset with your phone.  So if you have a favorite head phone set (say noise-canceling or super comfortable) you can pair it up with a headset buddy and save a little space.  Neat. Concise. Useful.
Product Information
| | |
| --- | --- |
| Price: | $9.95 - $14.95 |
| Manufacturer: | Webko |
| Pros: | Does what it says, saves space, multiple headsets |
| Cons: | Could be considered a bit pricey |