We use affiliate links. If you buy something through the links on this page, we may earn a commission at no cost to you. Learn more.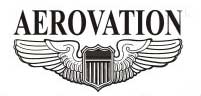 Traveling by air post-9/11 is a hassle. Segregating liquids, removing laptops, pulling tape from camcorders, taking off your belt and shoes – it's all a royal pain, to say nothing of the juggling act required to recover your stuff on the other side of the x-ray machine and metal scanner. Aerovation is among a small group of companies that has been certified by the TSA to manufacture and market approved cases that allow you to not have to take your laptop out for the trip through the x-ray machine. How do these bags work, and are they worth the effort? We'll see.
I fly at least once a month, either to our home office or to do training with our help desk. Both of these usually require an overnight stay, which I have reduced to my regular bag, plus clean shorts, socks, shirt and handkerchief and a toothbrush. Everything else I need – shampoo, soap, lotion, etc. is provided at the hotel, along with evening tea and breakfast coffee. This means I don't have to check a bag (which, with my favorite airline, Southwest, doesn't cost extra, but can result in a wait or the occasional loss of a few hours.) It also prevents me from being "that guy" who tries to wrestle a roll-aboard the size of a dead yak into the overhead while balancing a laptop bag on my shoulder. (Trips in the early spring, winter and fall can require more, given the need for sweaters and gloves at one end of the trip. But the spring/summer flights are a dream.)
Aerovation has designed this series of bags in two parts: one to hold the laptop and only the laptop, the other to hold everything else. The bags split apart and ride through like an open-face sandwich through the toasting oven at Quiznos®. On the other end, you just need to grab the handle that has connected them, and they fall back together, hooking together with Velcro® to join them back into a single bag. A great plan, and actually, it almost works.
I tested two bags: a laptop bag designed for 15″ laptops,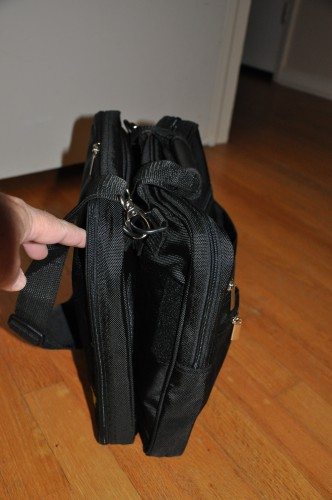 and a trolley cart bag, designed to hold 17″ laptops and overnight supplies.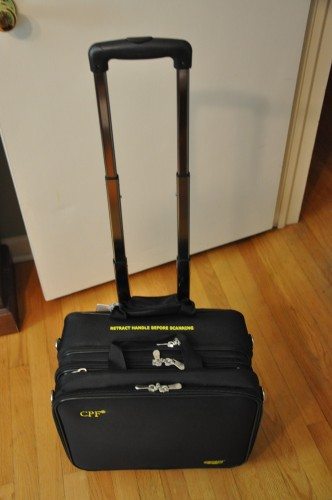 The Laptop bag is actually two bags joined by a common handle and hardware. They can be separated and carried independently, if desired. The laptop compartment is lined in black, entirely covered by instructions printed in bright yellow. (More on this later.) The non-laptop section (easy to spot by the complete lack of instructions) has a zipper that extends from halfway down each side across the top. There are a few pen loops, a tier of credit card pockets, and a pouch that would hold a candy-bar phone on one side, along with some full-size non-gussetted pockets behind. The rest of the section is all one compartment, just like the laptop section. There are also a few tight single-magazine pockets on the outside of the bag, but nothing that's going to hold anything thicker than a half-inch or so.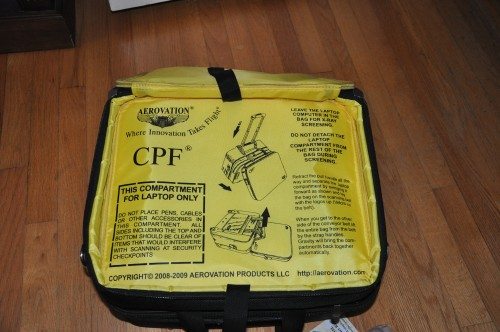 The trolley cart is actually three compartments: one for the laptop only (up to 17″, and lined in bright yellow with explicit instructions not to put anything else into it — again, more on this later), the trolley and clothing section, and the "other stuff" section, where you would put the usual laptop bag items. This section is similarly configured to the laptop bag, with tight, small, non-gusseted pockets. Again, the laptop section can be detached.
So, the non-laptop pocket on both of these bags is where you'd carry your power adapter, umbrella, iPhone charging cable, point-and-shoot camera, pad holder, pen pouch, business card holder, earbuds, bag of "fluids" (nasal spray, chapstick, eye drops, hand lotion, toothpaste, etc.), and the million other things you usually carry in your gear bag. All this in a single, narrow, pocket-less rectangle of cordura. Is anyone seeing the problem here? Right! – There's no way to organize and handle this stuff! Placed in a single large square-ish pocket, it all slides down to the bottom. When you grasp the handle to rejoin your laptop section to this part of the case, it's like trying to meld a book with a football! Nothing seamlessly rejoins, unless you stop, open the "support" area, pull things up, press on the Velcro® to ensure the seal, and zip things back.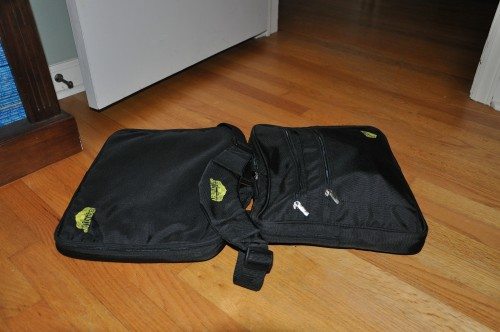 If you only carry a power adapter and two magazines with you, you'll be fine. Or, as Julie and others have done, if you use packing cubes to organize this area, you would probably not have any issues. But most of the folks I know – especially gear-a-holics – will have too many iPods, chargers, USB drives and other detritus of the life of a modern digital nomad floating around to have it stay this flat. While that doesn't preclude us from using the case, it does overwhelm the convenience factor of the grab-and-walk on the far side of security – which is the whole point of the system.
There is another thing, which I must mention, because it really drove me to distraction: obsessive labeling on the exterior and within the laptop area. The trolley cart is very professional, and would blend in nicely, except for the bright yellow warning painted on top, beside the handle: "RETRACT HANDLE BEFORE SCANNING." OK, maybe I'd need to be warned of that once. A simple tag will do. But permanently marking the bag is like tattooing your phone number to the back of your hand. Do they really think I can't learn this simple fact and not do it? And if I do, TSA will stop me and remind me that I'm an idiot, and I'll never do it again. Why deface a nice bag this way? (Of course, I remove the airbag/childseat warnings from my cars' visors. I know not to put child seats in the front, and don't need to be reminded. Why leave the tags there? My youngest child is 20!) Same goes for the bright yellow & black printing inside the laptop compartment. It totally detracts from the elegance of the case to have 42 rules and regulations silk-screened to the lining.
So, while I really wanted to love this product for the idea, the execution and lack of organizational pockets killed it for me. The excessive overprinting added insult to injury.
Three stars: Four for concept and workmanship, two for design and signage.
15.4 Inch Checkpoint Friendly Laptop Bag $69.95
Checkpoint Friendly Trolley Bag with Removable Laptop Compartment $199.95
Product Information
Price:
$69.95 & $199.95
Manufacturer:
Aerovation
Pros:

Eliminates removing laptop from case for x-ray
Can allow for one-handed pickup from conveyor belt
Accepted by TSA for all US airports

Cons:

No organization within other section(s)
Sections will not reconnect easily if many small items are packed
Large, brightly-colored printing undermines dignity of user