We use affiliate links. If you buy something through the links on this page, we may earn a commission at no cost to you. Learn more.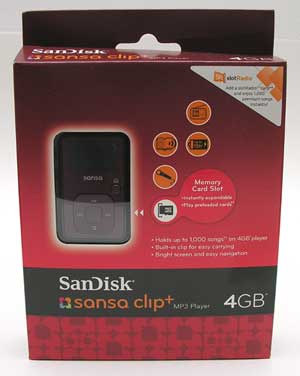 A few months ago, Dave reviewed the SanDisk Sansa Clip MP3 Player and gave it a thumbs up. As we all know, time does not stand still in the world of gadgets, even for a few months. SanDisk has recently updated their Sansa Clip player, this one is called the Clip+. Let's check it out and see what the "+" is all about.
Hardware Specs
Capacity – 2GB, 4GB, 8GB
Colors – Black, Red, Blue
Display – OLED
Supported Audio Formats – MP3, WMA, secure WMA, Audible, Ogg Vorbis, FLAC, plus audio books and podcasts
Expandable microSDTM and microSDHCTM memory card slot
Headphone – 3.5mm
Digital FM tuner with 40 presets
Rechargeable battery with up to 15 hours of continuous playback
Built-in microphone to record voice memos
Size – 2.16 x 1.36 x .60 in
Weight – .85 oz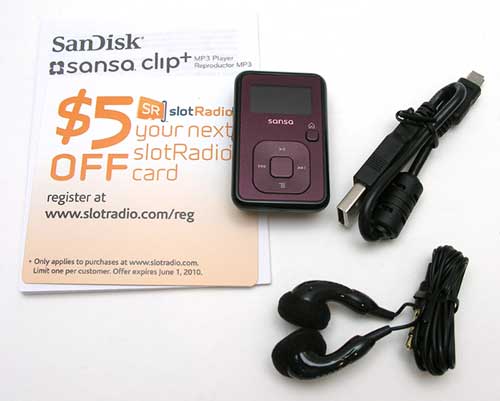 Package Contents
Sansa Clip+ MP3 Player
USB Cable
Earbuds
Quick Start Guide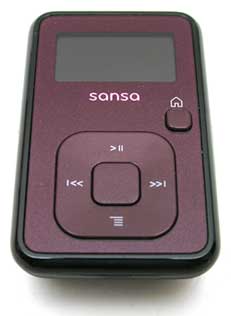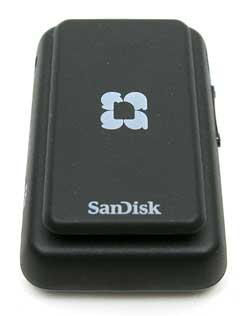 At first glance, it doesn't look like much has changed between the previous version and this new model. It has the same basic size and button layout. The main control button has changed slightly though. Instead of being round and backlit, it's now squarish and is not backlit. I prefer the previous look.
Of course, the clip is still there. The new one is not removable or replaceable though. Again, I prefer the previous design.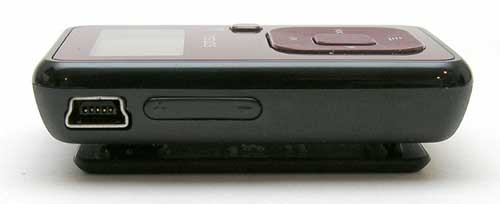 The Left side has the mini USB connector for charging and syncing and below it, is a small Volume adjustment button.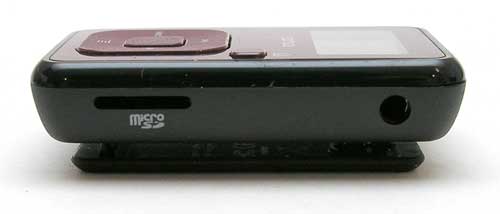 The opposite side has the earphone jack and a microSD card slot. You can put your own music on a card, or buy slotMusic or slotRadio cards and play them through the Clip+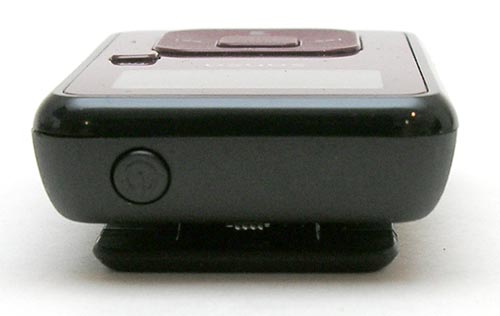 The power button is located on the top of the player.
At first, I didn't think that the Clip+ had a hold switch, but holding down the Home button while music is playing, puts the player into hold mode.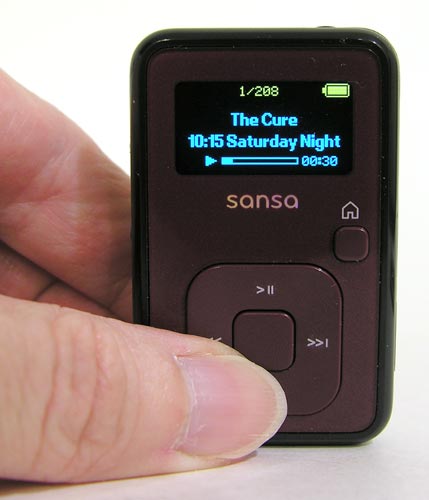 The menus and display do not appear to have changed between the Clip and Clip+. The the two-color OLED display (Yellow and Blue) is small but very easy to read in any type of light. Navigating the menus using the 5-way button on the front of the player is easy as well.
The Clip+ has 4 main features: Music player (including Podcasts and Audio books), slotRadio card player, FM radio and Voice recorder.

It's compatible with Windows and Mac computers and doesn't require any special software to load music on it. Just plug it in to your computer with the included USB cable and it will show up like a regular flash drive. From there, you can drag and drop audio files to the appropriate folders. You can also copy music to a microSD card and plug it into the Clip+. Any music copied to the player's memory or a microSD card will show up in the list of artist and songs. Depending on how big your microSD card is and how much music you have stored on it, it can take awhile to index the music database when you plug the card into the player. This isn't a big deal if you don't change music every day.
One thing I did notice is that it's hard to find an individual song if you have a lot of music stored on the device. Scrolling through long lists of songs on a device with a small display will take awhile…
What's missing? AAC support. This isn't a big deal for me as I save all my tunes in .MP3 format, but I know it's important to many people.
The SanDisk Sansa Clip+ is a great little MP3 player and the built in microSD slot is a nice upgrade from the previous version. It's what the Apple iPod Shuffle should be. It's small, easy to use and expandable via the microSD card. Great for the gym, at work, or where ever.
Product Information
Price:
$39.99 - $69.99
Manufacturer:
SanDisk
Pros:

Small size
microSD slot
FM radio

Cons:

Can take awhile to find an individual song