We use affiliate links. If you buy something through the links on this page, we may earn a commission at no cost to you. Learn more.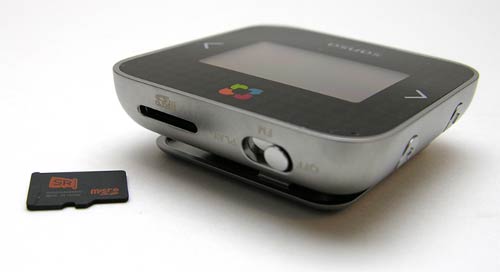 Last winter I reviewed the slotMusic player from Sansa. I thought it was an ok player for $20, but the lack of display and CD music cards made it less than desirable. Now we have another option with the slotRadio player. It includes a display and can play preloaded cards with 1000's of songs as well as cards with your own songs. Is it worth $99 though? Let's see.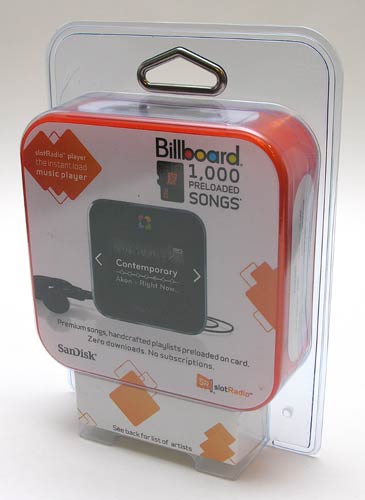 Hardware Specs
Capacity: Zero on-board memory, includes slotRadio™ card with 1000 songs
Screen Size: OLED 1.5″ landscape
Colors: Silver
Expansion Slot: microSD/SDHC
Headphone Jacks: 1
Radio: FM tuner with presets
File Support: MP3, WMA
Connection: USB 2.0
Battery: Rechargeable up to 13 hours
Product Dimensions: 2.0 x 2.0 x .60 inches including the Clip
Product Weight: 1.3 oz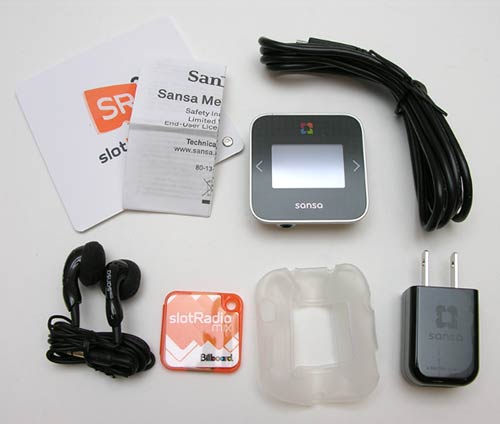 Package Contents
Sansa slotRadio player
slotRadio mix card with 1000 songs
AC Adapter
Earbuds
USB cable
slotRadio card case
Silicone sleeve for player
Quick Start Guide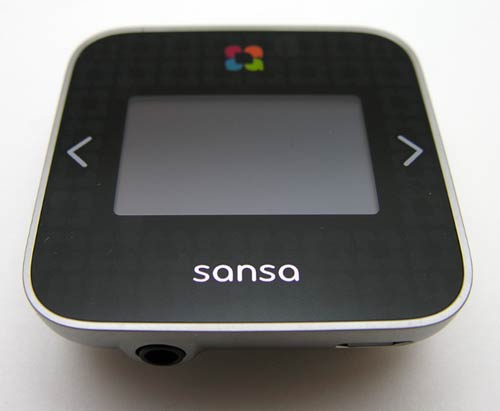 The slotRadio player has a metal casing and a matte plastic top with two membrane style buttons on either side of a mono OLED display that move from genre to genre on slotMusic cards, or album to album if you put your own music (folders) on a microSD card.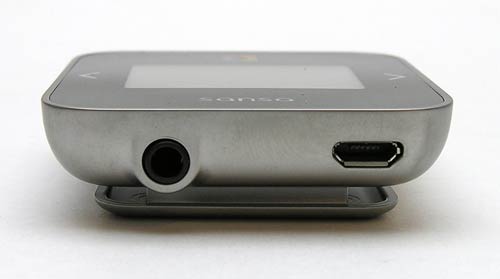 The bottom edge has a 3.5mm headphone jack and a micro USB connector for charging the internal battery.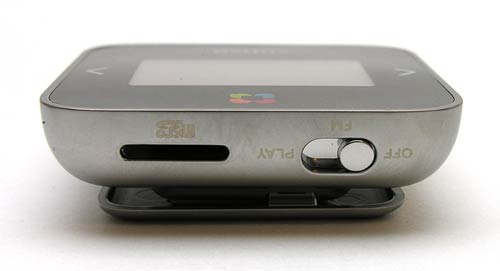 The top edge has a power/FM radio selector switch and the microSD slot.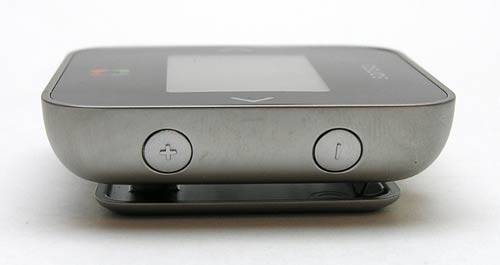 On the left side are the volume adjustment buttons.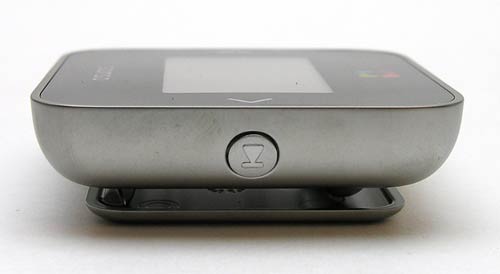 And on the right side is the next song / pause button. Press the button once to skip to the next song or hold it to pause playback. There isn't a Previous song button though…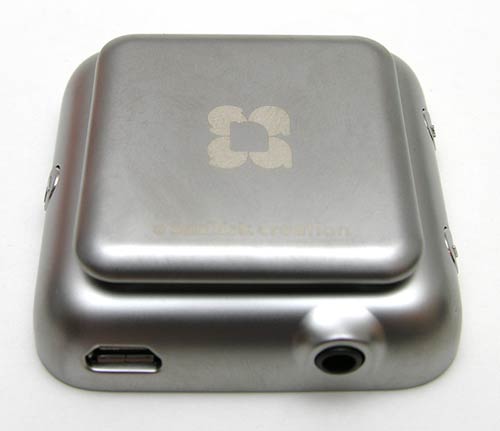 On the back is a large square metal clip.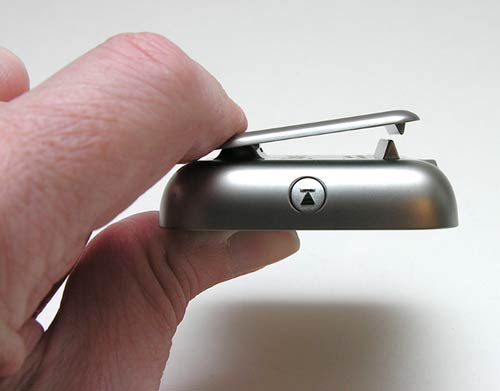 The clip is pretty strong and looks like it's meant as a belt clip. But it seems weird that if you did clip it to your belt, that the headphone jack is then pointing down. Oh well.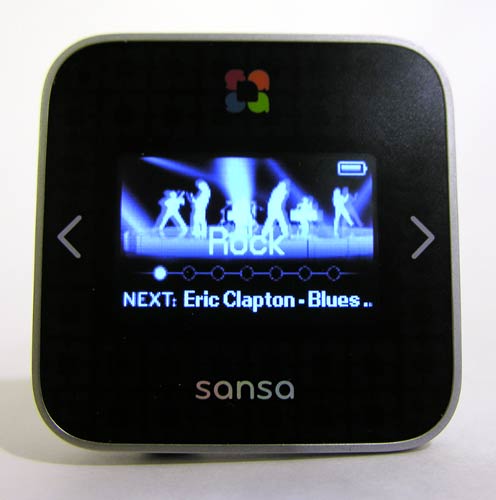 When you flip the switch to Play, the mono OLED display will spring to life with some simple animations that show the current genre along with the band name and song name scrolling across the bottom. It will also scroll the band and next song name.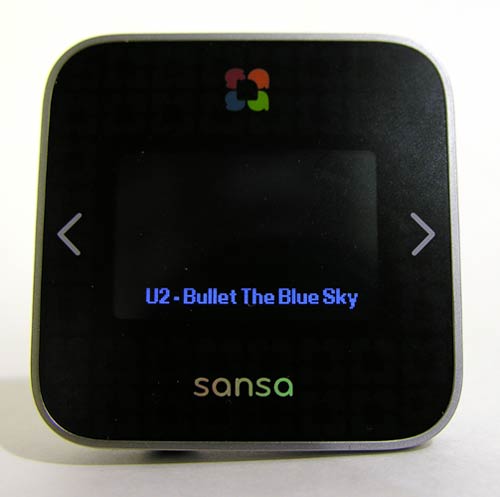 Then the screen will go black and just show the band and song name across the bottom for a few seconds whenever a new song starts.
The player that was sent to me also included a slotMusic card with a mix of music genres including Rock, Country, R&B/Hiphop, Contemporary, Alternative, Workout and Chillout. There are supposed to be a 1000 songs on each card, so I haven't tried to count how many are in each music type. The collection is decent and includes newer and older stuff. The cards are priced at $39.99. Currently there are only six different cards available: Rock, Country, Hip Hop / R&B, Oldies, 80's & 90's and Daily Mix.
The whole idea is that you buy these cards instead of downloading music. The cards have some kind of DRM because when I tried to read one with my Mac, it would not show the music files.
You can also put your own .MP3 or .WMA files on a microSD card and the slotRadio player will play them. It will show the album name and song name as well.
Sound quality is good. No complaints there. I am also happy to report that if you pause a song and then turn off the player and even go play the radio and then come back to play music, it will start from where you paused it.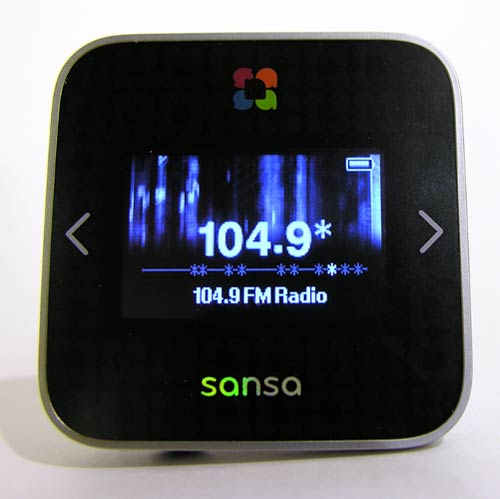 The other feature built into this player is an FM radio that appears to be RDS capable. One of my local channels (not shown here) displays the call letters and song names as they play. Nice. You can seek channels as well as set presets. Reception is actually pretty good.
So is the Sansa slotRadio player a winner? Well, it's definitely a step above their $20 slotMusic player due to the display and FM radio. But, I think the $99.99 price tag is about $50 too high given the fact that it doesn't have any built in storage of its own, no previous track feature and no song shuffle feature. The idea of the slotMusic cards is interesting, but I really don't see them taking off. I think people want to put their own music on a player. They don't want to pay for stuff that they might not like. I'd rather have the Sansa Clip instead. It's smaller, has a previous track button, FM radio, display, shuffle, voice recorder, 5 band equalizer, playlist creator, and you can get the 4GB model for about $60.
What is your favorite inexpensive small MP3 player and why?
Product Information
Price:
$99.99
Manufacturer:
Sansa
Pros:

Easy to use
Nice for people that don't want to download music
RDS radio feature

Cons:

No built in storage of its own
No song shuffle feature
No previous track button
Expensive