We use affiliate links. If you buy something through the links on this page, we may earn a commission at no cost to you. Learn more.

Several months ago, Julie sent me a couple leather iPhone cases to review. After playing around with both of them and using them on a daily basis, I decided I really wanted a silicone case, so I bought a couple online. When all was said and done, I'd used four different cases with my iPhone – and one came out the clear winner.
First off, let's look at the leather cases Julie sent – the Sena LeatherSkin and the Vaja ivolution Top SP.
Sena LeatherSkin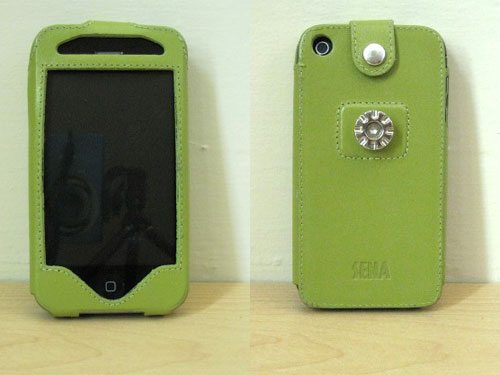 The Sena case is available in fourteen delectable colors and comes with a decent ratcheting belt clip attachment. I really like that it ratchets, so my phone is twirling around freely on my belt (or purse or wherever else I've clipped it), and the metal nub that the clip snaps onto is fully detachable. Removing the phone from the belt clip requires pressing down on a release latch and pulling up on the iPhone – it's pretty easy to use, as far as belt clips go, and it's also quite secure.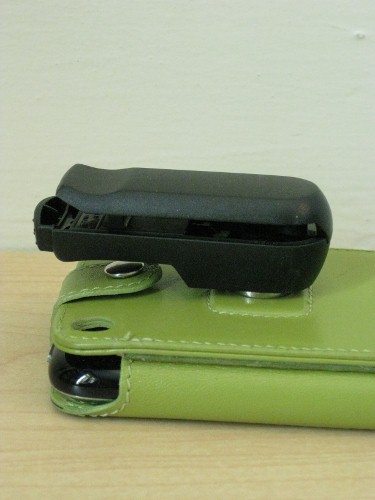 The biggest downside I saw to this particular clip style is that the clip itself is just a bent piece of metal, rather than a spring-loaded assembly. I'm pathetically weak, and I found the clip to just be too stiff and difficult to press open at times. That being said, I didn't use the belt clip much while I kept my phone in this case, so it wasn't too big of a disadvantage to this product.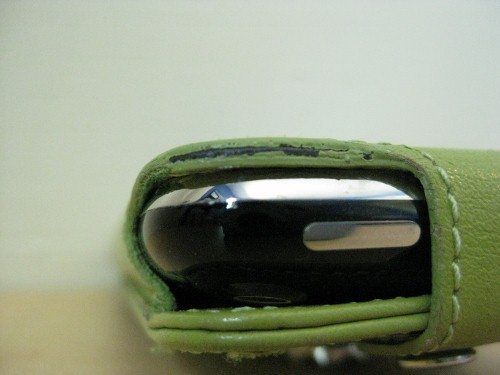 This case is decent quality, but the colored leather did start wearing off after I used the case nonstop for several weeks. It's not terribly noticeable but annoying nonetheless. Additionally, I found that the cutout for the earpiece at the top of the case pressed into my ear rather uncomfortably. This could just be because of the size and shape of my head, but it did get on my nerves after awhile.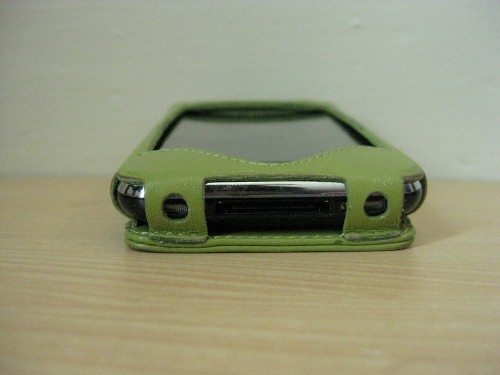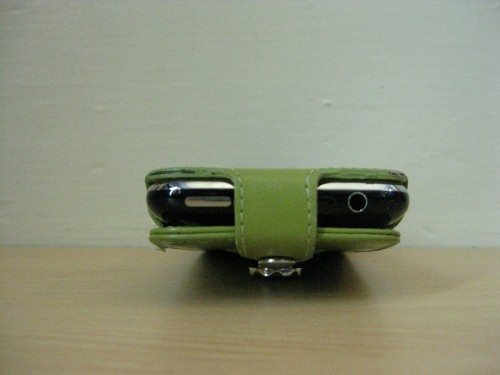 The case snaps at the top to hold in your iPhone, and there's a cutout at the bottom so that you can attach a USB cable without removing the phone from the case. Overall, the case provides decent coverage, except in one key area – the corners. In any gadget case, I want the corners of my device to be well-protected. This is where you're going to get the most wear on a product. When you drop something, it tends to bump the corners, and generally speaking, the corners of anything show wear before other areas.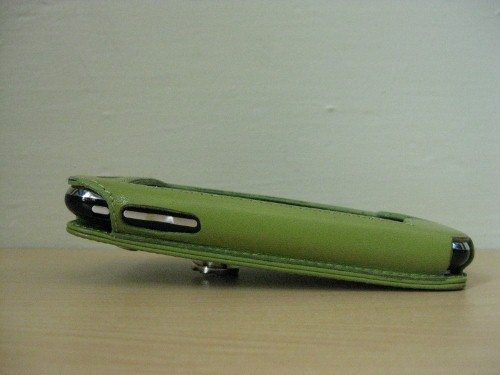 At $42 MSRP, the Sena LeatherSkin isn't terribly overpriced for the quality and features. I really like the belt clip (as far as belt clips go, at any rate), and the wide color selection is pretty great. The leather doesn't add a lot of bulk to the iPhone, although it definitely makes the phone a bit thicker than when it's in its birthday suit, so to speak. The case held up decently enough to a lot of use and abuse, although I wish it protected the corners of the iPhone a little better. Overall, I liked the case enough that I can recommend it if you're looking for a low-profile leather case for your iPhone.
Vaja ivolution Top SP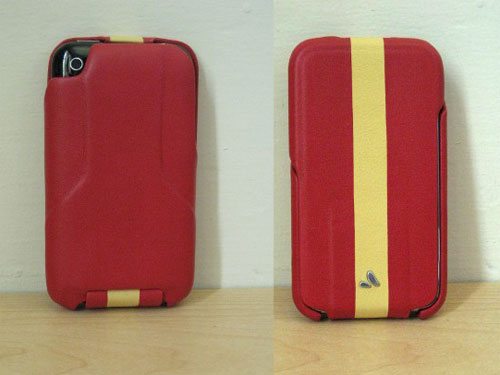 Vaja's products are a bit higher-class than what Sena offers…at least, the price would indicate that. My ivolution Top SP came in a classy white-and-orange box, and the overall presentation of the product was pretty high-quality. Unfortunately, that's where the high quality feel (which you need to justify the $85 MSRP) ends.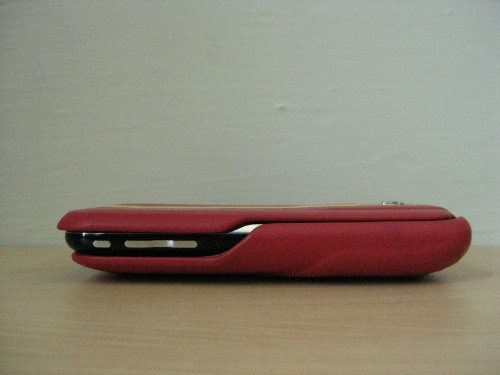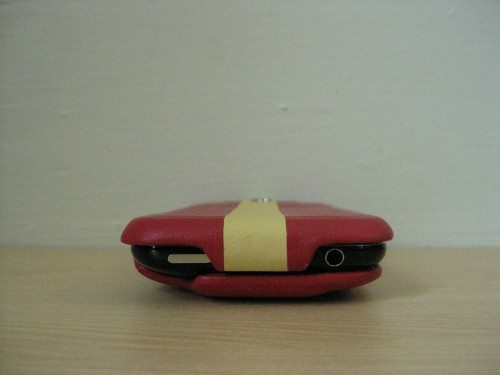 Don't get me wrong – the case isn't a total piece of trash or anything.  The leather smells great – like a new pair of shoes (and who doesn't love a new pair of shoes?!). It does provide protection around the bottom corners of the iPhone, which I like, but it leaves too much of the upper part of the phone exposed for my comfort (I drop things a lot, so I like my stuff to be well-protected). I also found that the flap that covers the iPhone was just way too cumbersome for daily use – having to pop it open just to answer a call is incredibly annoying, especially because the flap is very tight. It definitely cannot be opened one-handed. Having to open the flap just to charge the phone is also quite annoying.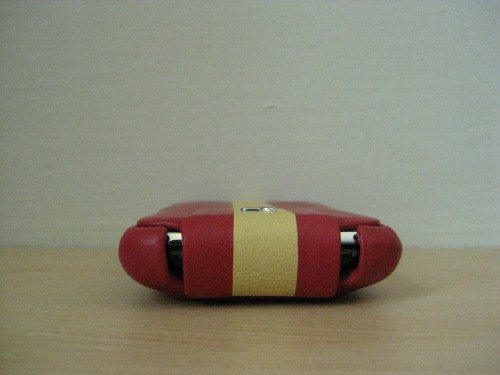 The case itself is also very snug on the iPhone. I had to use too much force to remove my phone from the case after I was done testing it. I think that part of this is because of the molded style of the case, so I'm not sure how that could be avoided.
Before I get to my biggest complaint, I will add some positives into this little review. I really liked the extensive color options for this case. The yellow stripe down the middle mine looks quite nice. The metal Vaja logo on the flap is also very attractive and modern-looking. The leather isn't too slippery, so I can hold the phone securely in my hand while using it. When closed, the case provides decent coverage and protection, although I'd be hesitant to drop my phone while in this Vaja case.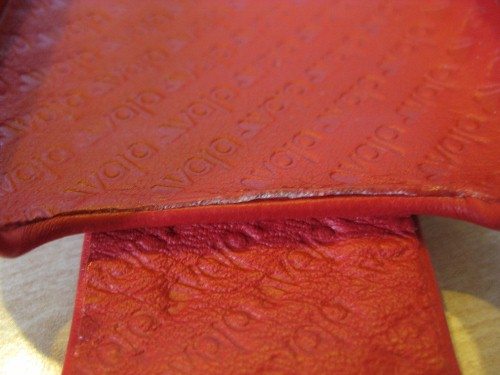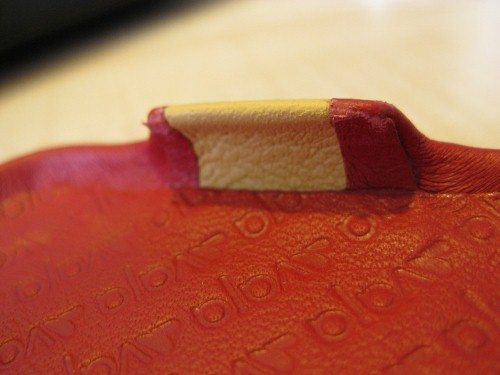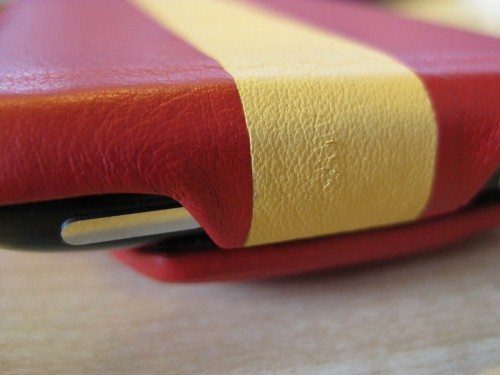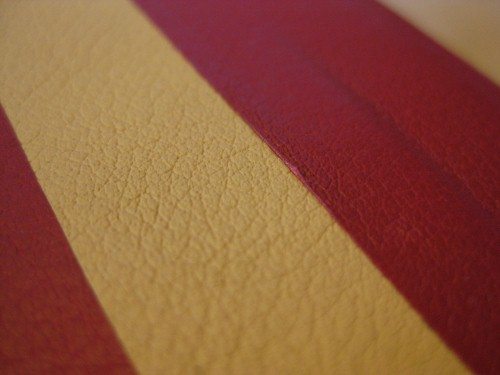 My biggest complaint about this case, being the cheapskate that I am, is the price. $85 is really overkill for a $199 phone case, especially when I started noticing little "fit and finish" flaws in the final product. The Sena case is half the price, so I can deal with a little wear on the edges of the leather with heavy use. The Vaja case, however, has little (but noticeable) scratches in the leather, and the glue seams where the two colors come together are not particularly well-done – the glue doesn't reach the edge of the red leather before it comes to the yellow stripe, so it's starting to curl up a little in certain areas. Maybe I'm too demanding of some products, but for the price, I expect better final craftsmanship on a product like this. I don't mind paying extra for something if I know it's well-made and will last a long time, but I can't really say that about the Vaja case. Would I recommend this product? Not really. Vaja seems like it's trying to be the Coach of the leather gadget accessory market – trendy, overpriced products that seem to only be worth the extra price so that you can say "Look at me; I can afford an $85 iPhone case!". Needless to say, I don't own any Coach purses. 😛
As mentioned at the beginning of this review, my use of the Sena LeatherSkin made me realize that I just preferred a silicone case. I had some Lajo silicone cases for my 60GB iPod Photo, and I didn't like them because they were difficult to put on and remove, and they got really linty and hairy after only a few days (with three cats, hair floating around everywhere is just part of my everyday life). Fortunately, the composition of this kind of silicone has really come a long way, and I don't have the linty problem with either of my silicone iPhone cases.
Incipio DermaSHOT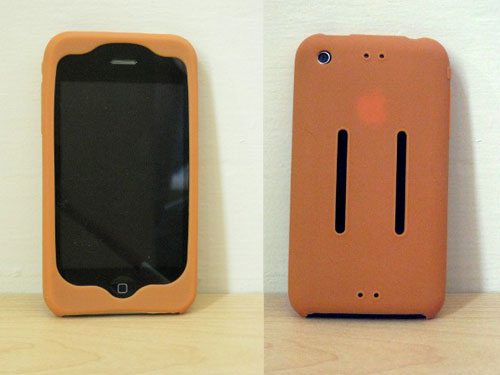 I bought my DermaSHOT through Incipio's online store for the low price of $5 plus shipping. I'm pretty sure that my case was a prior model (which explains the clearance pricing), or else it was a rejected design.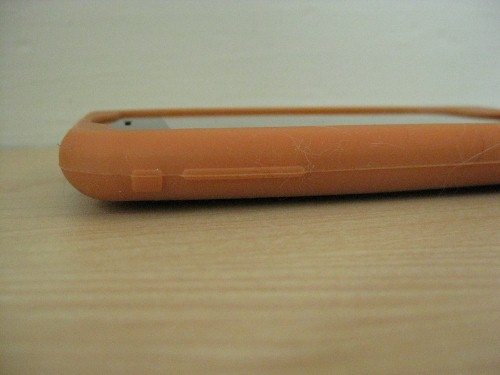 This case is mediocre at best. The silicone is extremely thin, there's not adequate protection around the dock connector and speakers at the bottom of the iPhone, and for some unknown reason, the hold switch is covered by silicone. However, for only $5, it's a perfectly fine case if you're looking for basic protection from the little bumps and falls you inflict upon your poor iPhone.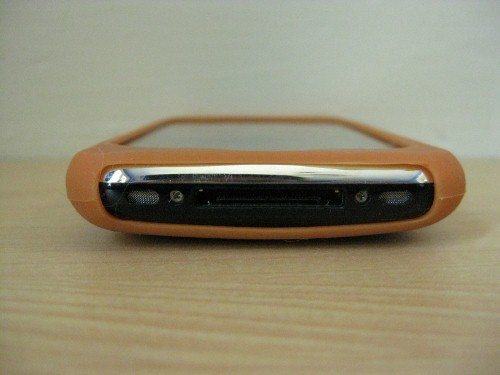 Incidentally, I had also previously purchased a DermaSHOT case from an AT&T store, as an interim protection solution while I waited for my various other cases to arrive in the mail. That case was much more satisfactory, although at $19.99 plus tax, it was a little too pricey for me (what can I say? I'm cheap!) for what it provided – the silicone was still a bit too thin and flimsy for my taste.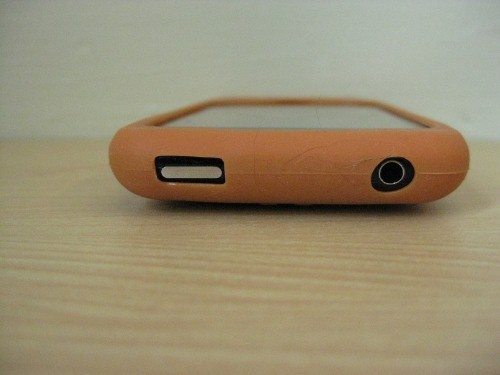 I can't really recommend the DermaSHOT case (although some of Incipio's other cases look quite appealing), because I found the (almost) perfect silicone iPhone case through someone else.
SwitchEasy Colors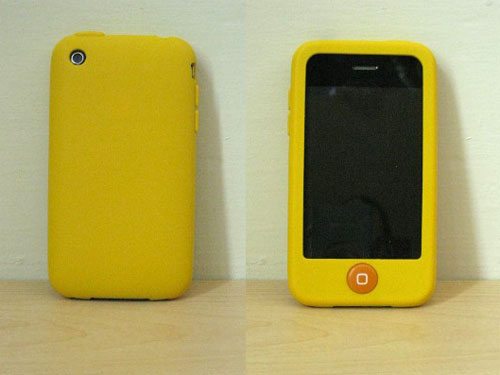 I love my SwitchEasy iPhone case. I just do. I can't say enough about how much I adore this case. I found it online for only $15 shipped (its MSRP is $14.99; you can buy it through SwitchEasy's own site at that price plus $3 shipping), and the color options are awesome.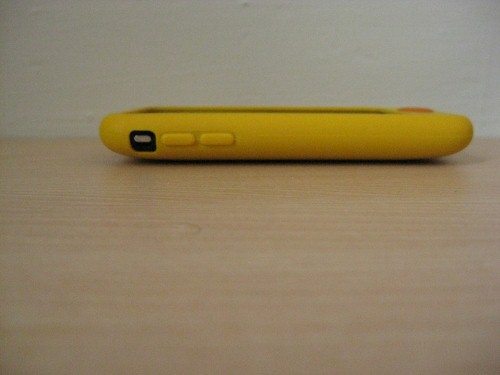 I love bright colors. If you were to look around my apartment, you'd notice that pretty quickly – my kitchenette set is bright lemon yellow, my sofa is red, and I have a variety of multicolored duvet covers from IKEA for my bed. I was quickly drawn to SwitchEasy's colorful options, particularly because of the unique colored button that sits over the home button on the iPhone. Because of this feature, the Colors case provides more coverage than any other silicone case I've seen to date. Every area of the iPhone is well-protected by the thick, quality silicone of this case, while still making all the buttons fully accessible and usable.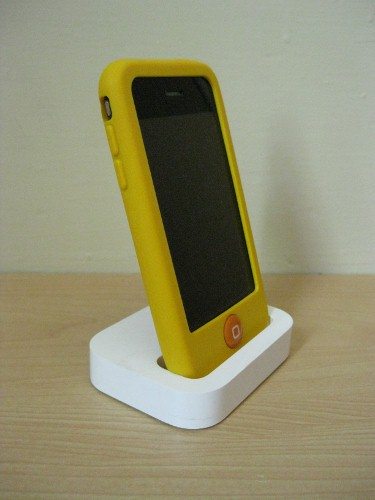 One of the things I love about this case (and other silicone cases) is that I can dock my iPhone in my 60GB Photo's charging cradle without removing it from the case. This really is the ultimate convenience (mostly because I'm the ultimate in laziness) for me. And, on the protection front, the Colors case ships with silicone plugs for both the dock connector and the headphone jack. I've since misplaced both of these, but it's handy to have if you want added coverage for your phone.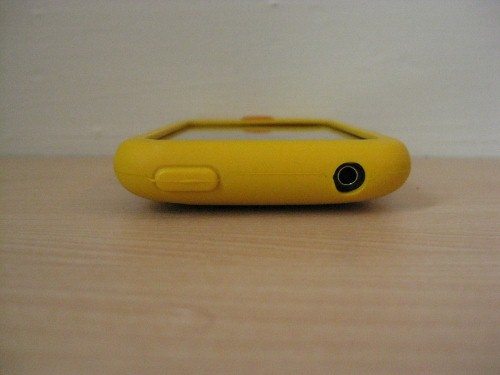 The silicone itself is thick with a smooth, satin finish that feels great against my face and my hands. It's not so slippery that you can't get a good grip on the iPhone, but it's also got a delectably silky feel to it. The covered home button works great and adds an extra shot of bright color to the case. If money grew on trees, I'd buy up every color of the SwitchEasy Colors case and swap them out whenever I found myself in the mood for a new color.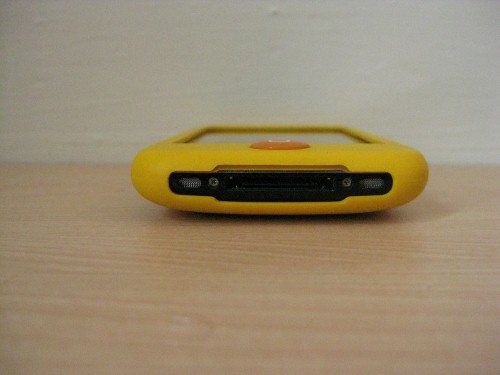 Sadly, a small crack in the silicone has appeared on my Colors case, although I'm betting this is due in part to my habit of playing with the case while I'm at work (I take it off, turn it inside out, etc.). I've been using this case nonstop since it arrived, and it's pretty much the perfect case. Even with the millions of pounds of cat hair floating around my apartment, this case has stayed blissfully hair and lint-free.
If you're looking for a silicone iPhone case, look no further than the SwitchEasy Colors collection. The quality, colors, features, and price are all spot-on. Now I just need to decide which color I want to get next…