We use affiliate links. If you buy something through the links on this page, we may earn a commission at no cost to you. Learn more.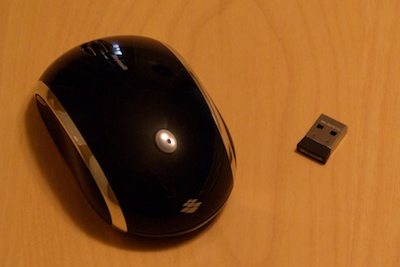 Like a lot of people, if I have room for it while working on my laptop, I'd rather use a mouse than the trackpad. Most mobile mice seem to be created approximately equal, but recently Microsoft introduced something new to the field with their BlueTrack technology which claims to work more smoothly on more surfaces than the typical red or infrared laser systems of other mice. Microsoft is using BlueTrack in various products, but it seems to be an especially appropriate fit for a mobile mouse such as the Microsoft Wireless Mobile Mouse 6000.
Overview
The Microsoft Wireless Mobile Mouse 6000 is a compact mouse with a tiny USB receiver, intended for use with laptops and netbooks. It has five buttons: the usual three on top and one on each side. The wheel is smooth instead of having the "clicks" that many other mice have; I personally like this a lot since I have gotten used to a smooth wheel from using a Logitech MX at home, although I wish it had the same momentum as the Logitech style wheel. The wheel also tilts, as is common in most newer mice.
Like most mobile mice, this one has a USB receiver. It is a "nano" receiver, meaning that it is barely bigger than the USB plug itself, sticking out only about 1/4 inch from the port so that you can leave it plugged in while your laptop is stowed in a case. If you don't want to do that, the receiver also stores neatly in a compartment on the bottom of the mouse.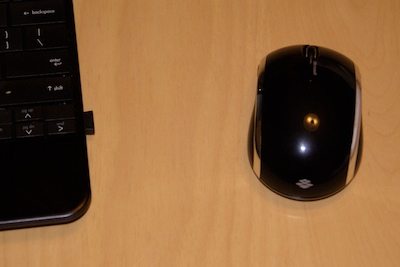 Although the top of the mouse is smooth, the sides have a more "grippy" surface as well as an inward curve toward the front, making it easy to hold with your thumb and fingers. It's very light, and fairly fast – not quite as sensitive and twitchy as I like a desktop mouse to be, but perfect for laptop-sized displays.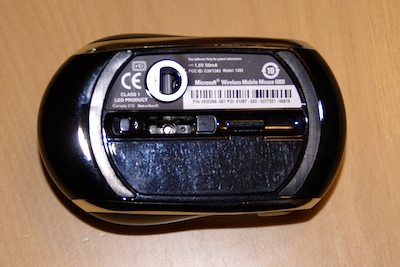 Included in the package with the mouse are an AA battery (the mouse uses just the one, and it is supposed to last up to 10 months) and Microsoft's Intellipoint drivers which allow for advanced button assignments on Windows and the Mac. As with most mice the software isn't actually required to work with any modern operating system; although I didn't install the Intellipoint driver on my Mac, I could assign the extra buttons to Expose' and Spaces functions through the system preferences as usual.
Never miss one of our posts again. Sent MON, WED, and FRI with the latest gadget reviews and news!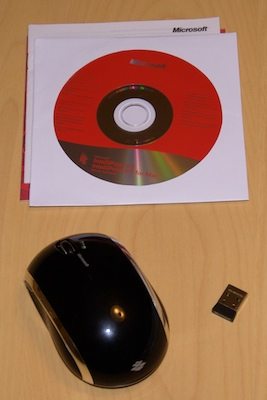 BlueTrack
The most interesting thing about this mouse is its BlueTrack optical system, which is claimed to work on nearly any surface except for clear glass or mirrors. In order to test this, I tried the mouse on nearly every semi-flat surface I could find in the house, and was pleased to find out that Microsoft isn't kidding about how well BlueTrack works. Here's a sampling:
Papers and books
Several kinds of wood (tabletops, 2×4, particle board)
A marble countertop
Vinyl flooring
Carpet
Furniture upholstery
Bed sheets
Leather
Clothing
Shower tile (dry)
My own skin (use your other hand as a mouse pad…)
The black, polished back of my guitar
The trunk lid of my car
Even semi-reflective surfaces like my car and guitar were not a problem, so I feel safe in saying that this mouse will probably work on any surface you're likely to find next to your laptop or netbook, including your own body if necessary.
Conclusion
All in all, I like this mouse, and its tiny receiver is now installed semi-permanently in my HP Mini. It's light and sensitive, and the smooth wheel and extra buttons are very nice. I admit that I don't really need the ability for it to track on almost any surface, but it's nice to know that I could use it that way if I had to. I can only think of two ways in which I would improve it: adding momentum to the wheel like the Logitech MX/VX mice have, and supplying a protective pouch. Overall, Microsoft continues their tradition of making good peripherals with this one.
Product Information
Price:
$49.99
Manufacturer:
Microsoft
Requirements:

USB port
Windows or Mac OS X to use included Intellipoint software; any OS that supports USB mice to use basic features

Pros:

Tracks on almost any surface
Long battery life
5 buttons and smooth scroll wheel with tilt
Tiny USB receiver

Cons:

None, but I wish they had a Bluetooth mouse with BlueTrack...