We use affiliate links. If you buy something through the links on this page, we may earn a commission at no cost to you. Learn more.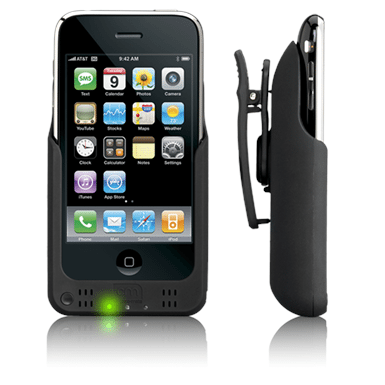 The dam seems to have broken on iPhone add-on battery cases. I have changed this to a series, because it seems every week, another company releases one. Today, we look at the Fuel rechargable battery pack, from Case-Mate.
Like the Mophie Juice Pack, this case is a sled that accepts the specified iPhone perfectly, tightly holding it to the pass-through docking connector. The protection of the case extends up the back of the device, but instead of being flat, there is a very sturdy, integrated belt clip. The clip rotates through 180º in 30º increments, so it can be mounted vertically facing either direction, upright, or with the base pointing slightly left and right of center, or slightly down from either vertical position. The bar of the clip (a smooth matte black ABS plastic) has a hook at the end that will easily attach to belts as large as 1.75 inches wide and as thick as .3 inches. Unless you're a champion WWF wrestler wearing your prize belt, you should be able to clip this case to your waist without a problem!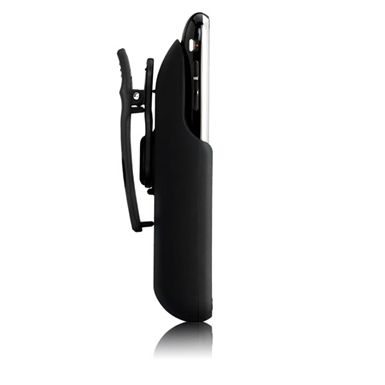 In addition to being a clip case, the Fuel also offers the ability to turn charging on or off with a single button. If you'd rather just have the clip case, no problem: turn off the charging, and your extra 9 hours of talk time are waiting with the push of a button in an emergency.
Usage Rating (for iPhone 3G running OS 2):
Talk time – 9 hours
Internet use – 7 hours
Video playback – 8 hours
Never miss one of our posts again. Sent MON, WED, and FRI with the latest gadget reviews and news!
Audio playback – 24 hours
Standby time – 250 hours.
All the above times are "up to", and beyond the standard battery limits offered by the iPhone's internal battery.
The sound and microphone ports are enabled by a pass-through that seems to neither enhance or obstruct sound. There are LEDs that indicate when the case is in charge mode, and, to an extent, how much power is left. There is also a mini-USB connector for charging the case and syncing/charging an iPhone in the case. You have to put the device into charging mode to sync while mounted in the case.
So, how does it perform in the field?
It is a solid case, with a very sturdy clip. I'm not a fan of a clip-type case, and frequently found myself wishing I could remove the clip and just use the case, but if you like clip cases, it has much to offer. Pulling the phone out of the case while leaving the case clipped to the belt is a two-handed affair, so you're probably going to want to just unclip it whenever you get a call or need to use the iPhone. And therein lies one of the issues: how do you make a clip that is secure on the belt while also making it easy to either unclip from the case, or take off to use? The clip on the Fuel is plenty wide and sturdy enough to attach to most belts and waistbands, and the spring mechanism seems springy enough for repeated use for quite a while. With the hook across the bottom of the clip, however, it makes the case catch on the belt itself from time to time. After a few days of use, however, you can do it with one hand and never miss a call. The iPhone slipping out or the clip breaking or self-releasing do not seem to be possibilities with this case.
Running Lights
When the case is being charged, there is a single LED that lights up to let you know. If you are also using the case as a pass-through (which also means you're charging the phone) there is another light. In all, there are three lights that have various indications, from charging to syncing to all off. While there is some good information being passed here, I'd like to be able to charge from the case without there being a bright green LED. I realized my phone was getting low the other day, clipped this unit on and hit the button for a charge while going to a movie. In the darkened theatre, here is this LED, glowing on my waist, and I can't do anything to turn it off. I pulled the case off and put it in my pocket to finish charging in there. In the real world, of course, you're not going to see a bright LED on your belt, but everyone else will. I get enough grief in some circles for having an iPhone, and for wearing anything on my belt. I sure don't need to have a glowing LED there to draw more attention!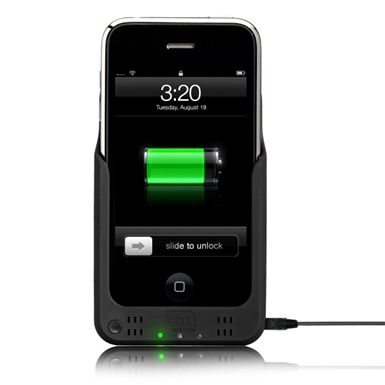 So, other than a clip that is not removable and lights that can't be turned off, how does it work? Beautifully. The size and shape are sleek and easy on the eyes and hand, and there is very little added weight. If you're looking for a clip case, I would strongly recommend this one. Five stars
Product Information
Price:
$79.99
Manufacturer:
Case-Mate
Pros:

Strong, secure belt clip
Tight fitting to secure iPhone
Ability to "not charge"

Cons:

Clip cannot be removed
LED glows when in use
Secure grip may be difficult to release with one hand, at least at first