We use affiliate links. If you buy something through the links on this page, we may earn a commission at no cost to you. Learn more.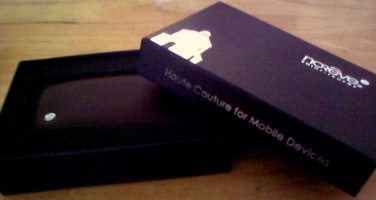 The Tradition Leather Case by Noreve displays the description: "Haute Couture for Mobile Devices" on its packaging. It truly lives up to this description. It's made of real leather and has a classic, simplistic but elegant design while maintaining practicality.
I'm not usually one to go for mobile phone cases. I've found that the range usually consists of skins, plates or sock pouches – all of which are either annoying (skins have air bubbles, plastic scratches up easily and sock pouches make answering calls and turning off alarms rather difficult). This is neither of those three and claims none of those impracticalities. What's more, it really is stylish.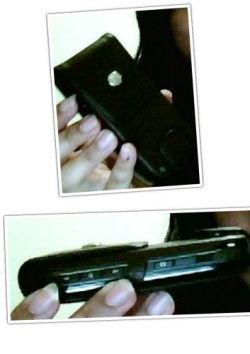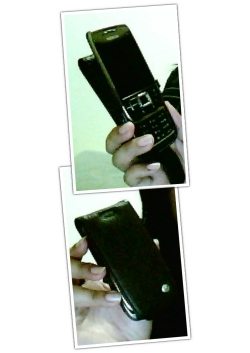 The phone clips in nicely and you are able to use it while it's in the pouch. The cover flips back for when you are using the phone and can fold further if you need to use the camera. There are two slots for memory cards or sim cards and the case also features steel mesh protectors on the sections over the speakers. When the case is closed it leaves the charging port, volume buttons, headset jack, USB jack and memory card slot free. It also comes with belt clip (which has an advertised 360 degrees of rotation), but I don't wear belts so I couldn't actually review it personally.
Even with all of these practical features, the phone maintains its description of "Haute Couture". The external lining is leather. The case I'm reviewing is chesnut, but it's also available in other colours. The black interior lining features a recurring embossed print of the Noreve logo.
After using the case for a few days, the only troubles I've had are quite subjective and minimal really: it's difficult to open and answer a call one-handed; I feel a tad silly talking on it; I can't turn off my alarm easily. I think these issues are a bit petty though really seeing as most people use both hands to operate their phone anyway and it doesn't really look so odd talking on a phone with a case on it. In regards to the alarm, at least I'll have to wake up properly just to open the case so, in effect, it's increasing the productivity of the alarm clock.
Not everyone has an E66 but Noreve also produces cases for 49 models of Nokia. It also covers Apple, Cingular, LG, Motorola, Panasonic, Samsung, Sony and Universal phones as well as various smartphones. They do PDA cases, mp3 player cases, camera cases, 7″-17″ laptop cases (drool) and even portable game console cases.
Their range is incredible. I've seen a few "designer" cases for laptops and phones etc but they tend to only cover one or two models (and it's never the models I have). Noreve, on the other hand, cover almost everything. They also keep the same stylish, simplistic design across the range (which means that they're all leather and, yes therefore, expensive).
The case is currently retailing at USD$53.04 which may seem pricey, but it is an extravagant product and the monetary gap between this product and its competitors is easily matched by the gap in practicality and style.
Check out their website and have a browse. I know cash is probably tight right now but we all need to splurge on something once in a while and, if it has been a while, why not get something that adds a little style to your life while providing some basic protection for your phone (or PDA, camera or laptop).
Product Information
Price:
for this model it's USD$53.04 Other Nokia model cases range from USD$38.25 to USD$51.00 They have separate online stores for Europe, USA/Canada/Mexico, Australia/NZ and soon to come China/Hong Kong/Japan/Korea Their postage is reasonably priced as far as I could see.
Manufacturer:
Noreve
Pros:

Unique
Stylish and highly practical

Cons:

Feels a bit silly when talking on phone at first
Difficult to open quickly
A tad expensive