We use affiliate links. If you buy something through the links on this page, we may earn a commission at no cost to you. Learn more.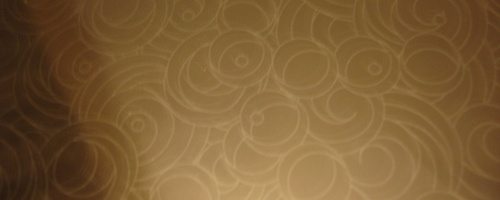 I have now carried the HP Mini 1000xp with me daily for three months. This is a short article on the lessons I have learned about the Mini, netbooks, and me.
Lesson: The Mini is tough! I've dropped the poor thing several times, once badly enough for the screen cover to pop open and some panels in the back to pop off, and I have worn a spot on the space bar- other than that, it looks new with a little polishing. Remember- I carry it with me almost everywhere and it shows little sign of it.
Lesson: It is not perfect. The fairly low screen resolution tends to bug me a little when I am doing text stuff, like writing this article. It is not bad, just not as crisp as I would like. There is also an occasional lag in streaming videos from the Internet, etc. Just enough to encourage me to use a different computer when doing a lot of that. Also, the proprietary video connection, memory slot (they have a name for it, but who cares), and power jack size irritate me sometimes- especially the power jack thing- I cannot seem to find a 3rd party 'universal' cord that works for it.
Lesson: Netbooks are socially-friendly devices. Do you see my spouse in the following picture?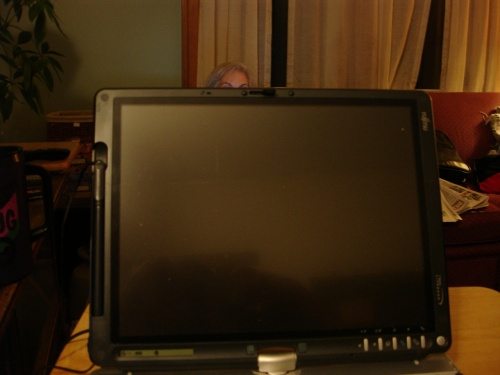 That is the top of her head, and about all I see of her when I am working with my 'small' 12″ Lifebook. Same shot, using the Mini: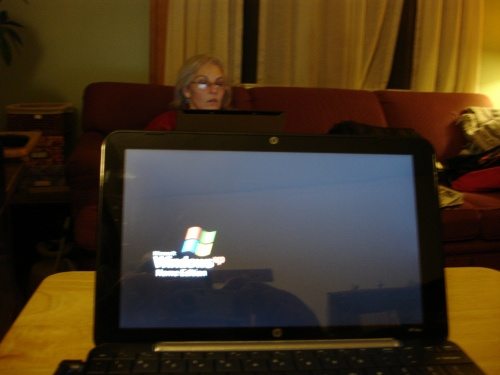 Not only can you see a good chunk of her, you can see that she is on her own laptop (a gigantic 15″er- when it is on the table, she can't see me either!) I have noticed this over and over- using the Mini, I am better connected with things and people around me. It does not block faces at meetings, it does not chew up table space in hot spot coffee shops, and I can even watch TV while on-line- truly this is a wondrous thing!
At the same time- I have noticed that other laptops create 'don't bug me' zones around the user. There is a lot less interaction, the user's attention is more focused on the screen, and people are conditioned to leave users alone. The Mini does not do this as much. Not only do people ask about it, but it does not seem to send out the 'invisible force field wave' as much as a 'real' laptop does.
I am sure that the eeePC and other netbooks do this as well- netbooks are just plain more socially-friendly machines! I think anyone that works with people should take this into account.
Never miss one of our posts again. Sent MON, WED, and FRI with the latest gadget reviews and news!
Lesson: Who needs a CD drive? Certainly not me. I bought one for the netbook- and have only used it a few times- most notably for installing Microsoft Office, and when I decided to restart everything. Other than that- downloads and flashdrives, baby! I have noticed that I rarely even use the drive on my Lifebook or desktop either.  (Attention inventors: how is this for an idea- a small DVD/CD player that also has a USB cord and can act as a CD-ROM/DVD-ROM drive? If I had one of these, I'd be a happy camper!)
Lesson: Open source is great! But… I tried, man, I really tried! Ubuntu, OpenOffice, FoxIt… but Ubuntu and Linux are not very Palm friendly, and I NEED my Palm. (Anyone have any good solutions for this, let me know- I would love to try them out!) OpenOffice is wonderful, but I need 100% Word compatibility for my huge library of articles and work activities. I just got tired of the small, on-going differences. Besides, I already own Office, may as well use it. On the other hand, I am loving Google's Chrome on it- good use of screen space! (Gmail is also winning me over- already deleted the Mozilla programs on the Mini in favor of it.)
Lesson: The netbook has changed my life! Not radically, but it makes it so much easier to carry one smallish bag and be e-ready. I almost never use my MP3 player anymore because this thing is so convenient, and I can do music for jogging (if I ever start) on my Palm. I have not read any paper-based media in a while, and if I do, I often scan it into the Mini for later perusal. (Gotta love the new wireless printers/scanners, eh?) I tend to toss it in the car when we go
Would I buy one with my own money? Yes. Absolutely yes. As I said before, I was looking to replace my aging Lifebook when Julie surprised us (thanks again, Julie!!!) I was toying with the idea of a netbook, but now I clearly see that this is what I was looking for when I got my Lifebook. Something small but powerful enough for my non-gamer, non-graphics heavy needs.
What would I change?
I would have gotten a better case from the get-go. My cheapy DVD travel case is already coming apart at the seams.
I would have gotten a wifi sniffer and a USB light earlier- these have been wonderful!
I'm popping in Windows 7 as soon as I can afford it… unless I can get Ubuntu to play with the Palm well- then I am riding Linux all the way!
As far as which model- my biggest complaint with the Mini is the proprietary power plug- I cannot find a 3rd party plug, battery unit, etc. that fits it, which really bugs me.