We use affiliate links. If you buy something through the links on this page, we may earn a commission at no cost to you. Learn more.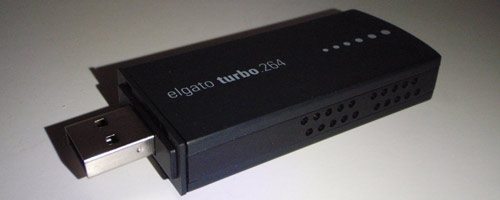 The turbo.264 video encoder from Elgato has been available for several years. Software improvements along the way, have only made it more useful (and easier) for those who convert video content into the h.264 format. While it has been on the market for quite some time, this device is truly in a class by itself. Put bluntly, the turbo.264 sole purpose in life is to convert video into h.264 while reducing the burden on your processor and accomplishing the feat in a fraction of the time.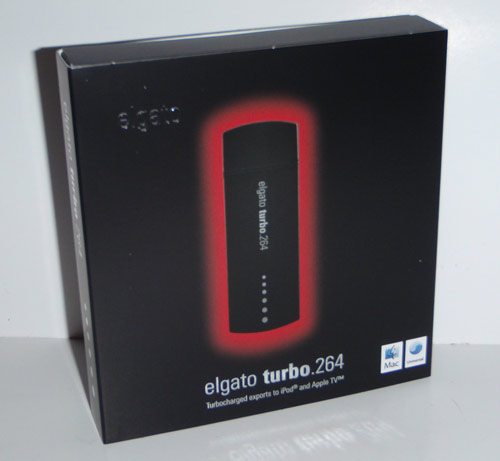 This Mac-centric device is slightly bigger than a large flash drive and greatly resembles the first-generation iPod shuffle.

Package Contents
The turbo.264 dongle
Dongle cap
USB cable
Software disk
Quick start guide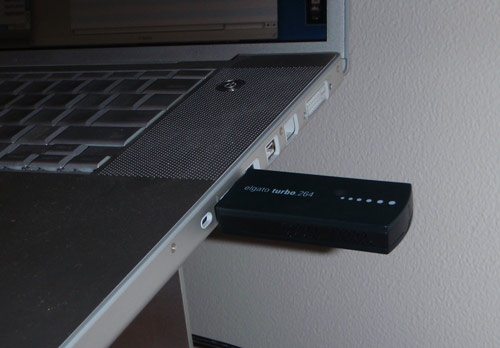 Translating video from one format to another is a very processor intensive task. Both my 2.4ghz Macbook Pro (4gb of ram) and iMac (1gb of ram) use nearly all of their horsepower to churn thru this process. So much so, that if I do anything else while they are thinking, the video has a high likelihood of glitches from multi-tasking. To lighten this load, inside the turbo.264 there is a dedicated chip that reduces the amount of CPU needed, thus allowing me to do other tasks along the way.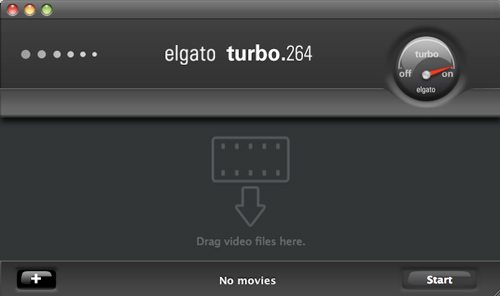 The turbo.264 includes its own conversion software. Plus it has the ability to be used by other applications, such as; EyeTV, Quicktime, Final Cut Pro, and iMovie. However, it does not work on protected media, such as DVD/Handbrake. Once you drag-and-drop the turbo.264 application into your Applications folder, you're good to go. The software is very easy to use, simply drag the video file into the application window. Elgato provides pre-configured options for conversion based on the device: iPod (high), iPod (low), PSP, iPhone, and Apple TV.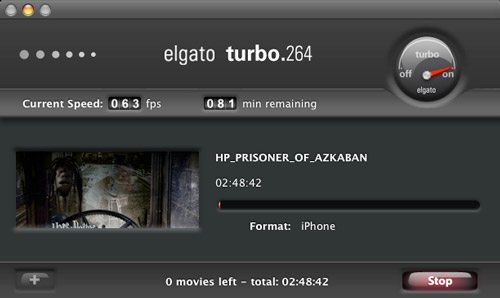 Within the top banner there is a speedometer which shows the device is connected and counters that show how long the conversion (theoretically) will take and what frame rate is being achieved.
Conversion Speed Comparison
24 min

16 min

.

.

.

.

.

87 min

180

yes

80 min

55

.

.

.

.

.

QT

261mb/6min

QT

261mb/6min

60

** 2.4ghz iMac w/1gb of ram
Depending on the file type and application used to do the conversion, the turbo.264 dongle greatly reduces the time it takes my computer to do the conversion. The CPU is only working about 40% as hard with the turbo.264 than without. Although, I do need to tell you, while dancing the Net and checking emails there were no delays, but my iMac did hang a bit when starting up and using Photoshop during the turbo.264 conversion (but I really believe that is more a function of needing additional ram).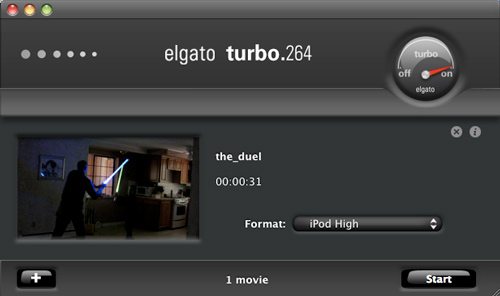 To conclude, I think the turbo.264 is a great device for those converting video to the h.264 format. And while this is a bit of a niche device, the concept and functionality of the device is good, especially for those that do a lot of video conversion. I am pleased with the turbo.264 and would recommend it any and all who do more than the occasional video formatting to h.264.
Product Information
Price:
$99.00
Manufacturer:
Elgato
Pros:

Expedites video conversion
Reduces load on processor
Allows for greater multi-tasking during processing
Intuitive and very easy to use
Batch conversion

Cons: