We use affiliate links. If you buy something through the links on this page, we may earn a commission at no cost to you. Learn more.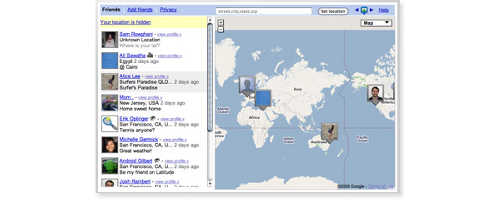 A few minutes ago, Judie asked me what my Gmail account name was so that she could add me to her Google Latitude setup. I figured I'd do the same for her so that we could stalk each other like all best friends do. 😉 So the idea is that you install an app on your mobile phone and then through iGoogle, you can see the whereabouts of your friends. Nifty huh? I decided to go install the app on my Android G1 (AKA google phone) and guess what? I got a coming soon message on the phone. I was pretty perplexed by this, so I went to the Google Latitude site where they have screen shots of what looks like a G1, but on the Supported Phones page, they have this message:
Google Latitude is available on the following mobile devices wherever Google Maps for mobile v3.0 and above is supported:
– Android-powered devices with Maps v3.0 and above. G1 users in the US will be receiving Maps v3.0 in a system update soon.
How is that for a nice kick in the pants?  I mean how can a Google endorsed device NOT run a Google app? Looks like Symbian S60 and Blackberry users have been shown the most love. Color me grumpy right now 🙁