We use affiliate links. If you buy something through the links on this page, we may earn a commission at no cost to you. Learn more.
Along with being an avid tech-guy, I am also a die-hard sports person as well.
I enjoy exercising or working out daily; to including running, weight lifting,
tennis, basketball, etc. When I workout, running and weight lifting in particular,
I prefer listening to music (to get me through the pain and suffering). iStik
promises a better way to have your music with you while working out. The company
and product names are the same. iStik (the company) currently only produces
two iStik cases, one for the 2nd generation Nano and one for the 3rd generation
Nano. But according to their website, they are developing iStik cases for other
mp3 players as well; to include the iPod Touch and iPhone.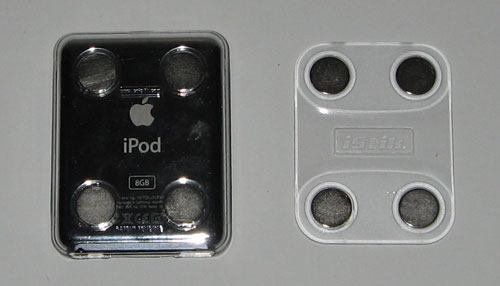 The feature that makes the iStik unique is the Neodymium (aka, rare-Earth)
magnets embedded in the back of the case and back plate. The magnets sandwich
the material of your clothing, allowing you to securely place your iPod Nano
anywhere on your outfit.

The iStik encases your iPod Nano within a transparent, Lexan polyarbonate housing.


The case is nicely made and is well fitted for the Nano. The two pieces of
the case click together and once connected will not come apart easily. It would
take a significant impact or force to have the case release the Nano accidentally.

The only two parts of the Nano that are exposed are the scroll wheel and base of the iPod
(lock switch, connector port, and earplug hole). These openings allow for easy access
to the scroll wheel and the ability to connect the sync cable or NikePlus dongle
to the base of the Nano.

The Neodymium magnets are very strong and once the case and backing are together
it takes a good amount of force to separate them. The magnets are so powerful,
iStik warns you to keep them away from hard drives and pacemakers. Since the
Nano is a solidstate device, magnetic fields should not be an issue.

Once in place, the Nano stays on your clothing reasonably securely. However, it
flops around quite a bit while running. No matter where on my shirt I placed
the Nano it continually moved around.

It moved much less when I placed it on my
shorts. I found that I liked the iStik/Nano far better on my shorts for both running and
weight lifting.
Overall, iStik, Inc. has developed a relatively innovative case design. The
iStik allows you to securely place your iPod Nano anywhere on your clothing
while working out or just puttering around the house. For those Nano owners
who want easy access to their iPod or their iPod slips out of your pocket while working out, you
should consider the iStik.
Product Information
Price:
26.95
Manufacturer:
iStik
Requirements:

iPod Nano (2nd or 3rd Gen)

Pros:

Good construction and materials
Innovative concept/design
Neodymium (aka, rare-Earth) magnets allow you to securely place your Nano anywhere on your clothing
Good screen & casing protection
Good access to controls and connection points
Can attach NikePlus dongle

Cons:

Flops/bounces around while running