We use affiliate links. If you buy something through the links on this page, we may earn a commission at no cost to you. Learn more.
I did not start drinking coffee until I was in the service and was 19 years old. After a 6-year stint, I'm able to drink anything resembling coffee and probably have drunk things I shouldn't have. If it is burned at the bottom of steel pot and you add water and re-heat, is it still coffee?
With that premise, I will tell you that I'm a coffee lover. I lived in the Seattle area during the rise of Starbucks. I can order a double-half-cafe-decafe-no-fat-double-latte with the best of them! I just cannot afford a daily fix and given I am the only coffee drinker at my home. I just don't brew a big pot in the morning or the weekend any more. I have had Krups and Cusinart espresso and drip makers for a while but they just didn't fit my lifestyle. For most of last year, I was using an Aeropress and for espresso, I still think this is the best you can make at home. I drank Americano (half espresso, half-water) but it is a bit of a production and became too much trouble with the grinding and cleaning for the 5-6 cups that I like to drink on the weekends. On a whim, I bought a Cafe  Gourmet single-serve pod machine for $9.99 on Woot.com last year. Lexxus International does not sell the machine or subscriptions (like Gevalia) any more. I was able to find inexpensive pods at Target and even ESP Espresso pods at Starbucks and other local stores and the purchase was well worth the money.
I started to look at finding some better pods and found Single Serve Coffee and started reading about other machines. After reading some of their reviews and the forum posts, I was ready to upgrade and my choices were a Cusinart SS-1, a Bunn My Cafe, and a Grindmaster OPOD. The Grindmaster is a commercial grade machine and the most expensive of the lot. It turned out however that the Grindmaster had a number of refurbished OPOD machines that they sold through the Tuesday Morning stores and I was able to pick up a 2nd generation machine for ~$120. It is by far the best gadget purchase I have every made!
There are three major styles of automatic single serve coffee machines on the market today. K-cups style machines by Keruig and licensees use a cup similar to a single serve creamer cup. T-disks are sold and licensed by Tassimo and use a bigger, flatter single serve delivery system, again a disposable, plastic container that is punctured at brew time. The third, most popular, single serve system uses pods that are essentially individual servings of ground coffee packaged in filter paper. Senseo, a Philips company, popularized this system. The pods are generally 55-65mm in diameter and contain 7-12 grams of ground coffee each.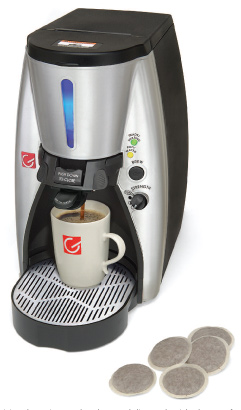 The Grindmaster OPOD is a commercial grade machine designed for shops and offices. It retails for $299 list and they are now manufacturing their 5th generation machine. Grindmaster makes a number of commercial beverage systems (including frozen Margarita's!!!) and you can see them in bars, hotels, and convenience stores everywhere. The first generation OPOD machine apparently had issues with heating and the second generation added a fan to cool the electronics. Subsequent generations have continued to be improved and refined.
My OPOD came with 4 pod holders that were all the same size but labeled "water," "regular," "flavored," and "tea". I subsequently have purchased another holder labeled "gourmet" which is slightly larger for bigger pods. The unit also includes an adapter fitting for hooking the unit up to an external water supply. I intended to do that but the water tank on the unit is 80 ounces and lasts me an entire weekend so I have not plumbed it in to date. I used filtered water from my refrigerator to fill the tank which is accessed through a large covered opening on the front top of the unit.
On the back of the unit there is an 80mm case fan for the electronics, a priming switch, and on/off switch. There are also two access panels, one for a thermostat control and one for a troubleshooting hookup. No, the RJ-45 connector will not put your OPOD on the internet! The thermostat is set by default at 200°F which gives a final coffee temp in the 180°-185° range. The OPOD is one of the hotter single serve coffee makers on the market and it makes a difference in the quality of the coffee. The water tank has a blue backlight which shines through a water level site for the tank. A large cover with screen covers the fill access. The front has the pod holder carriage mechanism which is very sturdy and on ball bearings for a long life. Two LEDs give the status of the machine. One is the water heating/ready and other is low water level and if the pod is used or the carriage is unseated. A four position switch selects the brew strength and a push button starts or interrupts the brew.
The 4 positions on the strength switch are "light", "medium", "strong", and "tea". Light cycle is a continuous flow of water through the pod. Medium gives a brief pulse of water through the pod and then pauses for a moment before starting a continuous flow of water. The pre-wetting increases the water contact time with the coffee increasing the extraction. Strong also has a pre-wetting pulse and then a sequences of pulses for the extraction. The tea cycle is a continuous set of smaller pulses that give the strongest brews for both tea and coffee.
The operation and control of the OPOD is very simple. After the unit is filled with water, primed, and the brew light is one you are ready to go. Place a coffee or tea pod in a holder, insert and latch, select one of four brew strengths, and press the brew button. In 20-40 seconds you will have a steaming cup of your favorite hot beverage. The brew cycle can be stopped by either pressing the button or opening the pod holder. The recovery time is very quick and you can brew another cup in 15-20 seconds. The water amount is also programmable if you have a larger cup. One downside is that a large travel mug will not fit under the nozzle.
I have tried about 25 different brands of pods and my current favorites are the Fratello pods from Chad at the Coffee Artisan – I especially like the Acid Jazz , Dixie Voodoo, and the Kenya AA. I also like the Timothy's World Coffee, Rainforest Espresso through Amazon. The Target Archer brand pod French Roast and the Tierra Del Sol are pretty good in a pinch though they are smaller (~8gr) and don't make quite as strong a cup. The pods cost between $0.25 – $0.75 depending on quantities and shipping. The Single Serve Coffee site forums have great reviews of pods, machines, etc. as well as a forum for deals and coupons.
Single serve coffee makers are perfect for households or offices where full pots of coffee go to waste. You can spend anywhere from $25 for department store machines to hundreds or even thousands of dollars for espresso machines. The Grindmaster OPOD was the perfect compromise for me and due to the commercial grade build should provide years of great coffee one cup at a time.
Product Information
Price:
299.0
Manufacturer:
Grindmaster
Pros:

Hot
Fast
Commercial Grade
Big water tank

Cons:

Can't accommodate a travel mug
Hard to do a homemade pod
Expensive if not on sale