We use affiliate links. If you buy something through the links on this page, we may earn a commission at no cost to you. Learn more.
Hobbyist Software offers a great line of software for the Palm
Treo and
Centro user, and some of it can even be used for other Palms. When I asked for some codes so I could trial their products for a long enough time to figure them out, they were very helpful. They started me with Initiate Pro and Power Hero. I am still learning about Initiate Pro, so let's look at Power Hero.
The claim is that "Power Hero gets the best from your battery!" I am one of those lucky power users that can charge my PDA at work, have a charger in the car, and a battery-powered booster, so low charges are rarely a problem for me. However, I know that a lot of users are not so lucky as to be able to recharge when they wish, and I think that they will find Power Hero a great value at $14.95.
What does it do? Basically, it turns things off. Yeah! When all is said and done, it shows you charts of your usage and turns things off. That's about it. Period. Done. Bye bye!
You are still here? Ah, you want details! OK, Power Hero gives you the ability to set a lot functions so they turn off according to various schedules or timers. Things like Bluetooth, keyboard, network, phone (without signal), infrared. Things that constantly put out small signals, or that are looking for signals all the time. Your Bluetooth-enabled Palm, for example, is constantly looking to see if there is a Bluetooth device in the area even when you don't especially want it to be.
Many of these systems can be toggled on or off in the Preferences, but Power Hero not only pulls them all together, but it adds more things than you can easily find there, AND gives you the ability to add rules for turning on or off.
Scheduling, for example, lets you turn your phone, network, Bluetooth, Infrared, keyboard, and/or screen on or off at various times of the day, while Power Saver lets you decide various rules, like "Turn Network off after (fill-in the blank) minutes". The Main Screen of Power Hero lets you turn the things listed earlier on or off right there as well as showing you a power usage chart and a screen brightness slider! Turning off unused features, reducing screen brightness when you don't need it, etc… this is all stuff they have recommended for Palms for years, all rolled into one simple and powerful package.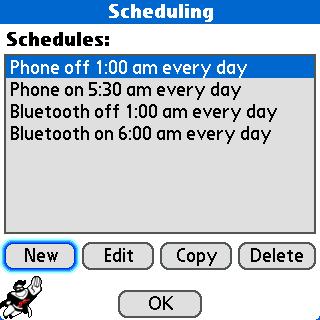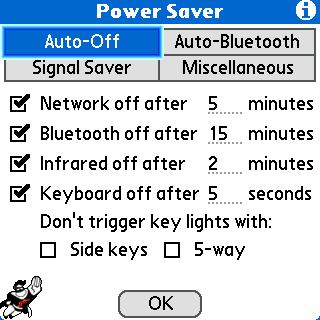 [Scheduling and Power Saver screens]
Power Hero uses less than 150k, and shows no tendency towards being unstable or crashing. The screens are done like many good Palm screens- no major surprises and only a few things that are not intuitively obvious (in my mind, this means a good understanding of the Zen of Palm.) It really helps if you have a Bluetooth headset (which I don't), and has several other features other power users might drool over- like power-related shortcuts that can be used in a launcher. One glitch I found was that the Bluetooth features seem more tuned to headsets than syncing the Palm, etc. Minor issue, quickly resolved!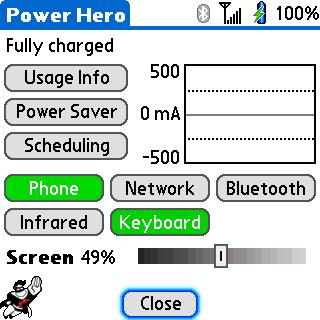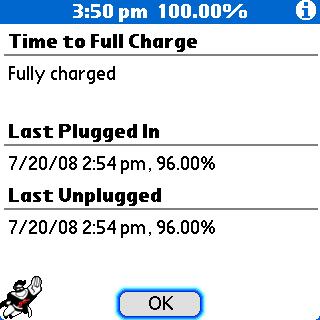 [The Main Screen (with quick access buttons and screen slider) and one of several screens about the charge status]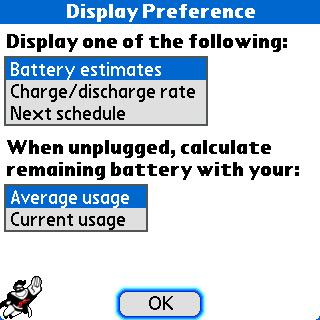 [Preferences settings]
Bottom line: Has it helped me? Not massively, my Palm rarely gets below 70% charged. Will it help you? If battery life is a concern- then the answer is a definite YES! Not only do I think so, but Rob at Hobbyist Software proudly proclaims, in big, easy to see letters, "100% Guarantee: If for any reason you don't think Power Hero is fantastic – I will give you a 100% refund." Other users report about a 30% improvement in battery life- which seems well worth the asking price.
Product Information
Price:
14.95
Manufacturer:
Hobbyist Software
Requirements:

Palm Treo 650, 680, 700p, and 755 and the Centros

Pros:

Easy, stable, works as advertised
Will lengthen battery life without hassles

Cons:

MAYBE some features could use a better explanation