We use affiliate links. If you buy something through the links on this page, we may earn a commission at no cost to you. Learn more.
When I initially saw the Thinvelope Leather Slipper Case, it reminded me of several old college professors who carried their papers around in cases almost identical in style and material. Beyza has done a great job mixing Old World craftsmanship and modern function. The Thinvelope is an excellent means of protecting and transporting your Macbook Air with style.

The sleeve is extremely well made, the exterior is constructed of a fine leather. It comes in six colors, flo tan, tan, black, antique black, antique tan, and flo red.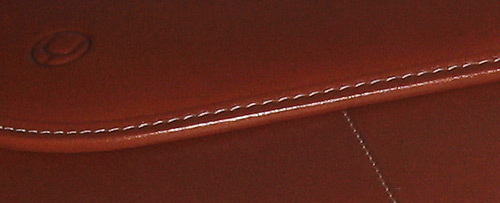 All of the edges are meticulously finished. The tan leather is accentuated with a white/cream stitching. Beyza's logo is embossed on the bottom of the envelope's flap. On the opposite side, beyzacases is embossed on the bottom center of the sleeve.

The Thinvelope comes well packaged and protected. Beyza ships the case within a reasonably sturdy box and protective cloth sleeve of its own. Crazy when the cases we buy to protect our tech-toys are so nice that they come with protection of their own…..

As the name implies, the Thinvelope is shaped like a large leather envelope.

This sleeve is well fitted for the Macbook Air. Some cases are either so snug that you have to shove or yank the device in and out, or so loose that the device slides around within. As a sleeve, the Thinvelope hits a nice median when it comes to fit.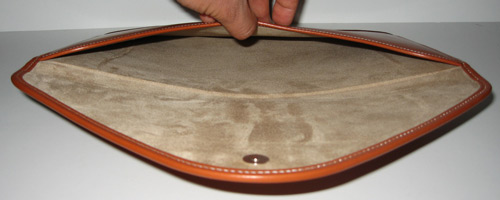 The interior is lined with a very soft suede material that should not scratch your MBAir at all. The lining allows you to easily slide the Air into and out of the sleeve. The flap is held firmly in place by a magnetic closure.

The Thinvelope does add a bit of thickness to the sleek and slim laptop but not painfully so. With the Macbook Air inside, its dimensions are 14in x 9.75in x 1.4in. Overall the protection it provides is good. The sleeve does a great job of protecting against scratches and a decent job of protecting against bumps and bruises. But most likely not a drop of any significance.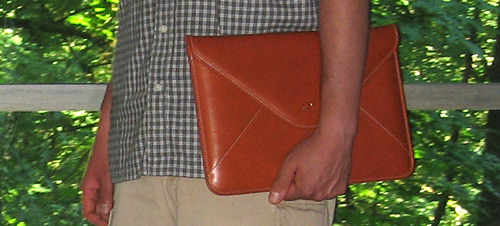 I really like the Thinvelope leather slipper case for the Macbook Air. The workmanship, materials, and style are truly excellent. Beyza does a great job of creating an elegant method of carrying your Air around. All that being said, at over $200, this case is at the upper end of the cost scale for MBAir protection.
Product Information
Price:
215.0
Manufacturer:
Beyza Cases
Requirements:

Apple Macbook Air notebook

Pros:

Quality construction and materials
Excellent Old World craftsmanship
Well finished
Good protection
Suede lining
Lightweight
Magnetic closure

Cons:

Expensive
Adds some bulk and increases overall volume (but not unreasonably so)