We use affiliate links. If you buy something through the links on this page, we may earn a commission at no cost to you. Learn more.
Are you the type of person that sacrifices perfection to buy one gadget that can do multiple things, but is the master of none of them. Or do you prefer to buy the best gadget for each task? I fall somewhere in the middle of those two scenarios, but want a multi-tasking device to be a master of all ;o) The PowerTune All-in-One iPod Battery Pack / Speaker / Case / Stand from macally is a four function device. But is it the master of all them? Let's find out…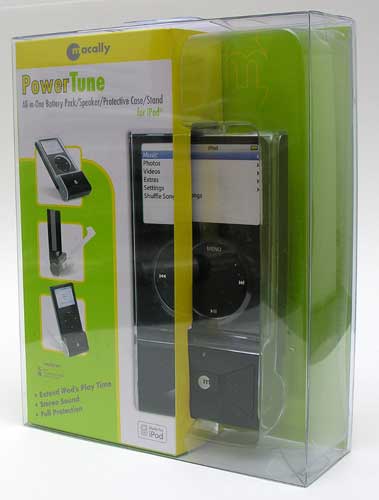 Hardware Specifications
Supports iPod 5th Generation (video) and iPod classic (video)
500mW speakers
Built-in 1050mAh Li-ion battery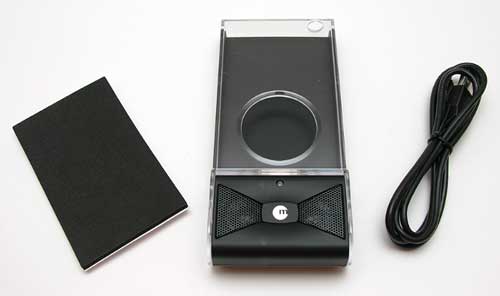 Package Contents
PowerTune
USB cable
Foam spacer for 30GB iPod classic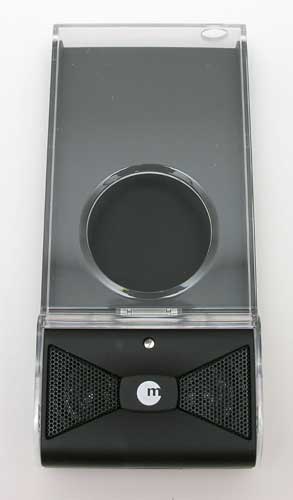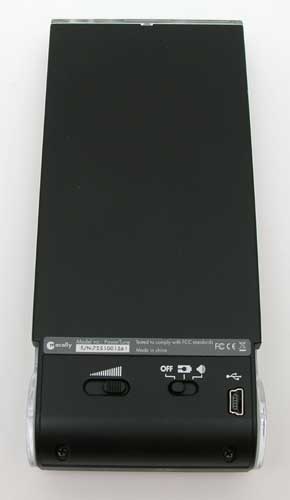 The PowerTune can be used as a case for your iPod, a desk stand, speakers and an extended battery.

As a case, it's not exactly one that I'd use everyday as it is too bulky and not exactly pocket friendly. It would work fine as a transport case though… The clear front of the case swings open to allow you to slide in the iPod and seat it on the docking connector built into the bottom section of the PowerTune. This 'case' is compatible with the 5th generation iPod video and the current iPod classic models. If you happen to have the thinner 30GB iPod classic, you can use the included foam spacer to keep the iPod from wobbling around on the connector.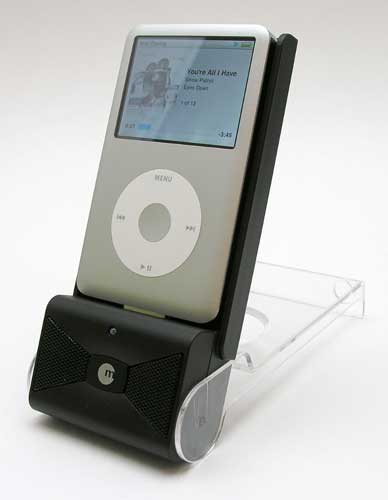 To use the PowerTune as a desk stand, you just swivel the cover around to lay flat on our desk. In this position, it is easy to view the display. This is great for watching videos on a tray table during a flight.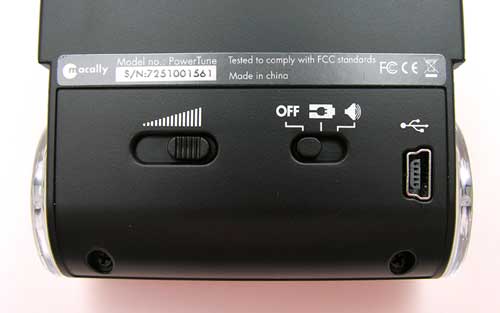 To use the built in speakers, you have to flip the switch on the back of the PowerTune. This switch has three settings. Off, Power/charge and speaker. As you will notice in the image above, there's also a volume slider control. The location of these controls is less than optimal. Especially the volume control. During my testing, I found it quite annoying to have to pick up the PowerTune while in the desk stand orientation to flip it around in order to access the volume control. While the speaker is turned on, the volume control on the iPod itself is disabled.
Now, as far audio quality though the PowerTune's speakers, you shouldn't expect to be blown away. These little speakers are not great. Turning up the volume to maximum isn't an option… they sound horrible. But, to listen to softer music at a lower volume is tolerable. I would never use this as my only speaker set, but it can lend itself to listening to the audio tracks on your movies and TV shows.
Last, but not least, the PowerTune can supplement your iPod's battery to give it almost double its playtime. To recharge, you just plug in the included USB cable to the back of the device and into a free port on your computer. If you want to sync to iTunes, just flip the power switch on the PowerTune to the charge / sync setting and you're all set. An LED on the front of the PowerTune glows Red while the internal battery is charging, and then turns Blue when charging is complete or while in speaker mode. Unfortunately, there isn't any way to know how much juice is left in the PowerTune though.
The PowerTune turns out to be one of those multi-function products that doesn't really shine in any of its abilities. As a case, it's useable but bulk. As a desk stand it works pretty well. As speakers, they are ok for movies, but not so great for music and as an extended battery, it is helpful. That said, all four features in one small package is probably a pretty good deal for $39.99, if you are willing to compromise on performance all around.
Product Information
Price:
39.99
Manufacturer:
Macally
Pros:

Four features in one product
Easy to use

Cons:

Switches are in an inconvenient area when in desk stand mode
Sound quality through speakers isn't very good
Bulky as a case