Do you prefer a simple case for your iPhone, or one that has all sorts of extra features built in? I think that there is a fine line between getting more for your money and having too much of a good thing. Let's see where the GizMac Titan Clear case falls in that range…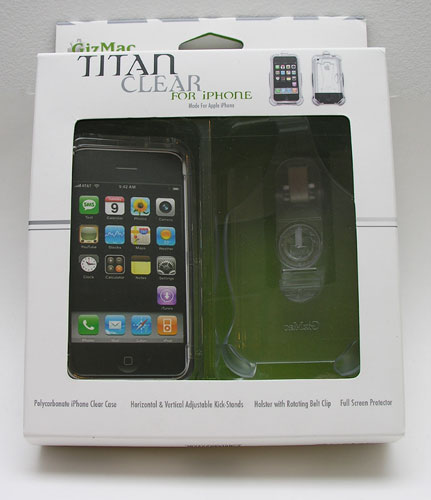 A least you won't need a chainsaw to open the packaging! ;o)
Package Contents
Play-thru case
Plastic holster
Screen protector
Screen polishing cloth
The Titan Clear case is made of scratch resistant polycarbonate plastic and is available in Clear, Smoke and Pink translucent colors. I was sent the Clear version for review.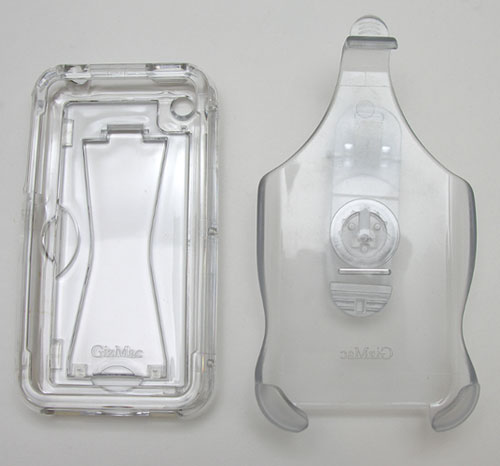 the Titan can be purchased with or without a belt holster ($24.99 without the holster). As you can see, I was sent the holster as well. The case itself is a two piece plastic shell.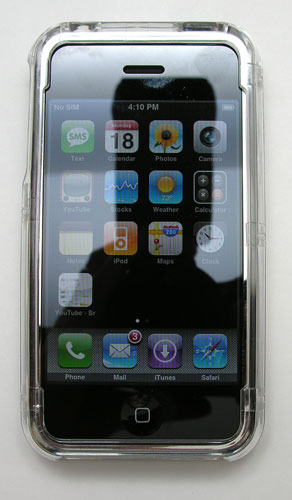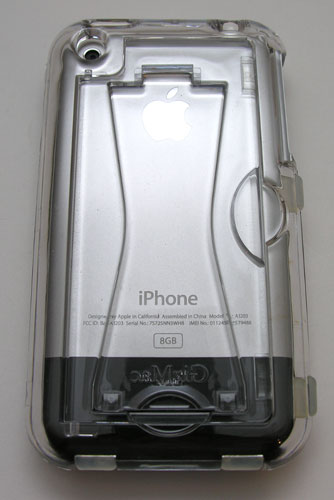 The top and bottom halves of the case snap securely around the iPhone, covering all but the entire display. I'm not sure how well this case would fare if you dropped it on a sidewalk or hard floor, but it shouldn't have an problems protecting the sides and back of your phone from everyday abuse.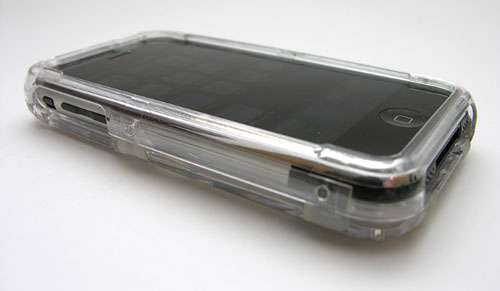 There are ample sized openings for the volume and mute switch, as well as the camera, earphone jack, power button and docking connector. You won't have any problems adjusting the volume and muting the device while it is in this case. It won't fit in a docking cradle though… You'll need to use a cable to sync and charge.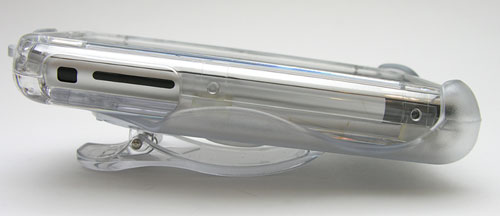 The plastic holster can be worn vertically or horizontally on your belt and the iPhone can be inserted facing out or into the holster. I'm not really a belt-clip / holster kinda girl, but I do like the fact that you can insert or extract the iPhone with one hand.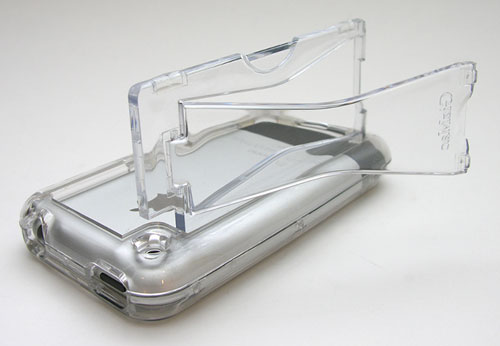 The main feature of the Titan Clear case is that it has a stand built into the back half of the shell. To open it, you have to wedge your thumbnail under it and swing it up. Guys won't have a problem with this, but women with long nails may have difficulties.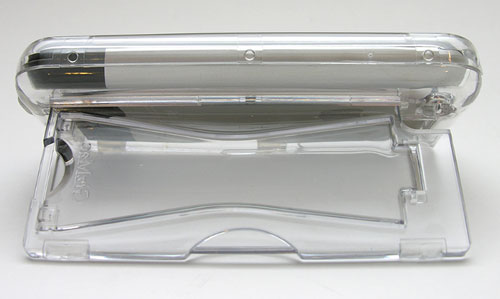 By default, the stand opens to allow you to set the iPhone on a flat surface in a landscape orientation. This works great for watching an inflight movie on an airplane tray table.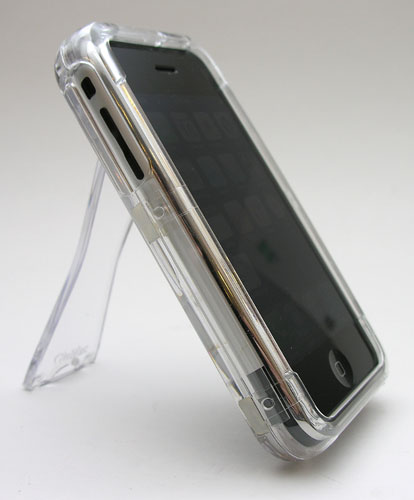 If you want to prop the iPhone up in a vertical orientation, just pop-out the secondary stand, snap the main stand back into the back of the shell and voila! Small rubber bumpers are attached to the case to keep the iPhone from sliding around when in either position.
The GizMac Titan Clear case is one of the more unique offerings currently available to protect your iPhone. As just a case, I think it is a bit bulky because it adds an additional one ounce to the weight of the phone. On the other hand, the benefit of the the dual purpose stand does add to its value, if you often watch movies or view other content on your iPhone.
So the bottom line is that if you need a belt-case, that also has the ability to morph into a desktop stand, the GizMac Titan fits those needs nicely. If just need a case that will protect your iPhone without a bit of extra bulk, I suggest looking elsewhere.