We use affiliate links. If you buy something through the links on this page, we may earn a commission at no cost to you. Learn more.
Every time I decide to buy a new mobile phone, I get excited that it might become my new favorite. I'm really anxious for a new favorite. A phone that has all the features of my current favorite (Treo 680), but with enough new features that takes me to my gadgeteer happy place. If the Treo works for me, why do I want to chuck it for something new? Because I get bored easily and am never satisfied. :o) Will the Nokia E61i transport me to mobile phone nirvana? Let's see…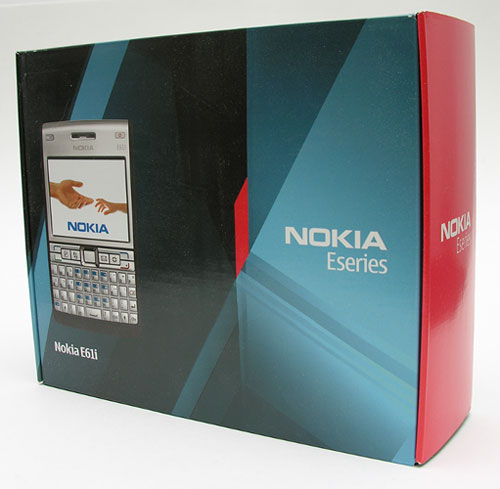 Hardware Specifications
Operating system: Symbian S60 3rd Edition
Memory: Approximately 60 MB of available user memory
Hot swappable microSD memory card support up to 2 GB
Quad-band GSM/EDGE coverage for international usage (850/900/1800/1900 MHz) with WCDMA 3GPP
2.8" QVGA landscape active-matrix color display supporting up to 16 million colors (320 x 240 pixels) with an active area of 56.9 x 42.7 mm
WLAN: 802.11b, 802.11g
Bluetooth 1.2 specification
2 megapixel camera
Weight: 5.29 oz
Dimensions: 4.61 x 2.76 x 0.55 in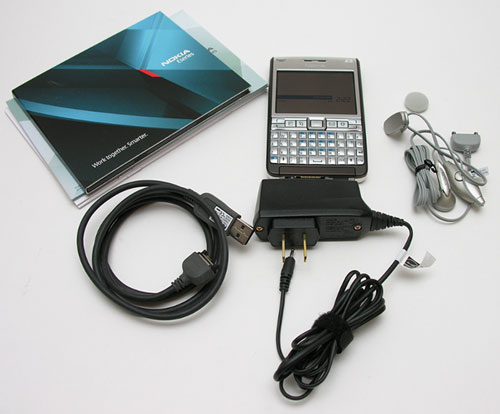 Package Contents
Nokia E61i
Battery BP-4L
Travel charger
Wired headset
Connectivity Cable
The E61i has a serious / business style to it. The design seems a bit straight laced and stuffy… at least to me. Now I'm not saying that's a bad thing, but it might cause some people to look the other way.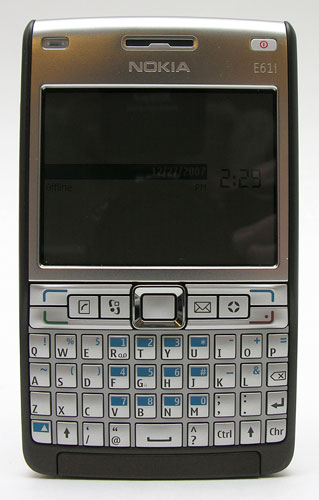 The casing is a combination of brushed aluminum and charcoal colored plastic. The front is almost entirely comprised of the 2.8 inch display and QWERTY keyboard. Above the display there is new email status LED / ambient light sensor and a small power button.
The LED is supposed to blink for a missed call, text message,
email, and multimedia message. You have the ability to turn on or off any of
these options. During my review period with this phone, I never was able to get
this to work reliably and never for a missed call. I think one time I saw it
blinking for a text message.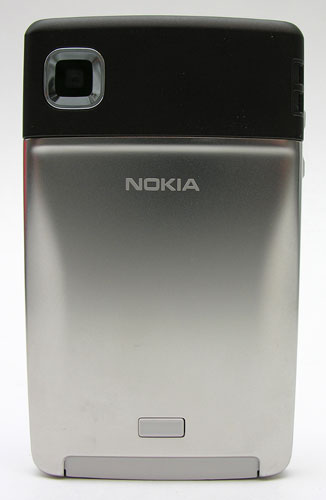 On the back you will find the easy to remove battery cover and the 2 megapixel camera lens.

The only other physical buttons on the E61i are located on the Left side. Here you will find the up/down volume buttons and a voice recorder / voice command button. Pressing the voice recorder button once will launch the recording application. To begin a recording, you must press the center select button on the front of the phone. Holding the side button in for several seconds will launch the voice command application and cause it to listen for your command.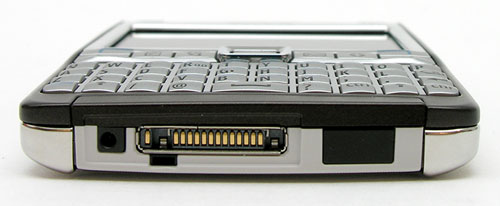 Along the bottom edge of the phone, you'll find the power port, data / proprietary headset port and IR port.
That's right, there isn't a regular headphone jack built into
this smartphone.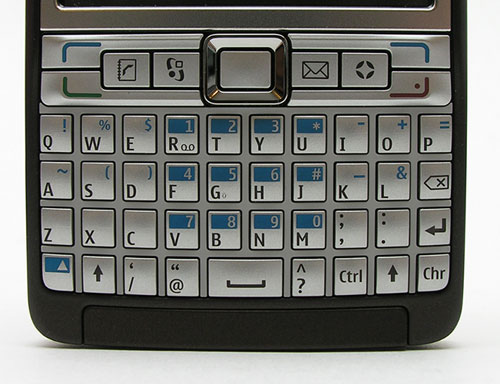 I'll admit that the Treo has spoiled me. Now I feel like I must have a smartphone that has a QWERTY keyboard. Without one I feel a bit lost and all thumbs. As a result, I get along relatively well with the E61i's keyboard. The keys are a bit larger than the Treo's, but are flatter and have less tactile feedback. They are also backlit, but only light up when the ambient light sensor detects that your are in low light. I had no problems getting used to the keyboard layout for texting or calling. I did have more trouble getting used to the navigation buttons located above the keyboard. The 5-way nav button in the center is too small in my opinion. The surrounding buttons are also too cramped.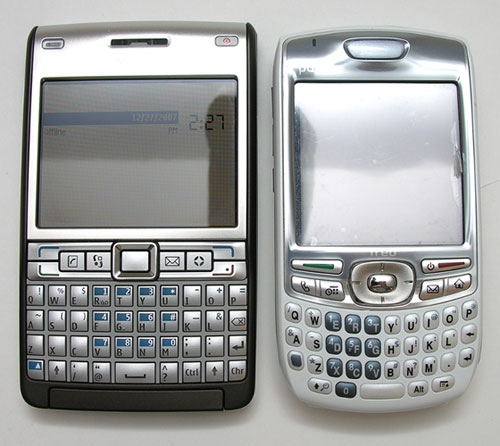 As you can see in the image above, the Nokia E61i is wider than the Treo 680.

But, it is thinner… Is it better to be thinner or more narrow? For me, the E61i feels too wide to be a phone. It feels awkward to hold up to my ear and talk into it. It's not THAT much larger than the Treo, but in hand, it just doesn't feel nearly as comfortable to me. That said, it does feel very solid and well built. It passes the gadgeteer squeeze test with absolutely no protest.
The display is large and easy to read. I wouldn't say it's wonderful as I'm
currently spoiled by the
iPhone. But it is crisp and the colors are not washed out. The display is a
lot better than it looks in the images I have shown below. All of those images
were taken without flash, but they do appear to be a bit washed out for some
reason.
Battery
life on the E61i is excellent. It is rated for 4-9hrs talk time and 12-17 days of standby. I've used it for what seems like a week without
connecting it to the AC adapter for a recharge. Granted, this is during a week
that I only used it for an occasional call and text message. But still, that's
pretty darned good if you ask me!
The signal strength / reception with this phone is equally impressive. Nokia as
a rule seems to make phones that can how to hold a signal better than most
phones I try. This phone is no exception. I've been able to use it in places
that I've only seen a 'no signal' or 'no service' message on other phones. I've
also found that I can drive through areas where my other phones (Treo / iPhone)
always drop the call. Not so with this phone.
Sound quality
during calls is clear and the volume is very good for both sides of a conversation. No gripes there.
For a lot people here in the US, the E61i will disappoint because it isn't a 3G phone. It just
has EDGE. This would definitely disappoint me if I actually had 3G in my town… The E61i does have WCDMA though… so if you're in Europe, you will have 3G speeds.
The E61i has built in WiFi which works fine but given the size of the display,
surfing on it isn't exactly a great experience.
So, as far as hardware goes, this is a solid phone that performs well, but lacks
some pizazz when it comes to style. Now let's take a look at the user interface
and built in applications.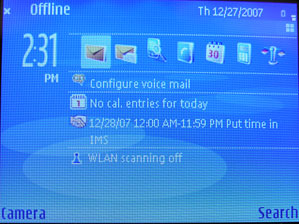 This is the home screen. It is functional, although not overly customizable. As
you can see, there is an application launch bar to the right of the clock. There
are also a few status lines. The phone comes with 2 themes, but you can find
many more online.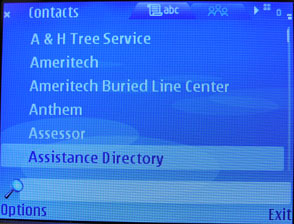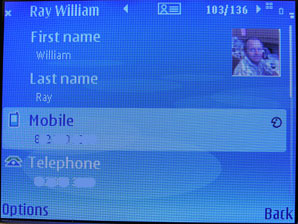 Pressing the small phonebook button in the navigation bar will bring up the contacts application. From here, you just start typing part of a name. First, Last or even the middle name, and it will filter down the list to just show the correct matches. As you can see, contact records can have images associated with them if you desire.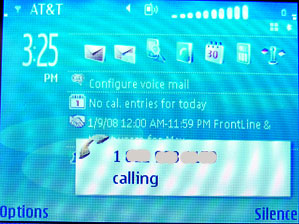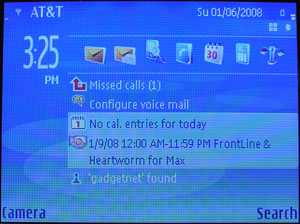 Incoming and outgoing calls are shown on the home screen, along with missed call status.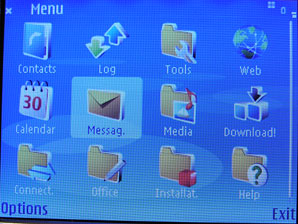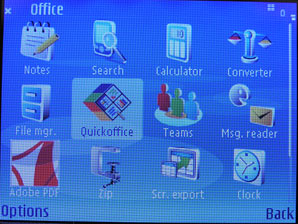 The E61i has a very good software bundle built into it. Included is a copy of Quickoffice which gives you the ability to edit Microsoft Excel, Word and Powerpoint files right on the phone.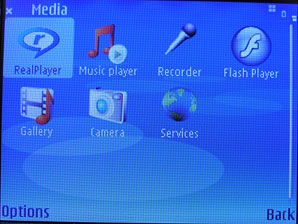 There are also several media players on the device, including RealPlayer, Flash Player and an MP3 player.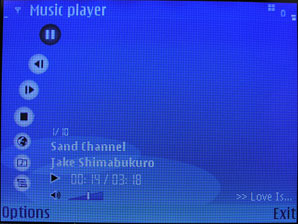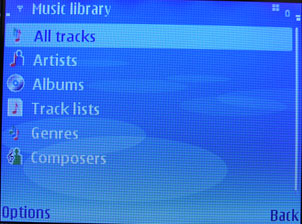 The music player has a simple interface and supports MP3 and AAC formats. You can play music through the built-in speaker or through the proprietary earbud (yes, earbud… not earbuds) included with the phone.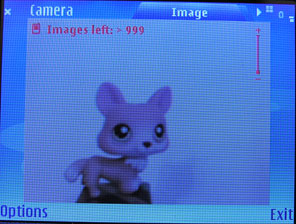 The 2 megapixel camera has a simple interface and takes mediocre pictures. I guess a so-so camera is better than no camera at all. Right?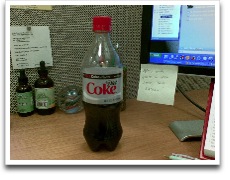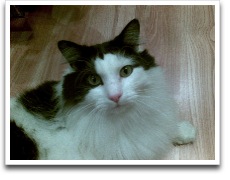 Click thumbnails to see full size image samples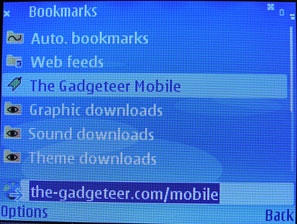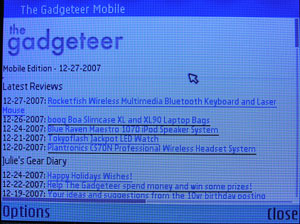 The web browser is pretty good if you don't mind surfing on a tiny display. You use the 5-way nav button as a pseudo mouse to move to the links that you want to click on.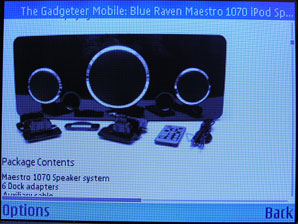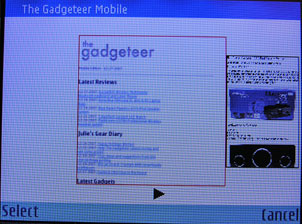 Image rendering isn't too bad and moving backwards and forwards through pages that you've visited is done through a convenient thumbnail view of the pages.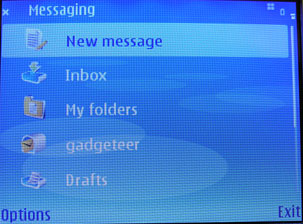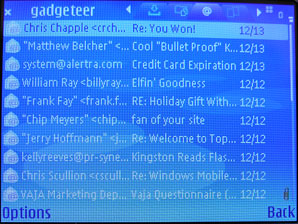 I didn't find the messaging client to be all that friendly. It's one application that you use for text messaging and email. Accessing email is painfully slow. I used it to access my IMAP account, so maybe that's why it might be slower than with POP. Even though I had it set to pull down full messages, it would only download the headers. Then if I wanted to read a message, it would have to pull that down. It just felt very cumbersome to me.
I also don't love the way this phone handles text messages. The message does not show up on the display when it comes in. Your phone just beeps and tells you that you have a messages waiting. You have to then navigate to the message to read it, which takes too many key presses for my liking.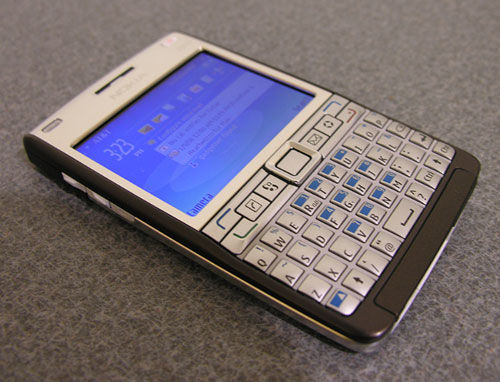 When I purchased the Nokia E61i, I was hoping to fall in love with it. Unfortunately, that hasn't happened. While I do appreciate some aspects of this phone (namely the great reception), the size, cramped keyboard and overall feel of the OS just don't do it for me. At least this time I can say that I gave a Symbian device a real honest to goodness try. It's time for me to get back to my quest to find my perfect phone. Wish me luck with my next try.
Product Information
Price:
499.99
Manufacturer:
Nokia
Pros:

Excellent call (sound) quality
Great reception

Cons:

Email client feels slow
Proprietary headset
Too wide