We use affiliate links. If you buy something through the links on this page, we may earn a commission at no cost to you. Learn more.
When I saw the ad on The Gadgeteer a few weeks ago for the FOZI Pocket Tripod, my thought was that this was the perfect gear bag tripod. I don't shoot a lot of photos, so did not want a big or expensive tripod, so this low-cost credit card tripod seemed perfect.
The ordering process was easy enough, even though the company is located in Australia, and the total air-mailed price of $8.95US seemed equally perfect for my needs.
It arrived promptly and looked just like the ads suggested. The plastic reminds me of the plastic used in milk cartons, but thicker. It folds and unfolds easily and quickly locks into a tripod. The plastic used allows the tripod to wobble quite a bit while still being rather sturdy in many ways. (Pressing your hand flat on it, it will support quite a bit of pressure. Move your hand a little and it starts to collapse quickly.)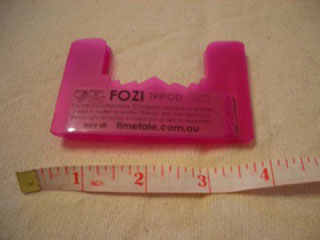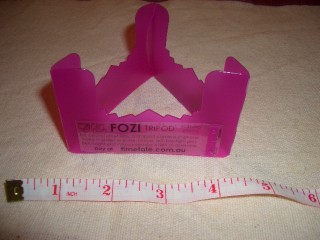 [The FOZI Tripod- flat and set-up]
How does it hold up to some suggested uses?
They mention cell phones. My attempt to have it hold my phone either to take a photo or just to prop it up resulted in failure each time. I wish I had a video, some of the slo-mo collapses were rather amusing!
Watching iPhone videos. I don't have an iPhone, but my Palm TX was not well supported in portrait mode. Landscape was OK, however.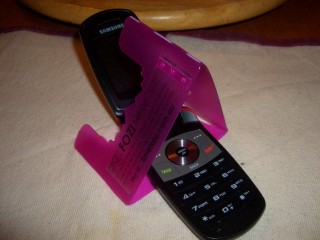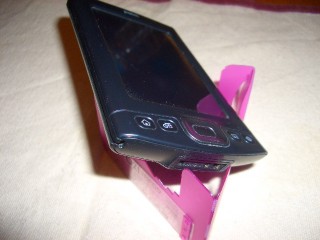 Never miss one of our posts again. Sent MON, WED, and FRI with the latest gadget reviews and news!
[Cell phone and PDA use… or maybe not. The PDA is supposed to be in portrait mode right here.]
Taking pictures. The site and associated blog are chock full of good ideas for taking good photos with and without the FOZI tripod. Here are some photos of the FOZI in use…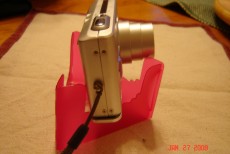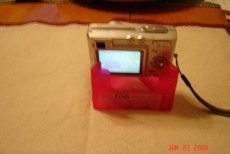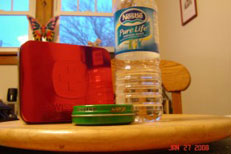 [The FOZI in action, and a sample result]
Some interesting points about this tripod are that it does a nice job as a stand for close-up/macro shots (use it upside down). The shots on the site are fascinating, and my own trials got interesting results but not quite interesting enough to share (I doubt most of you are interested in close ups of my placemats!) It works great on things like the roof of a car less well on vertical surfaces. When I was playing with it, I sometimes felt I could accomplish as much (or more) with a wad of Blu-Tack- but I have to admit that it handled most basic shots I asked of it quite nicely.
Product Information
Price:
8.95
Manufacturer:
Timetale
Pros:

It really does hold the camera well in many situations
Very flexible- use it to brace against a vertical surface, or upside down for close-up photos, etc.
Small and light enough to have with your camera all the time
Low cost
Good service and support by the company

Cons:

It just sits there. It is not anchored or articulated in any way. To frame your shot, you move the camera until it finds the right combination of notches and supports to stand how you want- but not with precise tuning
It is rather low. It supports the camera just a couple inches off the surface- if you angle the lens up, you have to stoop to see the view screen
Pressing the shutter button makes the whole thing wobble a bit