We use affiliate links. If you buy something through the links on this page, we may earn a commission at no cost to you. Learn more.
Back in the stone age when I was learning to play guitar, there were only two ways to tune an instrument. By pitch pipe, or by ear. I wasn't good at either method and was always frustrated that my guitar sounded 'funky' when I would play it. Years later, when the first electronic tuners were introduced, I was over joyed. Finally an easy way to keep my instrument in tune. They only problems with those tuners were the fact that they were somewhat bulky and required either a quiet room or a patch cable to connect to the instrument's pickup. Things have changed since those days. Now we have nifty strobe type tuners like the Waves Strobe-On-String tuner that I reviewed not long ago and the Intelli IMT-500 Digital Chromatic Tuner that I'm going to show you today.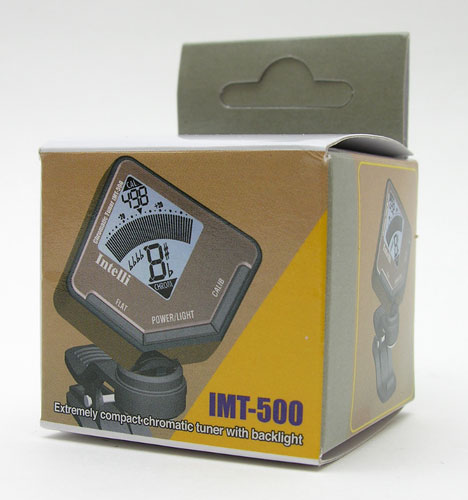 Hardware Specifications
Tuning range: 12-note full range chromatic, A2-B7
"A" Calibration: 430-449 Hz in 1 Hz steps
Tolerance: +/- 0.5 cents, uses quartz crystal
Power source: 3V CR2032 coin cell battery
Dimensions: 1.8 x 1.8 x 2.2 inches
Weight: 1.2 oz
The IMT-500 is chromatic tuner. That means you can use it to tune a guitar, banjo, mandolin, ukulele or any other stringed instrument.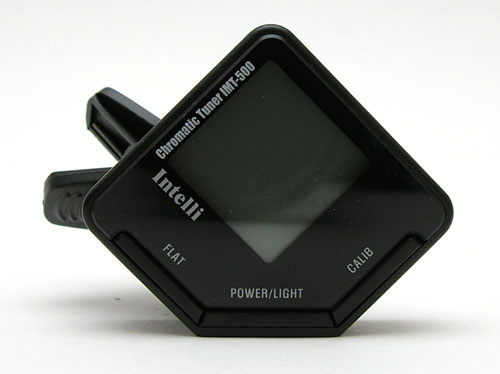 It is wonderfully compact, so you should have no problems whatsoever finding room for it in your instrument case.
The front of the tuner has a diamond shaped LCD display and three buttons. The power button is in the center, with the flat and calibration buttons on either side.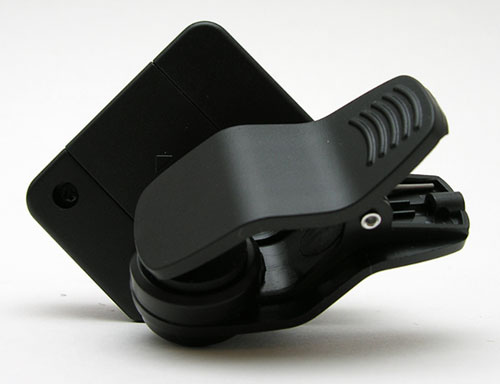 On the back of the IMT-500, is a plastic squeeze clip.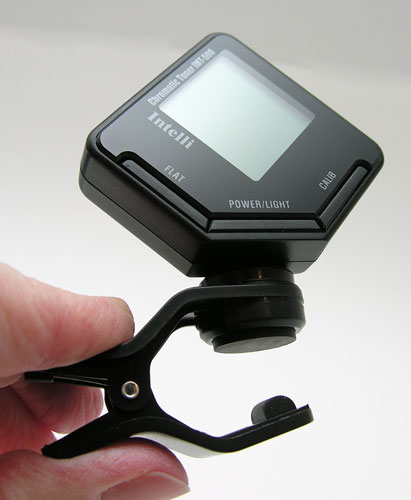 The jaws of the clip have soft rubber pads to protect the finish of your instrument. What would you want to clip this tuner to your instrument? Well, because that's the way it will detect the tuning… The IMT-500 does not have a built in microphone or a connection for a patch cable. It relies on vibration to detect string tuning.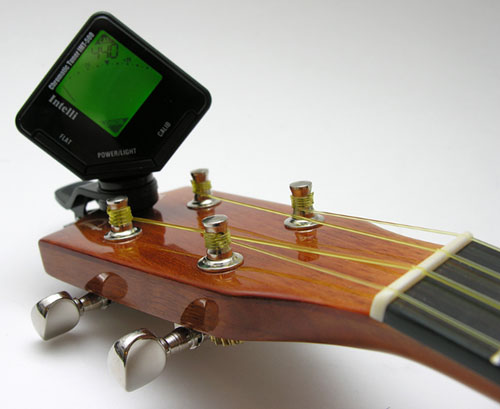 When it is clipped to the headstock of your guitar, banjo or in my case, a ukulele, you can swivel the display to provide the best viewing angle. The Intelli IMT-500 was included with my uke when I bought it and I have been using it for over a month now and don't even remove it from the headstock. When I am ready to put the instrument back in its case, I just swivel the display and fold it down so that I can close the case. It works great and is always there when I need to check the tuning.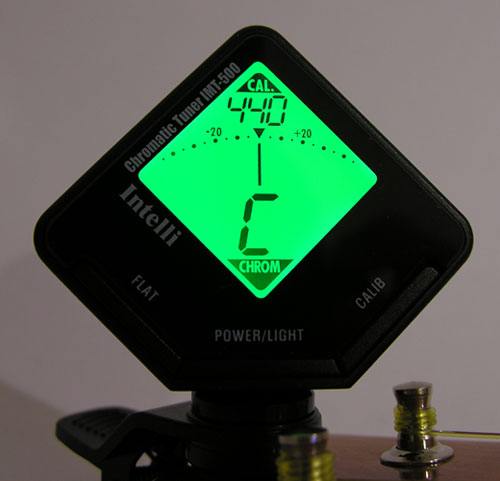 Unlike tuners that use a built in microphone, this tuner doesn't have any problems with interference from ambient noise.
When you pluck a string, a simulated needle will appear on the display to show if the current string tuning is flat, sharp or just right. When the needle stops right in the middle, that particular string is in tune. There is no need to tell the tuner which string you're trying it tune. Everything is automatic. As you can see from the image above, the LCD is large and bright. It's very easy to see
in any lighting conditions.
The calibrate button is used to tune an instrument to a pitch other than A=440 Hz. 440 Hz is the default pitch which equals C with no flat.
The IMT-500 also has a "Quadra flat tuning" feature that allows you to tune your guitar / banjo without removing a capo. Just press the Flat button 1 to 4 times depending on the capo's position and then tune like normal.
I really love this little tuner. It's small, so simple to use and can be found for less than $25. The only thing that would make it even better would be a battery level check on the display. That's just a very minor gripe though… I actually plan to buy a second one to have on hand just in case the one I use every day happens to break. If you play any  stringed instrument, you need to try the Intelli IMT-500 Digital Chromatic tuner. Trust me, once you use one, you'll probably never use anything else.
Updates 04/02/15
I continue to use this tuner, but only when I pick up one of my instruments that don't already have a D'Addario NS Micro Clip-On Tuner clipped on the headstock. I switched to the NS Micro a couple years ago and love the tiny size which allows me to just leave attached to my ukueles. The Intelli IMT-500 Digital Chromatic tuner may have a brighter display and works a little better than the NS Micro tuner, but the convenience of always having the tuner on the headstock sold me.

Product Information
Price:
$32.95
Retailer:
Amazon
Pros:

Small
Simple to use
Doesn't require a quiet environment to work

Cons: