We use affiliate links. If you buy something through the links on this page, we may earn a commission at no cost to you. Learn more.
Kensington has just released a new Ci
Lifestyle collection of input devices for your Windows or Mac desktop and / or notebook that they sent me to test. They sent the Ci70 Wireless Desktop set that includes both a wireless keyboard and a wireless mouse, and the Ci75m Wireless Notebook Mouse which is available in
two colors. Let's take a closer look at each of them.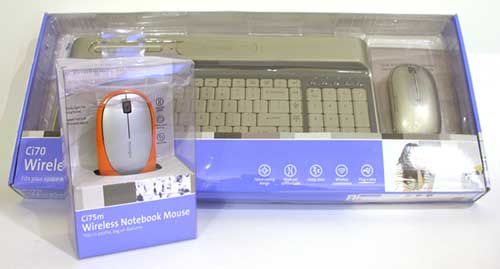 Ci70 Wireless Desktop Set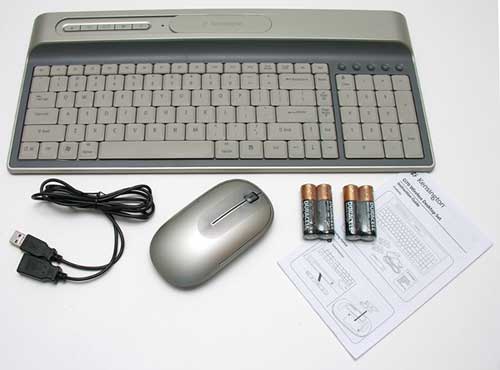 Package Contents
Wireless keyboard
Wireless mouse with USB dongle
USB extension cable
2 sets of AA batteries
Instruction guide
Everything you need for sleek wireless input is included in this set. With a foot print of 16 inches x 7 inches, this slim profile keyboard has a modern sci-fi style to it. Even though it's made of plastic, it looks metallic due to the Grey and Silver color.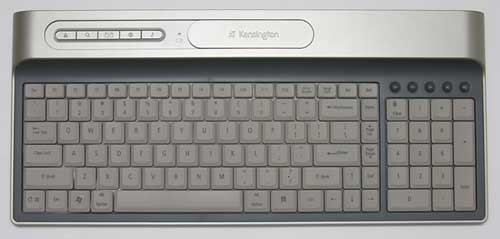 This keyboard is compatible with both Windows PCs and Mac computers. It's kind of odd to see both an Apple key and Windows logo key on one keyboard.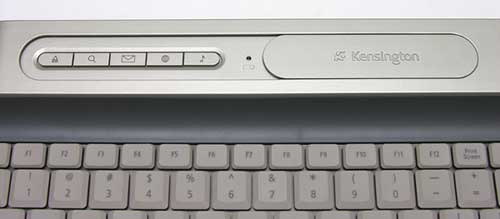 There is a row of 5 special keys along the top edge of the keyboard. The leftmost key is a disk eject key. Funny thing is, it only works for Mac users. Next to it are keys for searching, email, web and media. These keys only work for Windows machines. A small LED next to the row of keys is a low battery indicator. The Ci70 keyboard set is powered by 2 sets of AA batteries. One set goes in the keyboard and one set goes in the mouse.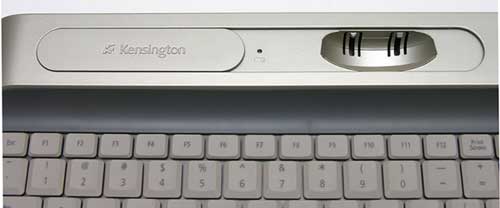 A plastic cover slides over the special keys and reveals a dock for the included wireless mouse. The dock doesn't actually charge the mouse, but it does automatically turn it off when you store the mouse in the slot.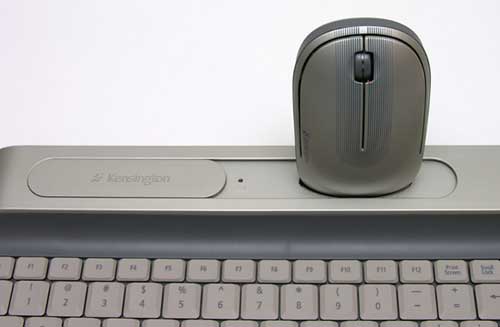 I like the mouse dock, but really wish it was used to charge the batteries in the mouse while it is docked. I guess that would require that the keyboard NOT be wireless though. This is an option that wouldn't bother me, but that would defeat the purpose of this set ;o)
For me, I don't need a wireless keyboard as I don't like to type in my lap. The only place where I have found the need for one is in the living room where I have a Mac mini hooked up to my TV. This set does work well in that situation.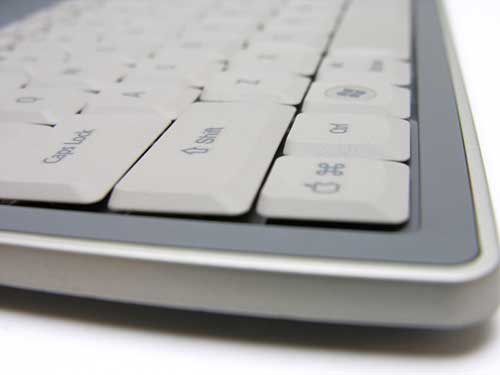 The keyboard reminds me more of a laptop keyboard than a regular desktop computer keyboard because of the slim profile of the keys. The keys do have decent tactile feedback while remaining quiet. No clickity clackity keys here. I had no trouble
acclimating myself to using this keyboard. I'm typing this review using it right now. The only problem I've noticed is the location of the Apple key. I'm used to this key being positioned directly to the left of the spacebar instead of on the outside edge like it is.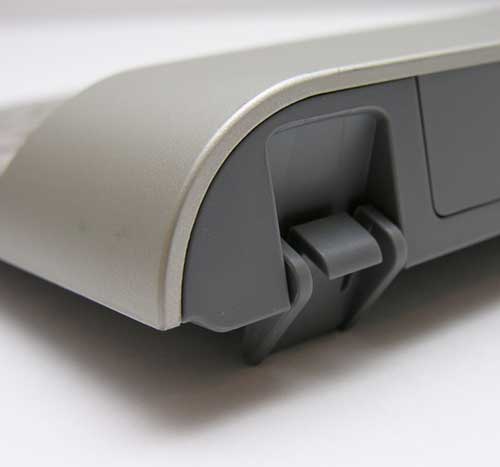 The keyboard is very flat, but there are small fold out feet on the back that can be used to elevate it a bit.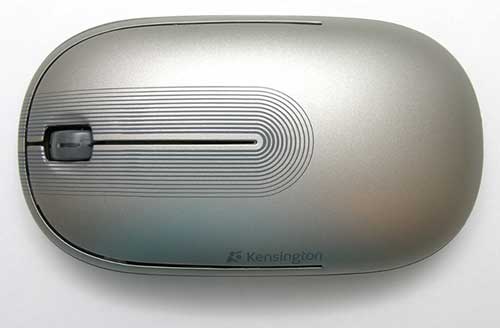 The wireless mouse included with this set is equally as sleek as the keyboard. It is an optical 2 button mouse with a scroll wheel. The scroll wheel is also a button that can be pressed. On my Mac, when I press the scroll wheel, my screen toggles to show running Dashboard widgets. I'm not sure what it does with a Windows PC.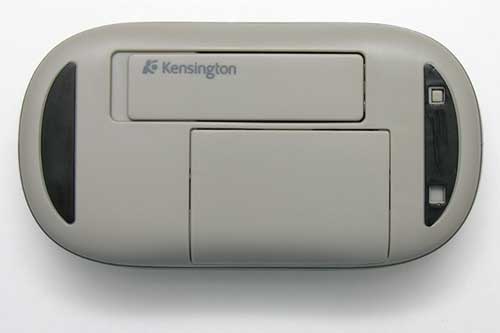 If you flip the mouse over, you'll find the battery compartments and stored USB receiver. You'll also notice the a small square switch on the upper Right edge. This switch mates with the dock nubs to turn off power to the mouse when it is stored in the dock.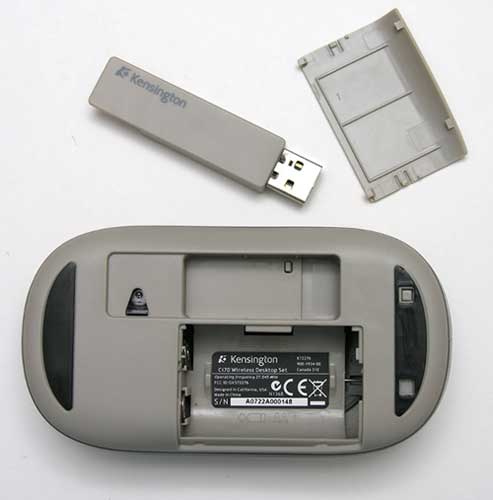 The USB receiver is used by both the mouse and the keyboard in this set. When it is removed from the slot in the bottom of the mouse, you can see the optical mouse 'eye'.
In use, I had no problems using the keyboard. But I have noticed a few issues with the wireless mouse. Waking up the mouse after it's been idle for several minutes requires a button press. Just moving the mouse doesn't seem to do the trick. On more than a couple of
occasions, the mouse pointer will stutter, pause, freeze, etc. It doesn't seem to be an idle out problem, but just happens intermittently. It's also not a problem with how far the USB receiver is from the mouse as my testing has been with it only around 1 foot away and up to 5 feet away.
I like the keyboard, but the mouse not so much…
Price:
$79.99
Ci75m Wireless Notebook Mouse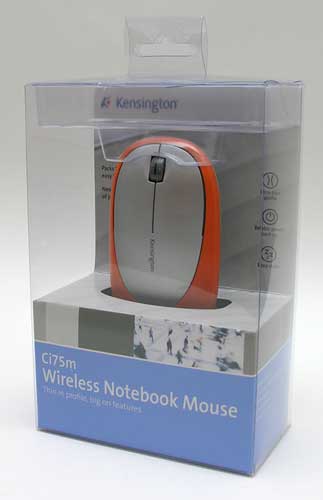 It seems like mice that are made specifically for notebooks or travel tend to be
itty bitty devices that make your hand look like giant's when you go to use one. 
Can you say hand cramp? The Ci75m Wireless Notebook Mouse doesn't have that
problem.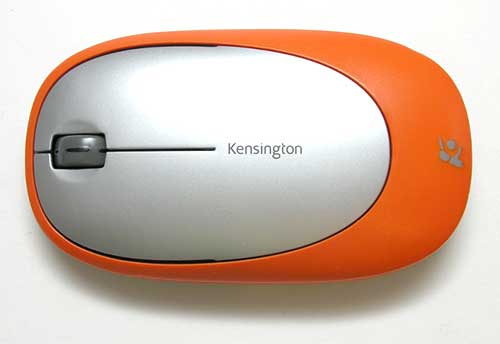 Available in Orange and Black, this mouse has the same basic look / shape of the
mouse that is included with the desktop set reviewed above. But it's a bit
thinner and has some tricks up its sleeve when it comes to connectivity.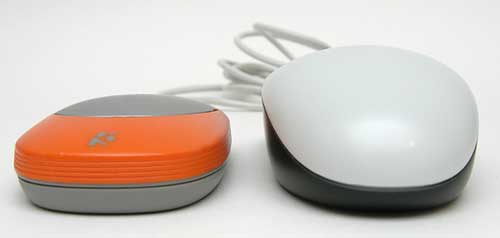 Here you see the Ci75 next to a regular sized wired mouse. Looks like someone
stepped on the little guy doesn't it? Even though the profile is thin, this
mouse is comfortable use because it's full sized except for the thickness.
It's an optical mouse with 3 buttons (that's including the scroll wheel which
when pressed in acts as a 3rd button). The scroll wheel is a rubber covered
wheel that has a slight ratcheting feel when you turn it with your finger.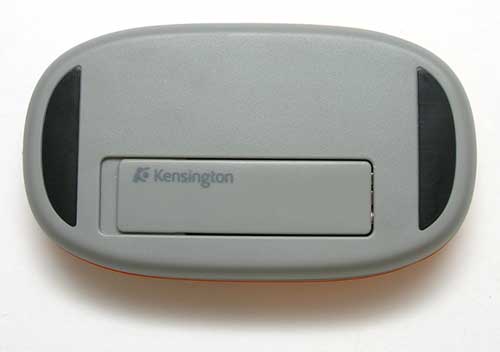 Flip the mouse over and you will see the USB receiver stowed in its slot.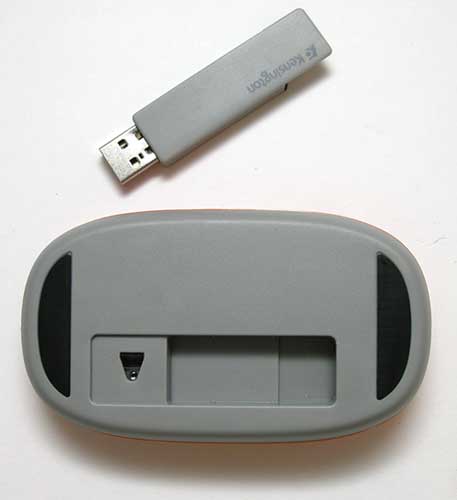 Remove the USB dongle, plug it into a free slot in your PC or Mac and you're
ready to go. No pairing needed. Totally plug and play.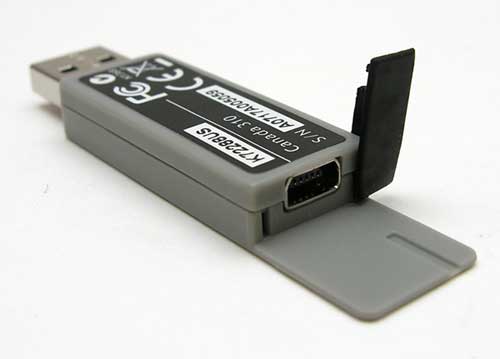 If you take a closer look at the USB receiver, you will find a small rubber flap
that when opened, reveals a mini USB plug. This is one of the tricks that this
mouse has up its sleeve…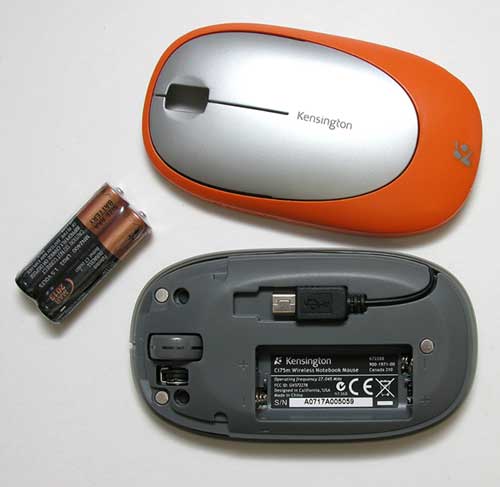 Just pop off the cover of the mouse. It's easy to do because it's held in place
by 3 magnets. Once you remove it, you'll see the battery compartment and a mini
USB cable.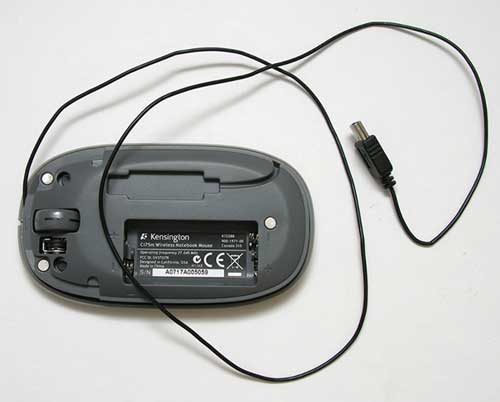 Unwind the cable which is wrapped around the base of the mouse and then plug it
into the USB receiver which is in turn plugged into your PC or Mac. This allows
you to use the mouse even if you run out of battery power. I love this feature
because you never know when you're on trip or in an airport and don't have
access to extra batteries. This way you never have to be afraid of your mouse
failing due to battery power.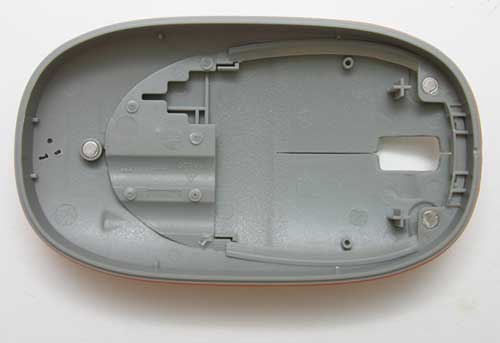 Here are the magnets on the bottom of the cover.
Unlike the mouse included in the Ci70 desktop set, I had no problem using this
mouse with my Mac or a PC. It glides smoothly across the physical and virtual
desktop, never skipping or freezing.
The Kensington Ci75m is a nice little mouse. It is super easy to use, has a back
up power option and looks great with the rubbery Orange shell. I'm definitely
putting this mouse in my gear bag for my next trip!
Price:
$34.99
Product Information
Price:
Manufacturer:
Kensington
Retailer:
Kensington
Requirements:
Pros:

Ci70:
Easy to setup
Mouse dock
Slim profile
Ci75m:
Slim
Back up connectivity option when batteries are dead

Cons:

Ci70:
Mouse skips and freezes on my Mac
Ci75m:
None