We use affiliate links. If you buy something through the links on this page, we may earn a commission at no cost to you. Learn more.
If you're into novelty peripherals for your computer, you might want to take a look at the TVR Tuscan Street Mouse which was sent to me from the folks at Convenient Gadgets. This is a 4 button / scroll wheel 800 DPI mouse that runs on 2 AAA batteries.
A plug and play USB dongle for RF wireless operation is also included. Just plug the dongle into a free USB port and you're ready to start using this mouse. It worked just fine with my iMac. No need for pairing or anything like that. Check out the pics…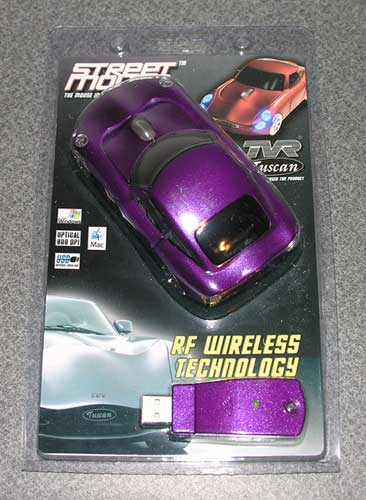 The back of the back of the packaging says that batteries aren't included. But mine came with batteries installed though…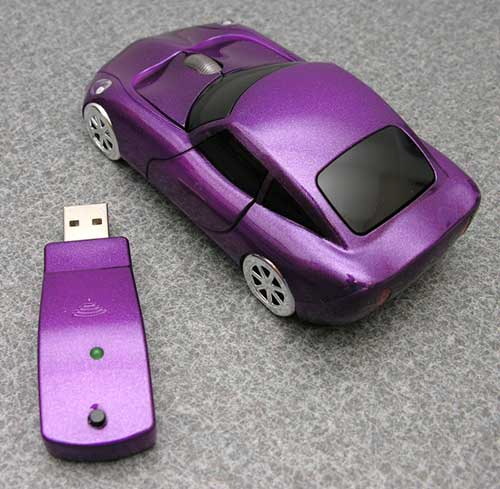 The 4 buttons are the Left / Right buttons located on the 'hood' of the car, and then each door is a button as well. The Right 'door' didn't do anything when I pressed it, but the Left door would show all the open apps on my Mac as if I had pressed F9. Not sure what it does on a Windows PC. Pressing the scroll wheel would toggle to my running Dashboard widgets. Again, not sure what a scroll wheel press would do on a Windows machine.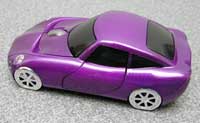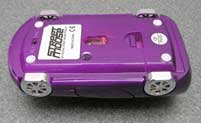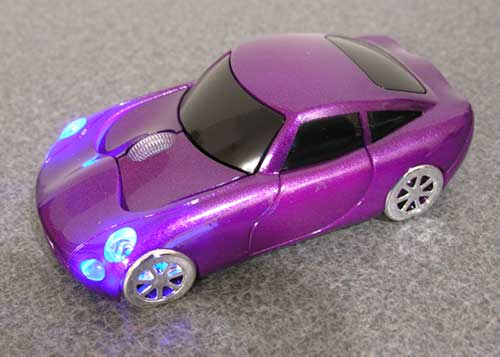 If you flip the car over, you'll notice an On/Off switch. This switch doesn't turn the mouse off. It just toggles power to the Blue LED headlights. Common sense dictates that if you leave these headlights on, you'll drain your batteries relatively quickly… To actually turn the mouse off, you will have to press and hold the ID button on the bottom of the mouse for several seconds.
The Wireless Street Mouse is priced at $25.95 and is available in both Purple and Black. Although this mouse is kind of cute, I'd likely not use it as my primary input device. That's still the job of my Logitech MX Revolution.