We use affiliate links. If you buy something through the links on this page, we may earn a commission at no cost to you. Learn more.
Mobility Electronics, Inc. has a new gear bag item for all of us that rely on our battery powered gadgets. Their iGo powerXtender is a small reusable battery-operated power supply that utilizes two AA batteries to power and charge almost any mobile electronic device including mobile phones, digital cameras, Bluetooth headsets, MP3 players, portable gaming devices and more. Interchangeable tips allow this one charger to work with multiple devices.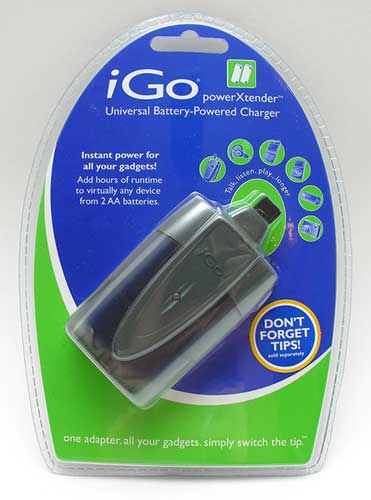 Hardware Specifications
Output Voltage: 4.2-6 VDC
Output Power: Up to 5 watts
Output Current: Varies (up to 800mA)
Dimensions: 3.6 x 1.9 x .89″ (94.44 x 48.266 x 22.61mm)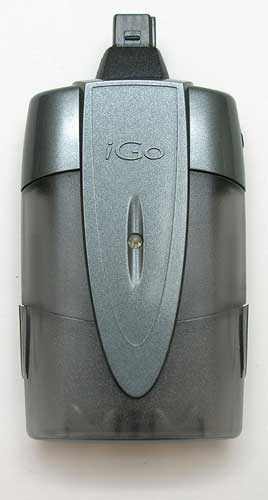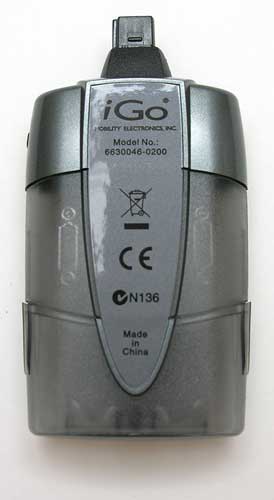 The powerXtender is a small cigarette lighter sized housing that ships with 2 AA batteries. Made of translucent Grey plastic, the iGo is a simple device with a Blue power LED on the top, a power tip post on one end, and …

a small On/Off switch on one side.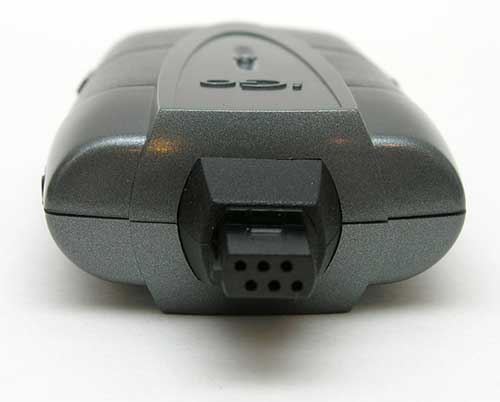 The power tip receptacle can accept one of many available tips that are sold separately though the Mobility Electronics, Inc. website. There aren't any tips included with the iGo due to the fact that every device requires a special tip in order to power / charge it.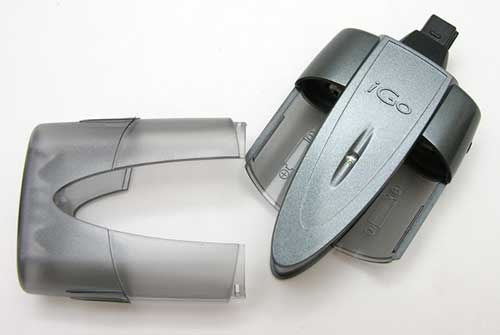 To use the powerXtender, just pull the shell apart to reveal the battery compartment. Insert the included AA batteries and reassemble the shell.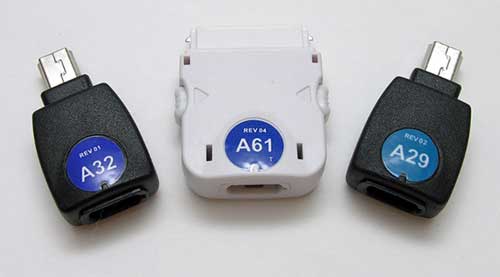 Of course you're going to need at least 1 power tip to use with the iGo. This will require that you order one
or more from the iGo website. There are tips for a wide range of products, so finding the right tip for your device should not be a problem.
Price per tip is $9.99 – $12.99. I was sent a tip for an Apple iPod, BlackBerry smart-phone and a Motorola Razor phone.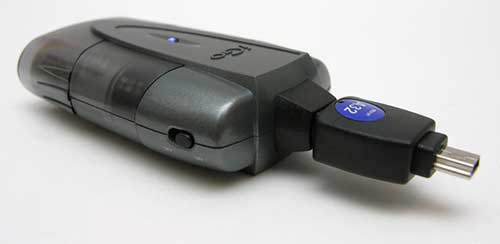 The tips easily snap on to the post protruding from the top of the powerXtender.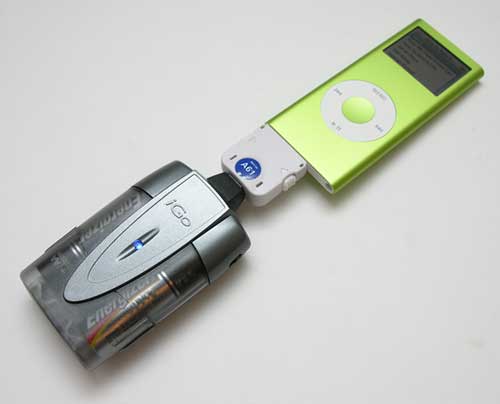 Here you see that I've attached the iPod power tip and my
Apple Nano. After all the devices are connected, just flip the iGo's power switch and you're good to go. The powerXtender will extend the power of the device by several hours depending on the device and the type of AA batteries installed in the charger. The great thing is that once the juice in the AA batteries
has been depleted, you can just pop in 2 new batteries and you're back in business. You can also use rechargeable batteries instead of regular alkalines
for even more savings.
It's important to note that the iGo has a few built in safety features which include current limiting, short circuit protection and thermal protection.
In my opinion, there are a couple of things that might make this device even better. One improvement would be some type of battery gauge that would display how much juice is left in the installed AA batteries. It would also be nice if there was a small built-in compartment to store power tips that are not currently attached to the device. As is, I think they could be easily misplaced.
The iGo powerXtender is a great little emergency charger to have in your bag for those times when an important device goes dead right when you need to use it. Having it in the glove compartment with a power tip installed for your mobile phone would be a good safety measure for anyone.
Product Information
Price:
15.99
Manufacturer:
Mobility Electronics
Retailer:
Mobility Electronics
Pros:

Compact charger that can be used with many different devices
Reusable
Easy

Cons:

No battery gauge to show how much power is left
Tips easily misplaced