We use affiliate links. If you buy something through the links on this page, we may earn a commission at no cost to you. Learn more.
I'm not a kid anymore, but I still enjoy playing with
construction toys on occasion. I guess it has something to do with the fact that
I always wanted a LEGO set when I was child,
but never was fortunate enough to receive any. The closest that I got to LEGO
was Tinkertoys,
Lincoln Logs and my
Dad's old Erector set.
They were all fun to play with, but they weren't LEGO. Today I'm going to tell
you about ENGINO construction toys. These
award winning toys are from Cyprus, and bear a resemblance to LEGO. Are they
better than the world famous toy, or just a knock off? Let's see…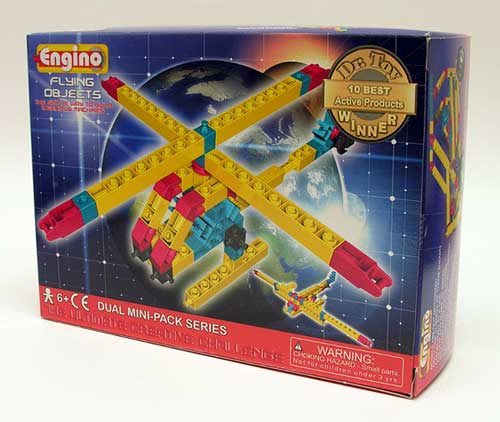 I was sent the Dual Mini-Pack Flying Objects set. This 50 piece set includes
enough parts to create 2 models. A helicopter and a plane.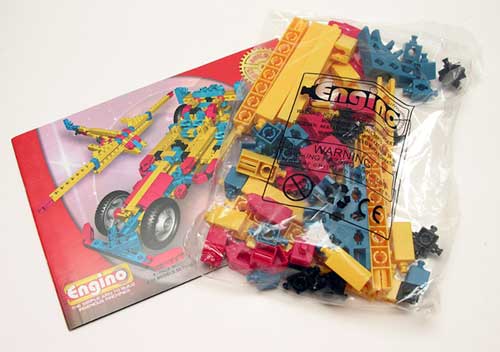 Like other construction sets, an instruction manual is included along with the
bag of various Yellow, Blue, Red and Black components.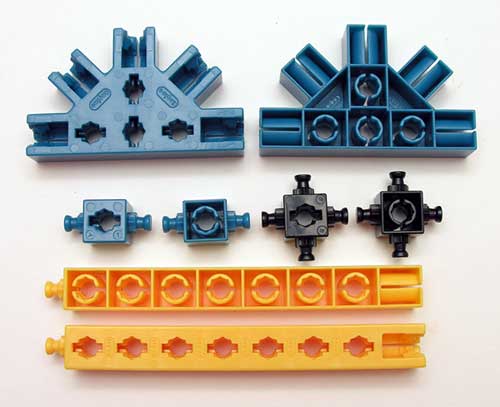 The components are made of a rugged hard plastic which is similar in feel to
LEGO bricks.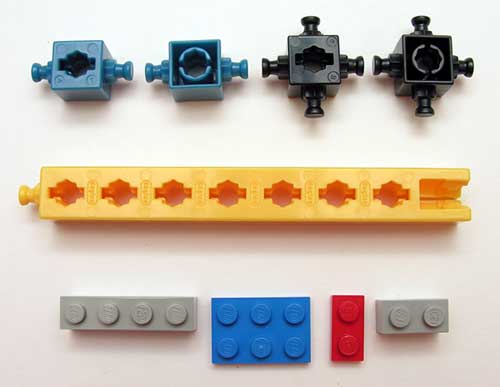 That's where the similarity ends though. The ENGINO parts are not brick-like.
They would better be described as multi-faceted rods and connectors. In the
image above, the ENGINO parts are at the top and I've added a few LEGO bricks at
the bottom so that you can see the difference.
Never miss one of our posts again. Sent MON, WED, and FRI with the latest gadget reviews and news!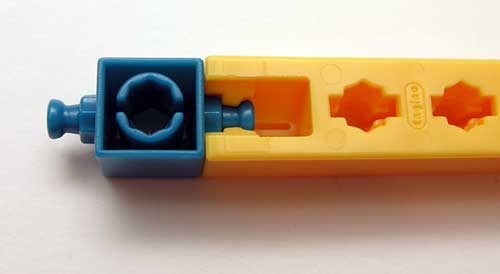 The connectors snap into the rods and can then rotate. Here's a top view of a
connector snapped into the end of a rod.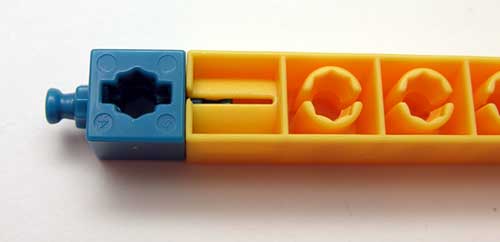 And here is what it looks like on the bottom. The connectors can also snap into
the top and bottom sides of the rods and again, they can rotate. I found that my
fingers became a little sore snapping and unsnapping the ENGINO parts, but for
the most part it is easy to connect the components together.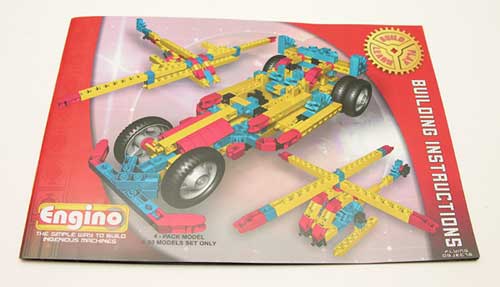 The Dual Mini-Pack Flying Objects set comes with an instruction booklet that
guides you through building 3 models. As you can see in the image above, the
predominate image is a race car. When I saw this, I was confused since a car is
not exactly a "flying object". Although there are instructions to build the car,
you can not do so with this kit as it does not include wheels and other
components necessary for that particular model. I found this fact to be a bit
misleading and a little disappointing… Even the box features the race car
model on the back, but no where that I noticed does it say that you need other
kits in order to build that model. ** I later found a small text note mentioning that the race car could be built by combining this kit with other mini-pack kits. ***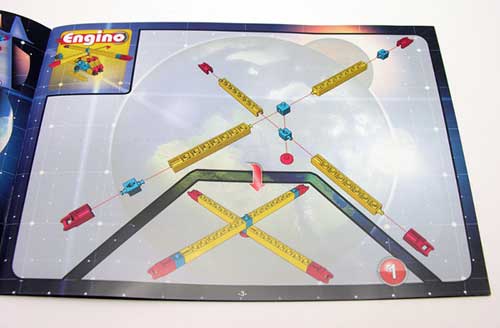 The instructions do not include any words, they just show an exploded view of
the model in order to give you a step-by-step method to create it.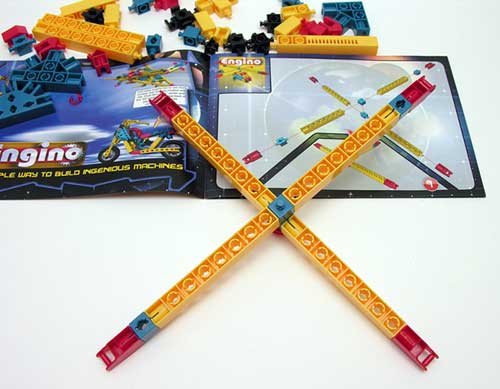 Let's build a helicopter… Here's the rotor.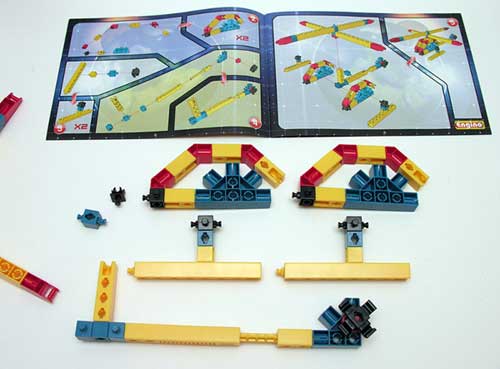 And here are the other parts needed for the construction of the model.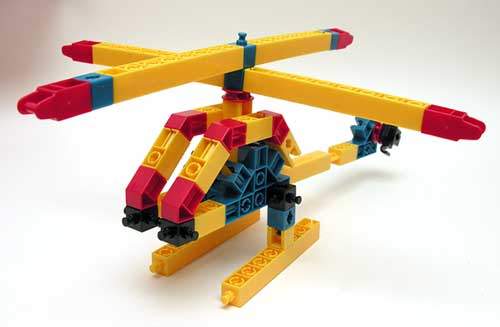 The finished rescue helicopter.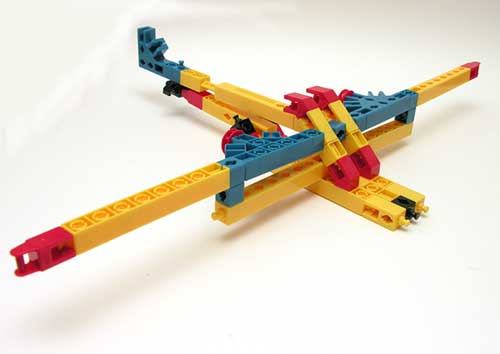 Here's the 2nd model constructed from the instructions.
The models are easy to put together, but they are not as sturdy as similar LEGO
models. The individual parts seem to turn / rotate easily when you don't really
want them too.
The ENGINO construction system is an interesting alternative to LEGO sets and
the price per set is pretty good too. But the models just don't seem as fun or
realistic as comparable LEGO models in my opinion. Kids that have never played
with LEGO will probably not have an issue with this set, but for someone that
has, I don't think ENGINO will impress them. Anyone out there a fan of ENGINO?
If so, speak up and tell us why?
ENGINO sets are available here in the US from
The Little World Shop.
Product Information
Price:
18.99
Manufacturer:
Engino
Pros:

Rotating parts
Fewer parts needed to build models

Cons:

Race car model featured in instruction booklet can't be constructed with this set; it must be combined with other sets to build it.
Parts rotate causing models to be a bit unstable