We use affiliate links. If you buy something through the links on this page, we may earn a commission at no cost to you. Learn more.
Bluetooth headsets are like sneakers, wristwatches and handbags; everyone has their own set of personal criteria when it comes to choosing one. Some people want a headset that is tiny. Some prefer wearing their headset by an ear hook instead of an in-ear bud. Some want the headset to be flashy, while others just want to blend in with the crowd. But when it comes down to it, everyone wants a headset that is easy to use, comfortable and of course, sounds great on both sides of the conversation. Today's Bluetooth headset review is for the Discovery 665 from Plantronics.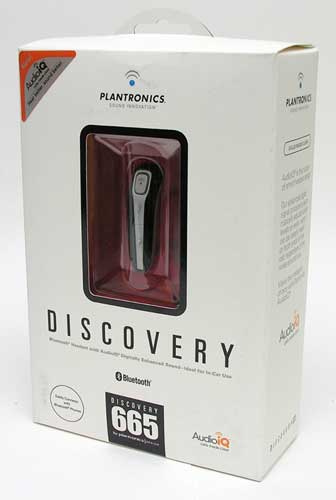 Hardware Specs
Talk Time: Up to 3.5hrs
Standby Time: Up to 80hrs
Charge Time: 3hrs
Range: Bluetooth standard 10 meters
Headset Weight: 9 grams
Battery Type: Lithium Ion Polymer
Version: Bluetooth 2.0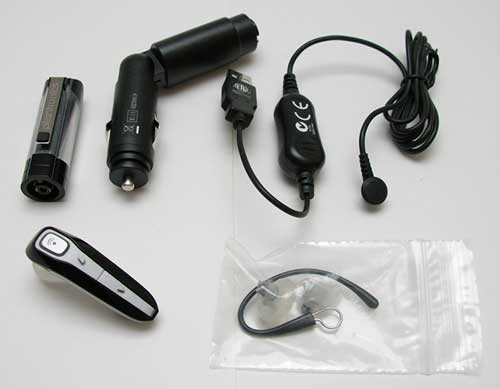 Package Contents
Discovery 665 headset
12V car charger adapter
USB charger adapter
Charging pocket
3 ear gel tips
Ear loop
User guide
At first glance, you see that the 665 isn't a flashy headset. This is one that both men and women can wear without hearing snickers from people they pass on the street.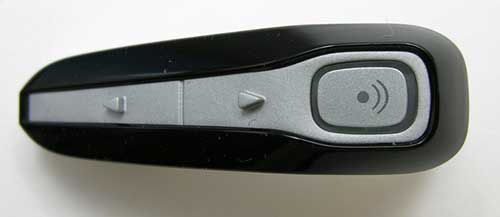 Made of shiny Black and matte Silver plastic, the 665 is approximately 2.25″ x 0.65″. On the face of the headset there are 3 buttons. Separate volume up/down buttons and the power / pairing / call pickup/end, etc. button. The Power button is surrounded by an LED that blinks Blue when powered on and alternates Red / Blue during pairing.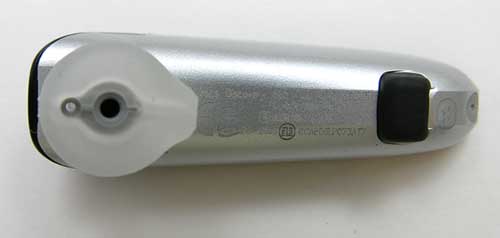 If you flip the headset over, you will see the removable gel ear tip and the battery charger connection point (Black rectangle).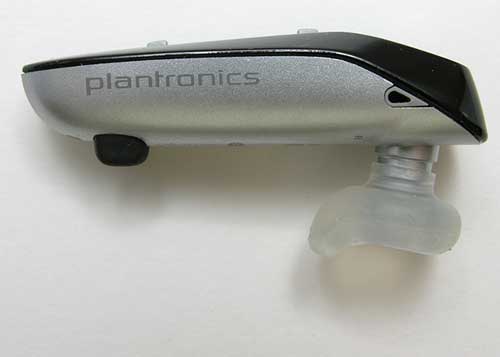 The Discovery 665 comes with 3 gel ear tips of different sizes. They are made of a soft silicon material that I found to be comfortable to wear for extended periods of time.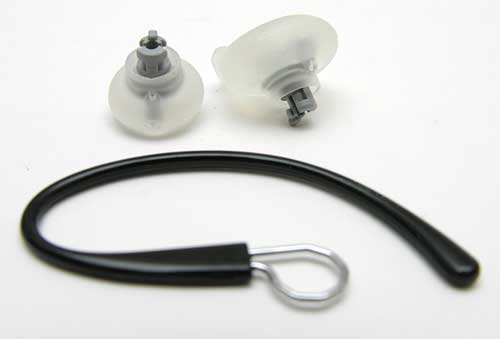 These ear tips are different than most I've seen before. They have a small plastic insert that allows them to snap into the headset and actually pivot up and down to adjust the fit. If you prefer to use an ear hook, one is included with this headset.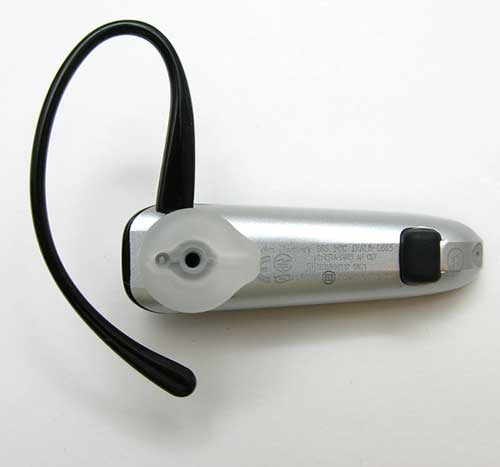 Installing it is a simple matter of pulling off the ear tip, placing the ear hook loop over post that the ear tip connects to, and re-seating the ear tip. I found either method to be comfortable, even while wearing glasses.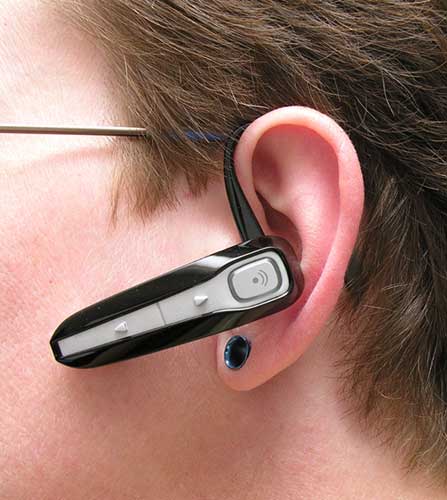 Like most Bluetooth headsets, pressing the buttons while you are wearing it, tends to feel awkward and sometimes a little uncomfortable. The Discovery 665 was no different in this respect. I wish someone would come up with a slider style volume adjuster for headsets, instead of the individual buttons.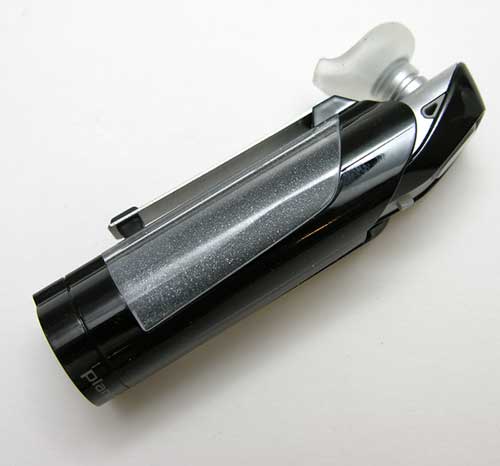 One of the best features of the Plantronics Discovery 665 Bluetooth headset is what they call the charging pocket. It's a strange name for a pen cap style case / charging cradle that is included with this product. The headset slides into it for both storage and battery charging through USB or your vehicle's power port.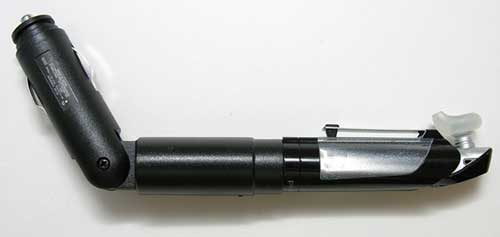 Here you see it snapped on the 12V vehicle adapter…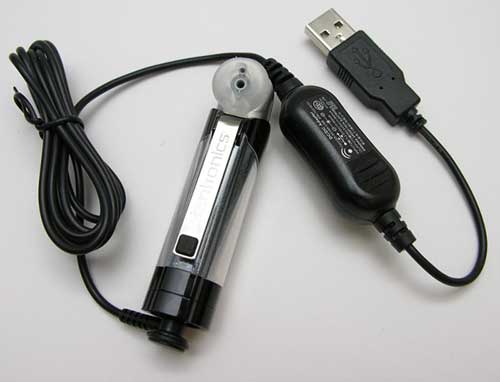 And here it is with the special USB cable attached to it. Another nice feature is the fact that if you are charging the headset and a call comes in, the charging pocket will light up. Your call will automatically answer when you pull the headset out of the pocket. It will hang-up automatically when you return the headset to the pocket. I think this is a pretty clever design, don't you agree?
In use, the headset works well. I did all my testing with a Treo 680 and didn't have any problems pairing with it. All of the features worked as advertised except for voice dialing, which Treo's can't seem to do.
Below are two audio clips of the 665 headset in action. This will give you an idea of what it sounds like to receive a call from someone using this headset. I used the free voicemail / fax service from K7.net for these tests. I signed up for a free account, got a phone number and called it using a Treo 680 while using the Plantronics Discovery 665 headset. The resulting voicemails are then emailed to you. Pretty nifty! At test time, the phone had full signal strength. Click to listen.
Inside Test (366k .WAV file)
Outside Test (250k .WAV file)
Driving Test (181k .WAV file)
One of the main feature points for the Discovery 665, is its AudioIQ sound technology. It's sort of like the Aliph Jawbone Bluetooth headset special noise cancelling feature, but on a much smaller scale. Their advanced digital signal processing automatically adjusts the voice levels so that they can be heard on both ends of the call. I asked several people what they thought about the sound quality when I would call them with this headset. Everyone said that I sounded very clear. On my side of the conversation, things sounded equally as good.
The AudioIQ feature does appear to work pretty well because at one point when I was talking to my sister while driving, I asked her if she could hear my car radio which I was playing at about medium volume. She said the only time she could hear it in the background was when I was not talking. Later I tried talking while I was holding a running hair dryer. Unlike the Jawbone, that noise was not filtered out.
Although I didn't have an issue with battery life, this headset is only rated for 3.5hrs of talk time. That is pretty short when compared with several other headsets I've reviewed in the past that are 6-10hrs or so… If you're a chatty Cathy, this headset might only get you through 1 day per charge, unlike myself, I can go at least 2-3 days per charge.
The Plantronics Discovery 665 Bluetooth headset won't block out jack hammers and vacuum cleaner sounds while you're talking to someone, but it does block out some background noise and produces clear conversations on both sides of the headset. The price for this headset is a bit on the high side at $149.95, but the addition of a carrying 'case' and 2 charging options does help justify it.
Product Information
Price:
149.95
Manufacturer:
Plantronics
Pros:

Very good sound quality
Car and USB charger included
Comfortable
Easy to use

Cons: