We use affiliate links. If you buy something through the links on this page, we may earn a commission at no cost to you. Learn more.
I've just been diagnosed with diabetes. I am a bit overwhelmed with the flood of information- both that I need to learn, and that I need to now learn to track. I have already learned a few things.
A. Diabetes is sometimes called the "data disease" because the more you understand it and track it, and know what it is doing, the better you can manage it.
B. It is really depressing to be a diabetic.
C. If ya gotta deal with the data involved, ya may as well make it work for you.
I tried several programs that I found through Google, Handango, and PalmGear. Some were too expensive for what they offered, others were mostly single-task programs that were good food databases or good logbooks. Some were awkward, several did not even launch right, and a few I just plain did not like to use. I shan't name any here- just because I did not like them does not mean you won't.
Diabetes Pilot
Diabetes Pilot is a simple, but useful program. It combines a logbook for your blood sugar readings, medications, insulin, foods, BP, exercise, and more along with a good database of food values and a good report module. It also offers a desktop version that can sync with the Palm or Pocket PC version.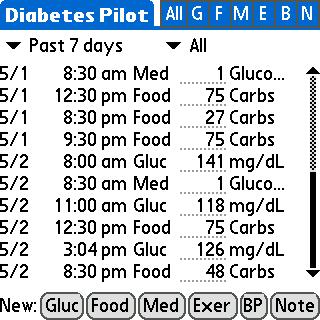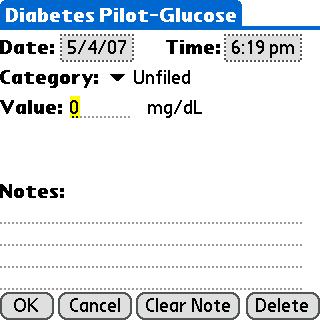 Diabetes Pilot main screen and recording blood glucose levels screen.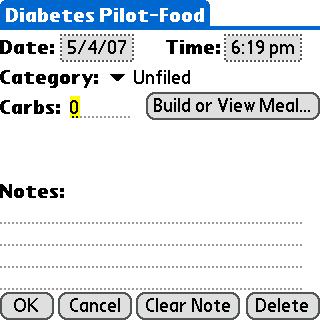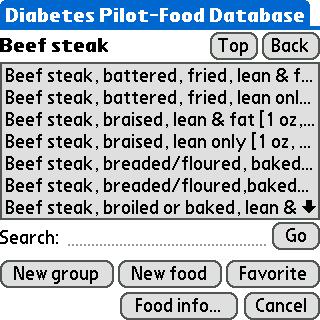 Recording Carbs… which you can do with the Food Database utility.
Entering data in the Pilot is fairly simple and intuitive- radio buttons, check boxes, blanks to fill in… it feels like a traditional Palm program. This program is designed to run an almost any Palm or Handspring ever made, so it does not use some of the cosmetic features of newer software. No color coding, no sound effects, no whiz, no bang- nonetheless, it seems reliable and familiar. (This is not to say that some well placed color coding or something would not be a bad idea- in fact, some elements literally cry out for a make-over!)
Because it is a solid, reliable performer, this is in my eyes sort of the standard by which other diabetes programs were measured. I could wish that the foods database was a bit easier to navigate… perhaps with a search function, but otherwise this was a trooper. It installed well, runs well, does not seem unstable, does not strain resources, and just plain does the job.
The desktop version of Diabetes Pilot compliments it nicely. Some jobs are easier in the desktop (such as bulk data entry if you fall behind in it), and it does use color. If they offered both programs at a lower price, it would be a slam dunk! As it is, the desktop version is $39.99 and the handheld is $29.99. The combined $69.98 is pretty high in my eyes for what can be done with a paper log and a calculator.
If you DO purchase both, the biggest benefit I have found is the ability to use the Palm as a remote data logger- capturing info on the run, and letting the desktop manage and present the info. In fact, this has become a primary factor in my choosing software for this!
Price: $39.99 desktop version, $29.99 handheld version
Pros:
– Familiar, comfortable interface
– Good reports and tracking tools
– Desktop conduit
– Easy to configure and use
Cons:
– Pricing is a little steep, especially with desktop version as well
– Finding food values in the database can be tedious
Logbook DM
Logbook DM is most quickly described as 'Diabetes Pilot Lite'. It does not have a food database, does not track as many values, has a slightly clunkier looking interface, and is no longer actively supported (last update was 2004). At least some features do not work on newer devices, such as the Treo. On the other hand, it is inexpensive, has a good reporting feature, easy to use, and just plain works well. The author, Ryan Bruner, deserves kudos for this software and for what, when it was written, were very advanced features. For $12, it is worth a look!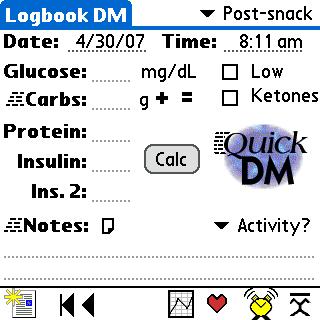 Price: $12.00
Pros:
– Cheap
– Simple
– One-screen data entry
Cons:
– None
UTS Diabetes
UTS Diabetes is what I would consider sort of the 'next generation' of Diabetes Pilot. It is a slightly different structure in that the main program, Universal Tracker System (UTS) must be installed first, and the Diabetes element is a plug-in module. It does offer several other modules, both free and commercial, as well as a desktop version, the UTSPC Companion… although it will still export to Microsoft Excel without the desktop component.
UTS Diabetes is in color and offers a few more features, such as the ability to e-mail your records to your doctor. You can get UTS and the Diabetes plug in bundled for $29.90, and the full desktop for $39.95- a total of $69.85- more features for a slightly lower price, but it also does not run on older Palms and takes more resources. I would also add that the website for UTS is not quite as user friendly.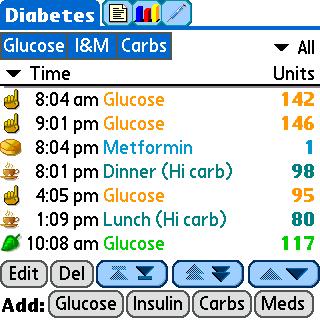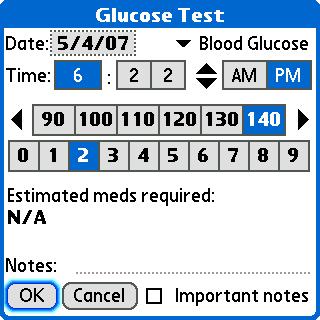 UTS Diabetes Plug-In and entering blood sugar levels.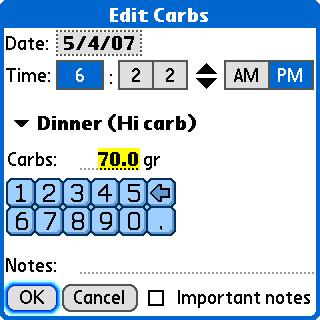 Entering carbs.
Price: $29.90 UTS with the Diabetes plug in bundle, $39.95 Desktop version
Pros:
– Colorful, visually pleasant
– Easy data entry
– Better reporting
– Modular design allows customizing and upgrading
Cons:
– Still rather costly
– Does not run well on older units
Data Reporting is one big part of why you buy any diabetes software. Here are the data screens from all three products: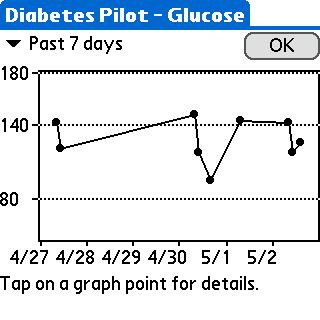 DiabetesPilot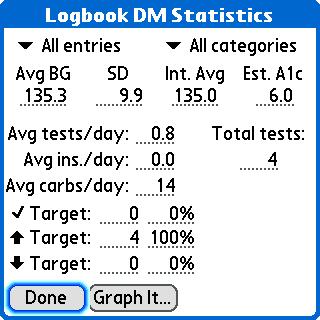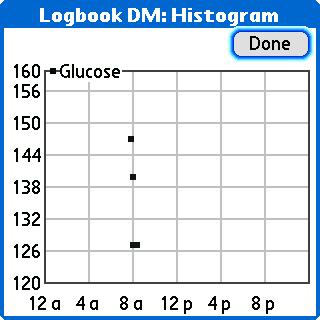 LogbookDM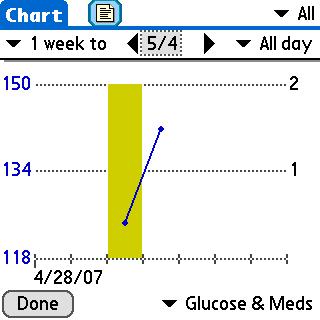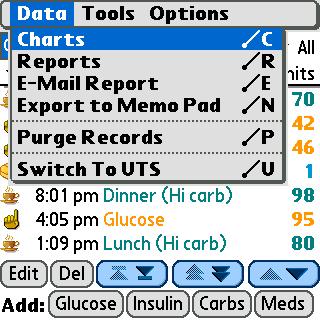 UTS-Diabetes Charts
(A note of apology: due to technical problems that had nothing to do with the softwares being tested, I could only show a VERY limited data set on two of the programs. Hopefully my PDA will be fully operational again soon!)
Bottom Line
These are all good programs, but what I really want is a way to just capture raw data during the day, then have it upload and chart out for me as seamlessly as possible on my laptop. I have heard tell of some Excel spreadsheets that come close to this which would work nicely with Docs to Go, but I have not found them yet. I may have to learn Excel and make my own.
In the meantime, LogbookDM will be my tool of choice- quick, easy, one screen to enter stuff on, and a decent report. Diabetes Pilot is a near second- except that I don't really want to pay the price for the whole package program. I LOVE the look, charts, and data entry of UTS, but am just not as thrilled about it overall as I am Diabetes Pilot- pure personal preference!
Product Information
| | |
| --- | --- |
| Price: | |
| Requirements: | |
| Pros: | |
| Cons: | |