We use affiliate links. If you buy something through the links on this page, we may earn a commission at no cost to you. Learn more.
Here is a review of a product that doesn't appear to be all that exciting until you really require a use for it. It's the latest version of a USB 2.0 to IDE / SATA cable from Brando. The first such cable I reviewed was back in 2004. It would only allow you to connect a 3.5 inch IDE drive to your PC or Mac. One year later, the 2nd version of this cable added the ability to connect 2.5 inch drives. Earlier this Spring, yet another iteration of this cable added SATA drive capability. And now the latest version adds one touch backup and a new compact adapter design.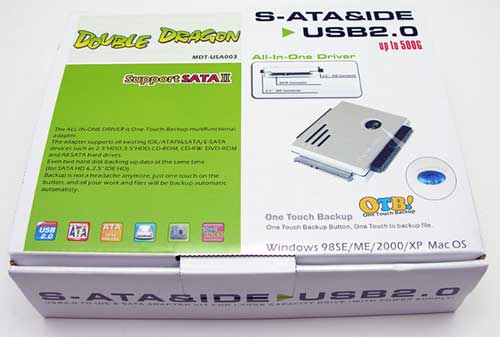 Hardware Specs
Complies with USB 2.0
Backwards compatible to USB 1.1
Supports 2.5″ and 3.5″ IDE/SATA drives
Supports 3.5″ SATA HDD up to 750GB
Supports IDE and enhanced IDE hard drives up to 500GB
SATA Interface: High speed data transfer rates up to 1500Mb/sec
ATA/ATAPI: Support 16-bits DMA and Ultra DMA mode interface (Ultra 33/66/100/133)
Dual Mode: Support bisynchronous mode, compatible to SATA and IDE device simultaneously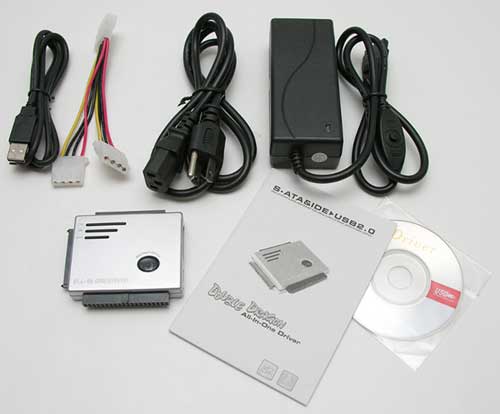 Package Contents
USB 2.0 To SATA/IDE Adapter With One Touch Backup
USB cable
AC power adapter
Universal power cable
4 pin convertor cable
Female to male IDE extended cable
Software installation Driver CD
User's manual
This first thing I noticed when I opened the box, was the fact that there weren't as many cables included with this version of the product. One look at the new design of the main adapter revealed a built in power connector for the SATA connection. Cool.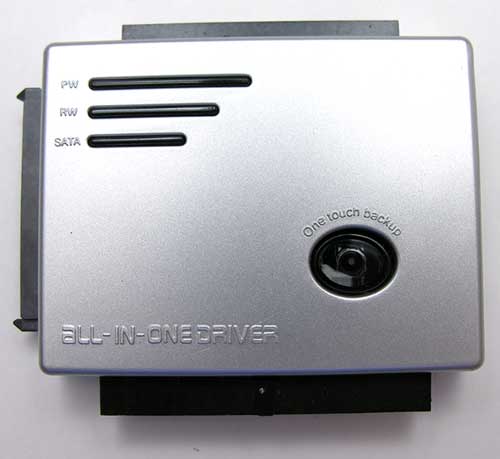 The new adapter is a 3.0 x 2.5 x 0.5 inch plastic box, that has 1 button, 3 status LEDs and 5 connectors. The button initiates the one touch backup feature (more about that in a bit). The status LEDs show Power, Read/Write activity and SATA connectivity.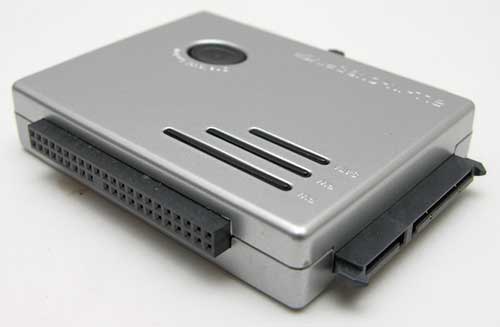 Two of the 5 connectors are for IDE devices. One is a 40-pin connector for 1.8 and 2.5 inch notebook drives and the other is a 40-pin connector commonly used for 3.5 or 5.25 inch hard drives and optical drives (CDroms / DVDs). The other main connector is for 2.5 and 3.5 inch SATA drives. You can see it on the right side in the image above.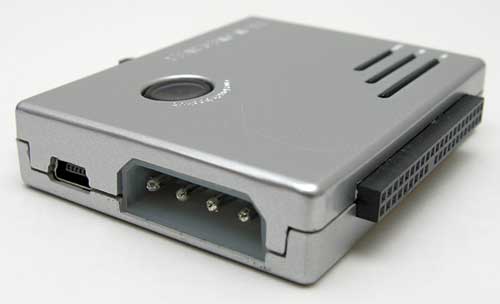 The other 2 connection points are for a mini sized USB cable and a 4-pin power cable.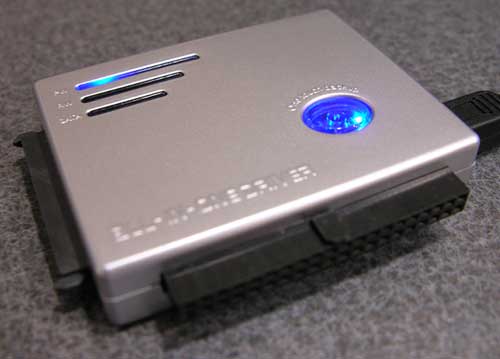 Connecting the adapter to your drives is not rocket science, but there are a couple of important things to be aware of that the included instruction sheet fails to mention. The main thing you should remember, is to NOT connect power to an SATA's 4-pin power connector AND the power connector on the adapter. That could result in bad bad things happening to your drive. Just plug the included power brick into the adapter and you'll be fine. Another tidbit to remember is that 1.8 and 2.5 inch IDE drives can run by USB juice alone.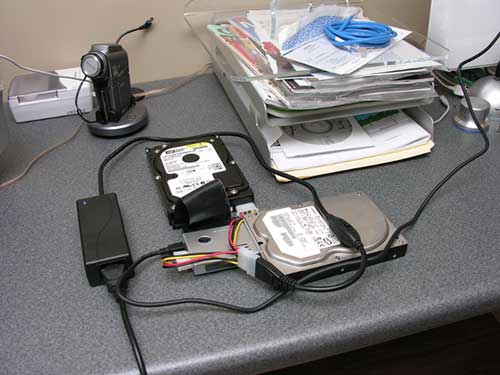 In the image above, you will see that I have an 80gb Hitachi SATA drive and a 80gb Western Digital IDE drive connected to the adapter at the same time. It may be hard to discern in the image, but I had to use the female to male IDE extended cable to connect the IDE drive to the adapter due to the fact that the SATA drive obstructed the 40-pin IDE connector. The Y power cable was also needed for this particular setup. Even though it looks sorta messy, both drives mounted and worked as expected. Files could be copied back and forth between the drives and back and forth between my desktop computer.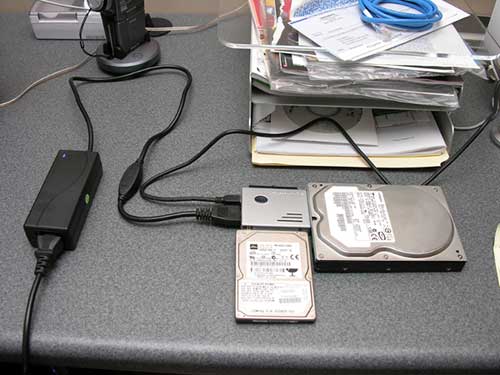 A much more tidy configuration is pictured here with the same SATA drive and a 40gb Toshiba IDE. Again, both drives worked fine when connected in this manner.
I should also mention at this point, that the power brick included with this adapter, has an ON/OFF switch built into the cable. It's housed in the oval shaped blob in the middle of the cord leading to the adapter. This is a welcome update as it was lacking in previous versions of this product. The only bad thing about the power switch is the fact that the only way you really know if the drives are powered off, is by feeling them for vibrations, listening for whirling platter noise, or seeing if the drives are still mounted on your PC/Mac. The small Blue power light on the power brick remains lit even when it is not supplying power to the adapter. Maybe the next version of this adapter will have the power switch on the opposite side of the brick.
You might be wondering if it is possible to connect 2 IDE devices at the same time to this adapter. The answer is YES, you can connect them, but they won't work. Only one IDE device at a time folks.
I had no problems copying files, moving files, running programs, watching videos or listening to audio files using this adapter and the test drives. Let's see some test data. The test file that I used for all of the transfer tests was a 118.3mb .WMV video of the Napoleon Dynamite movie.
File copy from PC to Hitachi SATA 5 seconds
File copy from PC to 2.5 Toshiba IDE 32 seconds
File copy from Hitachi SATA to PC 7 seconds
File copy from Hitachi SATA to 2.5 Toshiba IDE 33 seconds
File copy from 2.5 Toshiba IDE to Mac 12 seconds
File copy from 2.5 Toshiba IDE to Hitachi SATA 6 seconds
I used a Windows XP PC for these tests. These numbers really don't mean anything though, because everything depends on the speed of the drives and the speed of your computer. I also ran the same tests on my iMac, and received similar results. I was very happy with the performance during my tests.
Using this cable for copying files back and forth between 2 drives and your desktop PC/Mac is pretty much the same as using the previous version of this product. Where this new one differs is with the addition of the one touch backup button. To utilize this feature, you have to install an application called PCClone EX Lite which is included on the mini CD.

Once installed, a small icon appears in the task tray of your Win XP computer. Sorry, no Mac version of this software is currently available.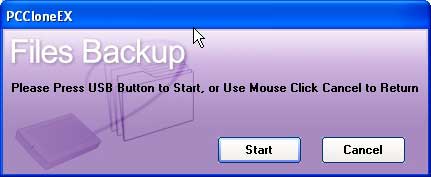 Pressing the oval button on the adapter will cause a popup to display on your screen. You can then either click Start or Cancel with your mouse, or press the one touch backup button a 2nd time to start the actual backup process.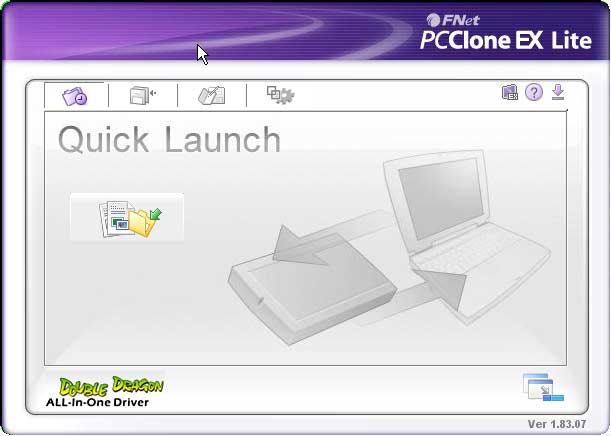 The PCClone Lite software is just that, lite…on features. To configure which files you want to actually back up, you have to launch the application.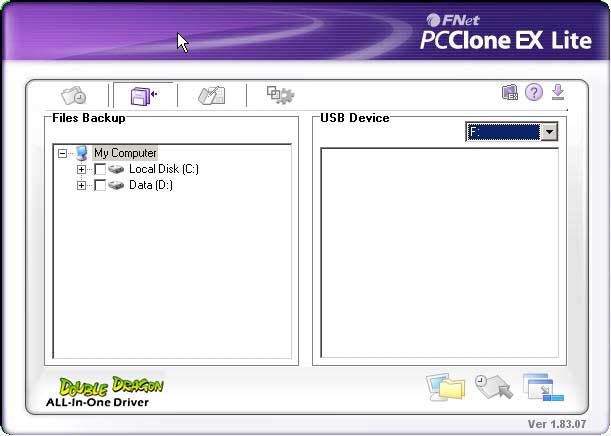 There are checkboxes next to the drives mounted on the computer that you have the adapter connected to. You can select the whole drive, or navigate down into the individual directories. You can then choose which drive you want the backed up files to be copied to.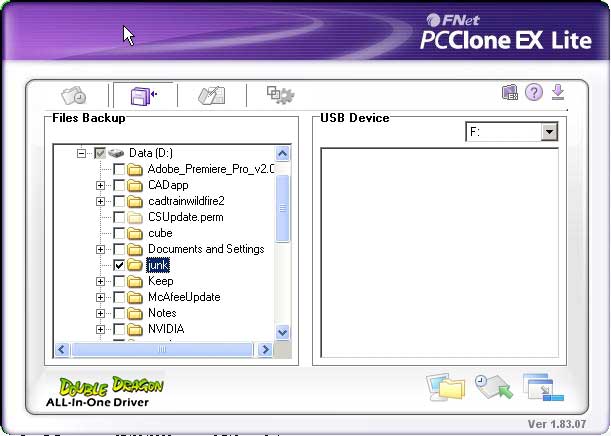 Yes, you can select directories from multiple drives to back up on the source system.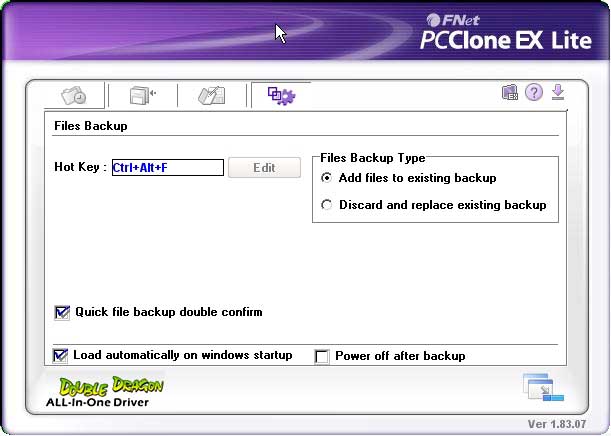 As you can see in the screen capture included above, there are very little options available for configuration. No compression options, scheduling, etc.
I had mixed results backing up files. Sometimes the backup would terminate unexpectedly with a file in use error. I also learned that PCClone ignores the Windows directory and Program Files directory. So, the software doesn't exactly clone your drive. Personally, I wouldn't buy this adapter just for the one touch backup feature. There are better products out there that do the same thing and do it in a better way. This product is more suited for those times when you need to copy / move files off a drive due to a computer malfunction or for moving data from one drive to another. The USB 2.0 to SATA/IDE Cable with One Touch Backup will remain in my arsenal of little used, but important tools that I never want to be without.
Product Information
Price:
40.0
Retailer:
Brando USB
Requirements:

Intel Pentium III 450 MHz or compatible processer
Windows 98se/Me/2000/XP or Mac OS
Available USB port

Pros:

Connects an SATA and IDE drive to a PC or Mac
Easy to use
Handy

Cons:

Can't connect 2 IDE devices at one time
Backup software is pretty lame