We use affiliate links. If you buy something through the links on this page, we may earn a commission at no cost to you. Learn more.
I have a couple of products that require a volunteer reviewer. Are you up to
the task?
As always, the requirements are:
1. That you have a digital camera
2. That you own the product necessary to conduct the review
3. That you take nice clear pictures of the product being reviewed
4. That you use the product for a minimum of two weeks, gathering
impressions on its positive and negative points, all of which will be included
in your review
5. That you complete the review within three or four weeks after receiving the
item
6. That you agree not to publish the review on another web site
In return, you will get to keep the item that you review. You'll need to
email me if you see something you
would like to review. Sound like a plan? Read on…
1. This item is no longer available and will be reviewed by Lisa Adair; thank you Lisa! Power Support USA
Kimono Case
for the 30 or 60GB iPod Video. (value $40) According to the site:
The Kimono case expresses the "Tranquil Harmony" that is the
essence of Kyoto, the cultural center of Japan.
This beautifully designed iPod case is constructed of fine leather and
cotton fabric. The refined attention to detail is noted not just in the
selection of the unique fabric but in the operational ease of use. Both the
click wheel and screen are fully functional with the case on. The bottom of the
case is also accessible, making docking simple. On the back is a ring to make
attaching a lanyard or key chain to your miyabi case possible. Theses cases do
not come with the wheel and screen film. Patterns will vary, each case is cut
individually.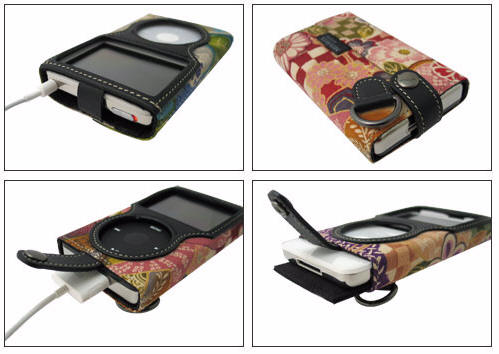 2. This item is no longer available and will be reviewed by David Barton; thank you David! Power Support USA
5G iPod
Crystal Film Cover Set. (value $16) According to the site:
Power Support's Crystal Film Cover Set PAT.P safeguards the iPod from dirt
and abrasions. The iPod has a high luster finish and brilliant color LCD screen,
which can show wear and tear with regular use. The Crystal Film's protective
veneer will keep the shiny exterior of the iPod clean and looking like new. Each
three-piece Crystal Film Cover Set includes one front, back, and wheel film.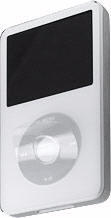 Crystal Film
We use the finest quality film, finished with a high gloss that is specifically
developed for LCD screens. This remarkably transparent film offers exceptional
clarity of the display. The surface of the Power Support Crystal Film is treated
with a scratch resistant, hard coat, protective process. The adhesive side is
made of a newly developed, static cling polymer plastic. Air bubbles are easily
removed during installation allowing optimal adhesion. The film leaves no
unwanted residue when removed.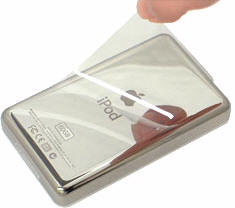 Wheel Film
Power Support's Wheel Film for the iPod provides complete protection of the
player's Click Wheel. The lightweight sheet is easy to position and enhances the
feel of the Click Wheel and center button, improving traction and
responsiveness. Wheel Film is easy to install and does not leave any sticky
residue when removed.
3. This item is no longer available and will be reviewed by Eric Dey; thank you Eric! Tom Bihn
Archetype Bag for
12", 13", 15.4 & 17" MacBook or MacBook Pro. (value $95)
According to the site:
A blend of engineering and art, the Archetype provides superior protection
for your laptop and is certain to inspire more than a second glance.
It's a sleek, minimalist, and protective laptop sleeve with comfortable
handles. But such simplicity is not attained with ease: Tom Bihn has spent
countless hours over the course of more than a decade refining the design
elements that you see today as the Archetype.
The Archetype is made of 0.25" (8mm) thick closed cell foam which entirely
encases your laptop, padding it on all sides and protecting your laptop from
bumps and scrapes; this unique construction completely protects your laptop from
the zipper closure as well.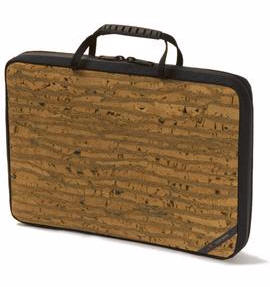 It closes with a #8YKK Uretech® "splash-proof" zipper – while not
"waterproof", the Archetype is our most weather-resistant case. It unzips
completely to allow you to work on your laptop without removing it from the
Archetype (Are you wondering about heat build-up? See our F.A.Q.) The Archetype
carries with comfortable soft plastic handles molded over strong webbing.
The Archetype is lined with a soft brushed tricot knit, cradling your
laptop and protecting it from being scratched.
Inside, the Archetype is practical and protective. It's outside that
things get interesting: the Archetype is made of Genuine Cork fabric (made of
real cork).
If black ballistic nylon is more your style, then you'll have to look
elsewhere: this case talks style as much as function.
If you are interested in this bag, you'll need to let me know what size you
need.
*****
All items will be available on a first come first served basis. I will post
that the item has a reviewer as each slot is filled.
Thanks!!