We use affiliate links. If you buy something through the links on this page, we may earn a commission at no cost to you. Learn more.
Sweltering Sunday in Southern Indiana
It was 99 degrees here before noon. Can you say Global Warming?
;o) On a day like this you need a good fan. So I broke out one that
Brando had sent me to try. The
Fantastic USB LED Fan. For $10 you get a little desk fan,
powered by USB. It has 2 buttons. One to turn the 5 colored LEDs
on/off, and another to turn the fan on/off.
See it in action…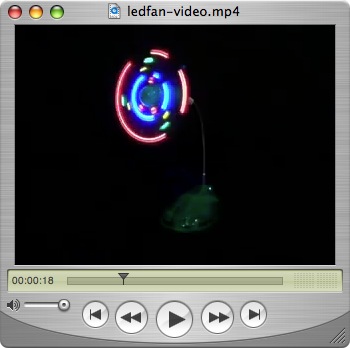 Click on image to play the QuickTime video (1minute 11sec,
2.4mb). The video is encoded in the H.264 codec. You will need the latest version of Quicktime to view it. VLC is another free viewer.
.
The fins on this fan are made of thin flexible plastic, so it doesn't move much air at all. Not enough to really cool you off, that's for sure. But, the 32 different light patterns will hypnotize you so that you'll forget you were hot in the first place.