We use affiliate links. If you buy something through the links on this page, we may earn a commission at no cost to you. Learn more.
Digital photo frames sure have come down in price over the past few years. I reviewed the Digi-Frame DF-560 in May of 2002. At that time this 5.6 inch frame had a whopping price tag of $549! Now here it is 4 years later and I'm going to show you a digital frame from Tricod Inc. that looks almost identical to the DF-560, but costs $400 less. At $149, this frame can even play music and video. Check it out.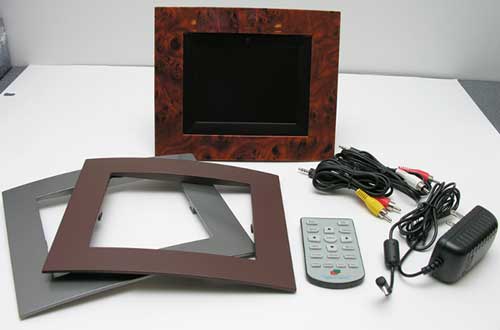 Hardware Specs
Display: 5.6″ TFT Active Matrix
Resolution: 320 x 234
Music Format: MP3
Video Format: MPEG-1, MPEG-2, MPEG-4
Picture Format: JPEG
Audio: Input/Output, 2 built-in SPers
Video: Input/Output, S-Video NTSC/PAL
Media card support: Compact-Flash (CF), Smart-Media (SM), Memory-Stick (MS), Secure Digital (SD), Micro-Drive (MD), and xD via card adaptor (separate)
Power: AC Adaptor
Power Input: 100-240VAC
Power Output: 12V, 1.5A, 50-60Hz 18W
Dimension: 210(L) x 171(W) x 38mm (H)
Weight: 2.75 lbs.
Package Contents
Digital photo frame
3 plastic frames
Remote
Audio / Video cables
AC adapter
User manual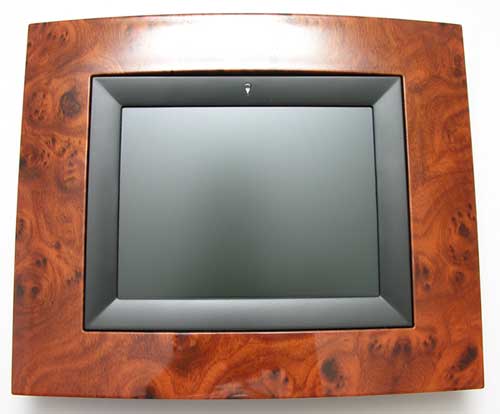 This is a very nice looking digital photo frame that you can customize somewhat, with the 3 different plastic snap on frames that are included. I like the burl wood frame best, but it also comes with Grey and Brown versions. The frames are easy to pop on and take off, whenever you're ready for a different look.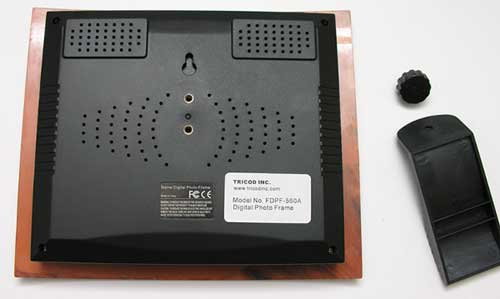 A screw in plastic stand is also included. You can use the frame either in portrait or landscape orientation. If you prefer to hang the frame on the wall, a nail hanger is built into the back of the case. As you can see, the speakers are also located on the back of the frame.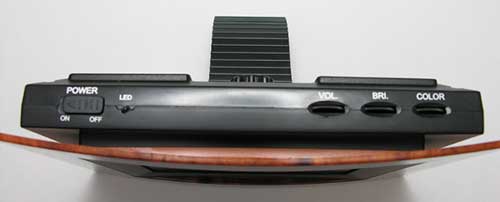 Located along the top edge of the frame are the main controls. There is a Power slide switch, Power status LED, Volume adjustment wheel, Brightness Adjustment wheel and Color adjustment wheel.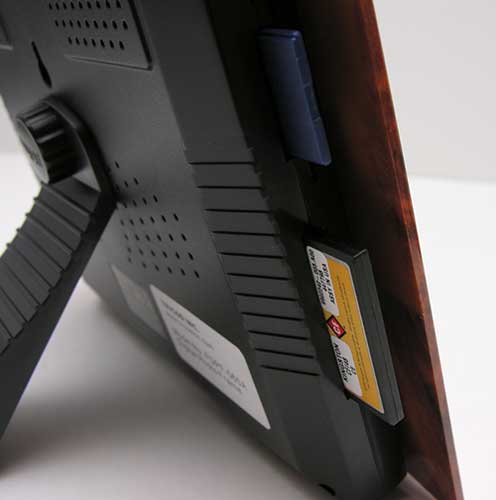 Along the left side of the frame are the 2 media card slots. Unlike the Digi-Mate frame I reviewed eons ago, this frame can accommodate CF, SM, MS, SD, MD and xD (with an adapter) cards.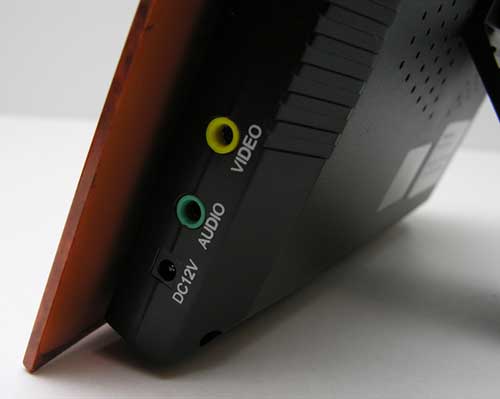 On the opposite side there is the AC adapter connector and Audio / Video out jacks. With the A/V out jacks and the included cables, you can connect this frame to your TV set for larger screen viewing.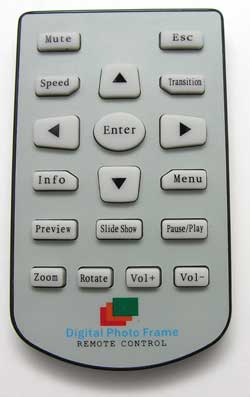 A small handheld IR remote is also included. It has real buttons too! Yay! The remote is powered by 1 CR2025 coin cell battery, which can be found at most drug stores like CVS.
To use the frame, you just plug in a flash card (or 2) and power it on.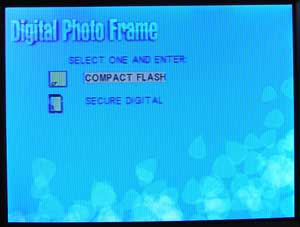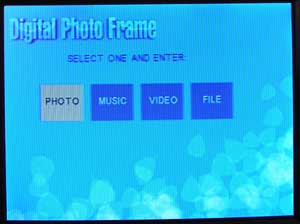 If you have a card in each slot, you'll be given the choice of which card to read from. Unfortunately, this frame will not automatically access the 2nd card during a slideshow.
After choosing the desired card, you are then given a choice of which media functions to use. The options are: Photo, Music, Video and File.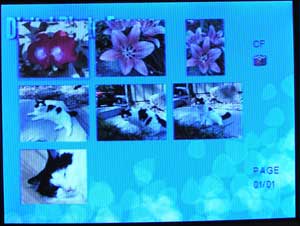 Choosing Photo will first display a page of thumbnails of all the .JPG images on your media card. The frame will traverse folders to display all the images thumbnails. At this point, you can scroll through all the pages and select an image starting point for a slide show.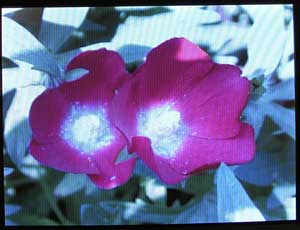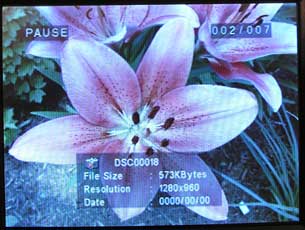 Images will automatically cycle every 1, 3, 5 or 10 seconds. This time interval is controlled through the hand held remote. At anytime, you can pause the display or get information on a particular image.
Image quality on this frame is much better than I remember with the other frame I reviewed. The colors are vivid, and the screen is bright. This one has a wider viewing angle, so you don't have to be completely facing it or at eye level to get a good image. It's also fast at switching images, even with images that are over 1.5mb each.
Using the remote you can change the transition effect between pictures. There are 14 different basic effects. Nothing too fancy though. Mainly scroll left to right, right to left, up / down, down / up, blinds, crossfade, etc.
In addition to displaying your photos, this frame can also play MP3 audio files.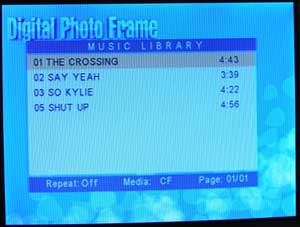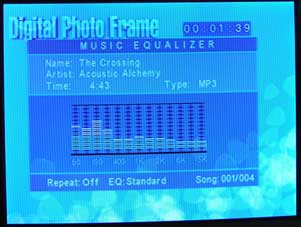 Choosing the Music function will show a list of all the .MP3 files found on the selected flash card. Songs inside folders will also be displayed in the list. Selecting a song will begin playback. Pressing Info while a song is playing, will bring up a live equalizer view that moves to the beat of the music.
The first song in the root of the flash card will be used as background music to start your slide shows. Unfortunately, you have no real control over this feature, other than only putting the songs you wish to use as background music in the root of the card. Or if you don't want music at all, not putting music in the root of the flash card. The frame will not use songs in other folders for slide show background music.
Another feature of the frame is the ability to play AVI and MPEG video files. I didn't have much luck with this feature though… Playback was stuttery at best. At the worst, it just froze the display.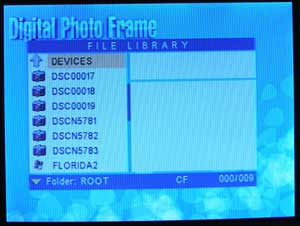 In File mode, you are presented with a file manager style listing that you can use to scroll through all the files and folders on the flash card. Scrolling over an image will display the thumbnail for that image, or start video playback and audio playback of MP3 files.
Disregarding the problem with video playback, I really enjoyed testing this frame. I wasn't expecting to really be that impressed with it, but I actually was. There is one feature though that could make this frame so much better… a timer function. It would be great if you could program it to automatically turn off during certain hours of the day. Why have it displaying pictures in the wee hours of the morning, when no one is awake to view them? That said, I think this frame would make a wonderful gift for just about anyone. I think I just might give this one to my Dad for Father's Day!
Product Information
Price:
149.99
Manufacturer:
Tricod Inc.
Pros:

Easy to use
Plays music in addition to displaying images
Nice image quality

Cons:

Video playback is choppy
No control over slide show background music