We use affiliate links. If you buy something through the links on this page, we may earn a commission at no cost to you. Learn more.

09/09/06 Update: See comments at bottom of review in Red.

I'm a cat person, who turned into a dog person, and who is now a dog person trapped inside a cat person's body. I know that was kinda hard to follow, so let me try to explain… When I was a kid, I was 100% a cat person. This is probably because we never had a dog the whole time I was growing up. We had a big Black and Grey tiger striped cat named Pepper. He was an outdoor cat that only came inside to eat and hang out. At night, he went right back outside; we didn't have a litter box for him in the house.
Later when I moved out into my own house, I got a Pembroke Welsh Corgi puppy and I promptly turned into a dog person. Kasey lived inside and only went outside for potty breaks, walks and play time. Fifteen year old Kasey had to be put down last August. :o( Although I'm still not over it, my cat Max has turned into the surrogate dog. Normally he sleeps in the garage at night, and comes into the house to just hang out for awhile. Well, that changed this past winter when it got really cold out and my roomie moved him in, litter box and all, while I was away on a business trip.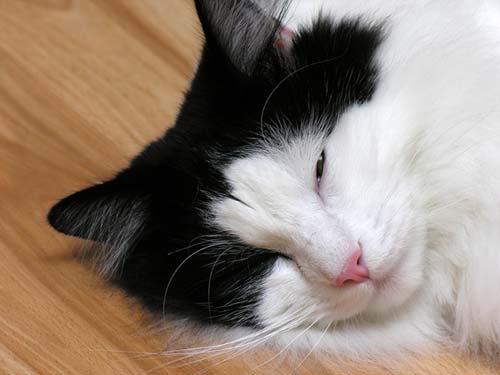 It was nice to have a pet back in the house, but it wasn't so nice to have the chore of cleaning the litter box every night when I came home from work. It was equally less fun to tromp out into the woods to dump the clumps. So, it was natural for me to start wondering about automatic litter boxes. That wonder turned into a request, when the folks at PetGadgets.com contacted me to add their site to one of our links pages. I said sure and then asked if they might be interested in me writing a review of their ScoopFree Automatic Litter Box that they were selling on their site. I was intrigued by the sales blurb that hyped the fact that this litter box would require no human intervention for up to 30 days! Wow! They agreed to allowing me to write the review and now here's the rest of the story…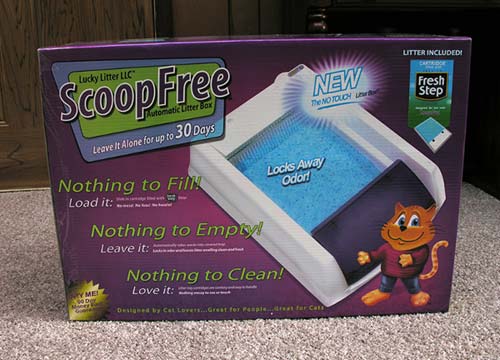 One day the product arrived in a big box, containing everything needed to get started.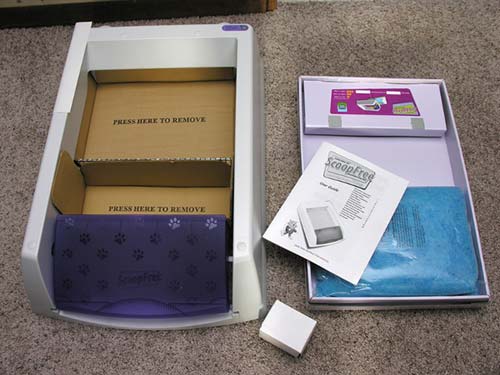 Package Contents
ScoopFree Automatic litter box
Fresh Step litter cartridge with 3lbs of Fresh Step crystals
AC adapter
Instruction sheet
My first surprise was the fact that the ScoopFree litter box wasn't a litter box at all, but an open frame made of heavy plastic. This frame sits on top of a cardboard litter cartridge (tray). This was my 2nd surprise. I wasn't convinced that a cardboard tray would be able to hold up to 30 days of my cat doing number 1 in it.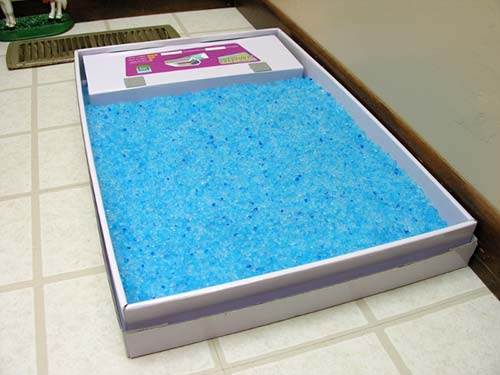 The tray is a 14.5 x 22 inch rectangle that is 2.5 inches deep. One end of the tray has a 5 inch wide lid that is attached to it. This is the area where all the solid waste is kept. Eeeeeew ;o) The top of this lid has two magnets affixed to the top. A cover that fits over the entire tray is also included. You place this cover under the tray and spread the included litter inside the tray.
The ScoopFree cartridges use Fresh Step crystal litter. Nope, you can not use other types such as clay, or clumping litter with this box. You MUST use the Fresh Step crystals. The crystals are made of silica gel, a porous substance that quickly traps liquid and then allows it to evaporate.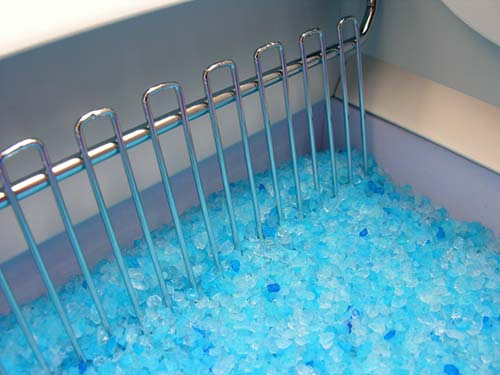 I've never used Fresh Step litter. I always have purchased generic clumping litter in big plastic buckets at SAM'S club. The Fresh Step crystals are bright aqua blue and look like they be more at home at the bottom of a fish tank, instead of at the bottom of a litter box. I was happy with the fact that this style of litter is virtually dust free. Not like the stuff I normally use, which sends up clouds of dust when you are trying to clean the box.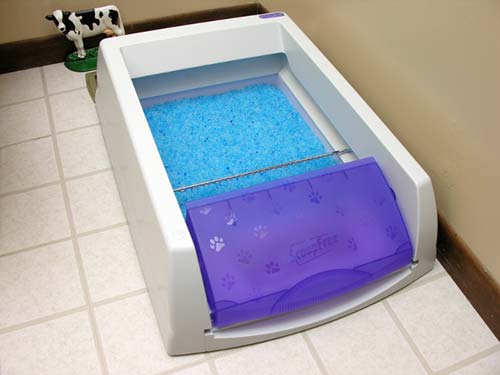 Once the litter is spread around the tray, you can then put the litter box frame on top of it. The purple angled part goes over the solid waste end of the tray. Then it's just a matter of plugging in the AC adapter. You can then test the cleaning action by pressing the button on the back right corner of the unit. Doing so will start the metal comb moving from the back end of the tray, to the front end (solid waste end) and back. No, you will not need to manually press this button after every time your cat does his business. That's the whole point, it's automatic. The box has sensors that can tell when the cat is in the box. 20 minutes after the cat leaves, the comb will automatically clean the box. Easy! Then after about 30 days, you just lift up the frame, put the lid on the cartridge and toss it in the trash.
Sounds wonderful right? I thought so. I set up the box in the same area that the other box had been, removed the other box and thought life would be perfect from that moment forward. Yes, I'm a die hard optimist… I grabbed Max, stuck him in the box, made his paws rake the litter and thought that would be all that would be needed for me to do. Fast forward about 2 months later… Max has yet to use the box! Stubborn mule… I mean cat!
Trust me, I have tried everything to get him to use it. I followed the advice on the little leaflet manual that came with the box. The first tip was to leave the regular litter box in the same room, but don't clean it. Eventually the cat will go find the ScoopFree box and use it instead. Well, I did that for about a week and then tried tip #2 don't replenish the litter in the old box as you clean it. So when the box gets empty, the cat will use the new box. Nope, didn't work. Tip #3, Put a few handfuls of regular litter on top of the Fresh Step crystals. That didn't help either. All Max would do would be to go in the room, look at the box and then walk out. He refused to use it even once. I would put him in the box, and he'd hop back out and just go to the door to be let outside.
See it in action…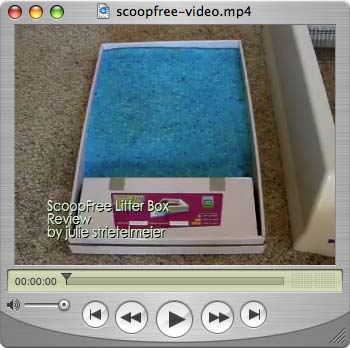 Click on image to play the QuickTime video (1:30sec,
3.2mb). The video is encoded in the H.264 codec. You will need the latest version of Quicktime to view it. VLC is another free viewer. .
Although my cat never did use the ScoopFree Automatic Litter Box, I can comment on the construction and value of this product. First of all, it is made well, the plastic is heavy duty and the metal comb appears to be equally rugged.
Value may be harder to speak about. First of all, the box with one litter cartridge will run you $139.95. Cartridge refills are approximately $50 for 3 and $90 for 6. So, for $230, you will have 7 months cat box cleaning freedom. Is it worth that much to you? Of course, if you have more than 1 cat, each cartridge will not last as long… That sure seems like a lot of cash to fork over for the convenience of not having to scoop clumps every day. I'm disappointed that I'll never know if the convienence would have been worth it for me. Darn Max! It is comforting to know that had I purchased this litter box myself, that there is a 90 day money back guarantee for problems such as mine.
I'd love to hear from anyone out that there that have had a better experience with this product than I have. Or people that have the exact same experience. Please post your stories using the Discuss link below.

09/09/06 Update: We have success!!! As you read above, my cat refused to use this litter box during the review period, so I gave up and went back to his regular box and clumping litter. Well, that was months ago, and this past week we were on vacation in New York City, and Max as at the boarders. When we went to pick him up yesterday, I said that we should put the ScoopFree back in the house and see if he'd use it. Since he had to use a different box all last week while he was at the boarders, maybe he'd just try this one if he didn't see a choice.
When we got him home, I put him in the box and he hopped right back out and proceeded to ignore us for the rest of the day and night. But then in the wee hours of the morning, I was awakened by a strange noise. It took me awhile to realize what it was and finally a big smile came over my face when I knew it was the litter box! Sure enough, when I checked under the lid later today, there was a 'gift' inside. Yay!!!
Product Information
Price:
139.99
Manufacturer:
ScoopFree
Requirements:

A cat that isn't as stubborn as mine

Pros:

Easy to setup
30 days or so automatic cleaning

Cons:

Your cat might refuse to use it
More expensive than regular clumping litter
Can only work with Fresh Step Crystal litter