The Gadgeteer is supported by readers like you! If you buy something through links on our site, we may earn an affiliate commission. Thank you! Learn more.
Am I the only person in the world that doesn't like playing
Sudoku? Seriously, I just can't get into it. Maybe I shouldn't be
surprised as I never liked Minesweeper, Mastermind or other games
of that ilk either.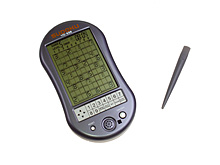 Unfortunately, I didn't know I disliked the game when Brando asked if I would review his $20 handheld Suduko game. Since I don't think I'll be able to do a very good job reviewing it, I am going to offer up to one of our readers. If you are interested in writing a review of this product, send me an email. :o)