We use affiliate links. If you buy something through the links on this page, we may earn a commission at no cost to you. Learn more.
Are you the type of gadget nut that goes completely over the top
by customizing your PDAs, mobile phones or handheld game machines
with 3rd party replacement buttons, antennas, shells, etc? I used
to get into that sort of thing way back in the day… I remember
lusting after and finally receiving a
red aluminum shell for my Palm IIIc. That thing was $225!
Ouchy! These days, I'm not quite into the whole modding scene. I
don't really have the time to devote to that sort of customization;
I just want to use the device. If there was a quick and easy way to
change the look of my PDA, game device, phone or laptop, I might
try it though… Guess what? There is. Cellfan.com vinyl skins.
Cellfan was started earlier this year, and claims to offer the
largest collection of branded vinyl skins for over 500 consumer
electronics devices, which include mobile phones, iPods, PDAs,
gaming devices and laptops. The skin itself is made from a
professional quality vinyl, which is printed via a proprietary
process. The skin is then coated with a glossy finish and custom
cut to the fit the device.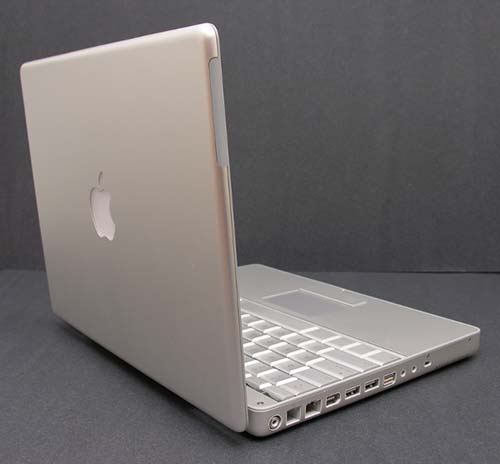 When Cellfan contacted me about a review, I requested a skin for
my 12″ Apple PowerBook. Why would I want to cover up all that Apple
loveliness? It's all in the name of being a product reviewer. :o)
You can thank me later…
I requested the Star War's Yoda skins. Why Yoda? Well, it was
the only skin that I saw that I liked well enough to defile (as my
friend Rob put it) my PowerBook. The Cellfan site really doesn't
have a whole lot to choose from. There are flags from different
countries, a few musical artists, swim suit models, sports team
logos, college logos, and some other small categories.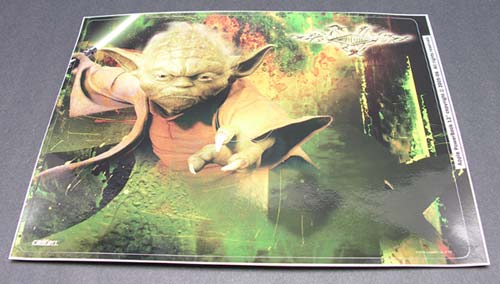 The skin arrived, tucked between two pieces of cardboard, with
no instructions included. It's only a sticker, so how difficult
could the installation be? I would try to get it perfect. Or as
Yoda would say. "Do or do not. There is no try"…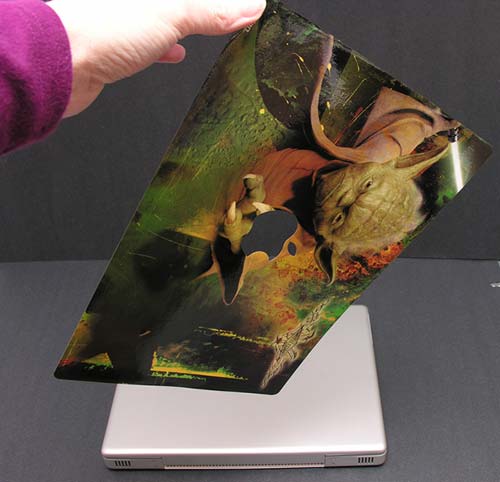 So I peeled it away from the backing; the Apple logo cutout
automatically peeled away as I lifted the main part of the
sticker.
Once I had the sticker free of the backing, I just lined up the
logo as best I could and gingerly pressed the rest of the sheet in
place. It went down super easy. I then smoothed a few small bubbles
towards the outside edges, where they sort of popped and
disappeared. The whole process from opening the package to
smoothing out the last bubble probably took less than 5
minutes.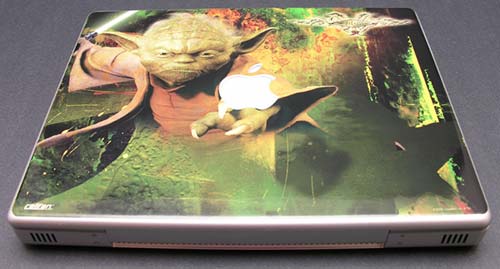 The finished product does look pretty snazzy. The sticker is
smooth and glossy, the colors bright and vivid, and the artwork
crisp and clear. I think Yoda would be proud.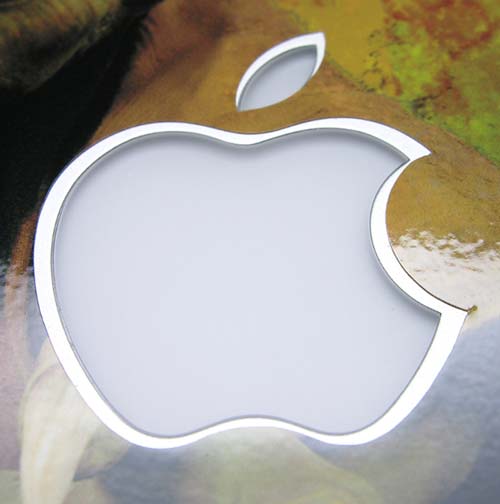 Here you see how well the cutout for the Apple logo matched up.
Not perfect (the leaf), but not too bad.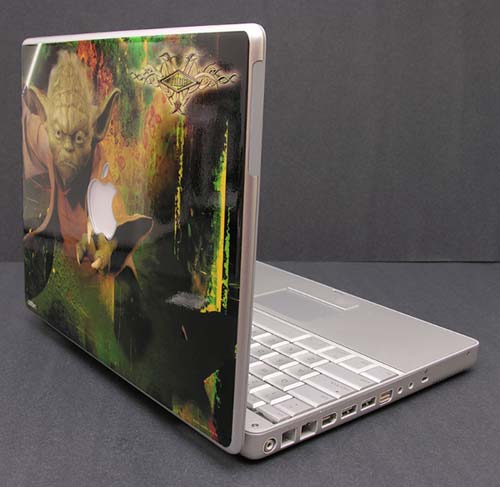 Ok, so what do I think overall? The skin is easy to apply and
does change the whole look of the PowerBook. You can say that it
does offer scratch protection for the surface that is affixed to.
I'm assuming similar skins would do the same for mobile phones,
iPods, PSPs, etc. I do have a couple of complaints. The main
complaint being with the price. $25 for a sticker? Yeah, it is a
pretty nice glossy skin. But $25? Ouch! Skins for mobile phones,
iPods and handheld game devices will run you $13. Not as bad, but
still. It's just a sticker. The other complaint is the fact that
there just isn't enough of a selection to choose from on the
Cellfan website. What is available there is obviously marketed
towards teens and college aged males. Not that there is anything
really wrong with that, but I just don't see an average Joe or Jane
being that impressed.
Will Yoda continue to adorn my PowerBook? Maybe for a little
while… or until I need to take my PB out in public. Good thing I
already tried removing a corner to see how hard it would be to
remove the skin. No worries and no residue. Yay!
Product Information
Price:
24.95
Manufacturer:
Cellfan.com
Pros:

Easy to apply
Easy to remove
Glossy, nice artwork

Cons:

Expensive
Skin selection is limited