We use affiliate links. If you buy something through the links on this page, we may earn a commission at no cost to you. Learn more.
Early last year, when the first rumors began to swirl that
HTC would be introducing a
Pocket PC Phone Edition made with the mini-laptop form factor of
the CLIÉ
UX50 and Zaurus
SL-C3100, my interest was immediately piqued. After all, I had
long been bemoaning the fact that as of yet there were no similarly
styled Pocket PCs. As more details began to surface, there was no
question that the upcoming device would have impressive
specifications and be capable of much more than the average PDA,
but there was some concern that it might not be readily available
in the United States, or that even if it was its various features
wouldn't perform properly.
According to an
early Engadget report, the Universal would sport Windows Mobile
5.0, built-in QWERTY keyboard, UMTS/WCDMA, a large, rotating VGA
touch screen, 1.3 megapixel digital camera, 96MB of ROM, 128MB of
RAM, 520MHz Intel XScale processor, SD memory card slot, WiFi, and
Bluetooth. Knowing that this PDA would be in the "thousand dollar
and up" range, I could feel the urge to splurge coming on. But I
was worried that I either wouldn't be able to get one, or if I
could get one, it would not operate properly where I live. That
fear would serve to be my undoing…
I should digress for just a moment and point out for those who
weren't aware, that HTC is a hardware manufacturer based in Taiwan.
They are the world's largest producer of Pocket PC OS-based PDAs,
and they design many of the Pocket PCs and mobile
phones that are on the market today, but they never brand them
with their name. Instead, the designs are outsourced to other
companies like Hewlett Packard, i-mate, Audiovox, and others. The
Universal,
as the new device was named, was quickly picked up by i-mate and dubbed the JASJAR; various
other names soon followed including the MDA Pro and the Qtek
9000.
The HTC Universal was designed to best operate on European and
Asian GSM/GPRS/UMTS networks. In the United States its use is a bit
limited as it is only compatible with the 1900MHz GSM/GPRS-networks
of T-Mobile and Cingular. That means if someone lives in a part of
the country where Cingular uses the 850MHz bandwidth, like Julie in
her part of Indiana, they are out of luck. For UMTS, the Universal
requires the European or Asian 2100MHz bandwidth, rather than the
bandwidth Cingular uses for its United States 3G UMTS networks. The
Universal is not EDGE capable, and it will not operate at all on
the Sprint and Verizon's CDMA networks.
With such a list of qualifiers, those living in the US might
decide that it would be easier to forget about the Universal and
instead pick up an
HTC Apache or
HTC Wizard depending upon their preferred mobile network. In
fact, that is what I wound up doing. I bought the PPC-6700 because
it seemed more practical since I already had a Sprint account, and
I put the Universal out of my mind until I saw it at the Microsoft
Mobius event last December.
Even with the raggedy protective plastic across its top and the
ugly paper on its backside, there is no denying this interesting
hybrid's appeal. Smaller than a laptop, larger than the typical PDA
and definitely larger than even the most generously sized smart
phone, the Universal is a breed unto itself. Within a few moments
of handling one I could immediately see that there would be those
who would dislike its larger than usual form factor, but because I
have never shied away from larger PDAs it should come as no
surprise to our readers that I was having a hard time keeping the
drool wiped from my chin…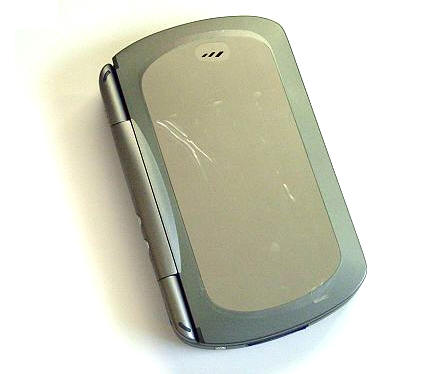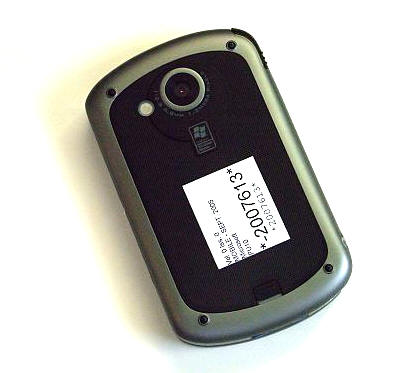 John Starkweather, our host at Mobius, saw my undisguised gadget
lust and kindly offered to loan me one of Microsoft's demo units;
so of course I jumped at the chance. In February he made good on
his offer, and I was sent a review unit with the understanding that
I could use it for a month then take a week to write about my
experience. Well, my time is up.
In that month, the Universal has been my daily driver in every
way except one – it was never really my main phone. Because I am
currently a Sprint CDMA customer, under contract until November, I
couldn't just pop my existing SIM card with my current mobile phone
number into the device and go. I still had to carry my existing
mobile phone, which happens to be the PPC-6700. I just made sure
that I never used my PDA phone for anything other than voice calls.
Text messages, email, surfing, reading eBooks, working on databases
and spreadsheets while on the go, all of that would have to be done
on the Universal. Because I wanted the full experience, I went
ahead signed up for an unlimited T-Mobile data account at $29.99 a
month with voice calls costing an additional 20¢ a minute. Let
me tell you, surfing and reading eBooks on the PPC-6700 will never
be the same after once again getting used to a large glorious VGA
screen…but I am getting ahead of myself.
Being a demo unit, the Universal which I was sent came with no
frills whatsoever. The plain brown cardboard box literally included
the device, a wired headset, a miniUSB to USB cable and an AC power
cord. Those that buy their Universal from i-mate, T-Mobile Germany,
or wherever else will be in for a slightly different first
impression.
Specifications:
Battery Type: User removable / rechargeable 1620mAh Li-Ion
Battery life: Up to 5 hours talk time, up to 200 hours standby
Measurements: (with a micrometer) 5.2″ x 3.1″ x 0.93″
Weight: 10.2 ounces
Processor: Intel 520 MHz
Wireless: Dual-Mode UMTS/GSM, GSM/GPRS (900/1800/1900) + WCDMA
(UMTS) (2100 MHz), Bluetooth (v1.2) and WiFi, IrDA FIR
Platform: Windows Mobile 5.0
Expansion Card: MMC/SDIO
Memory: Flash ROM – 128MB / RAM 64MB SDRAM
Screen: 3.73″
640 x 480 Transflective TFT-LCD with
back-light LEDs, 65K Color touch screen
Audio: Dual Receivers/Speakers, Hands-Free supported,
microphone
Camera: 1.3 mega pixels CMOS, with video light
The Universal measures 5.2" long x 3.1" wide x
0.93" thick, and it weighs 10.2 ounces. Some of this
device's weight may be attributed to its deep gray metal
casing, which gives the device a solid, substantial and what is in
my opinion a desirable feel. The overall impression I get
when holding the Universal is that it is very solidly built.
The case will flex a bit when squeezed on either end due to the
design of the hinged swivel screen, however I would be hard pressed
to find one flaw with the device's clamshell design in regard to
how it feels when I have it in my hand.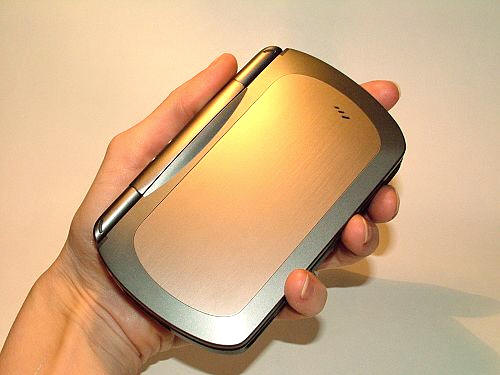 Yes, the Universal is larger than average, but it is actually
smaller than my
iPAQ 4700 with its extended battery installed…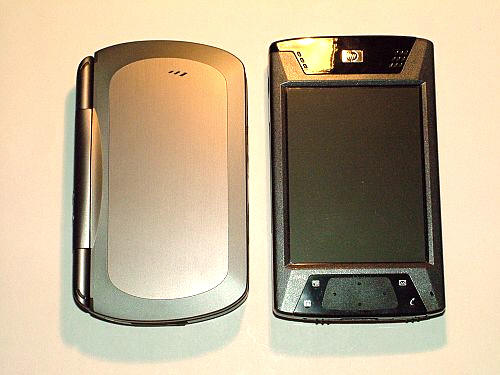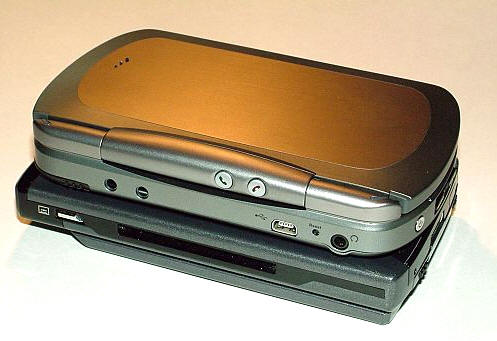 …the Universal seems even more reasonably sized when compared
to the 4700 in its usual
metal Innopocket case.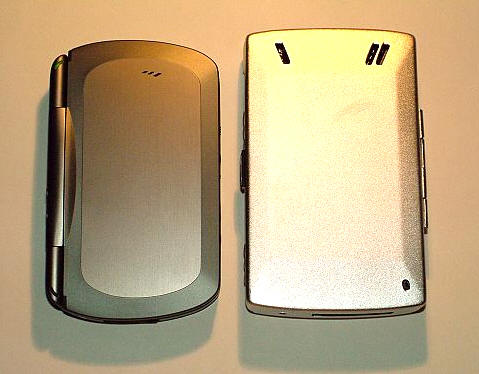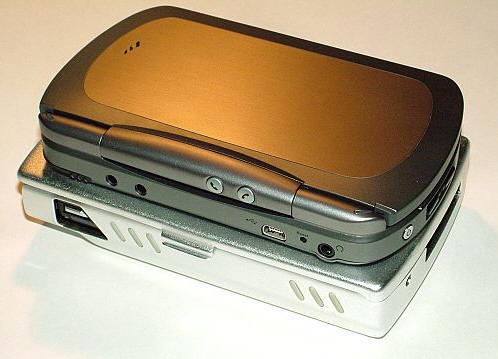 Considering that the Universal's metallic body and clamshell
design negates the absolute need for a screen-protecting case, this
is as large as the Universal might ever need be. However, it is not
exactly fair to compare the Universal to a non-PPC Phone Edition,
so here are a couple of pictures of it next to my PPC 6700. Yes, it
makes the 6700 look absolutely petite, but the trade off is that
the Universal's screen and keyboard are substantially larger. For
those that need or want a larger screen area, the trade will be
well worth considering.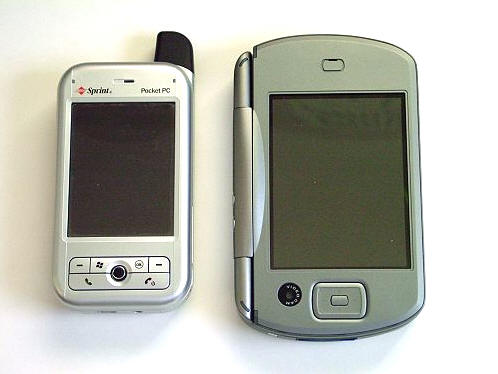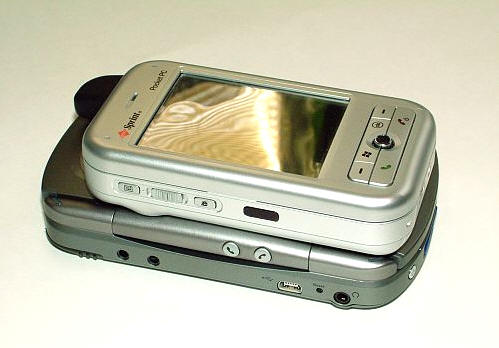 So let's take a look at the Universal's hardware…
The front is a wide expanse of smooth gray metal, broken up by
an inlay of lighter gray brushed metal. The graduated slashes are
the grill for the external speaker. Why does there need to be an
external speaker? So that calls may be answered when the PDA is
closed like this…! Hey, at least it keeps the user from getting
face-goo on the screen. The downside is that there is no way to see
who is calling; in order to do that the device must be opened.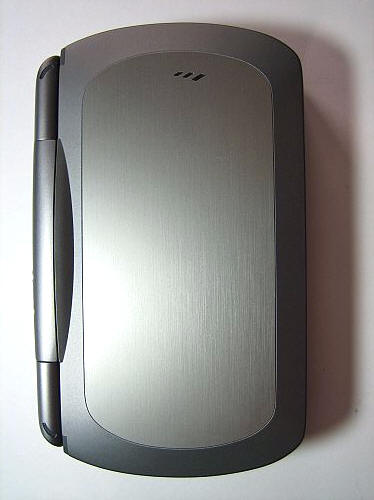 Although voice calls are definitely possible when used in this
manner, I didn't think that the experience was that great. The
person I was speaking to said I sounded staticky, and I could
barely hear them.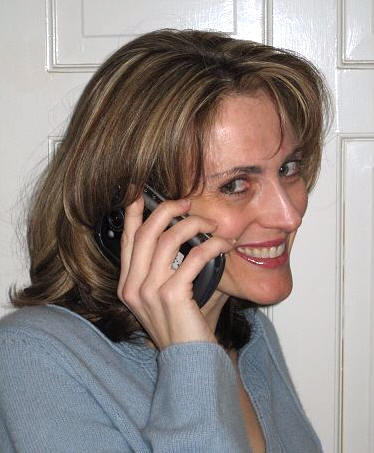 Secretly we all want to be the guy in
that
Trigger Happy TV skit
I seriously think that using a Bluetooth headset is the way to
go if one is using the Universal as their primary phone. When a
headset is used, the sound is as clear as we have grown used to
expecting from our mobile phones.
When the lid is swiveled around and laid flat in tablet mode,
the 3.7″ VGA screen is revealed, along with another speaker, the
interior video camera and the four way touchpad with center
button.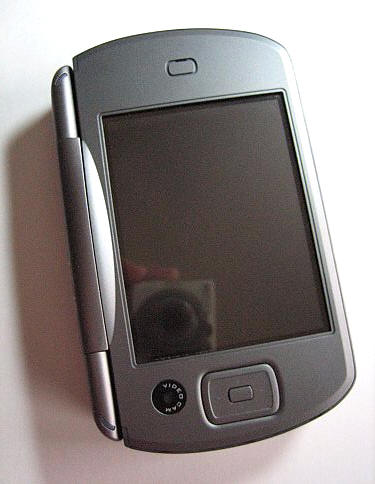 The back is mainly composed of a smooth gray metal frame
surrounding the textured black plastic battery cover. Located at
the upper end is the 1.3 megapixel digital camera lens and the
white LED video light.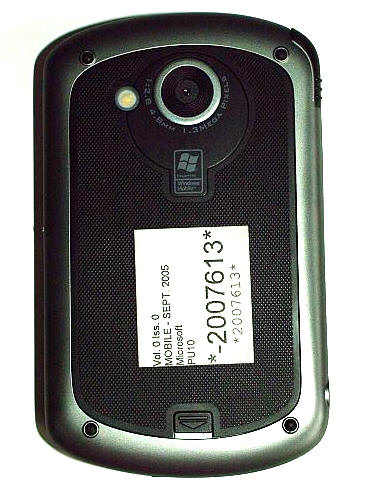 The left side of the Universal has the stylus silo, two ports
for external GSM and 3G antennas, the phone on and phone off
buttons, the miniUSB port, the reset button and a 3.5mm
headphone jack. Yes, you can use your favorite set of earphones
with this phone because there is no need for an adapter dongle.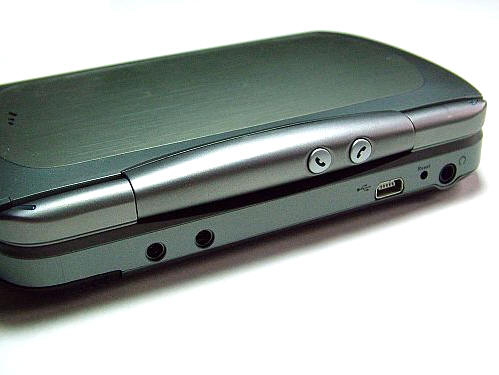 A close-up of the phone buttons shows how they illuminate when
the main screen is on. I expected them to also light up while in
clamshell mode as calls came in, but they don't.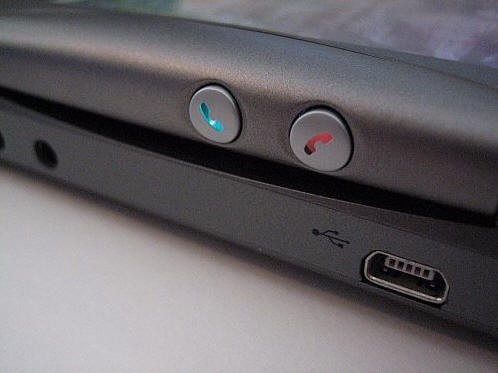 Here is another shot of the stylus silo and the external antenna
ports.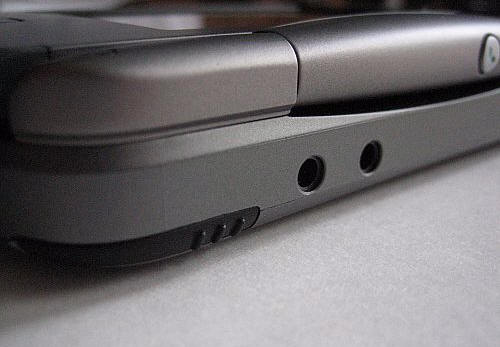 The right side has small grilled stereo speakers on each end,
sandwiching buttons for the camera and voice recorder, the infrared
port, a brightness button (which I could not get to control
anything) and a sliding volume bar. These speakers are used when
Media player is running, or when the Universal is in laptop mode
with the speaker-phone on.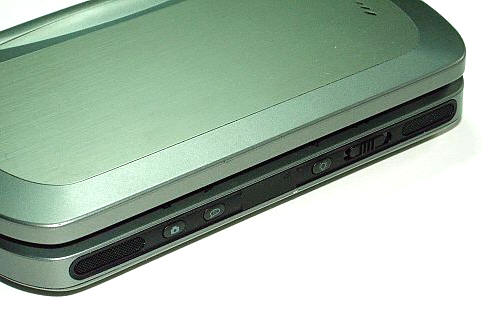 The top edge of the device has nothing but the corner of the
stylus silo. The bottom edge has the power button, SD slot, and
circled in red is the microphone.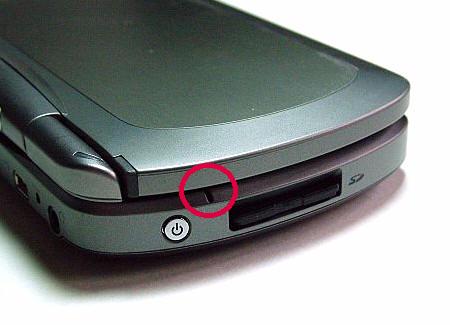 The Universal's hinge is very similar to that of the Sony
CLIÉ's in that it allows the screen to be opened like a
laptop, then rotated at a 180º angle
so that it can lay flat in tablet mode as I have already shown.
Here are some shots of the screen in action…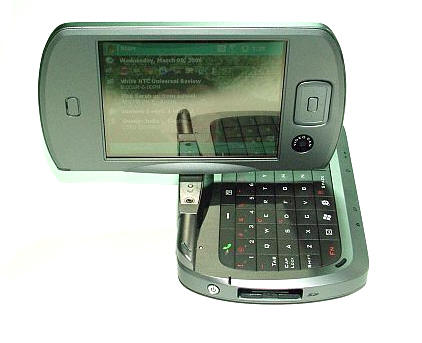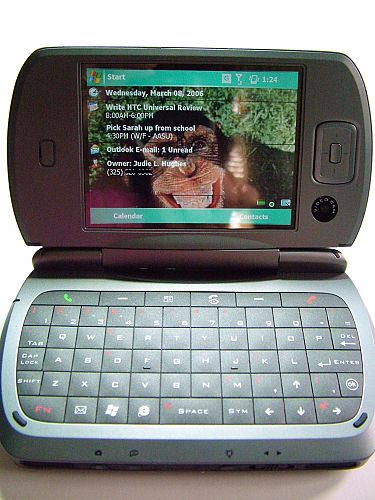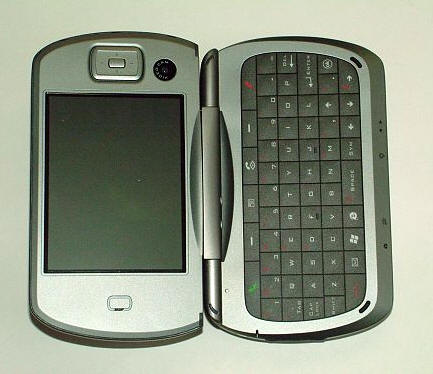 The 62 button keyboard is considerably larger than that of the
PPC-6700. Because of the way it opens and because of its larger
size, there are more keys and thus less doubling up of the keys'
functions. The square shaped buttons are slightly raised in their
centers, giving each an individual feel that goes along nicely with
their tactile feedback when pressed. My favorite thing about this
keyboard is that there are dedicated numbers, with their QWERTY
keyboard correlating alter-egos exposed with the press of the
Function key. It all just feels more intuitive and less crowded
than the more compact PPC-6700's keyboard.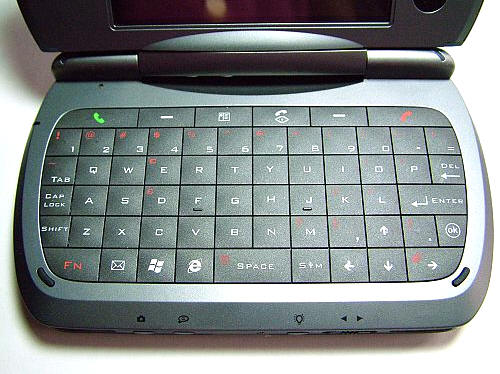 I was worried that the larger keyboard would be harder to thumb
type on, but after a couple hours of use I was completely in the
swing. The beveled edges of the lower keyboard fit comfortably in
my palms, and the Universal is cradled against my curled fingers
while my thumbs can type merrily away.
For comparison, a shot of the Universal's keyboard exposed next
to the PPC-6700's…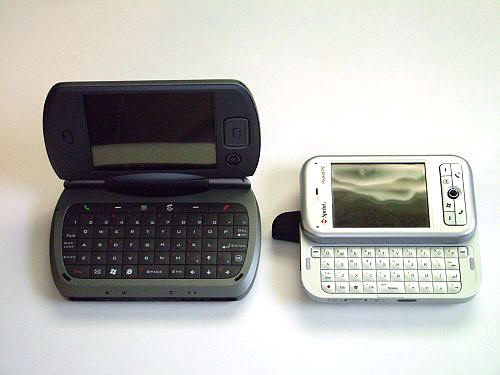 When the keyboard is in use, everything is backlit by red LEDs,
including the special function characters. The red backlight is
very easy on the eyes, and equally visible in little to no
light.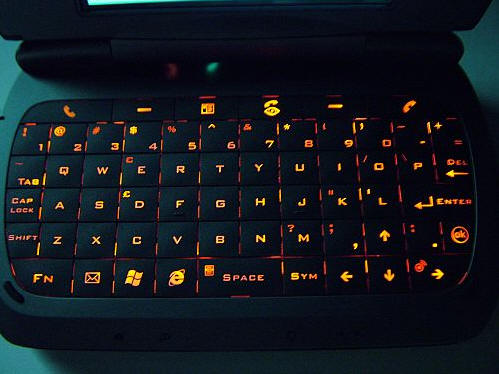 If one were to think of the Universal as a book, then in the
portion which makes up the spine I would like to point out the two
multicolored LED indicator lights.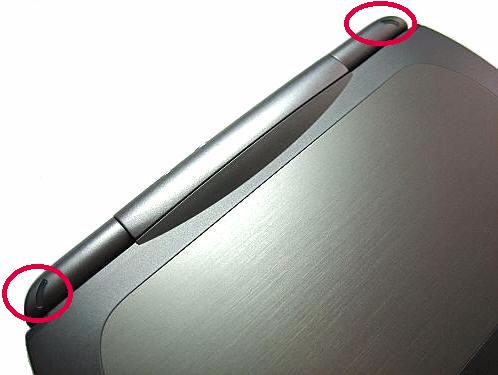 When the phone is charging the topmost LED will glow solid
orange, changing to a solid green once a full charge has been
achieved.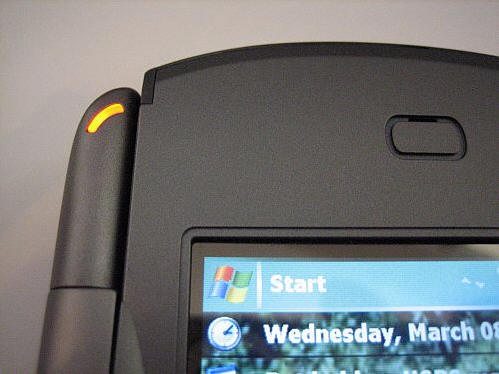 These LEDs also indicate various stages of wireless use, such as
a green blinking light when the GSM signal is being received, and
an alternate side blinking green to indicate that WiFi is turned
on.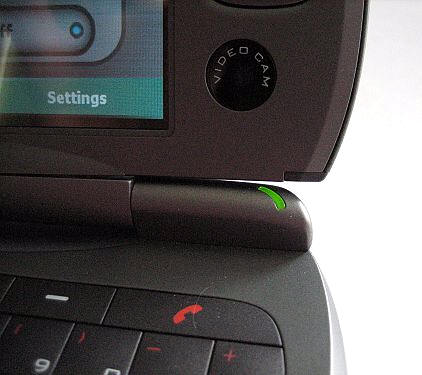 A blue LED will glow when Bluetooth is working.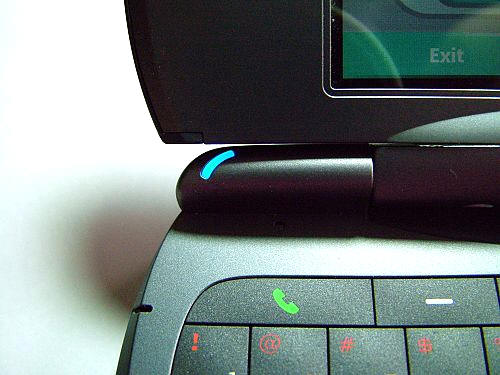 The Universal's stylus is a 3.75″ metal-bodied instrument with a
black plastic topper.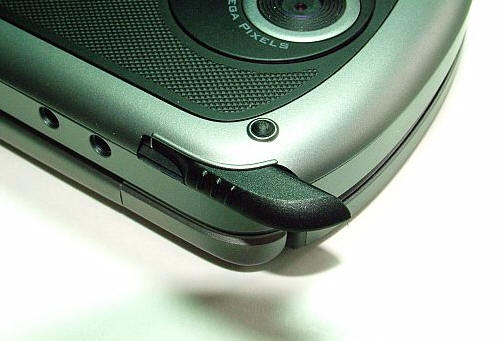 This slightly wider than average stylus is much more comfortable
to use than the toothpick that the 6700 sports. However for long
periods of writing an aftermarket pen-style stylus would be most
comfortable.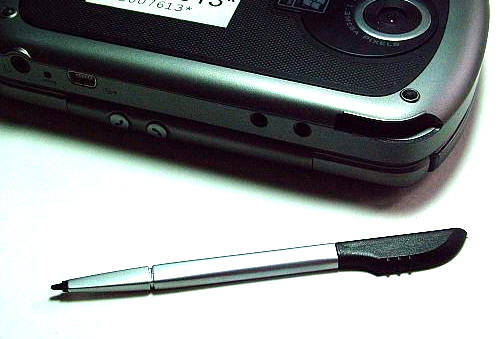 The battery compartment door is released by sliding the black
plastic tab on the bottom of the back side. Once exposed, a red
plastic lock must be disengaged so that the battery may be
removed.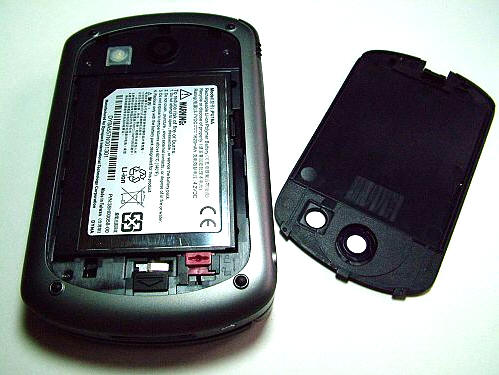 Underneath the 1620mAh Li-Ion battery is the SIM compartment. I
confess to being more than a little bit paranoid that I will forget
to remove my card before I ship the Universal back to
Microsoft!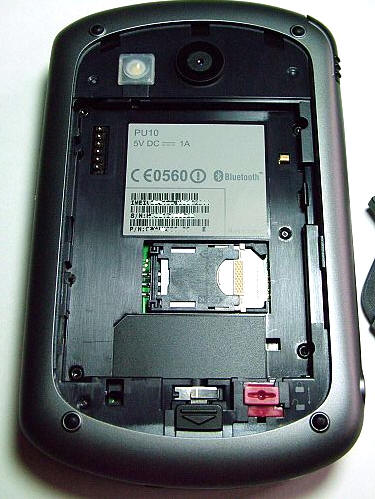 Other than the lack of branding on this device and the large
white sticker on its back, the true indicator that I was sent a
demo unit is here, in the start up screen seen after a soft
reset.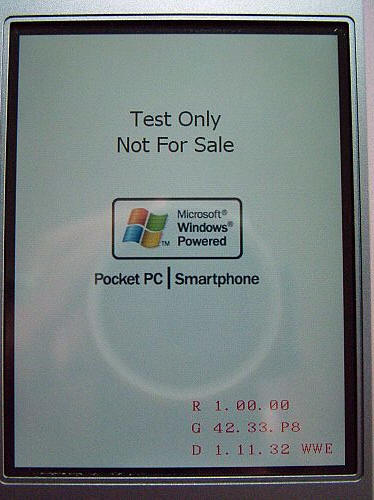 As the Universal also operates as a phone, here are a couple of
screen shots showing what can be expected in portrait mode…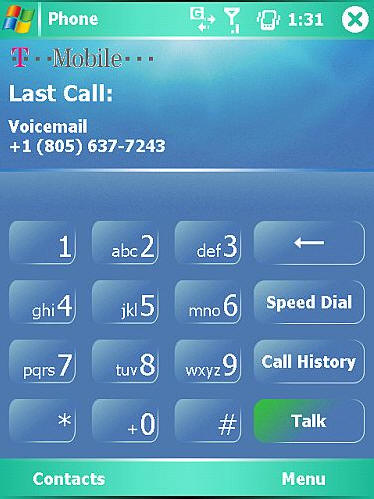 …and in landscape.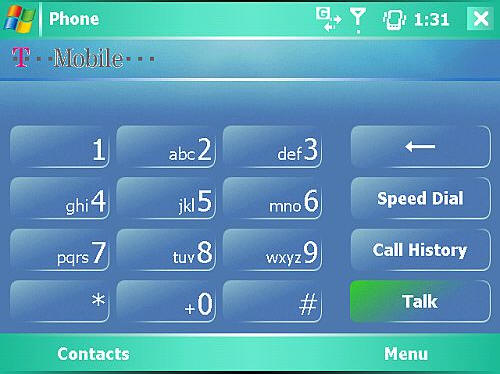 The Windows Mobile 5 Contacts screen beautifully integrates
pictures of the contact and makes for an easy experience when
making a call or sending email and text messages.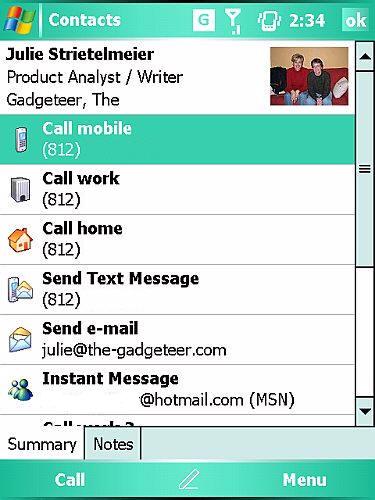 Past incoming and outgoing calls are tabulated for easy
retrieval.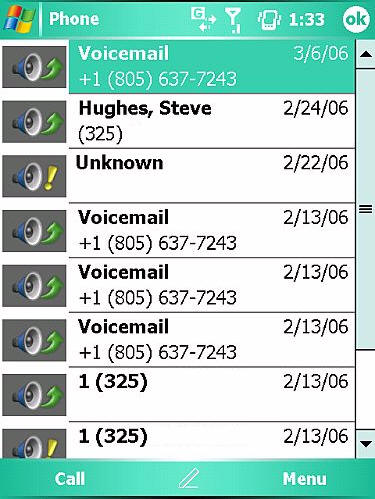 Volume level choices are accessed either by tapping the volume
icon (shown in vibrate mode here) or by adjusting the slider on the
front edge of the device when it is in laptop mode.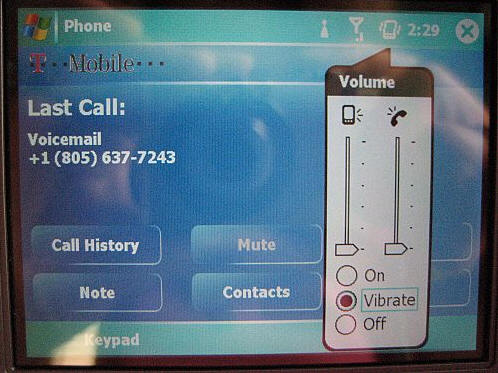 Tapping the signal strength bar allows the option of turning off
the phone radio for in-flight use.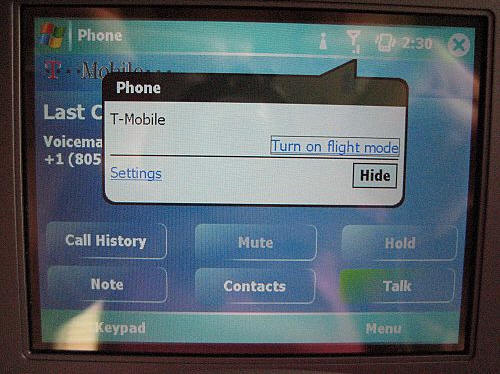 The HTC Universal has two integrated digital cameras. The main
camera, which is also the better one, is located on the back side
of the device. It supports 1280×1024 pixels (1.3 megapixels) as
well as the lower resolutions of 640×480, 320×240 and 160×120.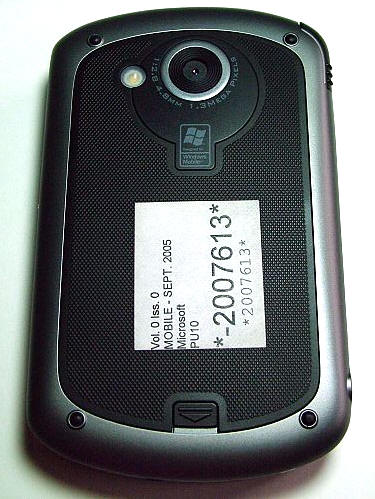 Here are two 480 x 640 pictures taken indoors with morning
light…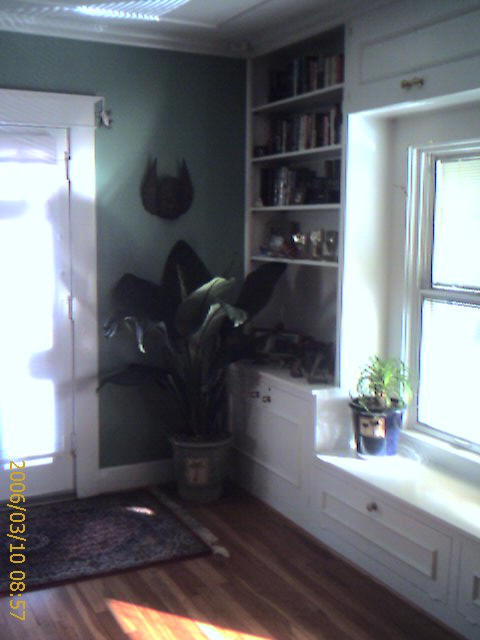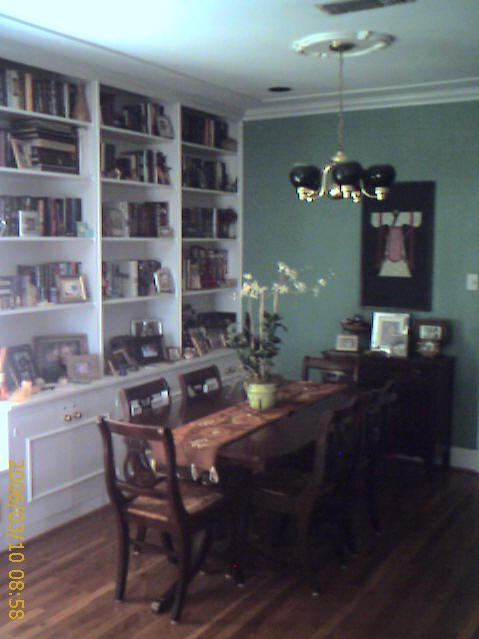 …and here are two more, also 480 x 620, that were taken
outdoors in morning light.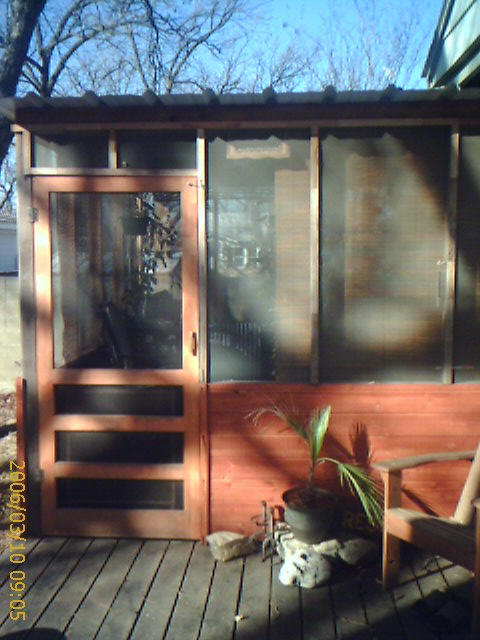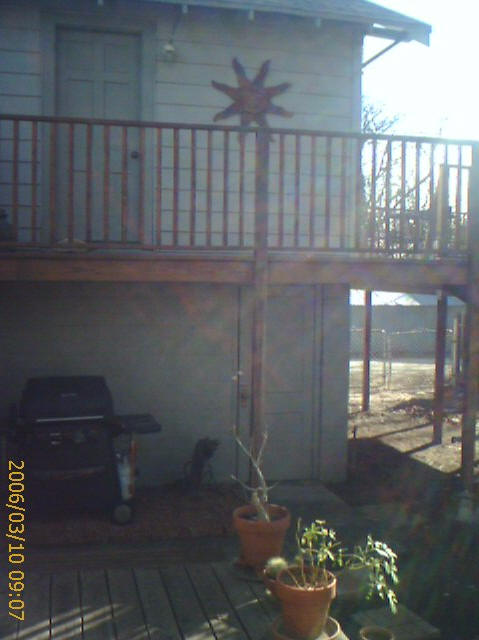 In other words, the camera is not the best, but it is certainly
more than adequate.
One of the more interesting 3G features of the Universal is it's
ability to make and receive videophone calls. Unfortunately, this
feature is not supported in the US, so I was not able to test
it.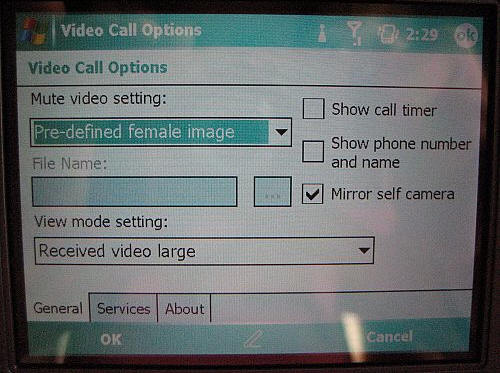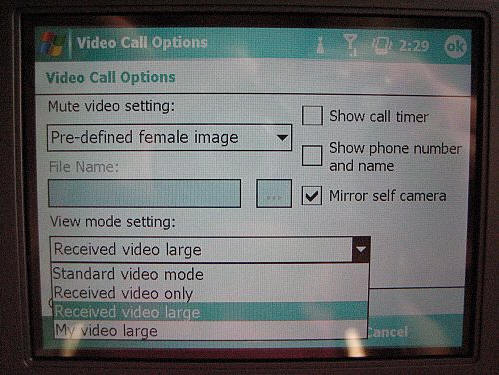 The Wireless Manager screen is a central location which allows
the user to decide which if any wireless options to run.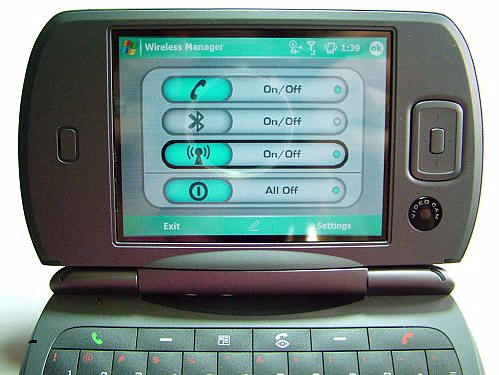 I covered Windows Mobile 5 software previously in the PPC-6700
review, so I'll just repeat some of the highlights.
Instead of the adjustable slider most Pocket PC Users have grown
used to, memory is now managed on a non-user adjustable screen. The
total main memory is no longer displayed; instead, the user is told
how many MBs are available for storage, and how many are left for
running programs.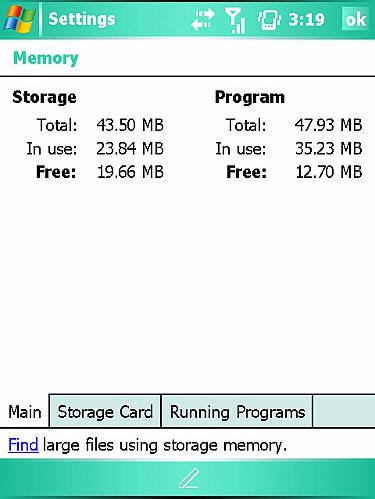 WM5 now stores all installed programs in Flash ROM, so if the
PDAs battery dies, none of the stored info or programs will be
lost.
The Today Screen features a set of icons on the upper menu bar
showing on screen tappable buttons which access further features
and information. From left to right, are the Start Menu which opens
a list of pinned programs as well as recently opened applications,
the call status/connectivity information icon which displays what
mobile network is available or if the PPC is tethered to a computer
via ActiveSync, as is the case in this photo. The next icon shows
the phone's signal strength in "bars", and when tapped will display
network status and related options. There is an option to turn off
the phone, also knows as "turning on" Flight Mode. Pressing
Settings will take the user to a screen which allows the
customization of various phone settings. The speaker status icon is
directly controlled by the volume up and down slider on the front
edge (or right side) of the phone, and it is also accessible by
tapping the screen icon. There are two sets of volume controlled by
this icon, the phones and the PDA's. Each may be set to "On" and
then different independent volumes may be set, or they may be set
to Vibrate or Off. The same slider button will also control the
volume of a call in progress if accessed during the call. The last
icon is Time and Next Appointment, which when tapped displays the
date, time, remaining battery life and next appointment.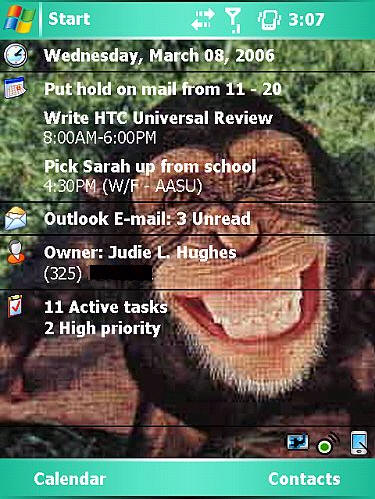 The Universal comes with a built-in Voice Speed Dial, which is
quite easy to set up. A contact is selected…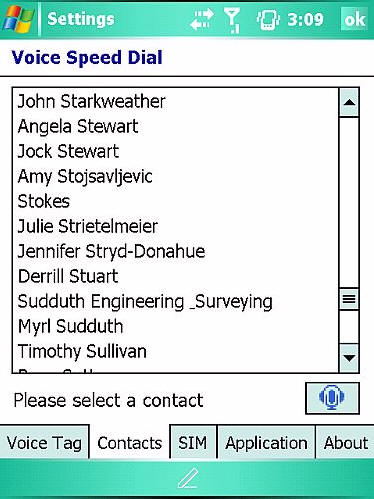 The number that will receive a "Voice Tag" is chosen…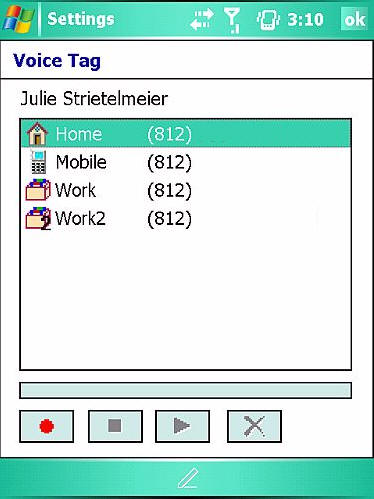 …and after a tag has been made, this screen will appear. Tags
may even be set up for the applications on the Universal, which I
find incredibly convenient. There is nothing like saying the word
"eReader" and having my latest eBook opened. Hey, I know it is a
gimmick, but I like it! :0)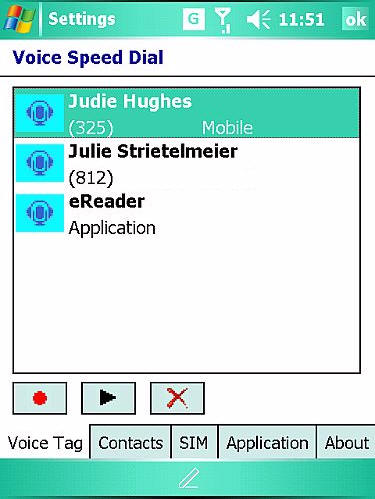 In order to use the tagged contacts or applications, a button
will need to be assigned to the Voice Speed Dial Application. From
then on, when that button is pressed, the code words assigned to
each contact or application may be spoken which will then either
call the contact or open the application. After saying the code
words, a confirmation in the user's own voice will play, repeating
the programmed words and indicating which contact or application is
about to be accessed.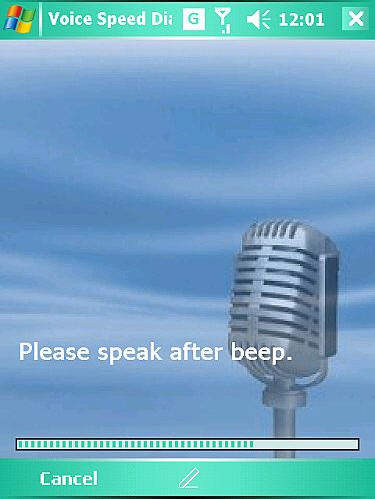 This is truly one of the first voice recognition programs I have
ever enjoyed using, because it always seems to work!
Just like the PPC-6700, the Universal has a lot of cool
phone features, but in my opinion it is first and foremost a
PDA. One of the main reasons why I will be so sorry to send the
Universal back to Microsoft is that I will miss its laptop form
factor and the large VGA screen. Using the Universal to work on
spread sheets and databases has been a joy…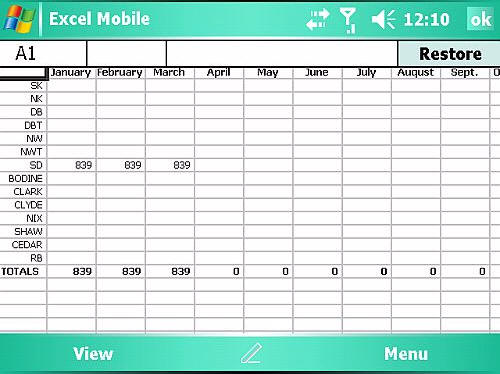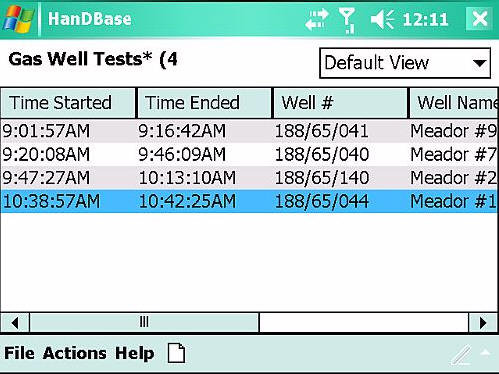 What's amazing is that even without a case, I felt comfortable
using the Universal just about everywhere – even when at the ranch.
Being able to fold the screen so that it was protected inside the
clam shell allowed a freedom that I had forgotten since my
CLIÉ days. Now that I have been reminded, I can definitely
say that of them all, this is my favorite PDA form factor.
I have heard complaints from Universal owners about slow startup
times, but since I had already learned with my PPC-6700 to keep my
Today Screen plug-ins to a minimum that has not been a problem.
Overall performance has seemed similar to my iPAQ 4700, never
particularly sluggish – but then, it's not like I am ever running
the PDA equivalent to Photoshop on my handheld.
But above all, whether it be via WiFi or GSM, the Universal
rocks as an internet surfing device. In the last month I
have made good use of the unlimited data plan I purchased. Here are
some examples of how the browser looks on a site that has been
optimized for mobile browsing. In this picture, the text is the
largest size and the full screen option is on.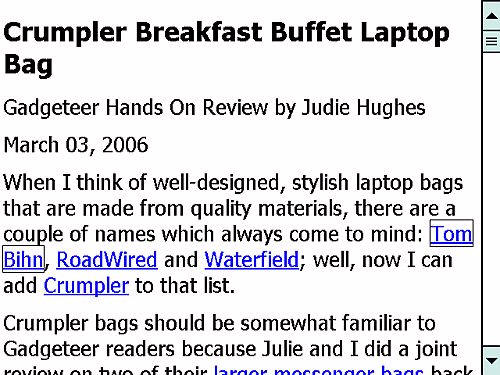 Once again, text is the largest size, but this time the full
screen option is off.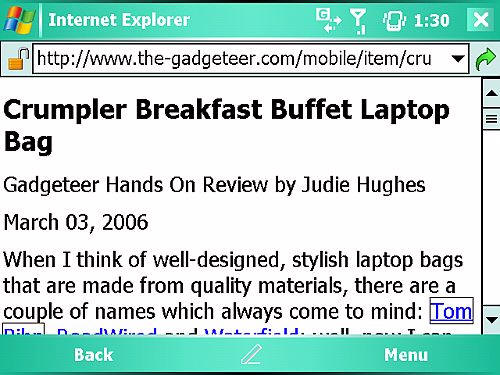 Here are a couple of shots of the text on the smallest setting,
shown here with the full screen option on…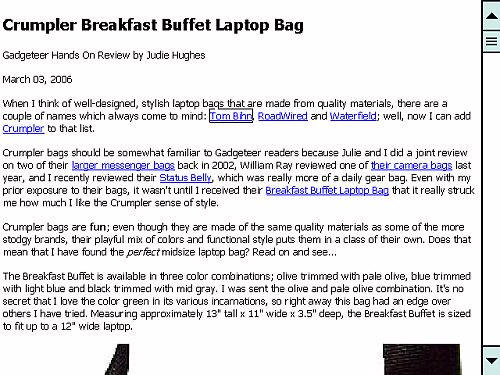 …and with the full screen option off.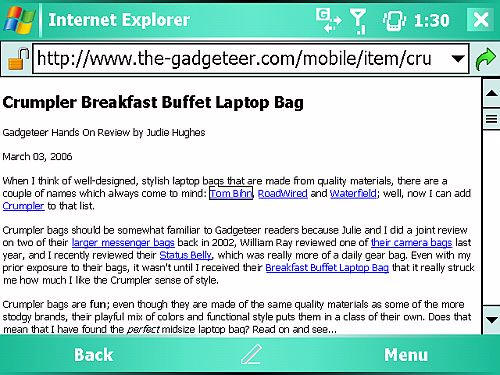 Even non-optimized pages look decent. Here is Yahoo, a "busy"
site with lots of pictures and sections. Shown here is the largest
text size with the full screen option off.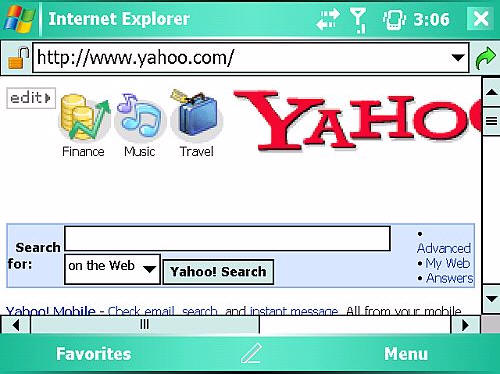 Here's where it gets really good though – this is Yahoo with the
smallest size print and the full screen option off…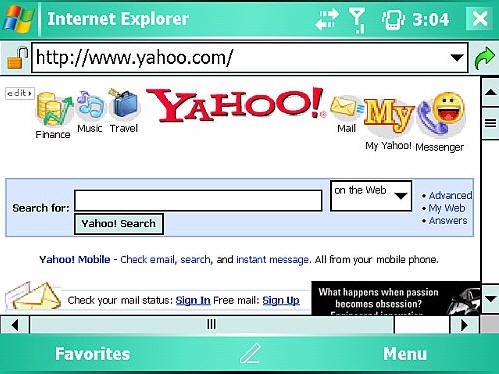 …and best yet, smallest text with the full screen option on.
This feels pretty close to surfing with a laptop, and while the GSM
speed clocks in at an average of only 31.4Kbps according to

this speed test, It seems sufficiently fast for visiting
optimized sites..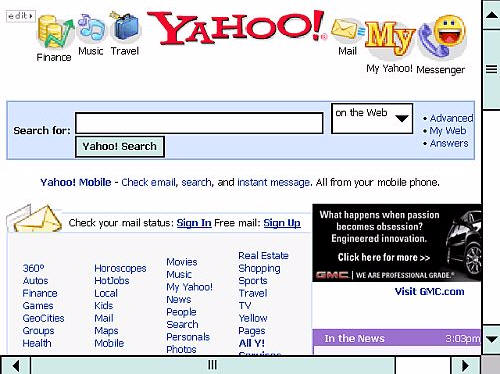 Can you tell that the Universal is the PDA that I wish I had
purchased in the beginning? Since I am locked into my Sprint
contract at this time and would not be able to transfer my number
even if I weren't, and since my current mobile number is the one
everyone knows to use for reaching me, it makes sense for me to
continue carrying a Sprint phone as my primary mobile phone.
However, I would have no problem going back to two devices
if one of them was the HTC Universal with the T-Mobile data
plan.
In the meantime I will continue to use my PPC-6700, which
somehow seems to have lost some of its luster…
<sniff!>:0(
Product Information
Price:
Manufacturer:
HTC
Pros:

Great form factor for working on office documents while on the go
Case feels substantial and very solid
Screen is gorgeous
Battery life is good
Very well built, pocketable device

Cons:

PDA first, phone second
Certain features may not work properly outside of Europe and/or Asia
Most expensive PDA to date