We use affiliate links. If you buy something through the links on this page, we may earn a commission at no cost to you. Learn more.
By now many of you may have heard mention of the
DualCor cPC, a handheld device
which runs Windows XP Tablet PC Edition and Windows Mobile 5.0,
and which also functions as a cell phone. Incorrect photos of the
device were all over the internet last week, but the ones now posted on their
site are supposed to be the real deal…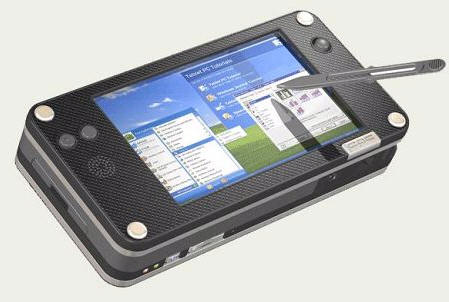 Highlights from the press release:  The DualCor cPC is the only
all-in-one, wireless "handtop" (handheld-desktop) computer that combines the
power of a desktop PC, the instant-on convenience of a PDA and the
always-connected functionality of a cell phone. Measuring just 6.5" x
3.3" x 1.2", the DualCor cPC offers unprecedented battery life for
enterprise computing, Internet access, e-mail and talk time. A patented dual
processor architecture and integrated 40GB hard drive allows the DualCor
cPC to run fully enabled desktop applications such as Microsoft Word, Excel,
Outlook and PowerPoint, and non-diluted versions of enterprise applications like
SAP, Oracle and Microsoft, while retaining the instant-on, always-on
functionality and long-lasting power of a PDA and cell phone.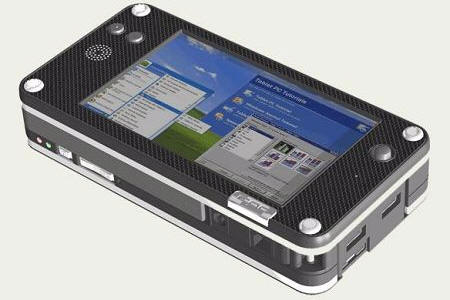 The DualCor cPC offers robust features and extreme flexibility for the
mobile knowledge worker in supporting the traditional office environment as well
as working at home, working from a client location, and working as a perennial
road warrior. The cPC utilizes two processors (1.5 GHz and 400 MHz); 1
GB of DDR2 RAM; a 5" inch, 800×480 resolution, 262K color,
touch screen display; three USB Hi-Speed 2.0 ports; a headset
and phone jack; integrated Compact Flash Type II; mini-VGA port;
speaker, microphone and mouse controls. A full-size, DualCor
stowaway keyboard provides an uncompromised typing experience, with
integrated track-stick navigation, user-programmable command keys and an
adjustable display-angle docking system.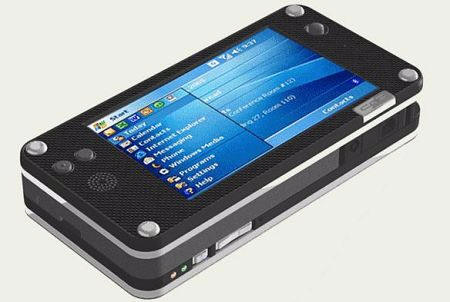 The above picture shows the cPC running WM5, while the picture below shows it
running full-blown XP Office programs.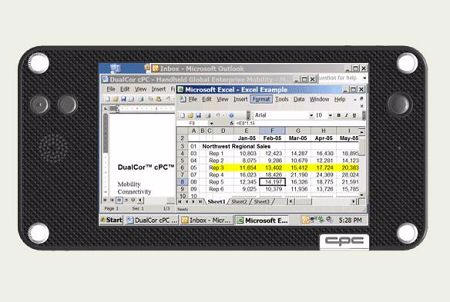 I have always thought that small handheld computers such as the
OQO and the
Sony U70 series
should come with Windows XP Tablet PC Edition instead of Windows XP, and just
last night OQO announced that due to the "Strong demand" for Tablet PC on their
OQO, they would now be offering it.
If I didn't know about the DualCor, then I
would be ordering an OQO today. But if the specs, date and price posted on the DualCor site are
true, then they have effectively blown away all other competition – including the OQO, Sony and the Paul
Allen financed, often mentioned yet still unseen
FlipStart Vulcan.
The clincher for me?
The cPC's reported "hundreds of hours in standby mode" and…are you ready for this? "Three to eight hours of continuous usage."
Holy cow! I am assuming that it is three hours in PC mode and eight in WM5 mode,
but it could have something to do with programs run, wireless connection or what
have you.
While it's not likely that I would ever seriously want to hold this 7" slab of
electronics to my ear, having its mobile phone built-in data connection would be
sweet.
I can't find mention of built-in Bluetooth or WiFi in the press release,
but if the device at least has BT then an in-ear headset would be an option.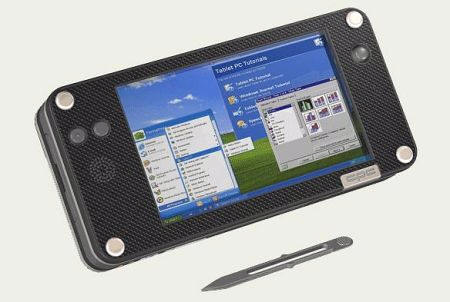 All of this for $1500 and supposedly available Q1 this
year. <jaw drops wide open>
Is the cPC a real product? If it is, then it might be the ultimate solution for
business users, power users, travelers and true geeks. I for one would love to
believe that it is not vaporware, but I am not encouraged by these photos, which look more like artist's
renderings shown on the site. I would really like to see actual photos of the
real deal – preferably a working model. Holding one in my hand would be even better.
Heck, I am almost ready to
send my custom One Too
Many PDA Wallet back to Ron to have the PDA pocket lengthened in anticipation of filling it with my own cPC. You had
better believe that I will be doing that if this thing really comes out.
Will the DualCor cPC be a "jack of all trades but a master of none"?
I don't know, but the very thought of owning one makes me drool…