We use affiliate links. If you buy something through the links on this page, we may earn a commission at no cost to you. Learn more.
Ok people, I want to see a show of hands. How many of you are fans of internet radio stations? I've got my hand up… I enjoy XM radio in my vehicle and internet radio on my desktop. I enjoy both because I like the variety and the many, many stations to choose from. It's hard to get bored when you can take your pick of talk radio, news, comedy, trance, country, dance, etc. But here's the problem: my desktop computer is in the basement of my house. So I've only been able to listen to those stations while at my desk, in front of the computer. Sure, I could take a notebook computer upstairs and plug it into a wall outlet and listen, but what if I wanted to take my stations outside to the garden or by the pool (no, I don't really have a pool)? Yes, I could take the notebook outside, but I'd rather not. For one thing, I'd have to use a power cord for more than a few hours of listening. A better solution might be the SonoWave from Merconnet.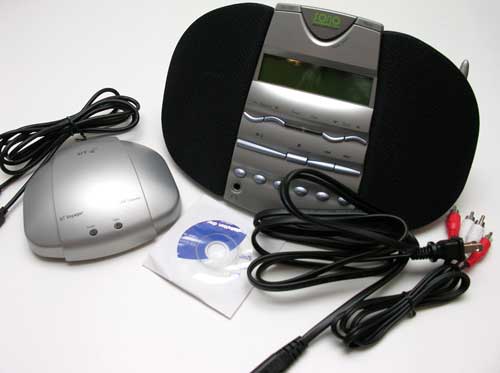 The SonoWave consists of 2 modules. A main unit which is a small boombox style player and another module which is a USB base station that plugs into your Windows PC. Sorry Mac users (me included), we're out of luck with this product.
Hardware Specs
Amplifier: Output Power (RMS) 2 x 2.2 watts, Total Power 4.4 watts, Music Power
2 x 4.4 watts, PMPO 65 watts
Loud Speaker: Impedance 2 x 8 ohm, Rated Power (RMS) 2 x 6 watts
Stereo Audio Channel: Europe 863 MHz 10 mW erp, USA 925 MHz 10 mW erp, user selectable band switching to avoid interference
Data Channel: Europe + USA, 433 MHz , bi-directional, user selectable band switching to avoid interference
Size: 6.1 x 11.1 x 5.9″
Power: 8 x C size 1.5 volt alkaline battery or AC mains – 220 – 240 volt Europe, 110 volt US
Package Contents
SonoWave boombox
USB Base unit and cable
Power cord
Auxiliary audio patch cable
CD with PC application and user guide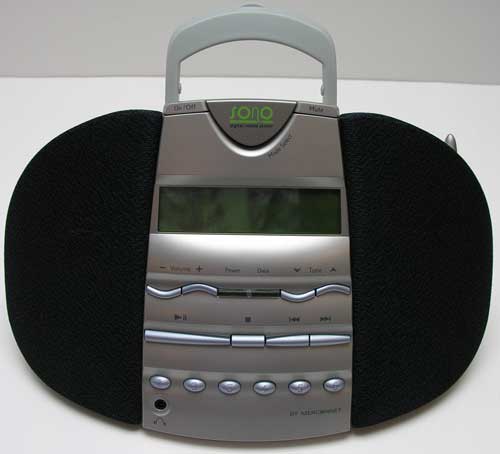 The boombox is a relatively small, attractive device that would not look out of place in your kitchen, garage, bedroom, etc. It is made of grey plastic with knit fabric covering the speakers. At a little over 3 pounds, it has a nice heft to it and feels quite sturdy. Rubber feet on the base keep it from sliding around on a slick surface.
Never miss one of our posts again. Sent MON, WED, and FRI with the latest gadget reviews and news!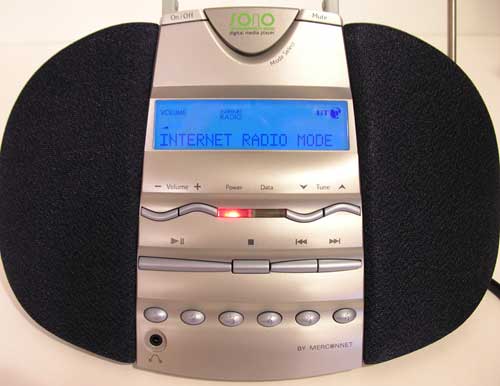 The front of the player has the power switch, mode switch and mute button along the top edge. Below them is the blue backlit LCD display. Volume up/down, power and data status LEDs and station tuner up/down buttons are located directly below the LCD. Play, Stop, Previous and Next track buttons represent the next row of buttons. The bottom row of small oval buttons are the 6 user programmable presets.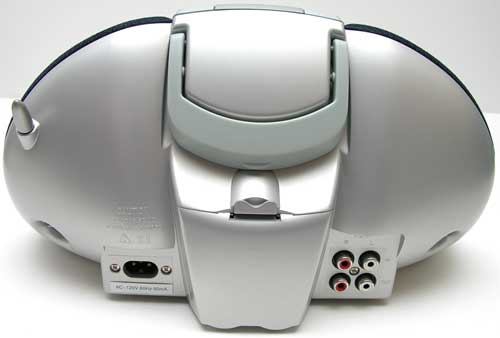 The back of the player has the fold up plastic carrying handle, telescoping FM antenna, battery compartment (which holds 8 C sized batteries, power cord connector and audio in / out RCA jacks.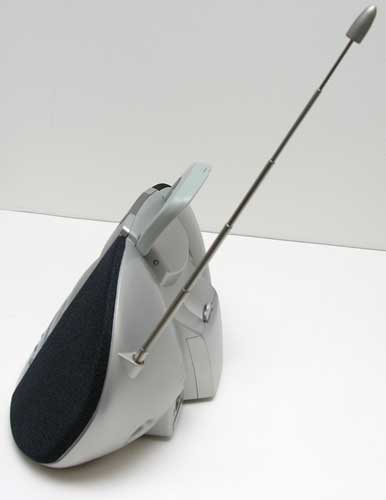 The antenna is only needed when listening to regular FM radio stations through the SonoWave. It is not required while listening to streaming internet radio broadcasts.
The USB base station is a bagel sized grey plastic blob with 2 LEDs (power and data) and a USB cable jack in the back. One end of the supplied USB cable plugs into the back, while the other end plugs into a free USB port on a PC.
In order to use the SonoWave, you must complete a short setup procedure. First you have to install the application from the included CD on to your Windows PC and then plug the USB base station (wireless transmitter) into a free USB port on your computer. The application will need to remain running on the PC whenever you want to listen to internet radio on the SonoWave. I guess it was cheaper to create a proprietary module like the USB base station instead of just building WiFi or Ethernet capability into the boombox itself. I for one wouldn't have had a problem paying an additional $25-$30 for the added benefit of such features. Oh well, they didn't ask me…
The application is relatively simple to use. It is your interface for controlling the 6 different SonoWave functions. The SonoWave not only plays streaming internet radio, but will also:
Play your CDs wirelessly
Play your MP3s wirelessly
Play FM radio stations
Function as auxiliary stereo speakers for other audio devices such as MP3 or CD players
Function as wireless speakers to output sound from your PC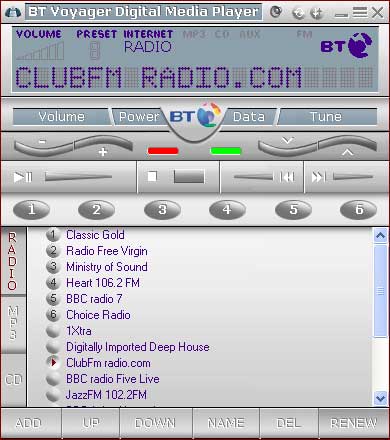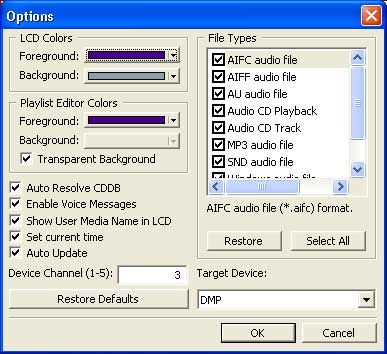 The interface matches the physical buttons and display on the boombox. From your computer, you can switch modes, change channels, adjust volume levels, and change presets. The only things you can't do through the PC interface is power the boombox on / off and switch to FM radio mode.
In the screenshot above, the interface is in the internet radio mode. You can see a listing of radio stations. The top 6 stations are mapped to the oval preset buttons on the boombox and on the software interface. New stations can be found by at least 3 methods. During the software installation step, you are prompted to install Real One player and Windows Media Player. When you click the ADD button with your mouse, you'll be asked if you want to add a new station by URL, Windows Media Player or Real One player. If you click Windows Media Player or Real On player, you'll be presented with a station finder. Clicking on one of the stations will cause it to automatically be added to the list in the SonoWave interface. The only thing I didn't like about this method of adding stations was the fact that you have to restart the Windows Media or Real One picker screen each time you add a station. It would be much nicer if it didn't automatically close when you add a station. URLs can also be found by googling for streaming internet radio channels. The number of stations that you can add to the list is unlimited, while you can only have 6 presets. Accessing the other stations on the boombox is accomplished using the up / down tuner buttons.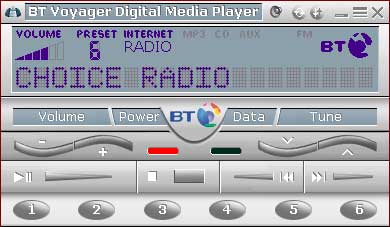 The interface can be resized to medium or…

smaller sizes…
I was pretty skeptical that the SonoWave would even work that well for me, considering that my broadband connection is a Direcway satellite modem. I thought I'd have problems with it constantly buffering or pausing while playing audio. I was actually quite surprised at just how well it performed. The sound quality is good, even with lower bit rate streaming stations (32k). No, it's not CD quality sound by far. Regarding the sound quality, I need to mention that I might have a bad unit. I've been listening to it for a few days now and was very impressed with the sound. Then tonight I finally plugged in a set of earphones into the front earphone jack and noticed that no sound was coming out of my left earphone. So I tried a 2nd set of earphones and had the same problem. Then I played the music (internet radio, mp3 and CD) through the speakers and noticed that the left speaker is either dead or very low. Now I'm not even sure that speaker was ever working… I'm waiting to hear back from the folks at Merconnect, so they can confirm that this is supposed to be a stereo device.
Using the SonoWave to listen to streaming internet stations is easy. With batteries installed, you can tote the boombox up to 300ft away from the USB base station and still listen to the stations. After awhile I got a little tired of hearing the female British voice announcing that the box was "locating media", "connecting to media", and "buffering media". Luckily, you can turn off these voice messages :o) Regarding the buffering messages, the device did lose connection and rebuffer every so often. This didn't bother me as it didn't seem to happen but maybe once an hour or so.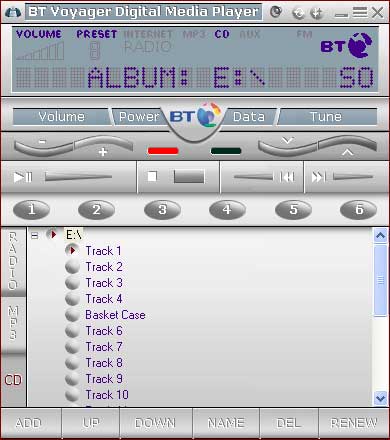 You can also listen to audio CDs on your PC through the SonoWave. Just put a CD in your PC's drive and away you go. If you're connected to the internet, the PC application searches the CDDB online database to find the CD info to display the artist, album and track titles. In the picture above, you'll see that it didn't find Green Day's International Superhits. But, you can right click and manually add the track title if you wish. The song info will scroll on the boombox LCD while playing.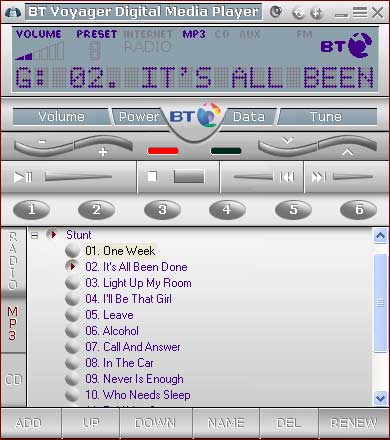 You can also play your MP3 collection through the SonoWave. Just point it to your music files or folders of music files on your PC and it will add them to the list. The album and song title info will scroll on the boombox LCD while playing.
You can assign your 6 favorite MP3 songs to the 6 presets in this mode.
In FM radio mode, you can listen to your favorite local stations. This mode is only accessible through the boombox. Reception is good, but tuning to stations is a bit of a pain, as you have to press the up / down tuner buttons to access the desired station. As in the other modes, you can save 6 stations in the 6 presets. Preset #1 will be used as the alarm in alarm mode. Yup, you can even use the SonoWave as a very simple alarm clock. The alarm feature only works when the SonoWave is plugged into AC power. Not on battery power.
The SonoWave can also be used as auxiliary stereo speakers for your other audio devices such as MP3 players or external CD players. Using the supplied RCA cables, connecting external audio devices to the SonoWave is a snap.
In multimedia mode you can use the boombox speakers to play the sound from your DVDs and PowerPoint presentations. This has to be set through the Media control panel screen in Windows and has to be switched back when you want to listen to sounds through your computer's sound card / speakers again.
The SonoWave is an interesting product. At this time, I mainly see it as a first generation offering. I have hopes that future versions will have more compelling features. I like the ease of use, but would really prefer that it not need a computer in order to operate. Requiring a computer to add internet radio channels to the boombox is acceptable, but needing one to be powered on in order to work really limits it. Here's hoping there will be an updated SonoWave in the future.
Product Information
Price:
149.99
Manufacturer:
Merconnet
Requirements:

Windows XP, 2000, ME, 98SE
Free USB port
Broadband connection

Pros:

Portable
Easy to use
Great battery life
Streams internet radio wirelessly

Cons:

Uses proprietary RF instead of WiFi or Ethernet
Windows PCs only
PC has to be powered on and running the application for SonoWave to stream internet radio to the boombox
Possible speaker problems