We use affiliate links. If you buy something through the links on this page, we may earn a commission at no cost to you. Learn more.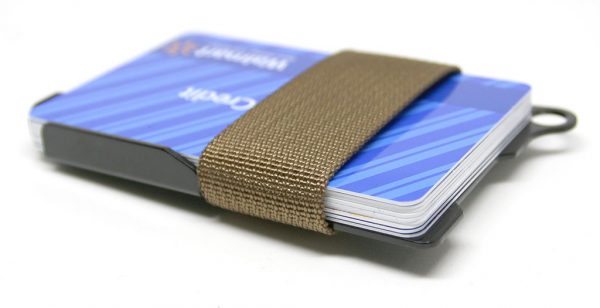 There are so many minimalist wallets on the market that it's tough to keep track of all of them. There are minimalist wallets made of plastic, metal, elastic, leather and even special paper like Tyvek. I've reviewed quite a few wallets over the years, and it seems like there's always something about them that ends up annoying me enough to shove them my gadget cast-offs drawer not long after I've posted my review. When I was offered the opportunity to review the Trayvax Summit minimalist wallet I wondered how long it would take me to find something I didn't like about it. Is this wallet now in my cast-off drawer or is it in my pocket? Keep reading to find out.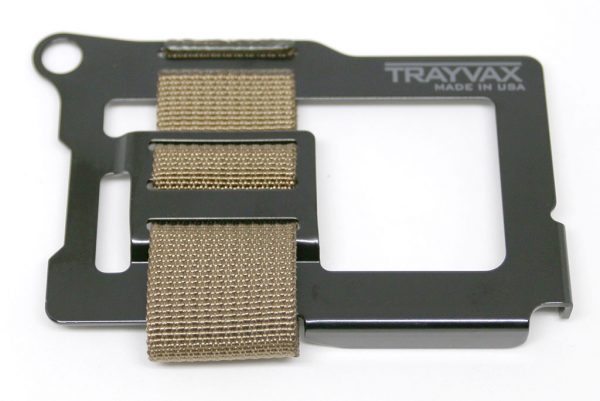 The Trayvax Summit wallet is made in the USA of cold rolled steel plate, mil-spec nylon webbing and comes in five different colors. I asked for the Coyote Brown version of the wallet.
Most minimalist wallets that are made of metal turn me off within the first few seconds of handling them because they either have sharp edges or burrs. Not the Trayvax Summit. The edges are incredibly smooth because the wallet has been made from one piece of steel that has been progressively stamped and then stamped again to radius and smooth the edges.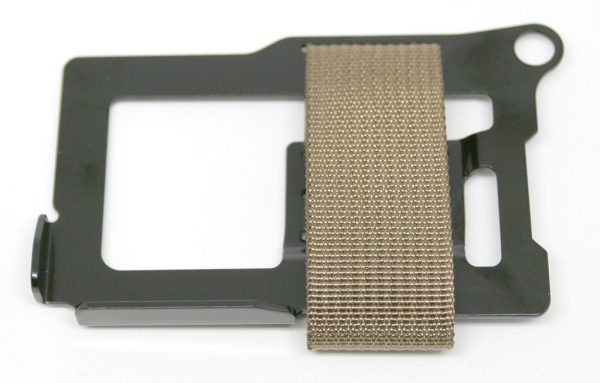 After the Trayvax Summit has been stamped and molded into the correct shape, it is then coated in an electrostatic coating called E-coat. What is E-coat?
The E-coat process is best described as a cross between plating and painting. It is a process where a metal part is immersed in a water-based solution containing a paint emulsion. An electric voltage is applied to the part causing the paint emulsion to condense onto the part.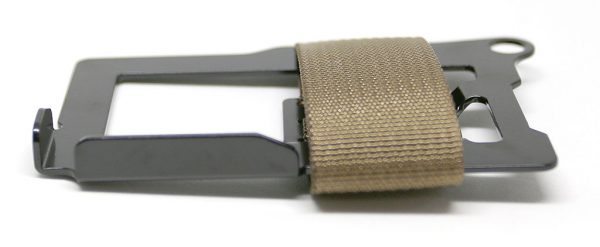 A lot of thought has gone into the design of this wallet. The size of the Summit is 3.75 x 2.35 inches with a thickness of 0.375 inches. There are two sides that are bent up to hold 1-8 standard sized plastic credit cards.
Never miss one of our posts again. Sent MON, WED, and FRI with the latest gadget reviews and news!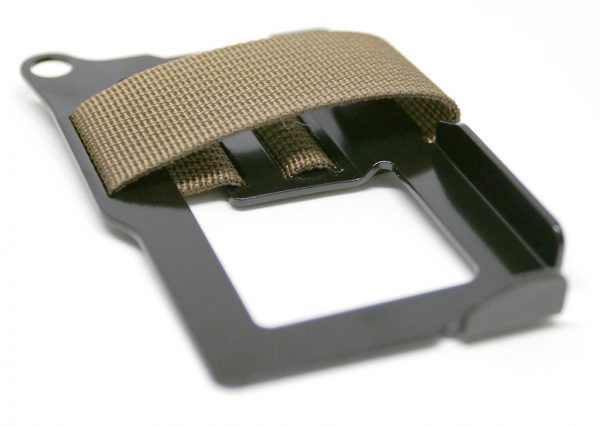 The nylon webbing strap feeds through several slots to allow for easy size customization.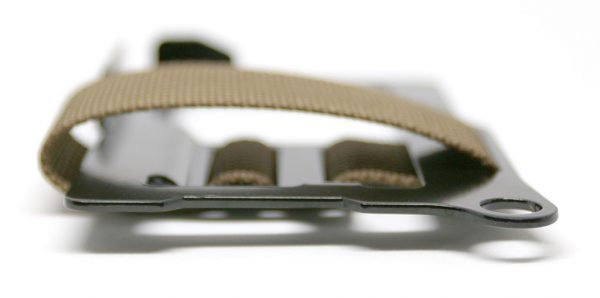 You don't pull the strap to tighten it, you actually move it through the slots to change the size of the loop depending how any many cards you want to carry.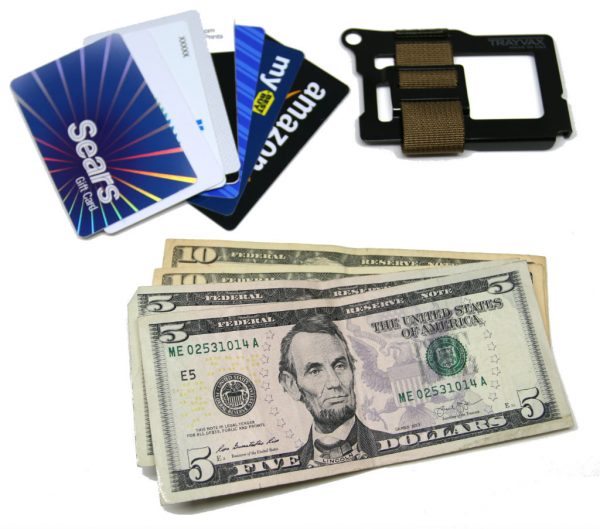 I tested the Trayvax Summit with 8 credit cards and 4 dollar bills.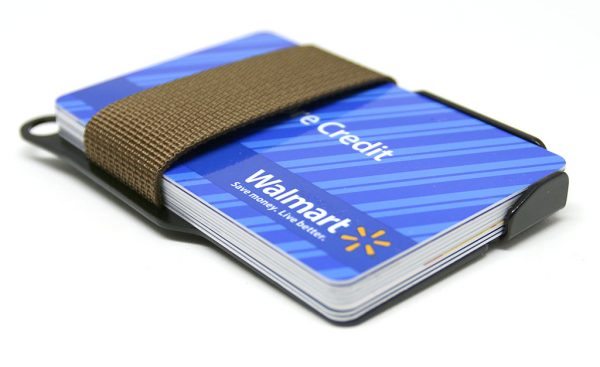 Although the webbing is long enough that you could probably slide more than 8 credit cards into the wallet, the two metal sides are only tall enough to hold 8 cards so that they don't slide out of the wallet.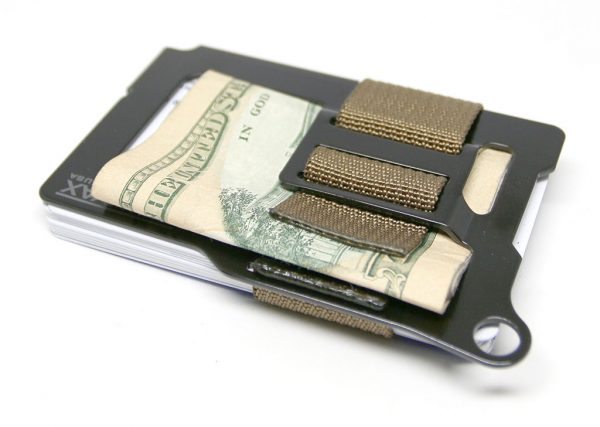 On the back side of the Summit is a convenient money "clip" that holds folded bills.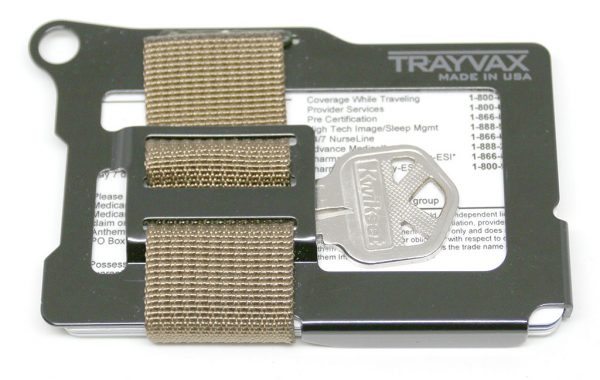 If you don't wish to carry cash, you can carry a spare key in the same slot although I didn't find that the key would stay in place as well as cash.
Notice the Trayvax logo on the back corner. It gets partially covered by your folded cash. I think it would look better if they put the logo on the longer bent edge, but I'm not sure how easy it would be to stamp it there as I'm guessing that the logo get stamped last in the finishing process.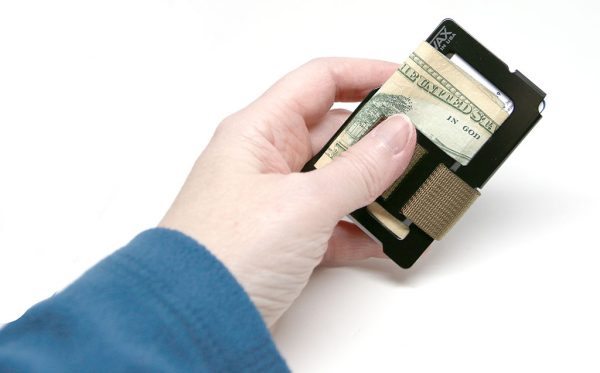 I've been using the Trayvax Summit for the last couple of weeks and am surprised by how much I've come to like this wallet. It's been my habit for years to keep my zippered wallet in my bag on my desk. I am not used to carrying a wallet in my pocket, but while reviewing the Summit, I've kept it in my front jeans pocket and I've not noticed it there even when sitting down. This means that I always have some cash and my cards with me where ever I go.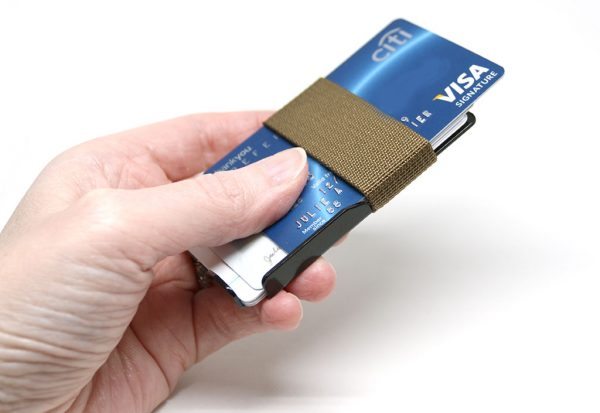 Removing cash is quick and easy, and removing credit cards is easy too. You can slide the cards up to find the one you want and remove it. Putting it back in the stack is equally quick and easy. Even with constant fiddling, I haven't noticed that the webbing strap stretches or loosens its hold on my cards.
The Trayvax Summit is the first minimalist wallet that I really love. I can't find any fault with it with regards to how well it's been made or how it can be used. It's a first class product with a crazy low price of less than $20. If you like minimalists wallets, you will love this one. Trust me.
Updates 08/02/16
It's only been a few months since I posted my review of this minimalist wallet, but it has quickly become my favorite pocket wallet. I keep just the basic cards like my driver's license, insurance card, credit card and a few business cards in the Trayvax and then I keep a WaterField Designs Finn wallet in my bag with extra cash and all the cards I rarely use but still want to keep on hand.
Source: The sample for this review was provided by Trayvax. Please visit their site for more info.
Product Information
Price:
$19.99
Manufacturer:
Trayvax
Pros:

Simple
Inexpensive
Front pocket friendly
Holds cards and cash

Cons: