We use affiliate links. If you buy something through the links on this page, we may earn a commission at no cost to you. Learn more.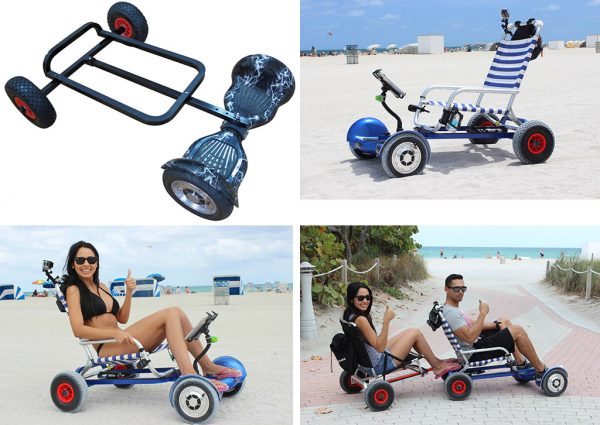 Hoverboards are two-wheeled self-balancing electric scooters that you stand on to ride around like a minimalist version of the Segway. Two wheels are cool, but what if you would rather sit down but still get from point A to point B? Check out the HoverSeat from BoatsToGo. It's an aluminum frame with two additional wheels that has been designed to attach to the center bar of your existing hoverboard and then hold your favorite beach chair to turn it into a new mode of transportation. The HoverSeat is compatible with 90% of most popular hoverboard models that have 6 or 10 inch wheels. Once attached, you navigate the hoverboard using your feet to ride the four-wheeled electric cart on pavement, grass, hard packed sand and even gravel without worries.
The HoverSeat comes in three colors, is priced at $69 and is available from BoatsToGo.com. They are currently out of stock but more will be available in the next month. Get your name on their waiting list if you're interested.